Jays Reel In Big Fish
Tuesday, November 13 2012 @ 07:02 PM EST
Contributed by: #2JBrumfield
Ken Rosenthal of Fox Sports is reporting the Blue Jays have completed a mega-deal with the Miami Marlins. Right-hander Josh Johnson, lefty Mark Buehrle and shortstop Jose Reyes are heading to Toronto. Going the other way are righty Henderson Alvarez, shortstops Yunel Escobar and Adeiny Hechavarria and minor league lefty Justin Nicolino, one of the "Big Three" pitching prospects in the minor league system.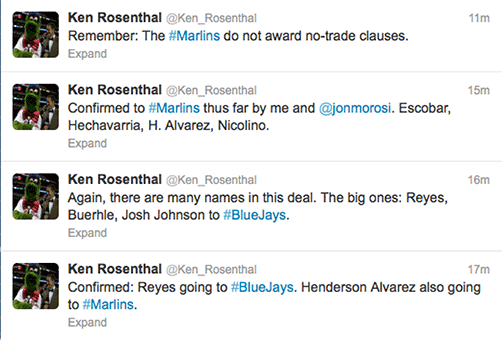 Update: There is more to the deal. Former Jays catcher John Buck and infielder Emilio Bonifacio are coming to Toronto. Jays pitching prospect Marcus Stroman says minor league outfielder Jake Marisnick is also heading to the Fish.





Update 2: Catcher Jeff Mathis and minor league pitcher Anthony DeSclafani are also Marlins.




Will this be enough to make the Blue Jays contenders in the American League East? Could Ozzie Guillen be far behind as the team still needs a a manager? Does everyone love Alex Anthopoulos again? How many times will it take everyone to spell Buehrle correctly? Why can't the season start tomorrow? Do you think Albert Pujols is glad he signed with the Angels instead of the Marlins now? How upset would you be if you are a Marlins fan?

Your thoughts, Bauxite Nation.

---

https://www.battersbox.ca/article.php?story=20121113184216554