Jays vs. Yankees - June 23-25
Monday, June 23 2014 @ 05:02 PM EDT
Contributed by: #2JBrumfield
Another first-place showdown is on the menu for the next three nights as the Blue Jays take on the Yankees at the Dome. As per usual, more roster moves have been made as outfielders Anthony Gose and Kevin Pillar have been summoned from Triple-A Buffalo. Catcher Erik Kratz goes back to Buffalo, Brett Lawrie is on the 15-day disabled list with a fractured digit and Jose Bautista has a sore left hamstring.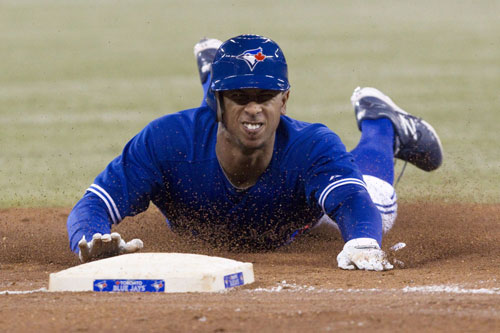 Anthony Gose will look to improve on his batting line of .233/.347/.291 in 34 games with Toronto this season. He is 3-for-6 in the stolen base department.

The 42-35 Blue Jays still have a 1-1/2 game lead for first place in the American League East but there are two teams who are in the rear view mirror. The Orioles have pulled into a tie with the Yankees after winning two of three against the Bronx Bomber at Camden Yards over the weekend. Both clubs are tied with the Jays in the loss column with 39-35 marks.

Series Schedule & Probable Starters...

Tonight @ 7:07 pm ET - Marcus Stroman (3-2, 5.14) vs. Chase Whitley (3-0, 2.56).
Tuesday @ 7:07 pm ET - Mark Buehrle (10-4, 2.32) vs. David Phelps (3-4, 3.86).
Wednesday @ 7:07 pm ET - Drew Hutchison (5-5, 3.86) vs. Hiroki Kuroda (4-5, 4.23).

Tonight's Lineup...

Reyes, SS
Cabrera, LF
Lind, DH
Encarnacion, 1B
Rasmus, CF
Navarro, C
Francisco, 3B
Kawasaki, 2B
Gose, RF
---

https://www.battersbox.ca/article.php?story=20140623170545971