Ricky Romero
Monday, April 27 2015 @ 06:24 PM EDT
Contributed by: #2JBrumfield
The Blue Jays decided to end their decade-long association with lefthander Ricky Romero, releasing their 2005 first round pick on Saturday after he was unable to make it back from multiple knee injuries and severe control problems.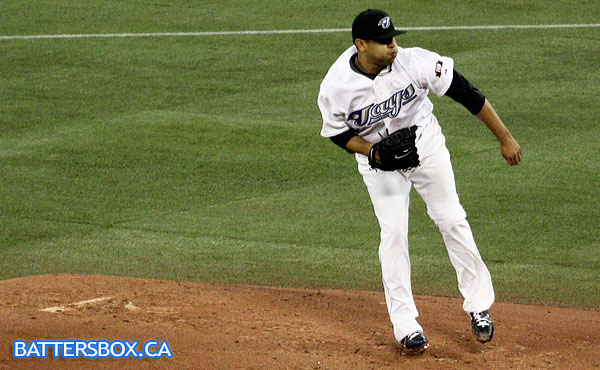 Ricky Romero in action during his rookie season of 2009, a year in which he went 13-9 with an earned run average of 4.30.
Ricky Romero will be forever known as the player taken just before shortstop Troy Tulowitzki, going sixth overall in the 2005 draft. Though Jays scouts were pushing for Tulowitzki, general manager J.P. Ricciardi overruled his charges and took Romero instead. He was the first pitcher taken in the 2005 draft after a stellar college career with Cal State Fullerton. The East LA native helped the Titans win the College World Series in 2004 by winning games against Miami in the semi-final and Texas in Game 1 of the final. After signing for a $2.1 million bonus, Romero got his feet wet in pro ball with stints in Auburn and Dunedin. He split 2006 between Dunedin and New Hampshire and it was in Double-A where he experienced his first struggle. He also spent part of the 2007 and 2008 campaigns with New Hampshire and posted a combined 10-18 mark with a 4.90 ERA. However, Romero experienced success with Triple-A Syracuse at the end of 2008 with a 3-3 mark and a 3.38 ERA.

In 2009, it looked like Romero was going to start another year riding the buses but Jays pitching coach Brad Arnsberg worked on his mechanics and Romero wound up making the big club out of spring training. His first big league start was against 2007 first round pick Rick Porcello and the Detroit Tigers — the game marked the first time two first round picks opposed each other on the mound for their major league debuts. Romero came out on top by pitching six innings in the Jays 6-2 victory April 9 at the Dome. That was part of a 2-0 April in which he posted a 1.71 ERA but he wound up on the disabled list with a strained oblique by sneezing. Romero lost his only two starts in May but got back on the beam later in the season by tying a club rookie record by throwing 24 consecutive scoreless innings, matching Mark Eichhorn's 1986 performance.

The 2010 season saw Romero win 14 games and chop his ERA down to 3.73. Highlights included a couple of 12 strikeout performances against the Chicago White Sox and the Texas Rangers with a complete game shutout against Texas. In 2011, Romero upped his win total to 15 and he sliced his ERA down to 2.92. That performance earned him a berth in the All-Star Game and a 10th place finish in the Cy Young Award voting.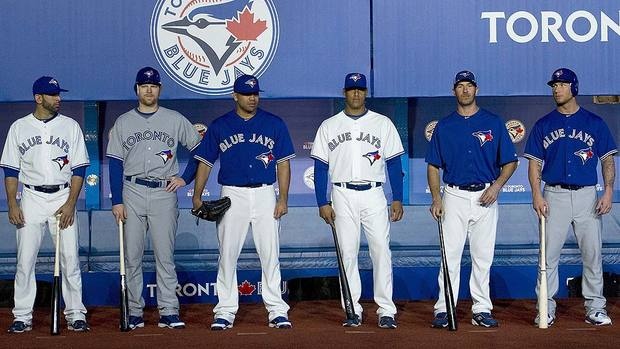 Ricky Romero models the 2012 alternate blue Blue Jays uniform for 2012. Only Jose Bautista on the immediate left remains with the club today. The departed include Adam Lind, Yunel Escobar, J.P. Arencibia and Brett Lawrie. (Image from CBC.ca)

After three solid seasons, Romero was counted upon as one of the cornerstones of the franchise. He was one of the players chose to model the Blue Jays new uniforms for the 2012 campaign. He earned his first win of the season by pitching 8-1/3 innings of one-run ball against Boston at the Dome as part of an 8-1 start to the year. However, he went 1-13 the rest of the way with a 7.35 ERA and led the majors with 105 walks.

After avoiding the minors since 2009, Romero's struggles resulted in a demotion to Dunedin to start 2013. He was back up with Toronto in May but was roughed up in two starts before being sent down to Buffalo until September where he had two less than stellar appearances out of the bullpen. The 2014 season saw Romero continue to struggle throwing strikes as he walked 42 batters in 37 innings with Buffalo, finishing with an 0-3 record. Knee injuries wound up sidelining Romero for the rest of 2014 and was still rehabbing at the time of his release.

Romero won 51 games and lost 45 over five season with the Jays, posting an ERA of 4.16. He struck out 622 batters over 801-1/3 innings but walked 354, resulting in a walk rate of 4.0 per nine innings. On a personal note, I hope Romero can bounce back and reclaim his former glory. I decided to order an alternate blue Romero jersey after his first win against Boston that day and I still find it hard to believe how his career spiraled down the drain. Hopefully, this will not be the last we'll hear from RR Cool Jay.

---

https://www.battersbox.ca/article.php?story=20150427160423514