You Say Torreyes, I Say Toronto
Friday, May 15 2015 @ 07:42 PM EDT
Contributed by: #2JBrumfield
Here's a look in pictures at the Blue Jays' latest acquisition Ronald Torreyes. I saw him in action as a member of the Fresno Grizzlies during a game against the host Tacoma Rainiers in a Pacific Coast League contest May 3.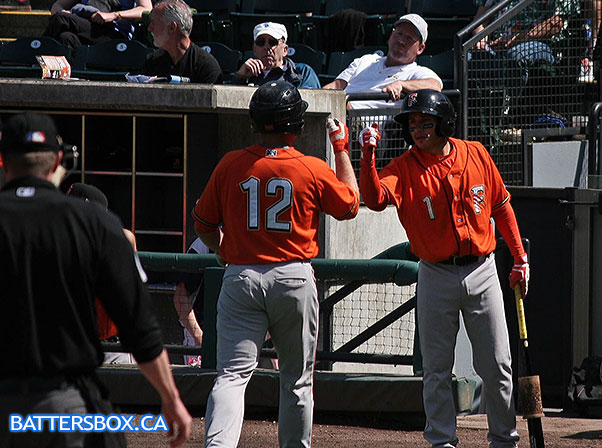 Ronald Torreyes — wearing #1 — greets Max Stassi after a solo home run that tied the game at 2-2 in the fourth inning.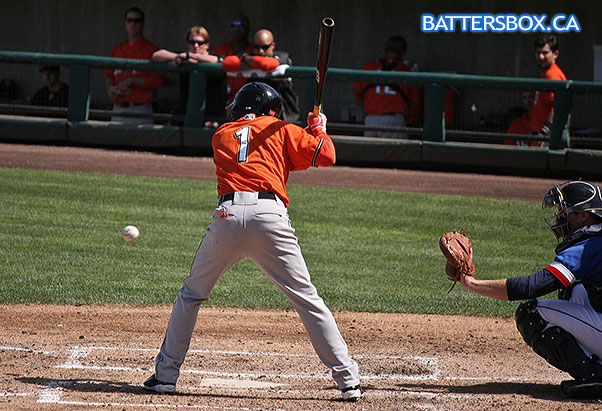 Torreyes watches a pitch from Tacoma lefty Mike Kickham go into the glove of cather John Hicks. He would later fly out to center field.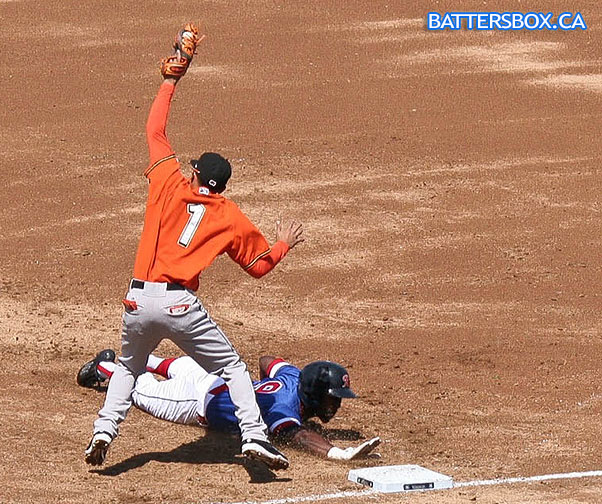 Torreyes tries to tag James Jones after Jones overran the first base bag on an RBI single in the second inning.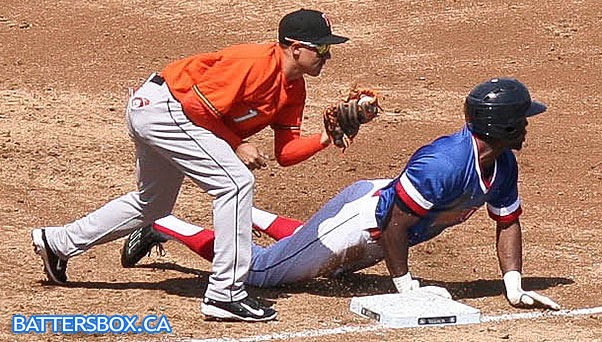 Torreyes and Jones look towards the first base umpire for a call. Jones was safe as his single gave Tacoma a 2-1 lead.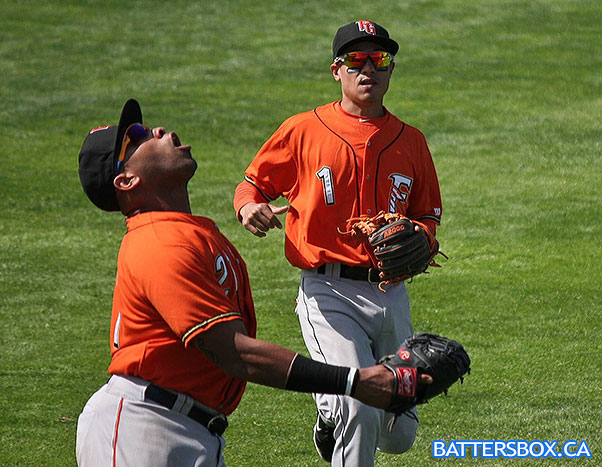 Torreyes and Jon Singleton chase down a fly ball down the right field line in the sixth.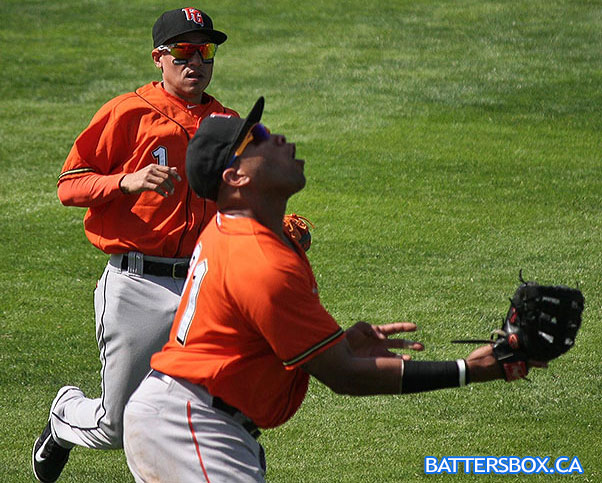 Torreyes and Singleton continue their pursuit but the ball would pop out of Singleton's glove to give John Hicks a bloop RBI double to tie the game at 3-3.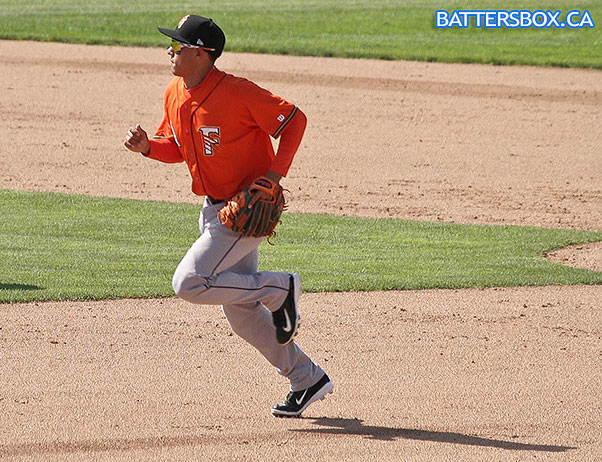 Torreyes sprints off the field after catching a liner off the bat of Carlo Rivero to end the sixth.


Torreyes had an eventful game that saw him make a fielding error on a Ketel Marte ground ball in the second inning but it did not come back to haunt the Grizzlies. With Tacoma leading 4-3, Torreyes jump-started a Fresno rally with a leadoff single in the eighth that led to a three-run homer by Domingo Santana, his second of the day. Fresno would hang on to win the game 6-5. Torreyes was 1-for-3 with a sacrifice bunt in what turned out to be the penultimate game of his stint in the Astros system. He had another 1-for-3 performance two days later to bring his average to an even .200 before he was designated for assignment.

---
Ronald Torreyes was signed as a free agent from Venezuela by the Cincinnati Reds in 2010 at the age of 17. Just 5-foot-7 and 140 pounds at the time (now 5-10, 150), Torreyes made three stops in his first professional season, starting with a .390 batting average and 23 stolen bases in the Venezuelan Summer League before getting promoted to the Arizona League Reds, where he batted .349. That earned him a brief look in Dayton where he hit .240 in 25 at-bats. Baseball America rated the right-handed hitter the 22nd best prospect in the Reds farm system.

Torreyes began 2011 back in Dayton and batted .356 as he and speedster Billy Hamilton formed a potent top of the order for the Dragons. Named a Low Class-A All Star by Baseball America and the 13th best prospect in the Cincinnati system, the right-handed hitting infielder was part of a four-player trade that saw lefty Travis Wood and outfielder Dave Sappelt go to the Chicago Cubs for reliever Sean Marshall. He spent the entire 2012 season in the Florida State League and batted just .264 with Dayton.

The 2013 campaign saw Torreyes reach Double-A Tennessee where he batted. 278 before being dealt to Houston for international bonus signing slots worth $785,000. He finished up the year at Corpus Christi and hit .263. In 2014, Torreyes climbed the ladder to Triple-A Oklahoma City and put up a slash line of .298/.345/.376 with 12 stolen bases.

In the 2015 Baseball America Prospect Handbook, Torreyes was rated the Astros 24th best prospect. BA says he can play at second base, shortstop and third base but he does not have the arm strength for the left side of the infield. Second base is said to be his best position and has soft hands for the keystone. Described as a above-average contact hitter with below-average power, his projection is that of a utility player. Also, MiLB.com listed Torreyes as an under-the-radar prospect entering 2015.

He's not going to drive in 100 runs. He's not going to smack 20 homers or steal 50 bases. What he is going to do is hit. Night after night after night, he's going to suit up for Fresno and line singles into the shallow parts of the outfield, occasionally slapping the ball into the gaps and digging out an extra base or two. At 22, Torreyes will be repeating the Pacific Coast League, and he didn't do so badly his first time around -- he batted .298 with a .345 on-base percentage and 20 doubles for Oklahoma City last year. He went from Aug. 1-29 without whiffing and struck out just 26 times in 460 total at-bats. With that season of experience against Triple-A pitching already under his belt, Torreyes figures to be even more of a consistent producer in 2015, and he'll certainly be worth keeping an eye on.

Torreyes is a career .303 hitter over his minor-league career with a .773 OPS along with 18 home runs and 67 stolen bases. Sportsnet's Shi Davidi says the native of Barinas, Venezuela will begin his Blue Jays tenure at Double-A Hampshire. He will turn 23 on September 2.

---

https://www.battersbox.ca/article.php?story=20150515170707718