C-Cap Recap - E-Turner Lee Grateful To Hurley
Monday, August 17 2015 @ 01:42 PM EDT
Contributed by: #2JBrumfield
The Vancouver Canadians and Everett AquaSox wrapped up a three-game series last Tuesday with the C's trying to avoid a sweep.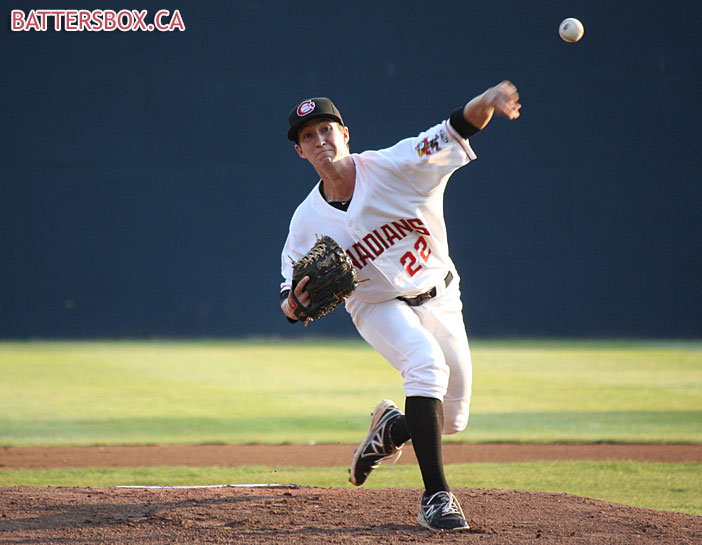 With Jon Wandling summoned up to Lansing, lefty Michael Kraft got his first professional start. He pitched 1-1/3 innings and coughed up four runs on four hits, walking two and striking out two.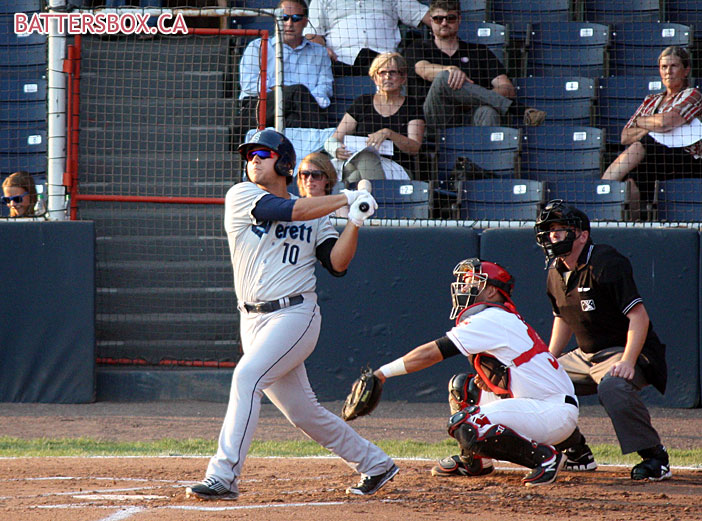 Everett's Alex Jackson caps off the four-run first inning for Everett by hitting a two-run home run to left field.




The C's were able to chip away in their half of the first inning as Ryan Metzler lines a single up the middle.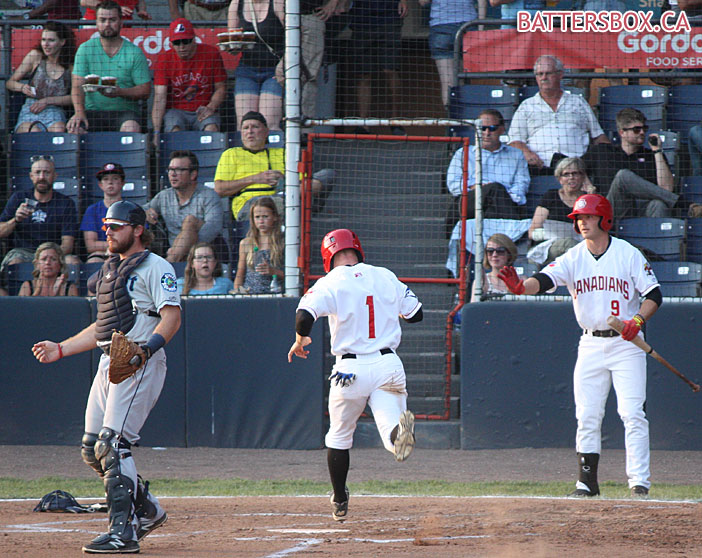 That scored Andrew Guillotte, who got aboard on a leadoff single and stole second. On-deck hitter Ryan Hissey gets ready to high-five his teammate.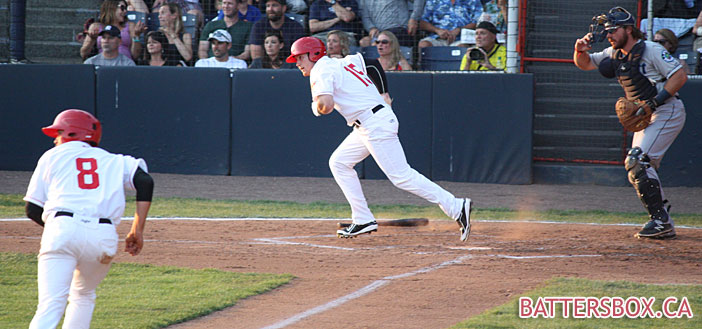 Sean Hurley hustles down the line as he would reach on an infield single to short and Ryan Metzler, who stole second and moved to third on a wild pitch, would come in to score Vancouver's second run.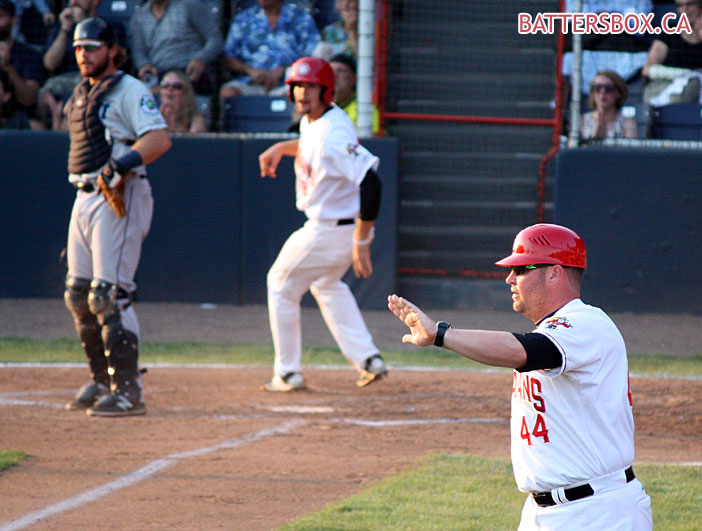 Vancouver manager John Schneider holds up the stop sign to Ryan Hissey (not pictured here), who would pull into third base on Hurley's base hit. Hissey, who drew a walk, would be stranded but the C's cut Everett's lead to 4-2 after one.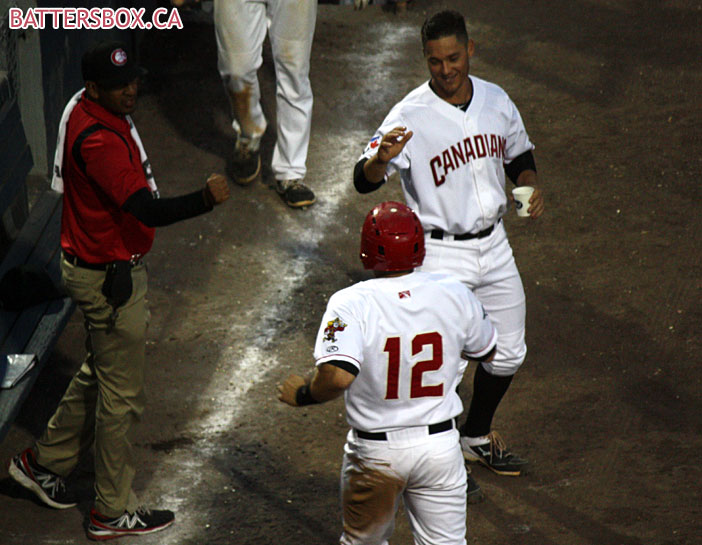 Carl Wise greets Connor Panas (#12), who scored all the way from first on a J.C. Cardenas double after being hit by a pitch. That made it a 5-3 ballgame for Everett.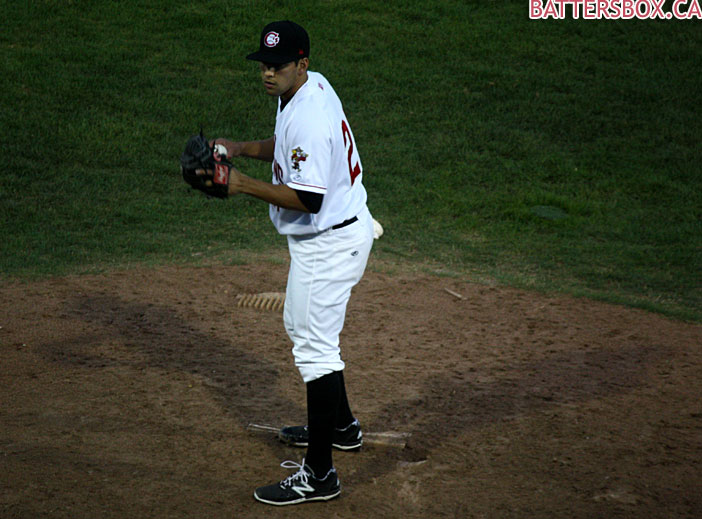 Ryan Cook, who stranded two runners for lefty Daniel Young after Young did the same for starter Michael Kraft, makes his debut at Nat Bailey Stadium. Young gave up a solo home run over 2-1/3 innings and Cook would give up another over two frames.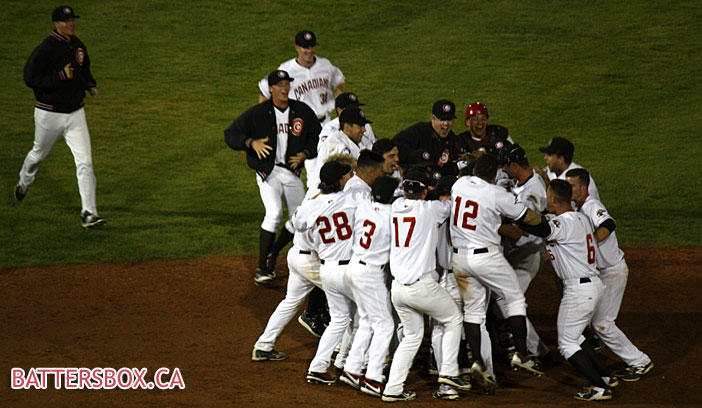 The C's would eventually tie the game at 6-6 and after Ryan Hissey took one for the team, Sean Hurley would double him home for the winning run to give Vancouver the series finale.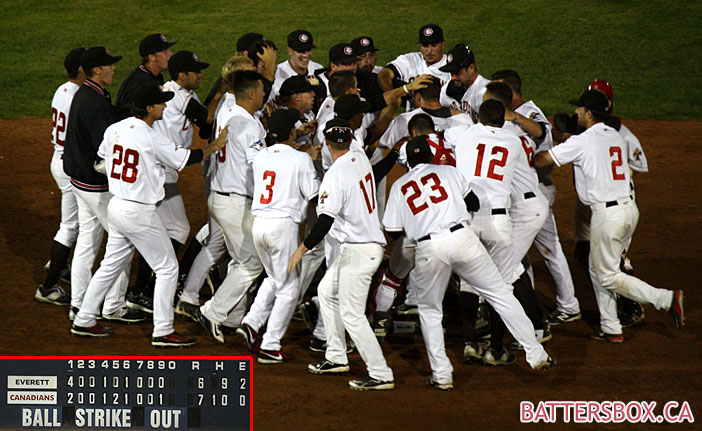 Turner Lee (#28) had as much reason to celebrate as anyone. The lefthander got his first professional victory after 3-1/3 innings of shutout ball with his only blemish being a hit by pitch. He stranded a runner and struck out two in the C's 7-6 victory over Everett.


---

This game was a long one and felt much longer than the official time of 3 hours and 13 minute. What didn't help matters was six pitchers taking to the mound (three for each side), nine walks and two hit by pitches over the first four innings. Daniel Young was taken deep by Everett's number nine hitter, Adam Martin, who homered off the scoreboard. He gave up two hits and issued two walks but managed to limit the damage to the gopherball after taking over for Michael Kraft. Young also picked off a runner at first.

Ryan Cook gave up two hits and handed out a pair of free passes. The last run-scoring hit got past a diving J.C. Cardenas at short. Had he knocked it down, it might have prevented Everett from scoring their sixth run at the time but with the runner on second and two outs, once it got by Cardenas, it was an easy decision for AquaSox manager Rob Mummau to send the runner home.

Carl Wise continues to make strides defensively at third. He made a nice play fielding a bunt in the seventh to retire a hitter in the seventh. Wise also played a part in a two-run rally in the fifth, reaching on a two-out error and eventually scoring on a two-run double off the center field wall by Connor Panas. Panas was hit by a pitch in the fourth that may have hit him on the knee. He needed a few minutes to shake it off but showed no ill effects by scoring on a Ryan Hissey double.

Hissey had a productive day at the dish, going 1-for-2 with two walks, a hit by pitch, a stolen base and two runs scored.

J.C. Cardenas had his good moments and bad moments in this one. He was 2-for-2 with a walk and an RBI double. However, he was picked off at first base and caught stealing to end the second inning. He started the seventh with a bunt single but was thrown out at third base by the left fielder after an Andrew Guillotte base hit. Cardenas was replaced by Gunnar Heidt at short in the top of the eighth.

Heidt laid down a sacrifice bunt in the eighth to advance pinch-runner Earl Burl III, who pinch-ran for Kevin Garcia after his leadoff hit. Burl would be stranded at second. Behind the dish, Garcia was victimized on a double steal and three stolen bases in total with Kraft on the mound but he did nail two runners trying to swipe second with Young on the hill for a 2-for-5 night in that department. Josh Reavis took over at catcher but did not get an at-bat.

Guillotte put on a show with Devon White in the house. He made two nice running catches, including one that took him deep to the warning track in center field. He reached base on a hit, a walk and a hit by pitch and stole a base in the first inning, along with Hissey and Ryan Metzler.

Vancouver returns home for a crucial three-game set against Tri-City, beginning tonight at 7:05 pm Pacific Time. Tuesday's game is also a 7:05 pm start and Wednesday's game is set for 1:05 pm. The 8-10 C's are still in last place in the North Division but are just two games back of first-place Everett and one back of Tri-City and Spokane.

Unofficially, the C's rotation for the series will probably be Tayler Saucedo, Francisco Rios and Jon Harris/Angel Perdomo. Perdomo got a win in his C's debut in Hillsboro Friday, shutting out the Hops over four innings after Harris put up five zeros for the first time in his pro career. The C's dropped three out of five in Hillsboro, all of them by one run, including a game they fought back from 8-0 down only to eventually lose 10-9 in 14 innings. Still, with Tri-City in town and a three-game series in Spokane afterwards, the Canadians have a chance to make up ground in the division with a good week.

1996 Cy Young Award winner Pat Hentgen will be in town to sign autographs during tonight's game. For bobblehead collectors, a Marcus Stroman one will be given out to the first 1,000 fans when the gates open Tuesday.


---

https://www.battersbox.ca/article.php?story=20150814155833539