C-Cap Recap - Towering Heidt's Blast Sparks C's
Tuesday, August 18 2015 @ 05:12 PM EDT
Contributed by: #2JBrumfield
The Vancouver Canadians are within a game of .500 after winning the opener of their three-game series against Tri-City Monday night at The Nat.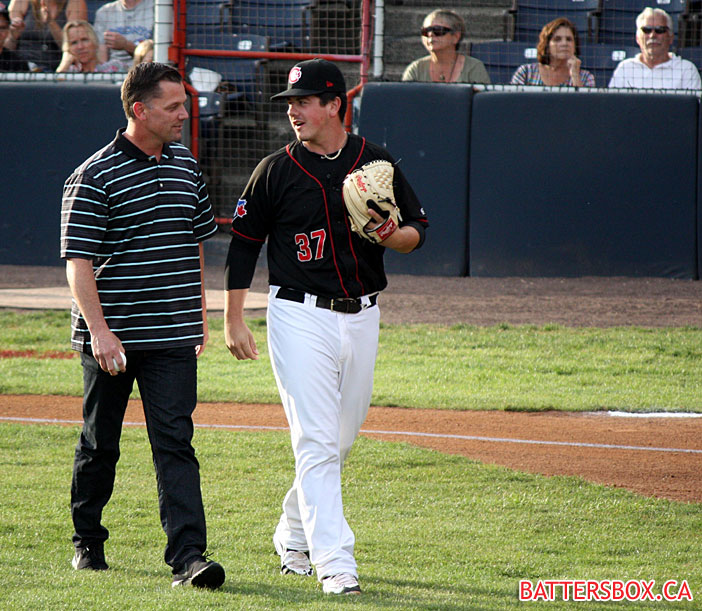 1996 Cy Young Award winner Pat Hentgen and Canadians closer Andrew Case walk off the field after the ceremonial first pitch.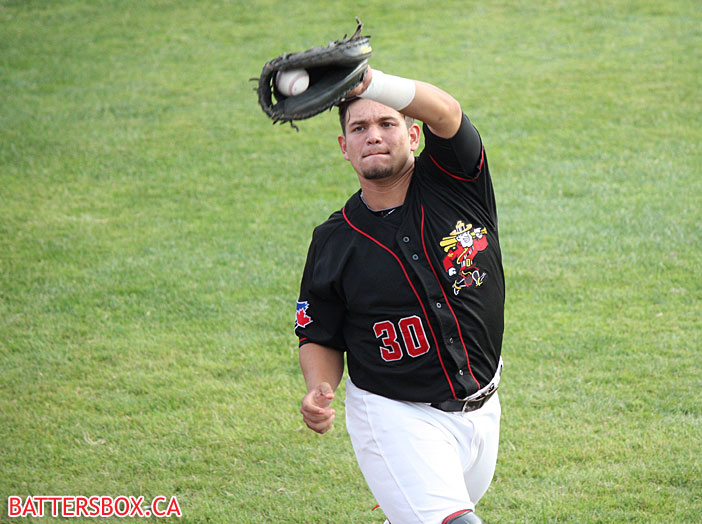 Canadians catcher Kevin Garcia snares a warm-up throw as he plays catch with starter Tayler Saucedo.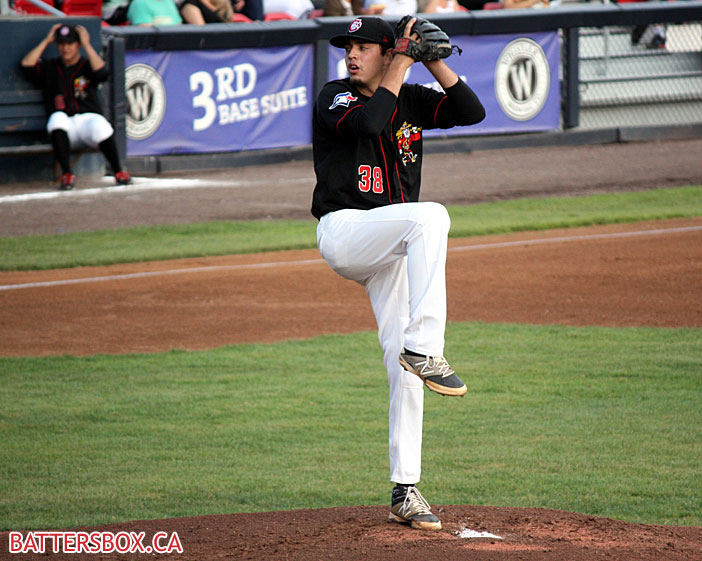 Tayler Saucedo gets ready to deliver a pitch in his second start in Vancouver.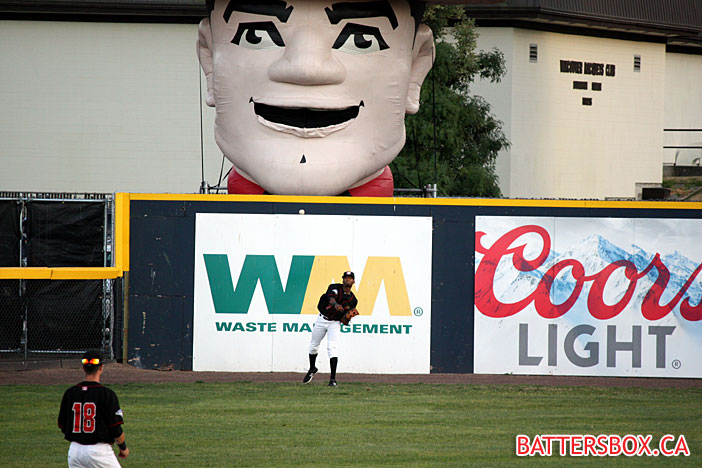 Earl Burl III makes a catch at the warning track in left field in front of Monty the Inflatable Mountie for the first out of the second inning. J.C. Cardenas (#18) waits for the throw.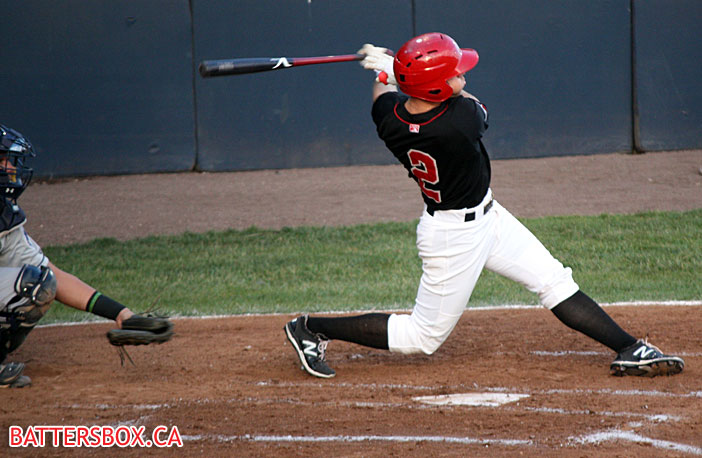 Gunnar Heidt nearly drops to one knee as he gets a hold of one in the second inning.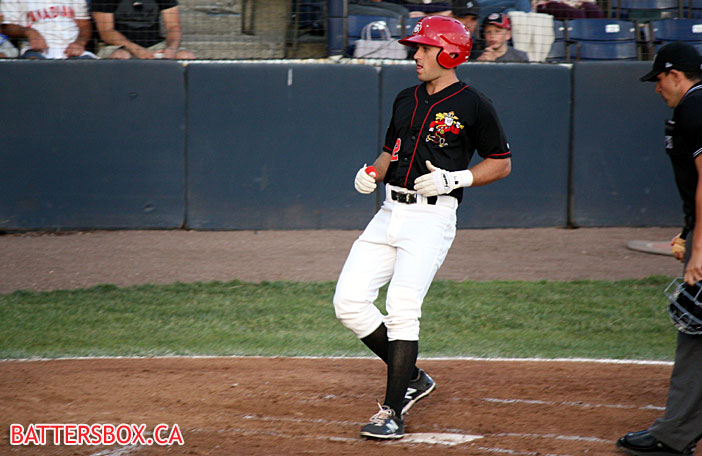 Gunnar Heidt steps on home plate after homering to left to give Vancouver a 1-0 lead. The home plate umpire makes sure Heidt touches the pentagon.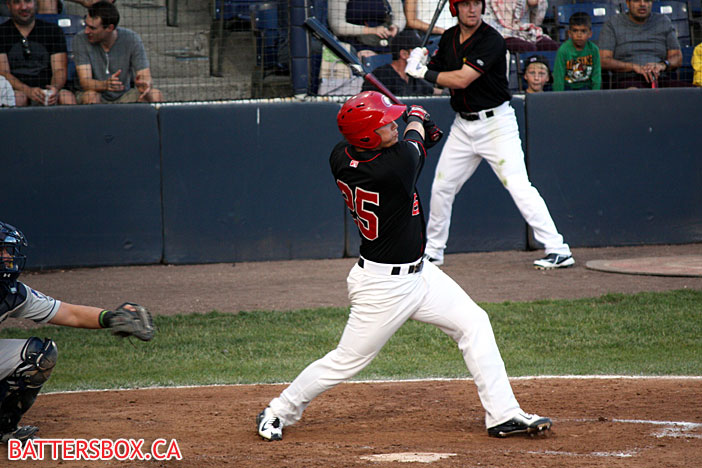 Justin Atkinson makes it 3-1 C's after lining a double to center field in the third to score Andrew Guillotte and Ryan Metzler.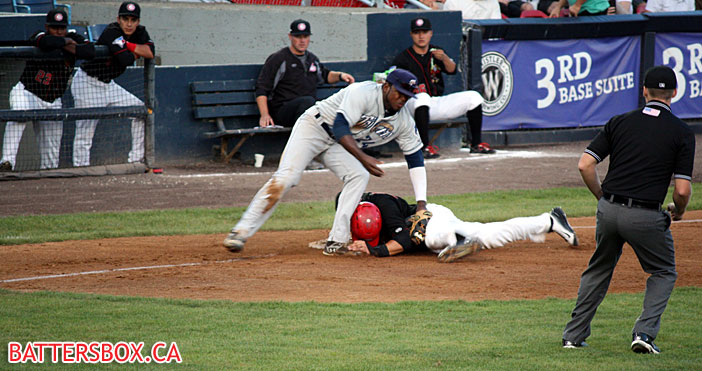 Justin Atkinson slides headfirst ahead of the tag of Tri-City third baseman Carlos Belen after a wild pitch from Jose Castillo.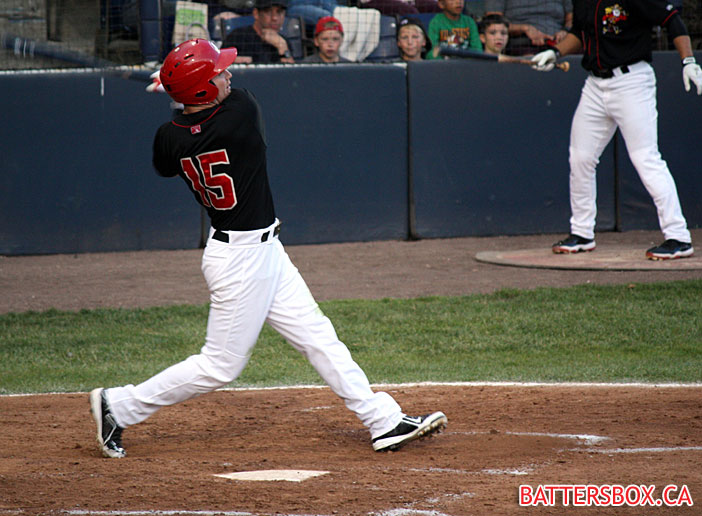 Sean Hurley fouls one off here but would later a drop a single into center to score Justin Atkinson for what turned out to be the winning run.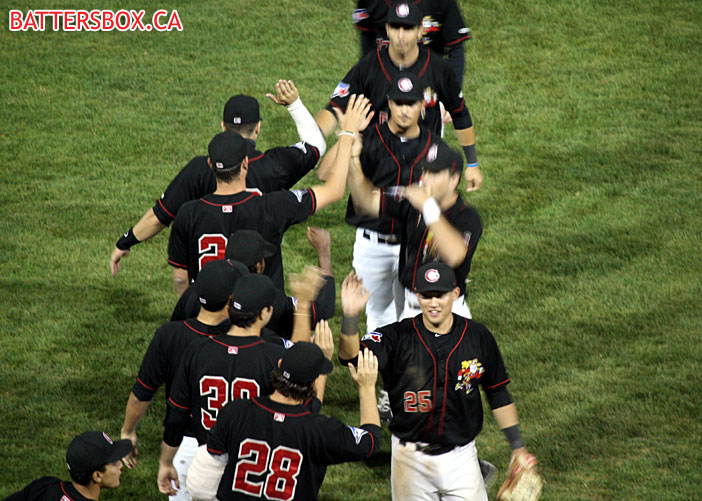 The C's celebrate a 7-3 win over the Dust Devils. Turner Lee (#28) pitched three shutout innings of relief as he high-fives with Justin Atkinson (#25) during the victory handshake.


---

Tayler Saucedo had a pretty quick first inning, retiring the side in order with a couple of swinging strikeouts at 92 and 85 miles per hour to sandwich an infield pop-up. The turning point in this game came in the second inning. Saucedo gave up a couple of hard hit flyballs to left and center field for the first two outs while the two hits he allowed were a blooper single to left and a roller through the right side of the infield during a hit-and-run past second baseman Ryan Metzler. After walking the next hitter to load the bases, Saucedo got the third out with his third K of the night, an 87 MPH offering that led to a swing and a miss. The C's would respond in their half of the second inning with a Gunnar Heidt home run. Heidt was able to foul off some pitches before sending a 3-2 pitch over the wall in left.

Though Tri-City would tie the game at 1-1 with a walk and two singles off Saucedo in the third, Saucedo rallied to whiff the next two hitters before getting a lineout to left to end the frame. The offence would rally too with a pair of leadoff walks from J.C. Cardenas and Andrew Guillotte. Though Cardenas was forced out at third on a Metzler fielder's choice, Guillotte and Metzler would come in to score on a Justin Atkinson two-run double. Sean Hurley scored Atkinson with a single and Hurley would advance to second on a Carl Wise base hit before scoring on a Heidt base hit. Saucedo stranded a leadoff double in the fourth and a two-out double in the fifth before calling it a night, finishing his outing with six K's and two walks. In the home half of the fifth, Hurley and Wise started things off with a single and a walk and Kevin Garcia would move both runners up with an infield single that appeared to go off the leg of Tri-City reliever Jerry Keel. Earl Burl III got an infield hit to second to score one run and a throwing error at second led to another run.

It took 2-1/2 hours to finish six innings which included a delay when Tri-City catcher Austin Allen was shaken up by a foul ball of the bat of Justin Atkinson in the sixth. Allen was able to continue and got a friendly tap of the bat to his shin guard from Atkinson, who can certainly relate as he has spent some time with the tools of ignorance this season. It was nice to see that bit of sportsmanship and class from the Surrey, BC native.

Turner Lee continued his stellar relief work of late with three shutout frames and just one double allowed. He threw his first pitch of the night at 94 MPH and struck out a batter with a heater clocked at 93. Lee - who struck out a pair - was in the 91-92 range as well. Of his six outs in play, five were on the ground. Daniel Young came out for the ninth and gave up a double and a two-run homer as well as a single to cut Vancouver's lead down to four runs. Young did strike out a hitter swinging on an 87 MPH offering and, with Brandon Hinkle warming up in the pen, induced a 6-3 game-ending double play to seal the victory.

Atkinson, Hurley and Heidt all had two hits with Hurley walking once. Burl also reached three times with his infield single and two walks. Metzler also contributed a hit to Vancouver's 10 on the night. The C's were 5-for-13 with runners in scoring position and left nine men on base.

One roster note, Juan Kelly has been sent back to the C's from the Lansing Lugnuts. The switch-hitting catcher began the year in Vancouver and hit just .227 with four RBI in 66 at-bats. However, he batted .286 with Lansing in 63 at-bats with three home runs and nine RBI.

Francisco Rios gets the start for Vancouver tonight in the middle game of this series against Tri-City at 7:05 pm PT. Jon Harris is the listed starter for the Wednesday afternoon finale at 1:05 pm with Angel Perdomo expected to follow.

The first 1,000 fans at tonight's game will get a Marcus Stroman bobblehead. The 9-10 C's are tied with Tri-City and Spokane for second/last place in the North Division, two games behind first-place Everett in the second half of the season.
---

https://www.battersbox.ca/article.php?story=20150818142331584