C-Cap Recap - Series Win But No Sweep Of Dust Devils
Thursday, August 20 2015 @ 05:02 PM EDT
Contributed by: #2JBrumfield
The Vancouver Canadians finished up their three-game series with the Tri-City Dust Devils at Nat Bailey Stadium and got a couple of victories over the Padres affiliate.

Tuesday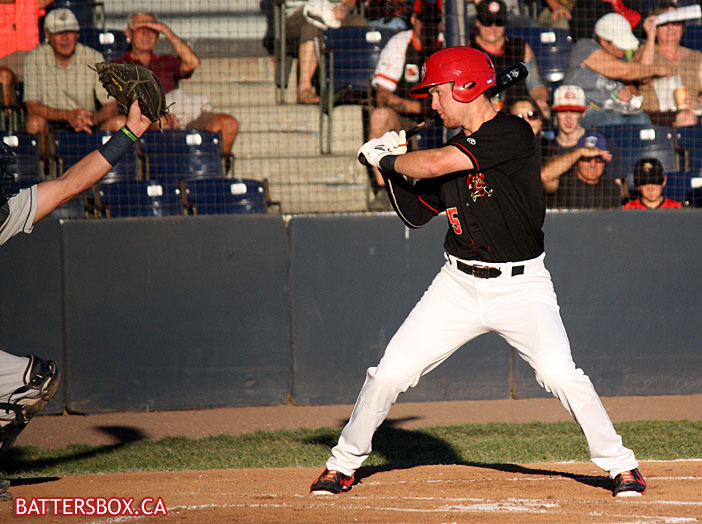 Sean Hurley takes a pitch high and inside in the first inning. He would later bring home the game's first run on a bases-loaded walk.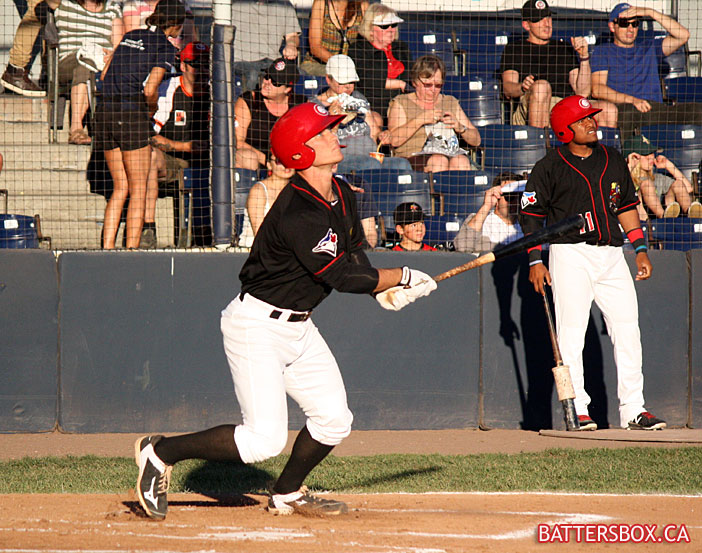 Carl Wise drives one deep enough for a sacrifice fly to right field to plate Ryan Metzler and provide Vancouver with a 2-0 lead in the first.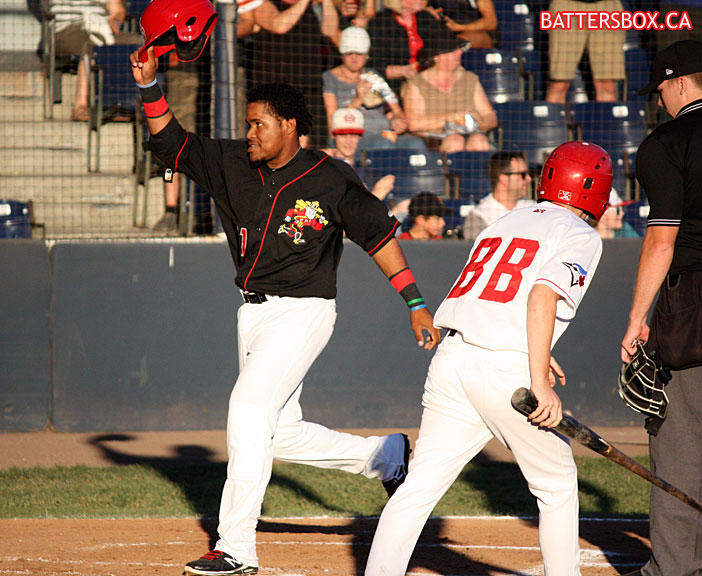 Juan Kelly raises his batting helmet after clubbing a three-run home run to left to cap off a five-run rally and a bat-around first inning for Vancouver.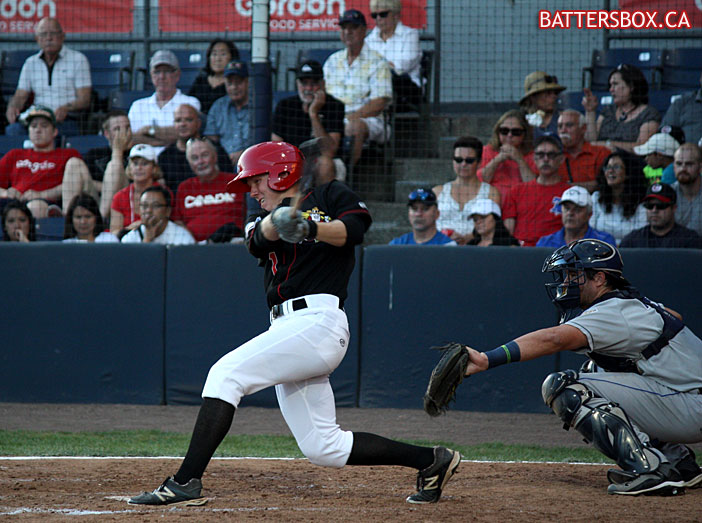 Andrew Guillotte gets a hold of one as he goes yard for a two-run shot to make it 8-0 Vancouver in the third.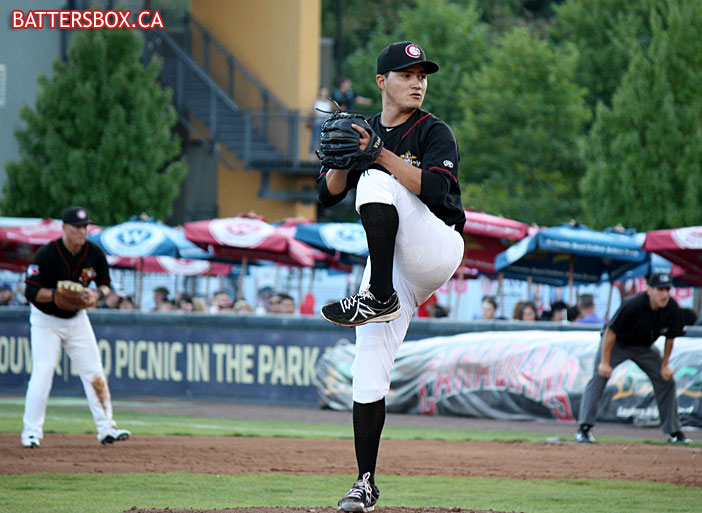 Francisco Rios gave up just one hit over the first three frames but was roughed up four runs in the fourth, falling an inning short of qualifying for the win.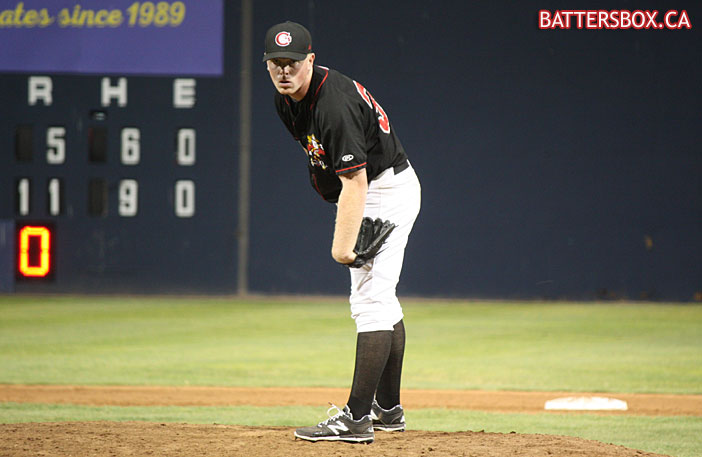 Sean Ratcliffe relieves Brandon Hinkle in the seventh. The only mistake he made over two innings was a solo home run by Juan Carlos Urena in the eighth.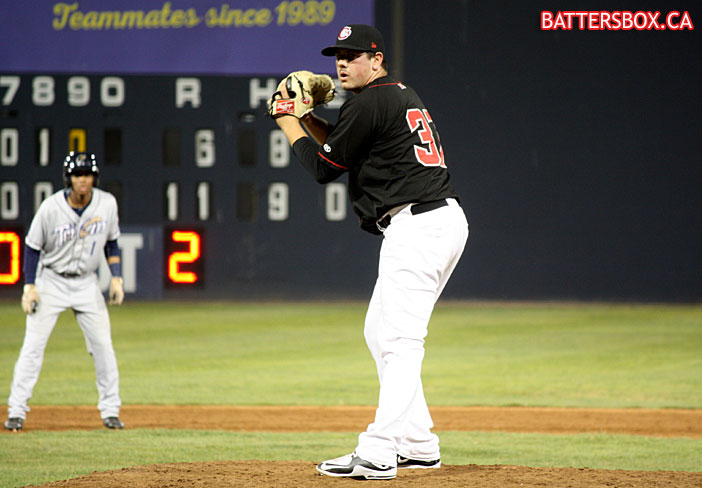 Andrew Case gets into trouble with a two-out single and a couple of walks to load the bases in the ninth but he would end the game on a called strike three and leave the potential tying run at the on-deck circle.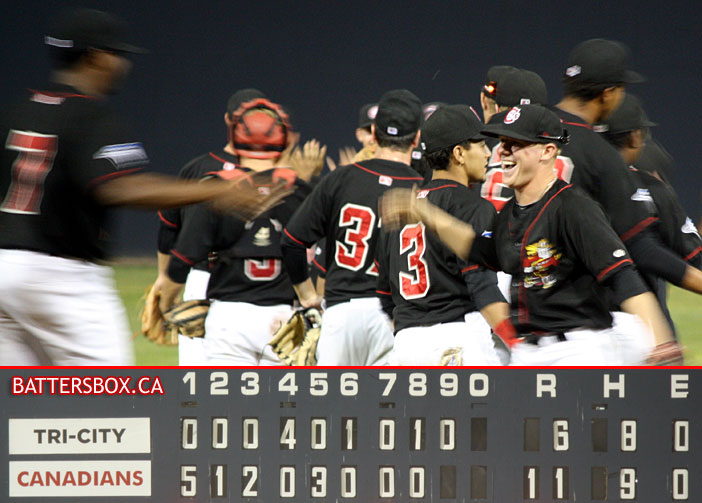 Andrew Guillotte and the C's are all smiles as they celebrate their second straight victory over Tri-City.


---

The C's rediscovered the long ball at Nat Bailey Stadium to clinch the series win. After Gunnar Heidt homered to end Vancouver's home run drought at home to 13 games on Monday, they went deep three times Tuesday on taters by Juan Kelly, Andrew Guillotte and Heidt again. Heidt, who is now using Shania Twain as his walk-up music, hit a two-run jack to get the C's to double digits.

Vancouver made a couple of nice plays defensively to help Francisco Rios in the first inning. Ryan Metzler deftly handled a sharp grounder at second and Connor Panas would make a diving catch on a sinking liner in left field.

Sean Hurley had the key at-bat in the first inning. Heidt and Metzler started the game with base hits and Justin Atkinson would join them on the basepaths with a walk to load the bases with nobody out. Ryan Hissey would strike out and the count was 1-2 against Hurley after he swung and missed on a couple of pitches from Tri-City starter Joel Linares. However, Hurley hung in there and worked the bases-loaded base on balls to score Heidt with the game's first run. Carl Wise followed with a sacrifice fly to score Metzler and Juan Kelly went yard to score Atkinson and Hurley to make it 5-0 in a bat-around first. Kelly also walked twice in his first game back in BC.

Ryan Metzler got his second base hit of the game, went to second on an Atkinson groundout and scored on a Hissey base knock to put Vancouver ahead by six. The C's would add two more runs in the third on a two-out rally started by a Panas infield single to short and an Andrew Guillotte home run. Hissey would single home Metzler again in the fifth after Metzler walked for Vancouver's 11th run in the fifth.

Francisco Rios was cruising until the fourth when two singles, two walks, a wild pitch and another base hit helped Tri-City cut Vancouver's lead in half at 8-4. He bounced back by retiring the next three hitters. Still, the fourth was a letdown for Rios as he was coming off back-to-back starts of six innings of one-run ball with 16 K's. Rios, who was up to 93 miles per hour on the radar gun, struck out two and walked two to go along with the four hits he allowed. Of his eight outs in play, five were on the ground.

Brandon Hinkle took over in the fifth and walked the first man he faced but picked off the runner on a 1-3-6-4 play. The lefty was tagged for a run in the sixth on a walk and two singles but he struck out two batters at 81 and 77 miles per hour and his offerings ranged from 60-89. He would earn his team-leading fourth victory of the season and still keep his earned average below one at 0.89.

Sean Ratcliffe enjoyed a quick 1-2-3 seventh inning but served up a ball that was crushed by Jose Carlos Urena and left the yard in a hurry. I thought Monty the Inflatable Mountie was a goner!

Andrew Case tried to finish off Tri-City quickly, getting the first two batters on a ground out and a fly out. Atkinson made a nice scoop at first on the throw from short for the first out. However, Case gave up a single and two walks. A mound visit from pitching coach Jim Czajkowski led to three consecutive strikes from Case, who finished the game with a called strikeout. That left the tying run on base, which happened to be Urena, the man who went deep in his last at-bat.

Wednesday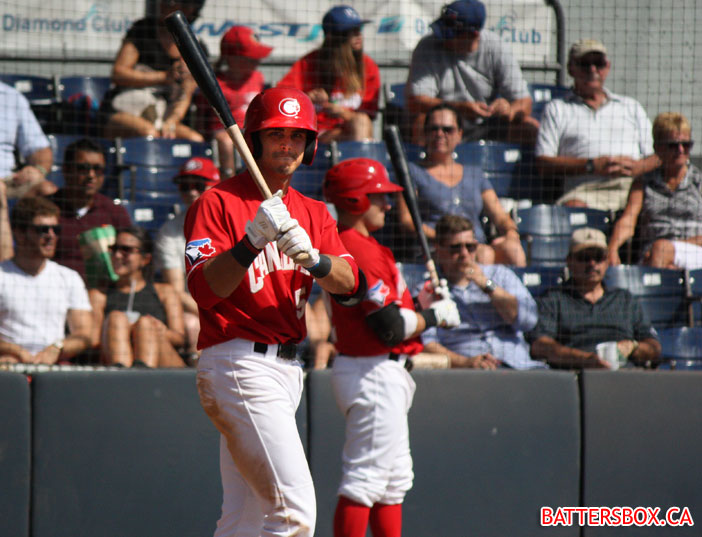 Josh Reavis tried to rev up the offence with an RBI single to score Vancouver's first run Wednesday afternoon.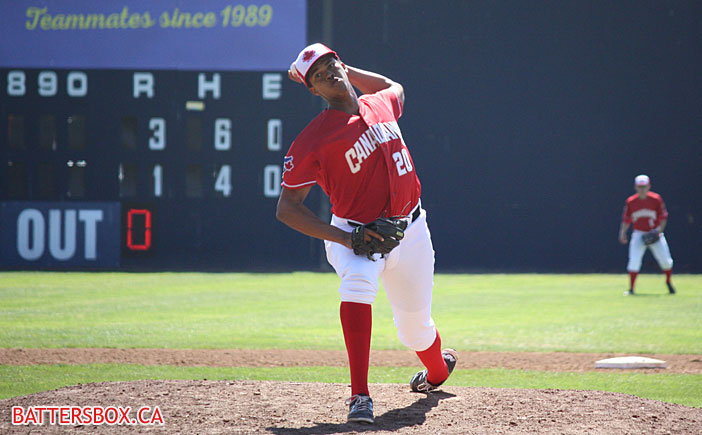 Angel Perdomo had his good and bad moments in his Nat Bailey Stadium debut, striking out seven but giving up three runs over three innings in a 6-2 loss to Tri-City.


---

The C's were hoping Jon Harris (0-4, 5.08) would build off his best start as a professional in the series finale. After five shutout frames in Hillsboro, Harris enjoyed a three-up, three-down first inning that included two groundball outs. He ran into trouble in the second by issuing a leadoff walk and giving up three singles that led to a 2-0 Tri-City lead. Harris did strike out a couple of batters outs but his day was done after two frames. According to Charlie Caskey on Twitter, Harris threw 33 pitches in the second. Lefty Bob Wheatley worked the third inning and also walked the first batter he faced. Though Wheatley induced a double play ball and was an out away from ending the frame, he gave up his second base hit to put Tri-City ahead 3-0.

The Vancouver offence had a chance to score first in their first at-bat but could do nothing with a couple of one-out singles by Ryan Metzler and Justin Atkinson. Juan Kelly drew a leadoff walk in the second but that didn't lead to anything. Tri-City starter Angel Mejia retired seven hitters in a row until Sean Hurley reached base on a strikeout-wild pitch. Juan Kelly drew another walk to advance Hurley to second. Josh Reavis finally broke the goose egg with a run-scoring single to score Hurley. However, the rally ended when Connor Panas grounded into a 6-3 double play to end the third.

Angel Perdomo came into the game in the fourth and made a strong first impression by striking out two of the first three batters he faced. However, the 6-foot-6 lefty walked the first batter he faced and would allow a run on a single, a wild pitch and a sacrifice fly. He bounced back with two more K's to end the fourth and would strike out the side in the fifth. Unfortunately, he allowed a two-run home run to Nick Vilter with two singles and a walk in the mix before the fifth inning came to an end. Perdomo was clocked at 84-94 MPH.

Michael Kraft managed to keep the Dust Devils off the board over the final three frames by getting around three walks, a single, a double and a wild pitch. He struck out one.

Hurley scored the first Vancouver run and drove in the second with a double to score a Ryan Hissey base hit. Hurley had a two-hit game while Kelly walked twice and added a single. Gunnar Heidt had the other extra-base hit with a double. Panas and Andrew Guillotte were 0-for-4 with Panas striking out twice. Metzler extended his hitting streak to 11 games with his first inning single, lifting his batting average from .143 to .284.

Vancouver hopes to be at .500 or better when they return home Sunday. The 10-11 C's begin a three-game set in Spokane this evening in a three-way tie with Spokane and Tri-City in the Northwest League North Division, two games behind first-place Everett. The starting rotation has not been announced but going by the last turn, it looks like it will be Evan Smith, Ryan Cook and Tayler Saucedo.

The Canadians will be back at The Nat Sunday through Thursday when the Boise Hawks are in town for a five-game series. Sunday's game is a 5:05 pm start Pacific Time. Start times are 7:05 pm Monday, Tuesday and Wednesday and 1:05 pm Thursday.


---

https://www.battersbox.ca/article.php?story=20150820145555705