Lawrence & Dwight Schrute Down Portland
Wednesday, August 26 2015 @ 04:42 AM EDT
Contributed by: #2JBrumfield
Just another 2-6 day at the office for the affiliates on Tuesday with the same two teams winning.

Lehigh Valley 9 Buffalo 3

Allentown, PA - The Bisons are a game below .500 as Chad Jenkins (8-4, 2.93) was crushed by the Phillies affiliate for eight runs on nine hits and three walks in 3-1/3 innings. He gave up a home run to Brian Bogusevic and only one run was unearned. The righty struck out two and had three groundball outs. Bobby Korecky allowed an inherited runner to score but put up 2-2/3 innings of scoreless relief despite four hits and a walk. He struck out a pair before giving way to Aaron Loup, who allowed another run on three hits and three walks in 1-2/3 innings. Ben Rowen saved Loup's line from taking a beating by stranding the bases loaded by retiring the only hitter he faced on a ground ball.

The Herd scored all of their runs in the third on RBI singles by Matt Hague, Alex Hassan and Andy Burns to cut the IronPigs lead to 6-3 at the time. Hague, Burns and Dalton Pompey all had two-hit games with Pompey stealing his 15th base of the season. Ty Kelly, Chris Heisey and Jonathan Diaz also had base hits. Munenori Kawasaki and George Kottaras did not get a hit in their four trips to the plate.


New Hampshire 3 Portland 0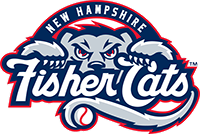 Portland, ME - Casey Lawrence (12-12, 4.55) and the Fisher Cats (63-63) both brought their records back to the .500 mark as Lawrence allowed just three hits over eight shutout innings. He walked two and struck out five and all but one of his 13 outs in play were on the ground. He retired the last 12 hitters in a row for a Game Score of 79. Blake McFarland allowed a hit but struck out the side for his 14th save.

The Fisher Cats used a 10-hit attack to subdue the Red Sox affiliate. Jorge Flores and Roemon Fields got things going with back-to-back singles with Flores scoring on a Melky Mesa double and Fields coming in on a sacrifice fly by Kevin Nolan. Dwight Smith Jr. then went deep for his seventh home run of the year in the fifth. Smith and Guerrero had two hits on the night. Ryan Schimpf had a hit and a walk while Flores had a hit and a plunk. The other hits belonged to K.C. Hobson, who had a double and Martin Medina, who had a single.


Tampa 5 Dunedin 1

Tampa, FL - The Yankees jumped on Shane Dawson (2-2, 4.26) for two runs in the first before pitching a scoreless second inning. In all, the lefty was dinged for two hits and two walks and plunked a batter but he struck out a pair. Brad Allen allowed a run on four hits and two walks over three frames but did whiff four. Arik Sikula and Chris Smith provided shutout relief the rest of the way with both of them giving up two hits and a walk. Sikula pitched 1-2/3 innings with three K's and Smith threw 1-1/3 frames with two punchouts.

Dunedin scored in the third when Christian Lopes singled to drive in Dickie Joe Thon, who got aboard on a base hit. Thon had two of the six hits for the Jays and was also hit by a pitch. Matt Dean, Derrick Loveless and Andy Fermin contributed one to the hit total with Dean also drawing a walk. Ian Parmley had the other base on balls. L.B. Dantzler, Boomer Collins and Jorge Saez got nothing going with their 12 collective at-bats.


Fort Wayne 5 Lansing 3

Fort Wayne, IN - Justin Shafer (5-4, 2.95) was strafed for four runs over 4-1/3 innings by the Padres affiliate.  He gave up a home run among his six hits but he was betrayed by the left side of the infield as errors by Alex Maldonado at third and Richard Urena at short led to three unearned tallies. Shafer plunked a batter but his K-BB total was 4-2 and his GO/FO ratio was 10-1. Dusty Isaacs gave up the other run on four hits and a walk but struck out two over 2-2/3 innings. Carlos Ramirez worked a clean eighth.

Josh Almonte delivered the first run of the game with a single to score David Harris, who doubled and stole third in the third. Danny Jansen singled and scored the second run in the fifth on a double play grounder by Maldonado. A Harris groundout would score D.J. Davis, who was hit by a pitch, stole second and went to third on a throwing error by the catcher in the seventh. Harris had a two-hit night and Urena had the other base knock. Almonte and Davis drew walks to reach base twice. Chris Carlson, Ryan McBroom and Jason Leblebijian went a combined 0-for-12.


Boise 12 Vancouver 8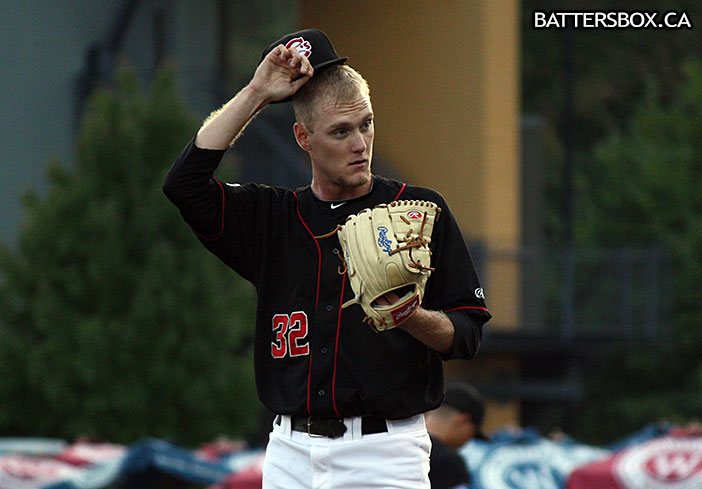 It was a night to forget for Vancouver starter Jon Harris.

Vancouver, BC - The Rockies affiliate overcame five errors and won their second straight over the C's after laying a beatdown on Jon Harris (0-5, 6.75). He was hammered for ten runs (eight earned) over 2-1/3 innings on nine hits and a walk while committing a balk. The righty struck out two but also made a throwing error on a pickoff attempt. His second inning might have turned out differently had Justin Atkinson not had a ball roll under his glove in what could have been a potential double play ball to get out of the inning. Also compounding matters was a fly ball double that Connor Panas could not get to in right field. Bob Wheatley allowed an inherited runner to score and gave up a solo homer in 3-2/3 innings. The lefty allowed five hits and two walks with just one strikeout. Stuart Holmes was tagged with an unearned run on a hit and two walks over two innings but struck out three. Michael Kraft finished up with a one-hit ninth that included one strikeout.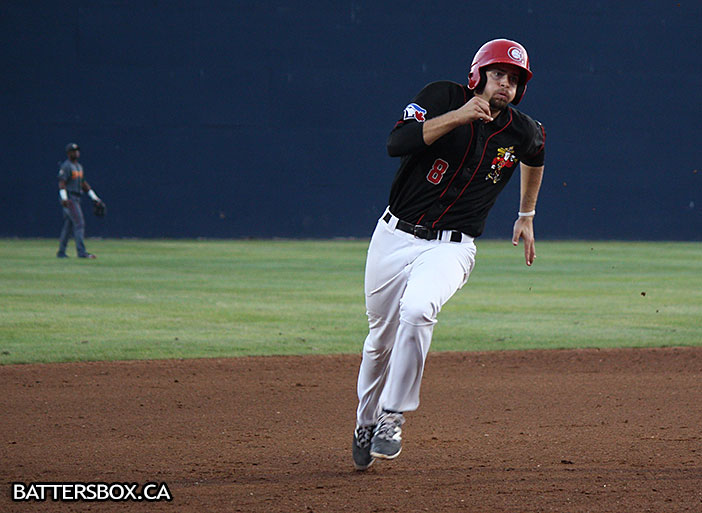 Ryan Metzler - rounding third base and scoring the C's third run in the second inning - extended his hitting streak to 16 games Tuesday night with an infield hit.

The C's enjoyed their only lead with a two-run first inning. Andrew Guillotte led off with a double and would score on the first of three Boise errors in the first. Juan Kelly would drive in the second run with a ground rule double. Atkinson would double home a Ryan Metzler base hit in the third inning to make it a 5-3 game. Vancouver tried to storm back from a 10-3 deficit when two wild pitches, a J.C. Cardenas bases-loaded walk and a Panas two-run single gave them a five-run fourth. Guillotte would ground into an inning-ending double play. What also hurt the C's was Atkinson getting thrown out at home plate after Gunnar Heidt hit a sinking liner that looked like it would be caught in left field. The bases were loaded and Atkinson had no choice but to try for home. Atkinson had the only two-hit night for Vancouver. J.C. Cardenas had a hit and two walks after coming into the game for Carl Wise, who left the game after getting hit by a pitch. Wise was 0-for-1 and was replaced by Heidt at third base with Cardenas moving to short to replace Heidt. Kelly had a walk to go with his double while Heidt and Ryan Hissey walked twice. Earl Burl III was 0-for-4 and pinch-hitter James Lynch struck out in the ninth. Guillotte had the only stolen base, his 15th of the campaign.


Pulaski 5 Bluefield 2

Pulaski, WV - Dalton Rodriguez (2-8, 5.25) only pitched the first inning and was rocked for three runs on two hits and two walks. Dan Lietz walked four but allowed just one hit in pitching four scoreless frames in which he struck out one. Fellow lefty Joe Claver coughed up the other two runs on three hits, two walks and a HBP over 2-2/3 frames. One of Claver's runs was unearned after a Mattingly Romanin error at third. Jackson Lowery stranded two runners for Claver by whiffing the only batter he faced.

The Jays picked up their runs in the fourth on a Rodrigo Orozco RBI single and an Christian Williams run-scoring double in the seventh. Mattingly Romanin and Brett Wellman both reached twice with singles and walks at the bottom of the order while Deiferson Barreto did the same from the number three spot. Freddy Rodriguez also had a single. D.J. McKnight drew a pair of walks and Andres Sotillo took one for the team. Aaron Attaway heard ball four once.


GCL Blue Jays 5 GCL Pirates 4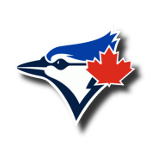 Bradenton, FL - The Jays are playing .667 ball after winning their 36th game in 54 tries. They did it by overcoming a 4-2 deficit as Miguel Almonte brought in the decisive run in the eighth on an RBI single. A sacrifice fly by Javier Hernandez tied it up just before Almonte came to the dish and it was Hernandez who started the comeback by launching a solo home run in the seventh. Edward Olivares went deep in the fourth and Bryan Lizardo produced the first run with an RBI groundout in the second. Olivares had a three-hit game and Hernandez had two. Juandy Mendoza and Jake Thomas chipped in with singles and Mendoza was hit by a pitch. Kalik May reached twice with a walk and a plunk and Cliff Brantley also took one for the team. Levi Scott was 0-for-2 before being replaced by Nash Knight, who was 0-for-3.

Hansel Rodriguez was given the start and he pitched four innings of two-run ball on two hits, two walks and a plunk. One of the runs was unearned on a Scott error at first. Rodriguez struck out three and split his 10 outs in play between the ground and the air. Jose Espada yielded the other two runs on four hits and two walks over 2-1/3 innings. He had one strikeout and three of his four outs in play were on the grass. Juan Nunez (1-0) stranded a runner and navigated his way around a hit and a walk by pitching 1-1/3 scoreless innings with one whiff. Mike Estevez stranded two runners and also dealt with a hit and a walk but struck out two over 1-1/3 innings for his ninth save.


DSL Astros Blue 2 DSL Blue Jays 1 (Game 2 - Semi Final Series B)

Boca Chica, DR - A two-out walk and home run in the first inning was all the Astros needed to clinch this playoff series and end the Blue Jays season. Wilfri Aleton (0-1, 3.60) held the Astros to three hits and two walks while striking out four over five innings. Five of his seven outs in play were on the diamond. Jairo Rosario allowed just three baserunners over three shutout frames on just two hits and a plunk while whiffing five.

The only run from the Jays came from Antony Fuentes, who homered to lead off the seventh. Fuentes also had a single with one out in the ninth but pinch-hitter Enmanuel Moreta grounded into a series-ending double play. Norberto Obeso and Yorman Rodriguez had the two hits for the Jays. Manuel Herazo had the only walk and Christian Peguero took one for the team. Kevin Vicuna and Sterling Guzman were a combined 0-for-8 at the top of the order. Francisco Rodriguez was also held hitless in four at-bats and Jesus Navarro was 0-for-3. Antonio Concepion came up empty as a pinch-hitter.


*** 3 Stars!!! ***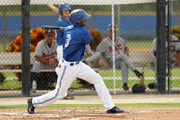 3. Edward Olivares, GCL Blue Jays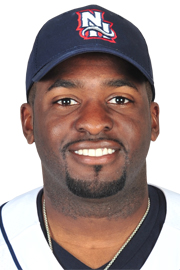 2. Dwight Smith Jr., New Hampshire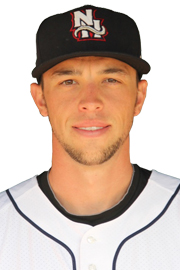 1. Casey Lawrence, New Hampshire


Tuesday's Linescores


Wednesday's Schedule / Probable Starters

GCL Yankees @ GCL Blue Jays, 10:00 am ET - TBA
GCL Blue Jays @ GCL Yankees, TBA - Completion of suspended game July 28
New Hampshire @ Portland, 6:00 pm ET - Scott Barnes (2-5, 5.07)
Buffalo @ Lehigh Valley, 7:05 pm ET - Scott Copeland (10-4, 2.43)
Lansing @ Fort Wayne, 7:05 pm ET - Tom Robson (0-1, 3.71)
Princeton @ Bluefield, 7:05 pm ET - TBA
Boise @ Vancouver, 10:05 pm ET - Josh DeGraaf (2-0, 3.52)


Extra Innings

The National Post has a story on Buffalo relievers Aaron Loup and Steve Delabar
The Rapid City Journal out of South Dakota says a new pitcher will be joining the Bluefield Blue Jays - story at bottom of the page
---

https://www.battersbox.ca/article.php?story=20150825145728324