C-Cap Recap - Hawks Harass Harris
Wednesday, August 26 2015 @ 08:02 PM EDT
Contributed by: #2JBrumfield
The Boise Hawks won their second straight game over the Vancouver Canadians in a slugfest at Nat Bailey Stadium Tuesday night.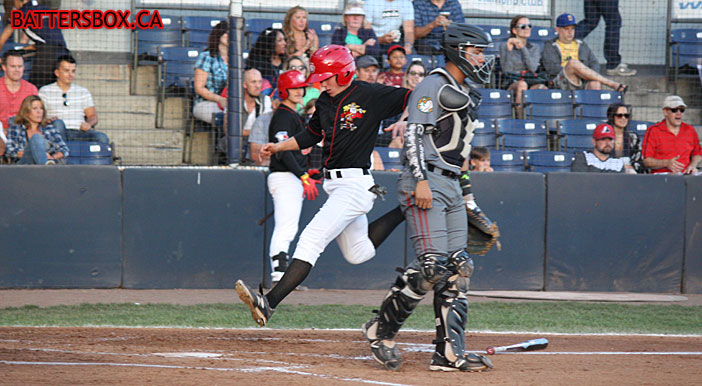 Andrew Guillotte is about to cross home plate with Vancouver's first run of the game to tie things at 1-1 in the first inning. Guillotte doubled, went to third on a fly out and scored on a fielding error by Boise pitcher Dylan Craig.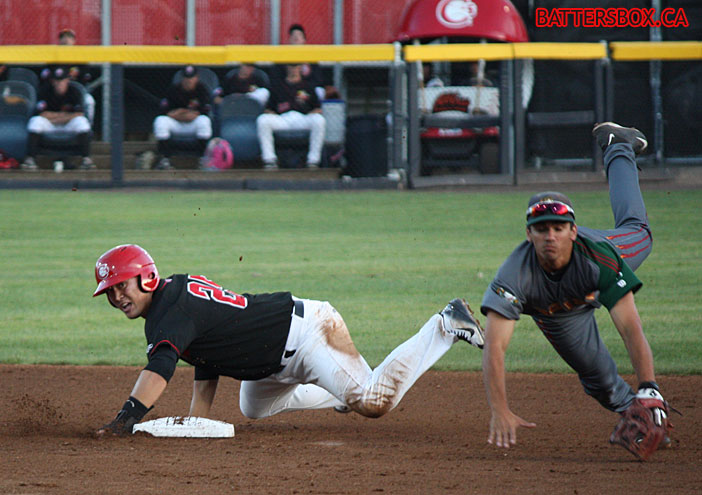 Justin Atkinson breaks up a potential double play in the first inning by upending Boise shortstop Scott Burcham. That allowed Ryan Hissey to get to second on a two-base error.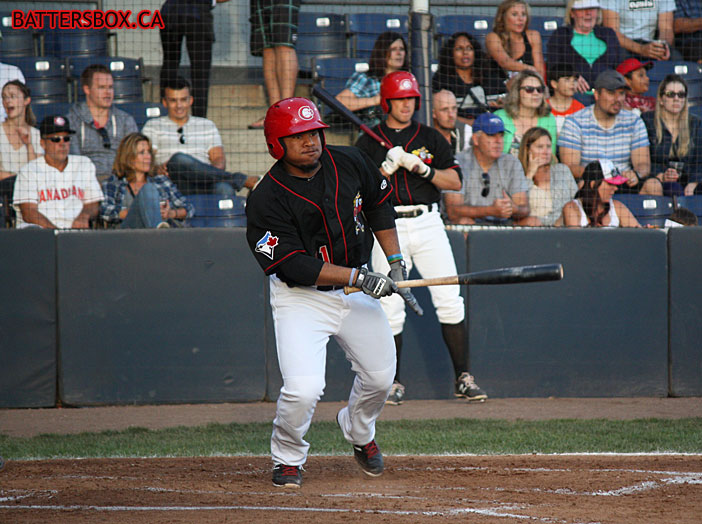 Juan Kelly goes the other way by hitting a ground-rule double to right field in the first inning.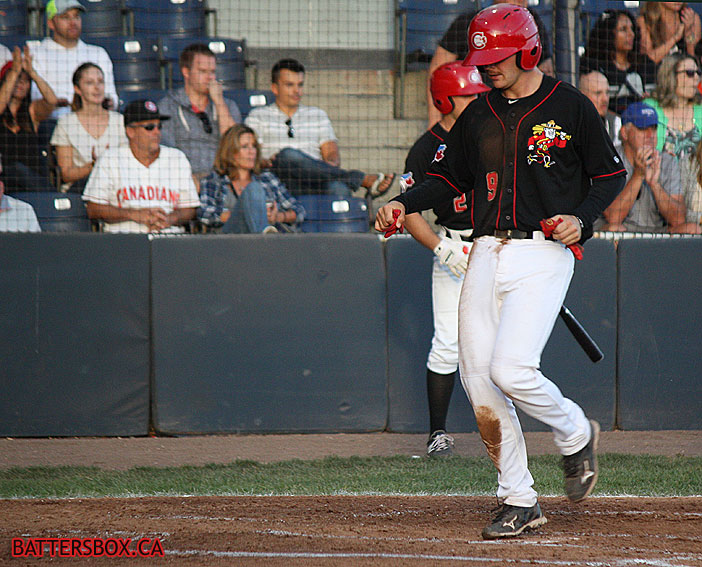 Ryan Hissey reaches the pentagon on Juan Kelly's double to give the C's a 2-1 lead in the first.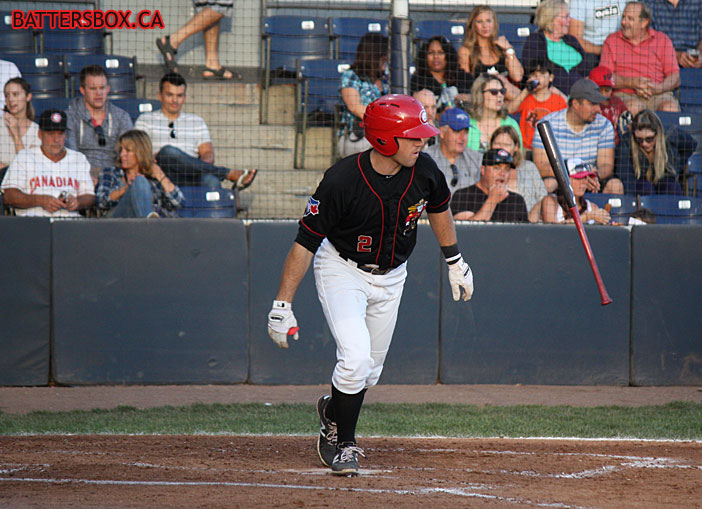 Gunnar Heidt flips the bat away after drawing a walk to extend the first-inning rally. Carl Wise would reach on the third Boise error of the inning but a Connor Panas strikeout with the bases loaded ended the inning.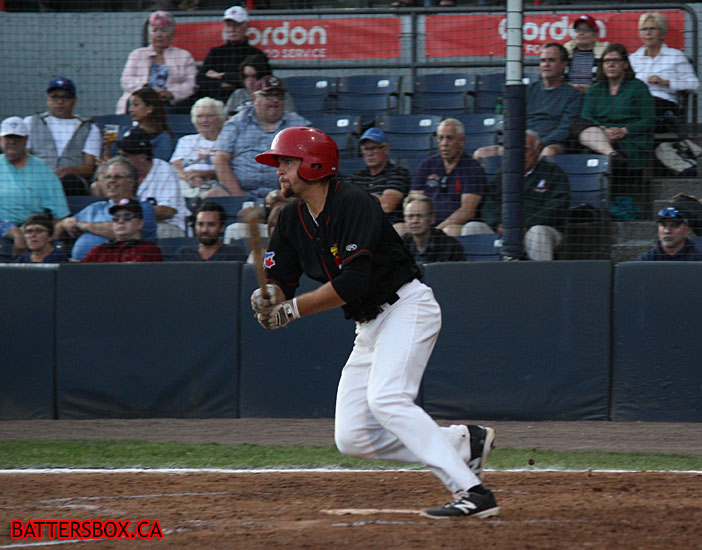 Sweet 16! Ryan Metzler keeps his hitting streak going with an infield single in the second inning.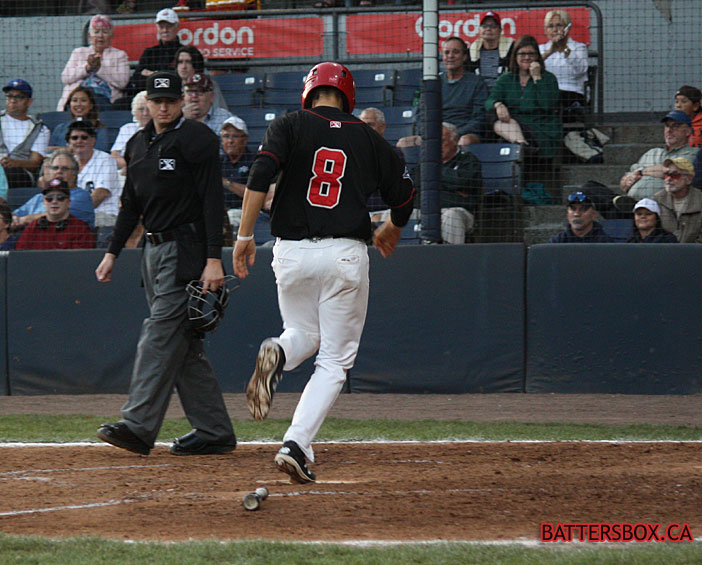 Ryan Metzler crosses home plate on a Justin Atkinson double to cut Boise's lead to 5-3 in the second.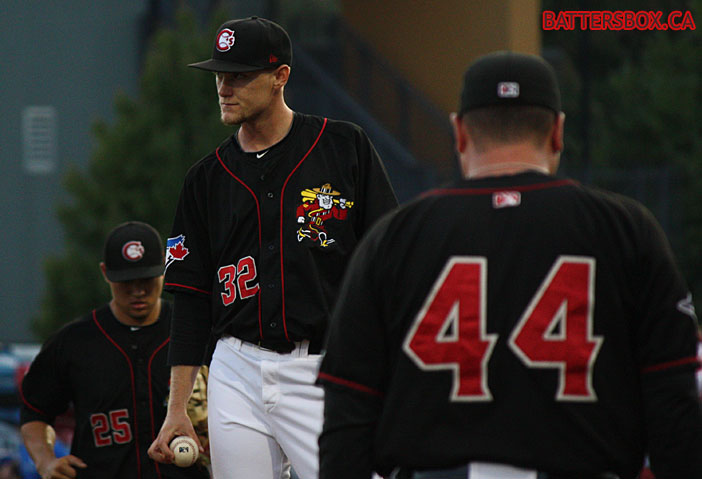 A disappointed Jon Harris gets ready to hand the ball to manager John Schneider after just 2-1/3 innings, allowing 10 runs, eight of them earned, for a Game Score of four.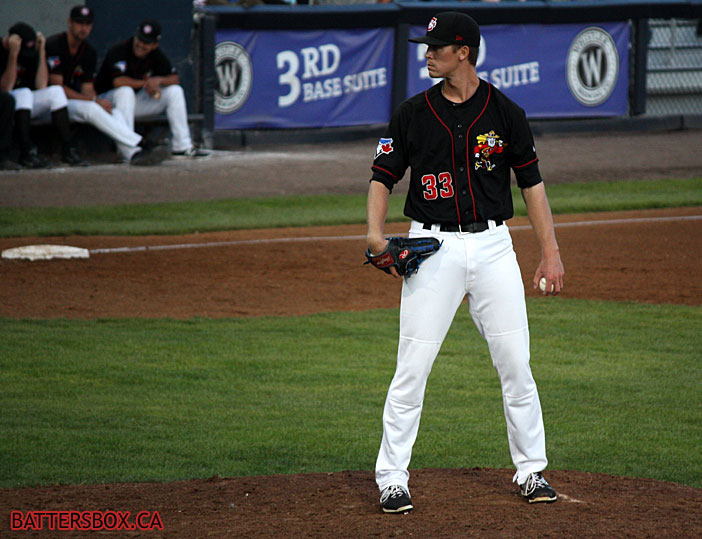 Bob Wheatley takes over for Jon Harris in the third inning.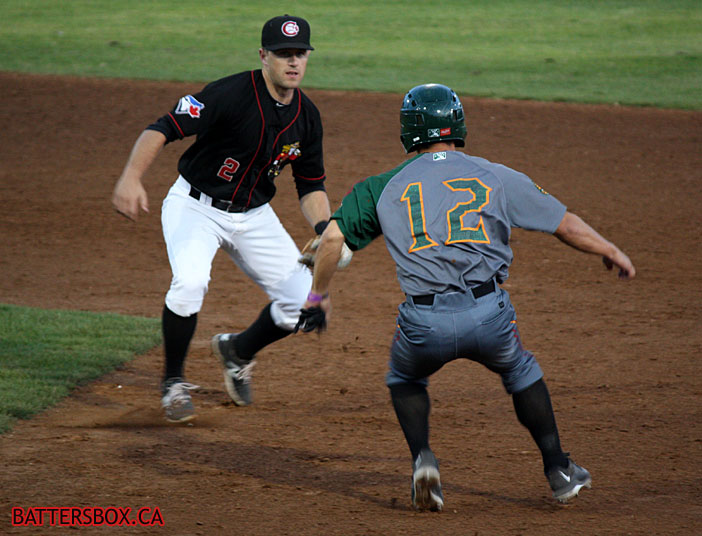 Gunnar Heidt gets ready to apply the tag after Bob Wheatley picked off Boise's Jensen Park at first base in the third inning. The play was scored 1-3-6-3-6.

The C's were down 10-3 at one point before Boise reliever Hayden Jones suffered a meltdown in the fourth that saw him plunk Andrew Guillotte and Justin Atkinson and uncork two wild pitches for pair of runs. One of them was very reminiscent of "The Wild Thing", Rick Vaughan. Boise catcher Wilkyns Jimenez also dropped a foul ball after colliding with the third baseman to give Hissey another life at the plate. Hissey would eventually draw a walk. With the bases loaded, Gunnar Heidt scalded a sinking liner towards left that looked like it was going to be caught. Atkinson was on third and went back to the bag but once it fell in, he raced home. However, Boise left fielder Jensen Park quickly recovered and threw a seed to home to nail Atkinson. Instead of a single, Heidt reached on a 7-2 fielder's choice. The C's loaded the bags again but Guillotte hit into an inning-ending double play to end the five-run rally.

The kill shot for Vancouver's momentum was a leadoff home run by Jimenez in the fifth off Bob Wheatley to make the score 11-8. Boise would add one more for a 12-8 victory.


---

Carl Wise had to leave the game after getting hit by a pitch that appeared to hit his hand. J.C. Cardenas came into the game as a pinch-runner and played short while Gunnar Heidt moved from short to third to take over for Wise. Cardenas had a good night at the plate with a bases-loaded walk among his two free passes and a base hit in three plate appearances.

Jon Harris (0-5, 6.70) did not have it in this one. The early indication that it would not be his night came when a balk and an errant pick off throw advanced a leadoff single to third before a fly ball brought in the first run of the game. The Rockies affiliate scored four times in the second and piled on with five more in the third. Harris did not get any help from the defence when Justin Atkinson whiffed on a groundball at first that could have led to an inning-ending double play but a run scored instead. The next hitter then hit a double that just fell in front of Connor Panas could not get to in time, leading to another run. Boise got two more runs in the second on another single but Guillotte started an 8-3-4 putout to get a runner at second.

However, things got worse for Harris in the third when he was chased from the game after four singles and a double and only one out. Bob Wheatley pitched 3-2/3 innings while Stuart Holmes was nicked for an unearned run over two frames but struck out three. Michael Kraft finished up with a scoreless ninth.

The C's now trail Everett by 2-1/2 games for first place in the Northwest League North Division. The 13-13 C's look to even up the series when they send Josh DeGraaf to the hill in a 7:05 pm Pacific Time start at The Nat. The series finale goes at 1:05 pm Thursday afternoon. Ryan Cook is expected to get the ball in that one.
---

https://www.battersbox.ca/article.php?story=20150826185325139