C-Cap Recap - Guillotte Got Game
Saturday, September 05 2015 @ 07:12 PM EDT
Contributed by: #2JBrumfield
The Vancouver Canadians put an end to a three-game losing streak thanks to five multi-run innings against the Everett AquaSox at Nat Bailey Stadium Friday night.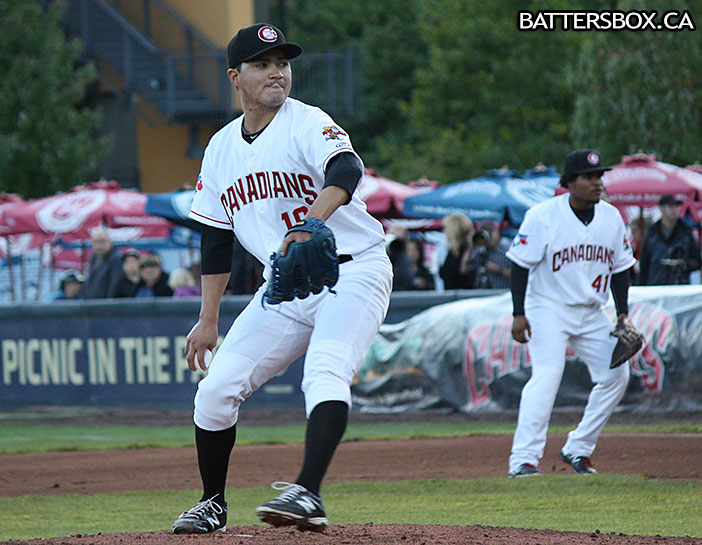 Francisco Rios got through five innings to pick up the victory in his last start of the season.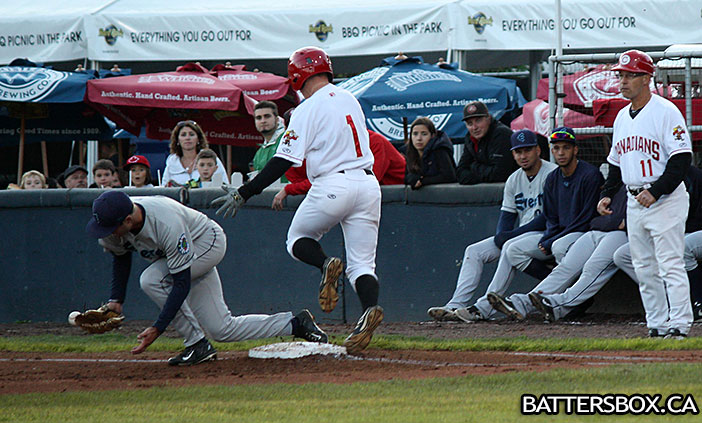 Andrew Guillotte got the offence rolling with an infield single to Everett first baseman Ryan Uhl in the first inning.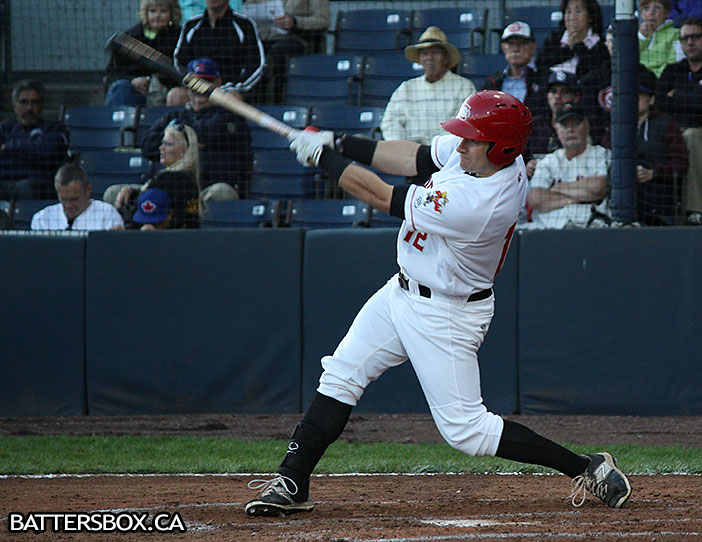 Connor Panas brings home Guillotte with Vancouver's first run on a ground out to first.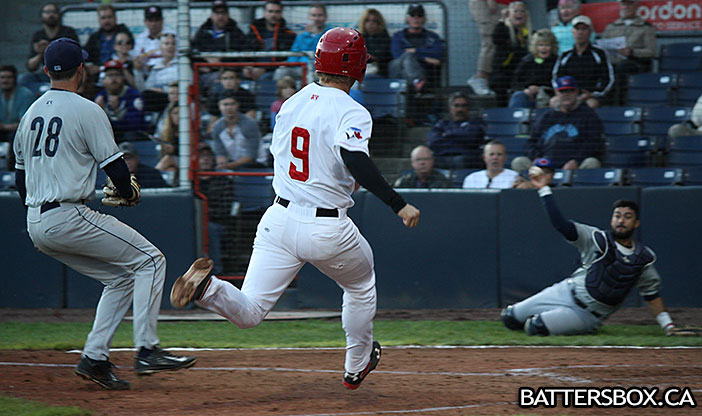 Ryan Hissey begins his slide to home plate after a wild pitch by Lane Ratliff in the first inning. Catcher Arturo Nieto makes a desperate throw to home.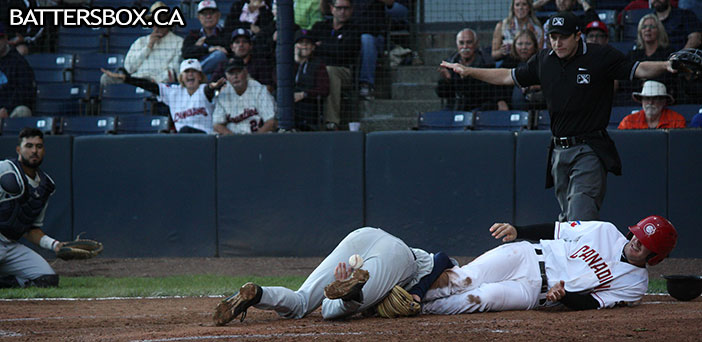 Ryan Hissey is safe at the plate to draw the C's to within a run at 3-2.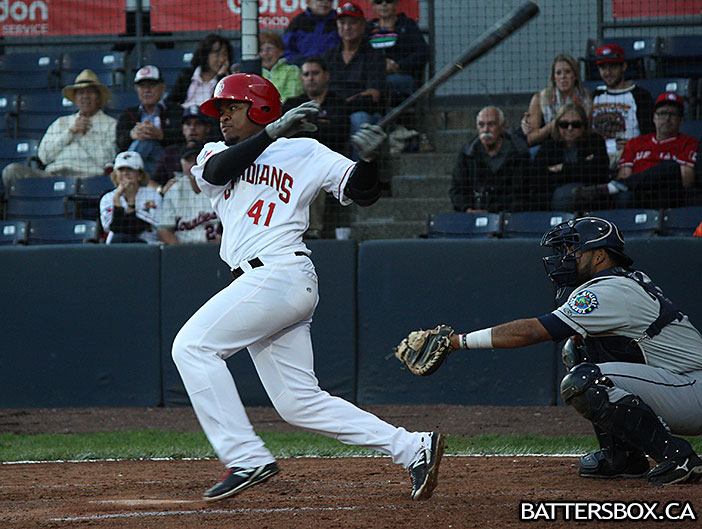 Juan Kelly singles up the middle to drive in Sean Hurley with the tying run.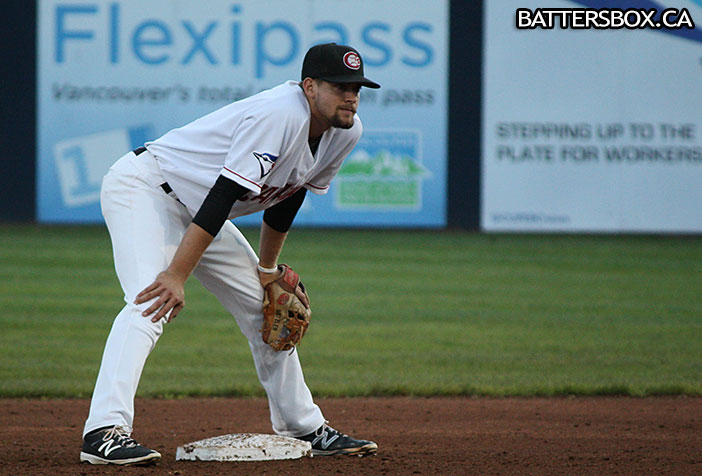 Ryan Metzler hovers over the second base bag where he enjoyed a solid game with the leather. He also had a great night with the stick with three singles and a double.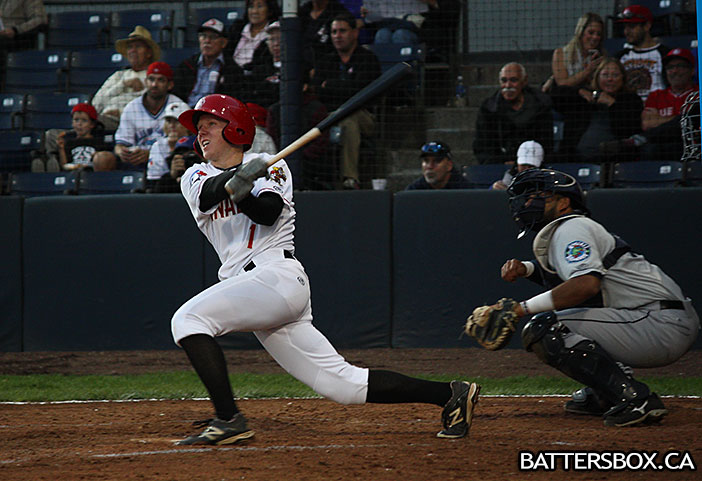 Andrew Guillotte hits one deep to left field in the second inning.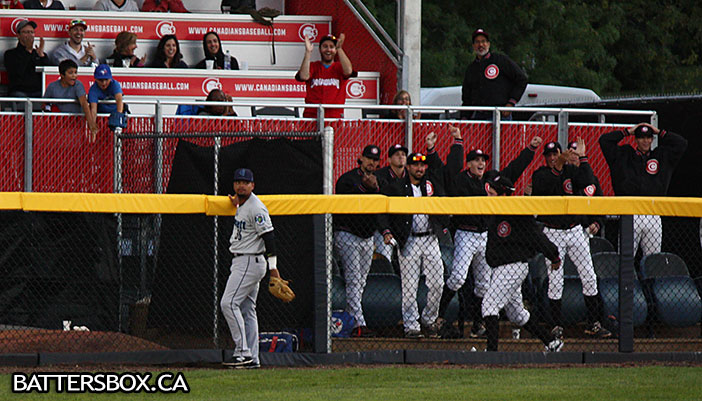 The C's bullpen celebrates and Everett left fielder Corey Simpson looks on in disbelief as the ball went off his glove and over the fence in left field to give Andrew Guillotte a two-run homer and Vancouver a 5-3 lead. Simpson would be taunted with music clips of The Simpsons during his later at-bats.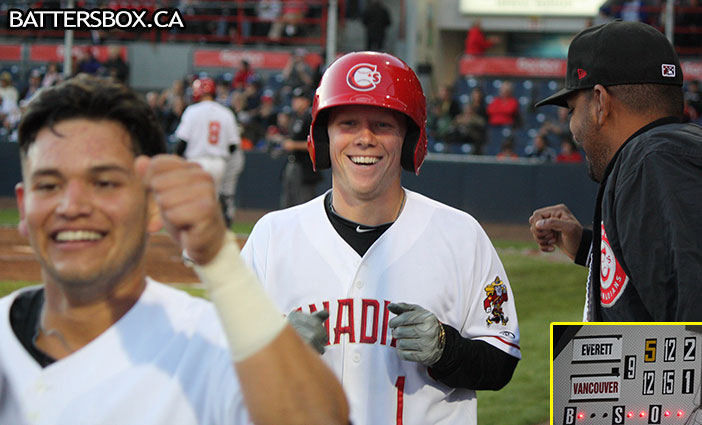 Kevin Garcia and Andrew Guillotte are all smiles after they cross home plate. Garcia got a single before Guillotte went deep. Guillotte would get the game-winning RBI in the third inning with a bases-loaded walk as the C's eviscerated Everett 12-5 to improve to 16-20 on the season.
---
Francisco Rios had a couple of troublesome innings, leading to five runs and gave up eight hits and three walks over five innings. However, he struck out seven and all six of his outs in play were handled by his infield. He topped out at 93 miles per hour. Ryan Metzler made a couple of nice plays with the glove. The most notable involved ranging well to his left and showing good body control on at throw to shortstop J.C. Cardenas to force out a runner at second in the fourth inning. His bat was also equal to the task as he had a 4-for-5 night at the plate. With his improved second half, Metzler could be a dark horse candidate for the Webster Award at the end of the year.

The C's have undergone some roster shuffling. First baseman Justin Atkinson and infielder Gunnar Heidt have been called up by Lansing to help out the Lugnuts in their playoff quest. Outfielder Rodrigo Orozco and righthander Tyler Burden have been summoned from Bluefield to get a taste of Northwest League action. Those two saw their C's debuts in Tri-City Thursday night.

Just two home games remain for the C's in 2015. Lefty Angel Perdomo is the probable starter for tonight's 7:05 p.m. game but no starter has been announced for the 1:05 pm season finale Sunday afternoon.
---

https://www.battersbox.ca/article.php?story=20150905180711225