The Swatto
Monday, March 21 2016 @ 10:00 AM EDT
Contributed by: Magpie
Is what Edwin Encarnacion did last August the best month by a hitter in Blue Jays history?

As you might recall, Encarnacion hit .407 with 11 HR and 35 RBI; his OnBase was .460 and he slugged .919 - that's an OPS of 1.379, and I found it hard to imagine anyone being any better than that. But I didn't actually know, I wanted to find out, and I only knew one way to do that.
Yup. I went through the monthly splits of every Blue Jay hitter. Ever. Since April 1977. I copied and pasted it all into an Excel spreadsheet (this took some time, mind you, the same way that sacking a city takes a bit of time.) I eliminated everyone with less than 60 plate appearances in a month, and found myself looking at 1,978 hitting lines. I then sorted them by OPS, and discovered many, many things.

And I can now tell you that was the hottest performance by a Blue Jay hitter in a calendar month was indeed the work of....Otto Velez? In April 1977? The very first month in franchise history?

Well, that would explain why I didn't remember it.

 I think I might still go with Encarnacion's work in August 2015, which does come in a very close second. And after Velez in 1977 and Encarnacion in 2015, we find... Otto Velez? Again? This time in May 1980? 

See for yourselves!

                    Split    G     PA    AB     R    H    2B   3B   HR    RBI  SB   CS   BB  SO    BAVG    OBP    SLG    OPS
                                                                            
1977    Velez         Apr    17    64    52    10    23    7    0    5    18    1    2   11   11   .442    .531   .865    1.397
2015    Encarnacion   Aug    23   100    86    23    35   11    0   11    35    0    0    9   15   .407    .460   .919    1.379
1980    Velez         May    18    72    58    14    24    3    1    6    20    0    0   12   10   .414    .514   .810    1.324
2011    Bautista      Apr    24   111    82    25    30    5    1    9    15    4    0   28   16   .366    .532   .780    1.312
2000    Delgado       Jul    27   117    88    21    34   19    0    5    21    0    1   27   12   .386    .538   .773    1.311
1993    Olerud        Jun    28   122    96    17    41   17    0    5    30    0    0   22    8   .427    .525   .760    1.285
2000    Delgado       Jun    26   116    95    22    39    6    0    9    26    0    0   20   15   .411    .517   .758    1.275
2011    Bautista      May    23   105    86    20    31    4    0   11    23    1    2   18   13   .360    .476   .791    1.267
2002    Delgado       Sep    27   116    91    29    33    6    0   10    23    0    0   20   20   .363    .491   .758    1.250
1984    Upshaw        Apr    20    84    69    18    26    8    1    6    16    0    1   12    5   .377    .464   .783    1.247
2003    Catalanotto   Aug    19    61    51    11    21    5    1    3     8    1    0    9    5   .412    .508   .725    1.234
2006    Catalanotto   Apr    16    60    46     9    19    6    0    2    10    0    0   12    5   .413    .550   .674    1.224
2000    Delgado       Aug    26   119    95    18    35    9    1    7    31    0    0   19    9   .368    .487   .705    1.193
1993    Olerud        Jul    26   110    90    17    35   10    0    6    19    0    0   18   11   .389    .491   .700    1.191
2010    Bautista      May    29   116    94    25    27    5    2   12    25    1    0   20   22   .287    .422   .766    1.188

Otto the Swatto!

Who was this guy?

He came from Ponce, Puerto Rico, and was signed as an amateur free agent by the Yankees in 1969, a few weeks after his 19th birthday. He moved through the lower minors quite nicely - he tore up the rookie leagues as a teenager and had a very nice season in A ball at age 20. He wasn't as impressive in AA, but the Yankees moved him up to AAA in 1973. They also moved him from third base to the outfield.

At age 22 Velez simply tore the International League apart, hitting .269/.450/.562 with 29 HR and 98 RBI in 138 games. Note that On-Base Percentage- Velez drew lots and lots of walks. Unfortunately for him, this was a time when most people were only dimly aware that some hitters actually walked more often than other hitters. Syracuse was where the Yankees' AAA team played, and it was not a good place to hit. Some of you may recall that Syracuse would later be the minor league home for numerous Blue Jays prospects, and quite a few of those guys would go on to put up better numbers in the AL than they did in AAA.

Velez's performance earned him his first taste of major league action - the Yankees called him up in September 1973 and basically let him play RF every day for the rest of the season. He went 1-3 in his debut, and knocked out 3 hits in his second game. He scuffled for the next couple of weeks, going 4-42 (but with 10 bases on balls) before eventually snapping out of his funk with his first two MLB homers, off Dick Tidrow of the Indians. But Velez ended up hitting just .195, which didn't look very good on the baseball card back then

The Yankees needed a right-fielder to go with Roy White and Bobby Murcer, and If that was the audition... Velez didn't pass. That winter, the Yankees made a deal with the Royals to obtain veteran (hey, he was already 30 years old) OF Lou Piniella. Then, two weeks before the 1974 season opened, they purchased Elliott Maddox from Texas. Maddox was installed him in CF and Bobby Murcer was moved to RF. Velez went back to Syracuse, and was moved to first base. He continued to kick the crap out of AAA pitching (.310/.483/.570) and  the Yankees summoned him in mid-season to fill in for Chambliss. Once again he didn't do much with his opportunity, not then nor when he was called up again in September. He cracked the Mendoza Line, but just barely. After his first two bites at the show, he sported a .201 BAVG, with 4 HR in 50 games. At this point, he drawn more bases on balls than he had hits. Not that anyone would have noticed.

So he went back to Syracuse for a third term in 1975. He spent the season dividing his time between first base and third base. He may have been a little discouraged, and he probably had an injury as well, as he played just 81 games before the annual September callup. His offensive numbers slipped to .250/.445/.463 (as you can see, he was still drawing tons of walks.).

Velez finally made it to the majors to stay in 1976. Maddox had torn up his knee while catching a flyball at Shea the previous summer and would never be the same (he actually sued the Yankees, the Mets and the City of New York over it - he lost). The Yankees brought in Mickey Rivers to replace him in CF, and Oscar Gamble to split time with Piniella in RF. Velez was on the roster as a fifth outfielder, RH pinch-hitter, and emergency infielder. He was with the team the entire year, hitting .256 with just 2 HRs in 49 games (but an OBP of .410!). He got his only taste of the post-season that October, and it didn't go well. He went 0-1 pinch-hitting against the Royals in the ALCS; he struck out in all three of PH at bats in the World Series against the Reds. That winter, the Blue Jays selected him in the expansion draft.

Not that the Blue Jays had any intention of giving Velez a regular job. It looks like the original plan was to platoon him at DH with Ron Fairly, a well-known National League veteran (Peter Bavasi had a positive thing about National League veterans.) Fairly  had been a very fine player for a long time. While he could still hit, he was also 38 years old, which does cause one to wonder just what the point of having him around might have been. Velez did get the Opening Day start, hitting cleanup against LH Ken Brett - he went 2-4 with a walk, scored a run and stole a base - but he went to the bench the next day as Fairly played against the RH. Velez started just 3 of the first 9 games (he went 3-9 with 4 BB). He made a bigger impression coming off the bench to pinch-hit against Tigers ace John Hiller with the Jays trailing 3-2 and delivering a three-run HR.

After 10 games, the Jays went to Yankee Stadium and perhaps Roy Hartsfield was thinking: a) I got these outfielders who can't hit (Gary Woods, Steve Bowling, John Scott),  I got these outfielders who can't field (Al Woods, Sam Ewing)  - why don't I see what Velez can do against the team that cut him loose? We don't know and I do not recommend ever trying to fathom Hartsfield's thought process. But Otto went into Yankee Stadium and just kicked all kinds of Bomber butt - he went 9-15 with a pair of homers, and drove in 8 runs in the four games. The expansion Jays actually won 2 of 4 against the defending league champs. Two days later, in the first game of a double header, Velez, having homered and doubled earlier in the game, came to bat in the 8th with the Jays trailing 3-2, a runner on base, and the other's team relief ace (this time it was Bill Campbell of the Red Sox) on the mound. Once again, he delivered a home run to provide the margin of victory, and for good measure he added two more hits in the nightcap.  Otto finished off the month with a three-hit game against the Royals, and his slash line at the end of April was a pretty cool .442/.531/.865 - which no Blue Jay has quite managed to match since.

Velez was named the AL Player of the Month, and more or less installed as the regular right fielder. He opened the month of May by homering in each of the Jays' first two games... and then he just stopped hitting. Not completely. Generally, he'd do little or nothing for three weeks, and then hit 3 HRs in four games, or something like that. But that first month was awesome enough to make his season a success. He finished the year hitting .256/.366/.458 - that was an OPS+ of 124, and only one hitter on the team could beat it. He was 26 years.old when the season ended. You'd think a team that lost 107 games might be able to find a job for him.

Not this team. Not at DH, where another ancient National Leaguer (Rico Carty), was brought on board.. Not in LF, where Alvis Woods was the returning starter, after hitting .284 with 6 HRs as a 23 year old rookie the year before. Not in RF, where another NL veteran, Tommy Hutton got the early season starts.

The Jays had actually obtained Hutton to play first base, where he was a good-glove no-bat type of player. But just before the season started, Whitey Herzog finally managed to find a taker for John Mayberry. Herzog had made it his mission in life to get rid of Mayberry after the disgraceful show Big John put on in Game 4 of the 1977 ALCS. Herzog had pulled Mayberry from the game, vowed he'd never play for the Royals again, and spent the winter trying to find someone to take Mayberry off his hands. It was the Blue Jays who obliged - they gave KC some money in exchange, installed Mayberry at 1b and moved Hutton to the outfield.  Hutton was really just keeping the spot warm for Bob Bailor, who had been the Jays first pick in the original expansion draft. Bailor was supposed to become a star shortstop, once he had been liberated from the Orioles system where he had been stuck behind Mark Belanger.  Upon closer examination, it turned out that while Bailor did hit like a typical shortstop, he didn't play the position like one at all, and was quickly moved to the outfield. He would become a very good outfielder, but he would continue to hit like a shortstop.

Well, Velez couldn't crack that lineup. He was in the starting lineup for just 6 of the team's first 42 games. Even when Al Woods went 2-17 to start the year, and was promptly banished to Syracuse as soon as Bailor was ready to cover RF, Velez stayed on the bench while Hutton slid over to share LF with a 21 year old kid picked up from the Yankees in the Rule 5 draft, which meant that he had to stay on the major league roster all season. (The kid was Willie Upshaw, of course, and four years later he'd actually amount to something.)

But his ability eventually got him some at bats and by the middle of June, Velez was starting in either LF or RF against most LH pitchers - he was platooning with Hutton or Upshaw or Woods (when he returned)  and pinch-hitting frequently when he didn't start. When Bailor went down for a couple of weeks in late August, Velez actually started 14 of 15 games. He never had a hot streak remotely like April 1977, but he didn't have any prolonged slumps either. His bat was productive all year long, and he finished up at .266/.380/.448 in 91 games. His OPS+ of 132 was the best on the team, even better than the Beeg Mon's. Not that Roy Hartsfield (or anyone else) knew what OPS was - I'm not certain that Hartsfield knew what On Base Percentage was.

Velez was still just 27 years old. The team was determined to go with Woods and Bailor at the outfield corners, because what use are home runs, really? The team had actually made a clever trade the previous August, however, cashing in Rico Carty's strong performance for a pitching prospect named Phil Huffman. Did this free up the DH spot for Velez? Of course not - as soon as the season ended, they purchased Carty's contract right back from the A's. So Velez played occasionally against LH, and filled in when Bailor or Woods was hurting. He started just 30 of the team's first 90 games. He was hitting, of course - .262/.363/.508 with 7 HRs in 126 ABs. It's what he did. He finally got some extended run when Bailor went down for a few weeks in late July and August. Velez started 23 games in a row. Did he hit? Well, I guess he did, if .364/.467/.688 with 6 HRs and 19 RBI in 23 games is your idea of hitting. And then Bailor got back into the lineup and Velez resumed his seat on the bench.

We might mention that it was also becoming quite evident that time had finally, finally caught up with Rico Carty. He'd had a remarkable run, despite losing one entire season to tuberculosis and another to a knee injury, and being about as terrible a defensive player as ever stepped on a diamond. With the Beeg Mon fading, the Blue Jays finally gave Otto Velez... oh no they didn't. They picked up another veteran National Leaguer (Tony Solaita) to split the DH job with Carty. The two old pros shared the job for the final two months of the season, and toddled off into retirement together when the season was over.

Velez hit .288/.396/.529 with 15 HR and 48 RBI in 1979. It was the best year of his ML career, he was by far the best hitter on the team. He started just 77 games.

In 1980, Bobby Mattick replaced Hartsfield and made Velez the regular DH. His season got off to a nice start, as he hit ..283/.365/.483 in April. On the 4th of May, the Jays played a double-header against Cleveland. The Jays swept, largely because Velez hit 4 homers and drove in 10 runs that day. He hit a solo homer, a two-run shot, a three-run homer and a grand slam, which is a pretty decent day's work. The rest of the month wasn't too shabby, either - he went 18-40 (that's .450, by the way!) with a couple  more long balls, giving us that final line of .414/.514/.810 with 6 HR and 20 RBI in 18 games.

Velez cooled off after that, but as the end of August approached he had a slash line of .269/.365/.487 to go with his 20 HRs and 62 RBIs. On the 28th of August, he was at first base for a game that ran 15 innings before being suspended. When play resumed the following day, Garth Iorg had come in from LF to play first base, and Dave Stieb was the emergency left fielder, taking Velez's cleanup spot in the batting order (Stieb came up to bat and flied out to centre.) Some time after the suspended game, Velez had gone out to dinner with his homeboy Bombo Rivera of the Twins. They got into a car accident when another car ran a red light. Velez, in the passenger seat, suffered a fractured cheekbone and would miss the rest of the season.

I don't know if it was the injury, but he was never the same again, not even close. He hit just .213/.363/.404 in 1981 - he still drew his walks, he could still reach the fences, which made him as effective as you can be when you hit .213. But in 1981, you simply weren't allowed to hit .213 unless you could also play shortstop like... Mark Belanger or someone like that. And 1982 was even worse - a persistent thigh injury sent Velez to the DL. He was hitting just .192 and hadn't played since July when the Jays released him in early September. Cleveland signed him as a free agent, and he proved he could still destroy AAA pitching, but when the Indians gave him a look in mid-season he went 2-25, and that was the end of his major league career.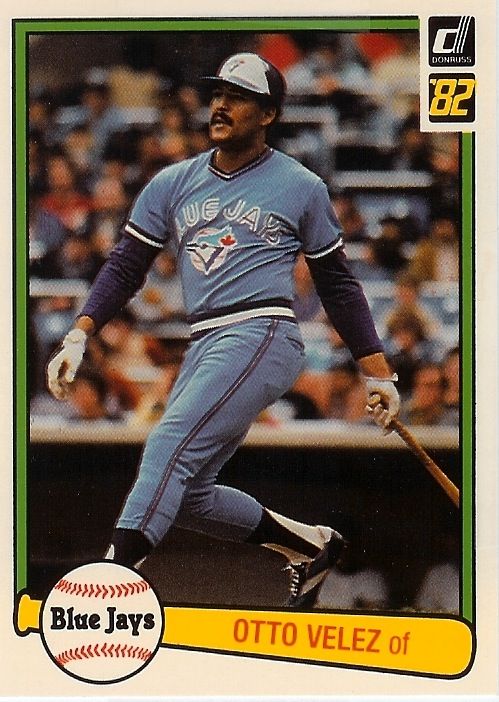 Well, that's the story of Otto the Swatto, which is certainly not the tale I expected to be telling when I started crunching all these numbers. As I said, I'd still choose Encarnacion's work last August as the best month ever by a Blue Jay hitter. It's not Velez's fault that he only started 15 games in April 1977 as opposed to Encarnacion's 23 last August (Edwin missed a few games himself) but 100 plate appearances is quite a few more than 64.

I discovered many other things, of course. I discovered that on 147 occasions, a Blue Jay hitter has posted an OPS of better than 1.000 in a calendar month. Which is really good hitting - Mike Trout, who had the best OPS in the AL last year, couldn't match that.  Last season Encarnacion, Bautista, and Donaldson each had two such months, and Devon Travis had another.

At least one Blue Jay has managed to hit at that level for a month in every season in franchise history (with the sole exception of the short season of 1981, when the Blue Jays also fielded the most pathetic offense I have ever seen up close and personal)

That's pretty meaningless, I have to say. The 2006 Blue Jays saw eleven different hitters have an OPS of better than 1.000 for a calendar month: Alex Rios (three times), Frank Catalanotto (twice), Vernon Wells (twice), Troy Glaus (twice), Reed Johnson, and Adam Lind. Didn't do them much good.

Whereas just one guy on the 1992 champions had himself that good a month (Joe Carter.)

As you would expect, no one had more of these months than Carlos Delgado, who accounts for 20 of those 147 months all by himself.

Jose Bautista's had 12 of them, Fred McGriff had 8 and John Olerud had 7. Delgado, Bautista, and Olerud are the only Jays to post an OPS better than 1.000 over an entire season, of course. 

After those four, you get:

6 times - Edwin Encarnacion, Vernon Wells, Rance Mulliniks, Adam Lind
5 times - George Bell
4 times - Jesse Barfield, Frank Catalanotto,  Shawn Green, Alex Rios
3 times - Joe Carter, Tony Fernandez, Otto Velez, Ernie Whitt
2 times -  Roberto Alomar, Josh Donaldson, Ron Fairly, Brad Fullmer, Troy Glaus, Kelly Gruber, Paul Molitor, Greg Myers, Josh Phelps, Shannon Stewart, Willie Upshaw
1 time  -  Doug Ault, Tony Batista, Barry Bonnell, Jacob Brumfield, Rico Carty, Jose Cruz, Darrin Fletcher, Juan Francisco, Aaron Hill, Eric Hinske, Joe Inglett, Cliff Johnson, Reed Johnson, Brett Lawrie, John Mayberry, Charlie O'Brien, Colby Rasmus, Randy Ruiz, Matt Stairs, Mike Stanley, Devon Travis, Devon White

I definitely did not expect to see Charlie O'Brien and Joe Inglett at any point in the course of this investigation.

Brett Lawrie's month, incidentally, was his first month in the major leagues. When he was bright and shiny and new...

A few more odds and ends...

Runs: 31 Shawn Green (August 1998)
Hits:  47 Lloyd Moseby (August 1983), Tony Fernandez (June 1986)
2B: 19 Carlos Delgado (July 2000)
3B: 5 Alfredo Griffin (May 1979), Lloyd Moseby (June 1984), Tony Fernandez (August 1989, June 1990, July 1990), Roberto Alomar (June 1995), Shannon Stewart (September 1997), Orlando Hudson (August 2002)
HR: 16 Edwin Encarnacion (May 2014)
RBI: 35 Edwin Encarnacion (August 2015), Josh Donaldson (August 2015)
SB: 18 Dave Collins (August 1984)
BB: 30 Fred McGriff (August 1989, September 1989), Jose Bautista (April 2014)
BAVG: .450 John Olerud (April 1993)
OBP: .550 Frank Catalanotto (April 2006)
SLUG: .919 Edwin Encarnacion (August 2015)

Now ... aren't you wondering who had the worst month ever?
---

https://www.battersbox.ca/article.php?story=20160321080039426