C-Cap Recap - Tri-City Leaves Van City In 1st Place, Doggone It!
Tuesday, July 12 2016 @ 09:32 PM EDT
Contributed by: #2JBrumfield
The Vancouver Canadians had a chance to take over first place in the North Division but Tri-City had other ideas Monday night.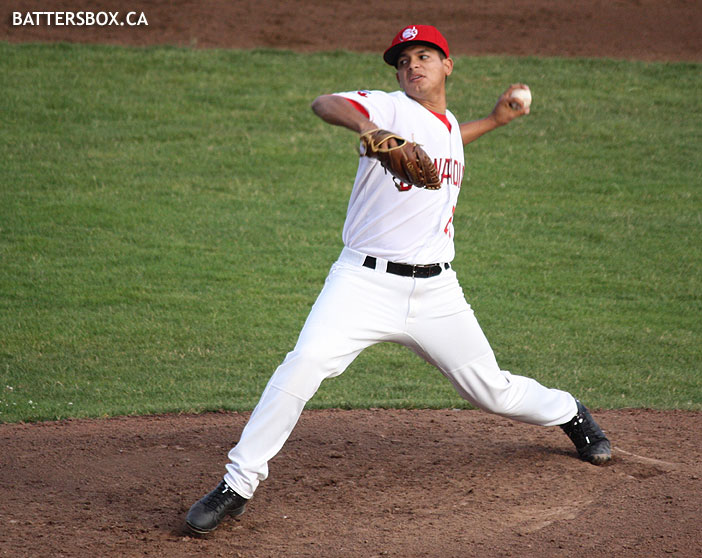 Juliandry Higuera started the series finale for Vancouver Monday night.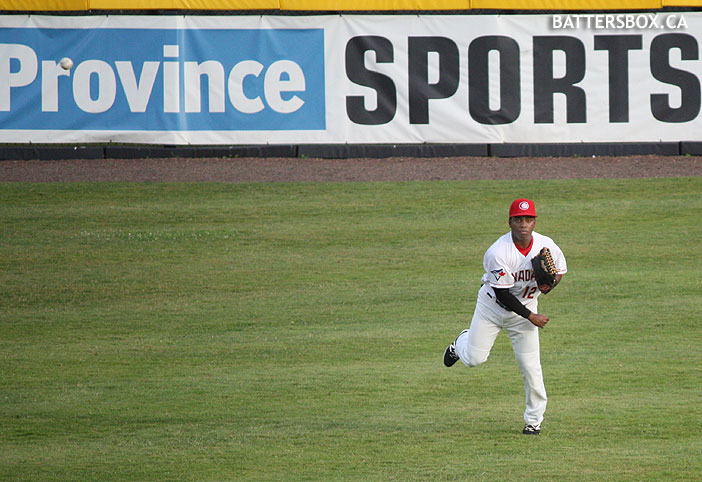 Rodrigo Orozco comes up firing after fielding a single to left field in the fourth inning.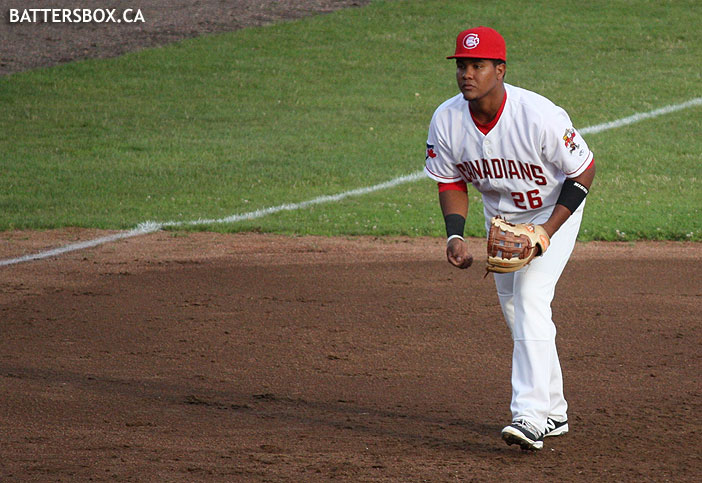 Bryan Lizardo gets ready at third base.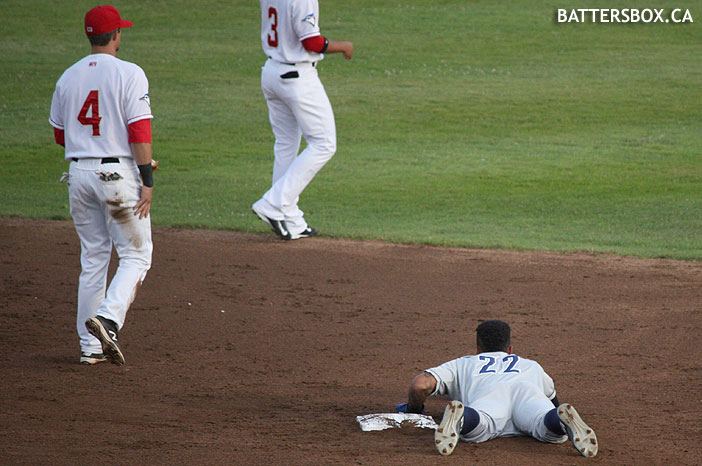 Buddy Reed steals second base as the ball is thrown away by C's catcher Javier Hernandez into center field for the game's first run.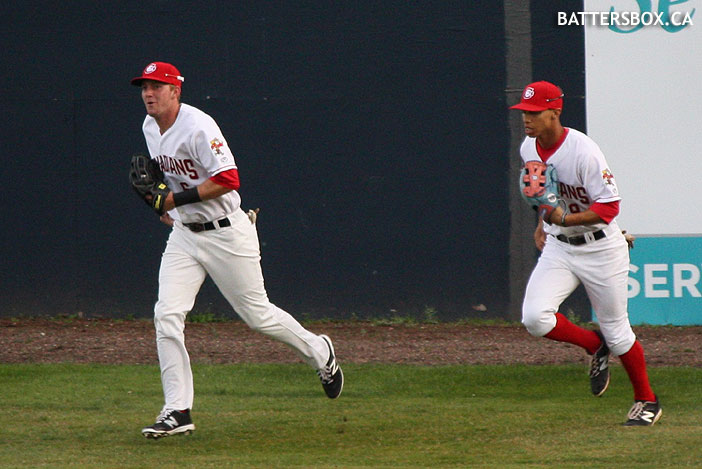 J.B Woodman (left) runs off the field with Lance Jones after a run-saving catch in center field to end the fifth.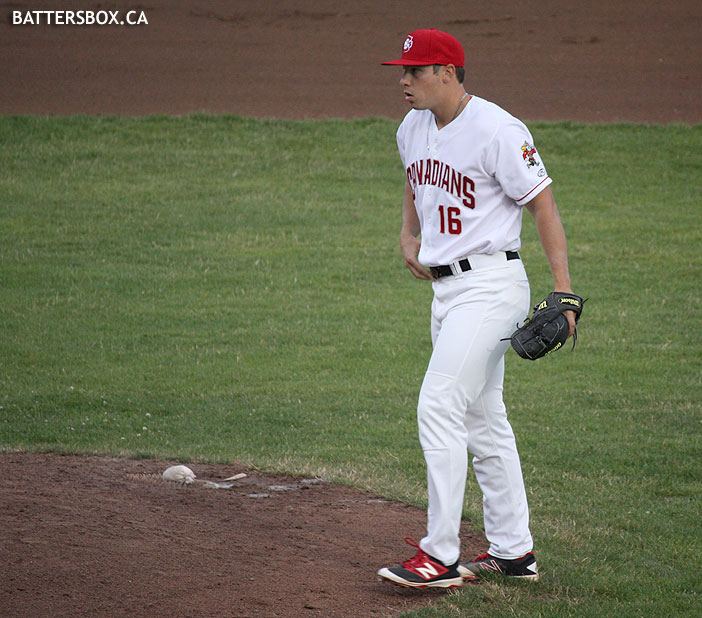 Gabe Noyalis strands a double in a scoreless sixth.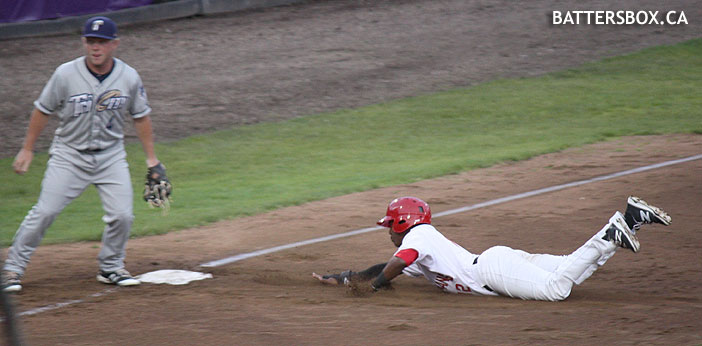 Rodrigo Orozco slides into third base after advancing on a wild pitch in the sixth.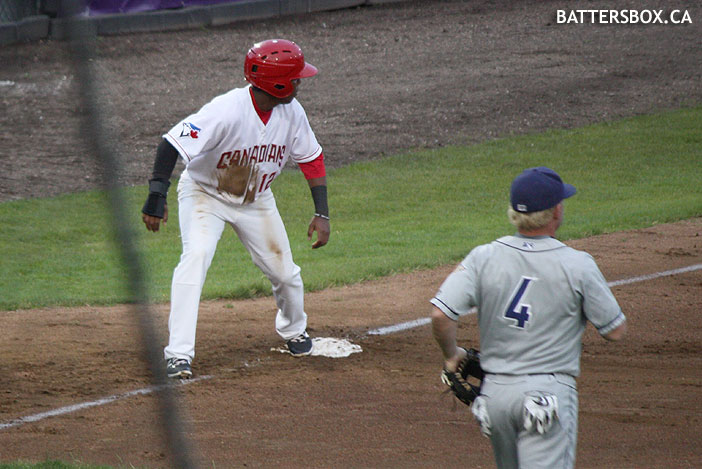 Rodrigo Orozco tags up on a shallow fly ball to left.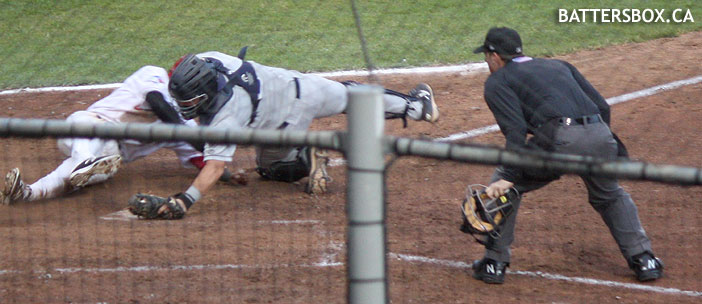 Rodrigo Orozco is tagged out by Kyle Overstreet at the plate to keep Vancouver off the board.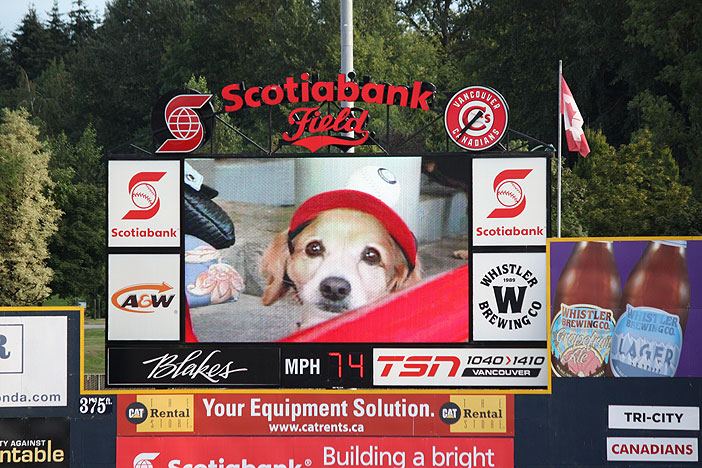 This cute dog was among the 383 four-leggeders at the game that saw the C's lose 4-1 to Tri-City during the Bark in the Park event.

For more photos of this game, click here.


---
C-Notes

Juliandry Higuera got the call to start this crucial game as the C's were making a bid to take over first place in the Northwest League's North Division. Higuera walked Nate Easley to begin the game but he struck out Buddy Reed swinging on a 93 MPH fastball before inducing a 6-3 double play off the bat of Chris Baker to end the inning.
Lance Jones got the first hit of the game with a seeing-eye single up the middle with one out in the first but he would remain 270 feet away from home plate. That was the only mistake Tri-City starter Joey Luchessi made in his three-inning stint. He may have the most deliberate delivery I have ever seen for a pitcher. Luchessi may be the Mike Hargrove of pitchers, aka The Human Rain Delay. I think the Vancouver hitters may have gotten bored waiting for the pitch to be thrown. However, give credit where credit is due as the C's would not get another baserunner until Christian Williams managed to sneak one past the glove of Baker at short to start the fifth against reliever Evan Miller.
In between, the Dust Devils managed to get to Higuera for a couple of runs. After the C's got away with three leadoff walks in Sunday's game and another one to start this game, they were finally burned by another Easley free pass that started the fourth. A wild pitch and a Reed single put runners on the corners. Higuera struck out Baker but a throwing error by catcher Javier Hernandez at second allowed Reed to steal second and Easley to cross the plate with the first run. Reed would later score on a two-out, two-strike hit by Luis Asuncion to give Tri-City a 2-0 lead.
The C's looked to have something going in the sixth when Rodrigo Orozco walked and Cavan Biggio dropped down a bunt single. Orozco got all the way to third on a wild pitch by Chasen Ford. Jones tried to get down a bunt but popped it foul behind the plate. Had Dust Devils catcher Kyle Overstreet located the ball in time, he may have had a chance to make a play on it. It was academic anyway when Jones struck out. J.B. Woodman hit a shallow fly ball to left field and Orozco tried to score after tagging up but he was easily thrown out by Aldemar Burgos at the dish.
Burgos made an impact with the bat against Grayson Huffman in the seventh. Huffman, who took over for Gabe Noyalis, struck out the first two hitters he faced but could not get a strike three past Burgos in an 8-pitch at-bat that resulted in a double. Huffman got to two strikes on Easley but he would single home Burgos to up the Dust Devils lead to 3-0. Then a throwing error by Bryan Lizardo at third on a ground ball hit by Reed made it 4-0.
The C's tried to rally again when Williams doubled with one out and got as far as third on a wild pitch by Dust Devils reliever Mark Zimmerman on a wild pitch but Lizardo and Yeltsin Gudino both struck out to leave Williams 90 feet away.
The C's took their best shot at coming back in the ninth when Lance Jones walked and was joined on the basepaths two outs later by a Williams walk and a Lizardo single. Gudino drew a walk to bring home Jones with the first run. Hernandez had the chance to be the hero with one big swing of the bat but he was rung up by David Bednar on strike three to end the game. Bednar came in to the game after Will Stillman loaded up the bases.
The victory gives Tri-City a one-game lead over Everett and Vancouver for first place in the North Division. Both the Dust Devils and AquaSox hold the tiebreakers over the Canadians thanks to winning the head-to-head match-ups. Everett took two of three over the C's at The Nat in the home opening series while the C's could not match a three-game series sweep against the Dust Devils in Tri-City at the end of June.
Vancouver will spend Tuesday traveling to Idaho to start a five-game series Wednesday against the Boise Hawks. They will play three more on the road against Spokane before returning home July 21 against the Eugene Emeralds. Blue Jays legend Dave Stieb will be at the game that night to sign autographs.
Radar Gun Rundown
Juliandry Higuera had four strikeouts, three of them swinging on pitches at 90, 91 and 93 MPH. The other registered at 75. He did reach 95 on the gun and also threw offerings at 85 and 86.
Higuera faced the minimum nine hitters in the first three innings but ran into trouble in the last two frames. He was also bailed out by a nice running catch by Woodman in center field to end the fifth that saved a run. Higuera limited the damage to two runs despite issuing three walks.
Gabe Noyalis topped out at 92 and also threw pitches from the 77-80 range, pitching around a double in a shutout sixth.
Grayson Huffman caught two batters looking at 75 and 76 and threw as hard as 94. He also checked in 80-81 and 91-93 but gave up two runs, one earned, in the seventh.
Nick Hartman scraped 95 and Matt Smoral struck out the side swinging, throwing around 88-90, in their perfect frames. Smoral has reportedly been working on a new arm slot.

---

https://www.battersbox.ca/article.php?story=20160712173254550