Maximo Effect
Tuesday, July 26 2016 @ 01:02 PM EDT
Contributed by: #2JBrumfield
A blowout loss, an extra-innings loss, a walk-off loss and a shutout loss. Only the boys from the Gulf Coast prevented Monday from being a total disaster. Buffalo's game in Moosic, Pennsylvania was rained out so they will play two today. New Hampshire's game down in Harrisburg, PA could not be played due to wet grounds so that means a double dip there as well. Dunedin had the day off.

Kane County 9 Lansing 2

Geneva, IL - The Diamondbacks affiliate annihilated Angel Perdomo (3-5, 2.97) for four runs on five hits and four walks over four frames. Perdomo also hit a batter but struck out six. Dan Lietz was lit up for a solo homer, two other hits and a walk over two innings. Daniel Young was dinged for a run on a hit and a walk over his inning of work. Ryan Cook was roasted for three more runs on four hits and two walks over two innings. Lietz, Young and Cook all had one strikeout.

The Lugnuts' only runs came in the sixth when a Ryan Hissey single and an error scored a John La Prise base hit and a Connor Panas base on balls. La Prise had two of Lansing's five hits. Max Pentecost added a double and Jake Thomas singled. Both Hissey and Thomas heard ball four once.


Eugene 7 Vancouver 6 (12 Innings)

Vancouver, BC - The C's were swept by the Cubs affiliate in five straight, blowing leads of 5-0 and 6-2 in the process, to end the first half of the Northwest League season. There were seven errors in this game, five by Vancouver, in a sloppy four-hour game. Nate Abel (0-2), who may have been in line to start tonight in Everett, had to come into this game and allowed the winning run on two singles and a walk with one K. Abel deflected a ball that was headed to first base and that brought in the tie-breaking run.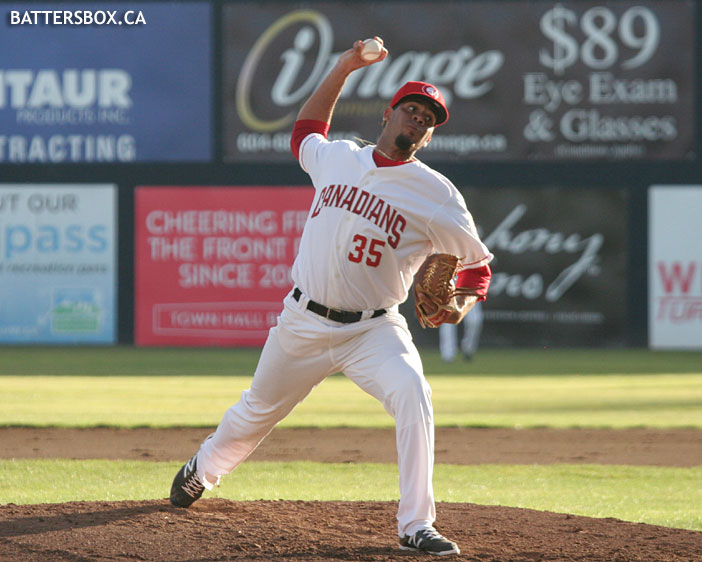 Luis Sanchez was in line for the win after 5-1/3 innings of three-hit ball against Eugene.

Every batter, save for one, put the ball in play against Luis Sanchez but he pitched 5-1/3 innings, surrendering two runs on three hits and a walk. Two of the hits came in the sixth and Evan Smith could not strand either one. One run was unearned after a Christian Williams error at first. Smith gave up three runs of his own, in 1-2/3 innings on two hits and a walk but punched out two. One run was unearned after a pair of errors by Deiferson Barreto at second and one by Smith himself. Griffin Glaude gave up the tying run in the eighth but pitched a shutout ninth. He allowed two hits and a walk with one whiff. Jackson McClelland was as awesome as his mound music, Phil Collins "In The Air Tonight", by tossing two scoreless frames of one-hit ball, striking out three.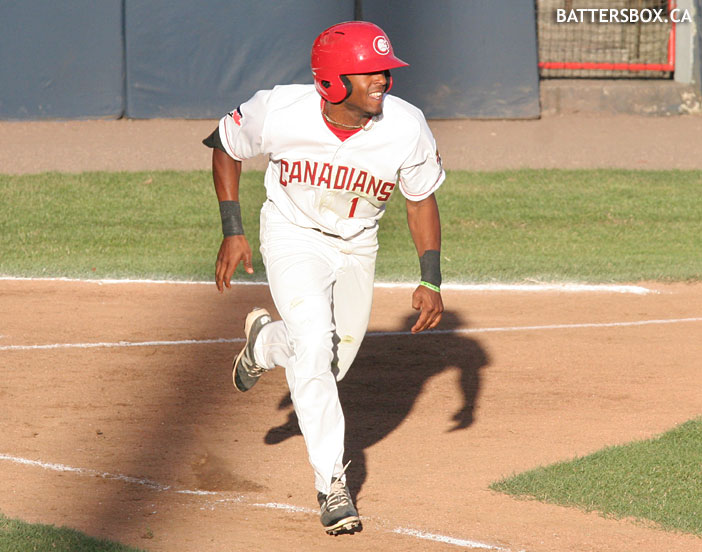 Joshua Palacios had a single, three walks and an RBI Monday.

With the San Diego Chicken coaching first base, the C's scored three times in the third on an RBI base hit by Joshua Palacios, a sacrifice bunt from D.J. McKnight and a double by Jacob Anderson. Christian Williams singled home another and Bryan Lizardo walked with the bases loaded to give Vancouver two more runs in the fifth. Anderson knocked home another with a single in the sixth. The C's had chances to win it in extra innings. Barreto lined out to second to strand a Palacios walk at third and Barreto flied out to center to leave the bases loaded in the 12th.

Yeltsin Gudino had a 4-for-5 night at the plate with a walk while Barreto and Anderson had three hits apiece. Barreto also stole his first base of the year. Palacios got on base four times with a hit and three walks. Javier Hernandez had two hits and Rodrigo Orozco doubled in his lone at-bat, replacing D.J. McKnight in left field. J.B. Woodman and Bryan Lizardo were both 0-for-5 with a walk.


Kingsport 4 Bluefield 3

Kingsport, TN - The Mets won this one in the bottom of the ninth. A throwing error by Jose Nova (0-1) that missed the mark at first base allowed the winning run to score with two outs. Nova gave up a single that was moved up to second on a bunt before his errant toss. His line over 2-2/3 innings included two hits and a free pass with no K's. Juliandry Higuera pitched the first four frames, conceding two runs (one earned) on four hits and three walks with a pair of K's. Andrew Deramo allowed a run on three hits but punched out two over two innings.

The Jays got the early jump on the Mets with RBI singles by Lance Jones and Nash Knight to take a 2-0 first inning. They regained the lead two innings later when Jones singled, went all the way to third on a Vladimir Guerrero Jr. base hit and an error in left field before scoring on a Knight groundout. Knight and Jones led the way with two-hit games while Guerrero had a walk to reach base twice. Reggie Pruitt singled and stole a base. Bradley Jones doubled but whiffed three times. Matt Morgan was 0-for-4 with a hat trick as well. Earl Burl III drew a free pass.


GCL Blue Jays 6 GCL Yankees West 1



Tampa, FL - The Jays wiped out a 1-0 first inning deficit with two runs in the second to take the lead for good. Doubles by David Jacob and Antony Fuentes produced the first run and D.J. Daniels singled home the other. Kevin Vicuna singled in the third and eventually crossed the plate on an error before adding an RBI groundout in the fifth to cash in a Miguel Almonte triple. Owen Spiwak doubled in the sixth and would advance the other 180 feet on a passed ball and a wild pitch before parking one over the fence in right field for a solo homer in the eighth. Alfredo Bohorquez singled, was hit by a pitch and stole two bases at the top of the order and Vicuna also swiped one. Norberto Obeso singled and walked while Jacob and Daniels both drew a free pass.

Maximo Castillo (1-1, 5.89) shook off an unearned run after a fielding error by Sterling Guzman at third to start the game by pitching five innings of two-hit ball, walking nobody and striking out five. William Ouellette struck out one over two shutout frames and Orlando Pascual rung up two over two scoreless frames of one-hit ball.


DSL Padres 4 DSL Blue Jays 0

Boca Chica, DR - The Padres got to Meliton Reyes (3-1, 2.31) for two runs in the first and that was more than enough against the Jays' punchless offence. Reyes gave up two singles and advanced them 90 feet with a wild pitch before issuing a walk to load the bases. A groundout and an errant pickoff throw by catcher Jonelvy Molina led to the two runs. Reyes lasted four innings, walking three and whiffing six. Oscar Brito gave up a run on a hit and three walks while punching out two over two frames while Juan Bautista was burned for a run on three hits and a walk over his two innings.

Luis De Los Santos had a pair of singles while Jose Briceno and Yeison Estevez both doubled. Estevez also stole a base. McGregory Contreras and Victor Figuereo had the other base raps.


Monday Linescores


*** 3 Stars!!! ***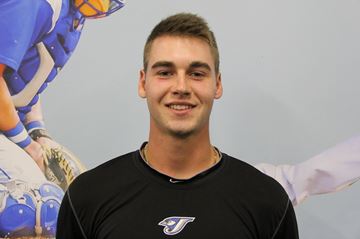 3. Owen Spiwak, GCL Blue Jays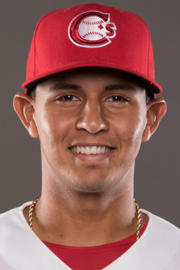 2. Yeltsin Gudino, Vancouver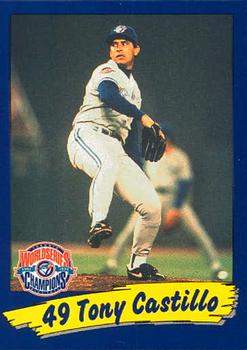 1. Maximo Castillo, GCL Blue Jays (Obviously not pictured here!)


Tuesday's Schedule/Probable Starters

DSL Padres @ DSL Blue Jays, 10:30 am ET - TBA
GCL Yankeees West @ GCL Blue Jays, 12:00 pm ET - TBA
Buffalo @ Scranton/Wilkes-Barre, 5:05 pm ET (DH) - Chris Leroux (7-7, 4.18)/TBA
New Hampshire @ Harrisburg, 6:00 pm ET (DH) - Conner Greene (2-2, 5.06)/Jeremy Gabryszwski (5-8, 4.89)
Lakeland @ Dunedin, 6:30 pm ET - Justin Shafer (3-5, 6.13)
Bluefield @ Kingsport, 7:00 pm ET - TBA
Vancouver @ Everett, 10:05 pm - TBA


Random Blue Jays minor leaguer of the day.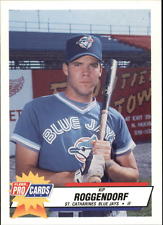 ---

https://www.battersbox.ca/article.php?story=20160725181947893