Don't Raise A Stink! Raise A Banner! C's Rally Skunk Their Way To A Northwest League Title!
Wednesday, September 13 2017 @ 03:32 AM EDT
Contributed by: #2JBrumfield
The Vancouver Canadians are the 2017 Northwest League champions after a 2-1 victory over the Eugene Emeralds in Game 4 at Nat Bailey Stadium.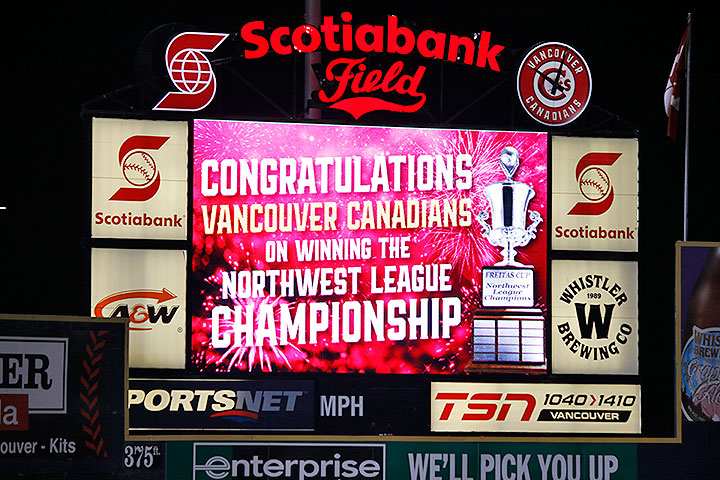 The C's have won four Northwest League titles since becoming an affiliate of the Toronto Blue Jays back in 2011.
---
The C's managed to win the last two games of this series despite getting just five hits. Eugene starter Jose Alberto had a no-hitter into the fifth but Deiferson Barreto drew a one-out walk before Reggie Pruitt recorded Vancouver's first hit with an infield single to short. Chavez Young moved both runners up by grounding out to second before Logan Warmoth got one past the infield with an opposite field single to right to score Barreto and Pruitt.

Pitching and defence won this championship for the C's. Justin Dillon managed to escape a one-out bases loaded jam in the first inning, striking out the side in his first two frames on the way to seven K's over three frames. Zach Logue gave up a leadoff homer to Michael Cruz in the fourth and the Emeralds tried to get another run in the fifth but left fielder Norberto Obeso threw out Jose Gonzalez at the plate trying to score from second on a Zach Davies single. Logue got through the sixth, striking out four over three innings to earn the victory.

White Rock, BC native Brayden Bouchey used his curveball to great effect with two perfect frames, striking out three. Bouchey overcame a dropped pop-up to the first hitter he faced when catcher Riley Adams and first baseman Kacy Clemens bumped into each other. Clemens had the better angle as Adams was backing up but Adams had a bead on it and was about to make the catch before Clemens bumped into him. They were upset at each other for failing to get the out but Bouchey picked up his teammates by getting Miguel Amaya to line out to center on the next pitch.

The Northwest League All-Star duo of Orlando Pascual and William Ouellette finished up the ninth. Pascual struck out the first man he faced before Young ran one down in foul territory in right field. His momentum caused him to tumble over the short wall but he held on to the baseball to record the second out. Ouellette rung up Will Remillard to start the celebration. In total, the C's hurlers whiffed 16 Emeralds while allowing just four hits and three walks.

Congratulations to the C's organization for winning the Northwest League title and bringing the Bob Freitas Trophy home. Vancouver joins Dunedin in the winner's circle after the D-Jays captured a share of the Florida State League championship.

That concludes the minor league updates on Batter's Box for 2017. Stay tuned for the Blue Jays Top 30 prospect rundown. Thanks for reading!


*** 3 Stars!!! ***

3. Logan Warmoth

2. Brayden Bouchey

1. Justin Dillon


Linescore
---

https://www.battersbox.ca/article.php?story=20170913023333790