New Thread and ZiPS Projections
Thursday, January 10 2019 @ 01:12 PM EST
Contributed by: Gerry
We need a new thread and Fangraphs published their ZiPS projections for the Jays today. It does not make for easy reading. There are no standouts on the team, before Vlad, and the projection for Lourdes Gurriel is very low.
Here is the simple chart.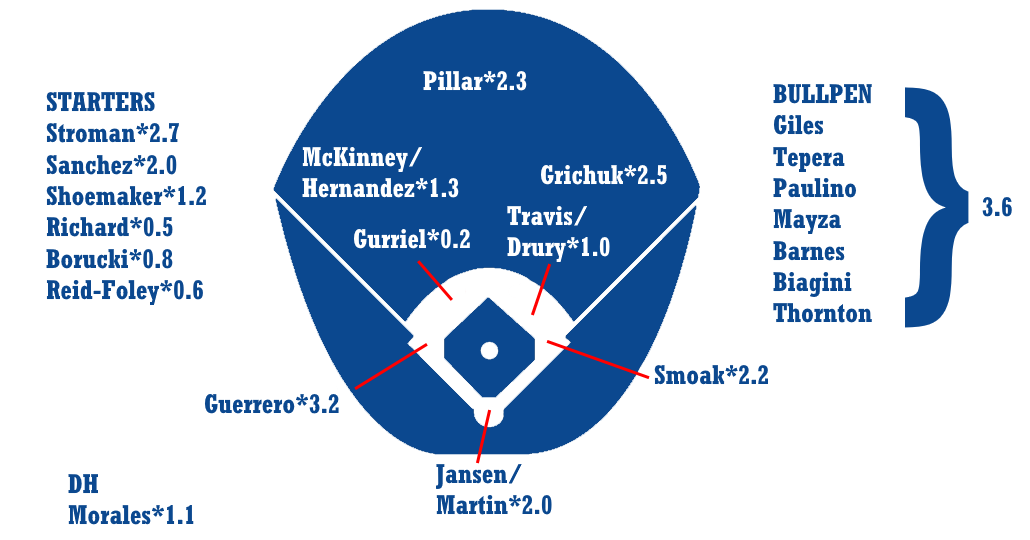 Here is the link for their detailed reports and stats forecast for anyone who could possibly play for the Jays this year.
Remember that ZiPs are calculated based off the players stats from the last few years, adjusted for age. A young player should improve, an older player should get worse. On average it tends to work but there are always lots of players who defy the projections in both directions.
The problem for the offense, as author Dan Szymborski sees it, is that you have several players who should top out around 2 wins. There are no stars, with Vlad Jr. the closest the Jays have. Smoak, Martin/Jansen, Pillar and Grichuk are decent players. Guerrero will be good. But second base, shortstop, and left field are seen as problems. The biggest loser in these projections is Lourdes Gurriel whose free swinging ways and iffy defense have him at replacement player level. The article compares him to Rey Quinones, if you remember him. That is not a flattering comparison. Devon Travis, Eric Sogard, Brandon Drury are all in the same neighborhood for WAR, and Richard Urena is negative so who else would play instead of him?
Bo Bichette and Kevin Smith both have better projections than Gurriel but they will get more minor league time.
The outfield projections are also interesting. Other than Grichuk and Pillar, the next best projected outfielder is Cavan Biggio (assuming the can play there), followed by Jonathan Davis. Davis is tied with Teoscar and marginally ahead of Billy McKinney.
There are few surprises on the pitching side. Stroman and Sanchez are best at 2 wins each, then there is a parade of pitchers around the one win mark.
If you add all the WAR's together you get 27 wins about replacement level. I am not sure exactly where replacement level is these days but if it is 48 wins, then the Jays are projected to win 75 games, with this roster. If the Jays add a couple of relievers that won't change much. If they trade Stroman or Giles, that number of 75 wins would fall.
Other than ZiPs there is not much going on. We are now down to five weeks left in the off-season so players will be getting anxious to sign. But some big names are still hanging out there delaying the market. The dam has to burst soon.
---

https://www.battersbox.ca/article.php?story=20190110124807694