2019 MLB Draft - Day 2
Tuesday, June 04 2019 @ 08:02 AM EDT
Contributed by: #2JBrumfield
It is Day 2 of the 2019 MLB Draft with Rounds 3-10 with the Blue Jays picking 88th. You can follow the draft right here. #LetsGoBlueJays
The Jays stayed on the mound with their first two picks, selecting West Virginia righthander Alek Manoah with the 11th pick before snagging IMG Academy righty Kendall Williams 52nd overall.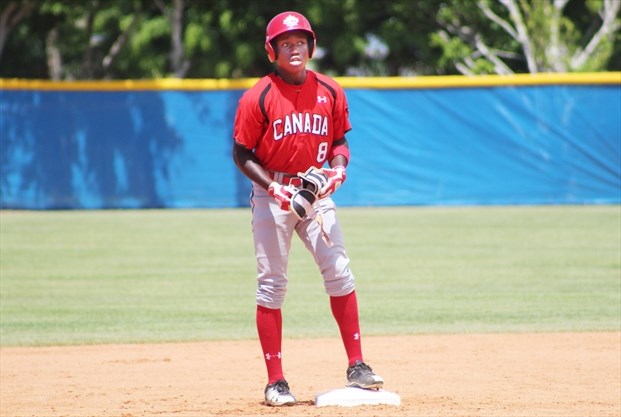 Image from insidehalton.com

Round 3 - 88th overall. OF Dasan Brown. Abbey Park HS, Oakville, ON. 5-foot-11, 170 lbs. Bats Right, Throws Right. Born September 25, 2001. Slot Value $678,600.

MLB Scouting Report
- For the past five Drafts, there has been a high school hitter from Ontario taken in the top two rounds, two being the first-round Naylor brothers. Brown, a super-athletic and a bit raw outfielder from North of the Border, may not go quite that early in June, but he is the best Canadian prospect in this class by far. Most evaluations on Brown are projections for far off in the future, with interested teams knowing they will have to be patient. He does have solid contact skills from the right side of the plate and he should grow into some raw power. He needs to add strength and has trouble impacting the ball at times as a result, though some scouts point out that Brown was most heavily scouted while facing pro competition this spring. The Texas A&M commit has close to top-of-the-scale speed, which makes him a threat on the basepaths and helps him cover a ton of ground in center field, where he should be a plus defender down the road. Teams that love players with premium athleticism and a ton of ceiling are likely going to look at Brown in the first three or four rounds. It might take some time, but the payoff could be huge.
Video
Baseball America Scouting Report - Scouting Report: One of the fastest players in the 2019 class, Brown is an 80-grade runner who routinely posts sub 4.1-second home-to-first times from the righthanded batterís box. With centerfield athleticism and instincts, Brown has tremendous upside as a defender in the middle of the outfield, tracking balls well with dynamic athleticism that will allow him to make plays other outfielders wouldnít dream of getting to. Brown has average raw arm strength, but he needs to improve his throwing accuracy. Offensively, Brown is incredibly raw, and scouts believe he would be a two-year Rookie-ball player who you would need to teach how to hit. He has some bat-to-ball skills that he showed off with the Canadian national team against pro competition this spring, but heís mostly a fastball hitter who has a line-drive approach and rarely elevates the ball. When he does, itís with little impact ability as Brown has well below-average raw power in his 5-foot-11, 170-pound frame. A Texas A&M commit, Brown could be a player who teams prefer to see go to school, develop physically and prove he can hit. But if he does figure out the offensive game and takes the next steps, he has exciting upside and is one of the more impressive athletes in the class.
Twitter Reaction

@KPeterson813
With the 88th overall selection, the
@BlueJays
select OF, Dasan Brown. A bit of a spring pop up. ++ bat speed and run. Room for physical development. #
MLBDraft
#
BlueJays
@FG_Prospects Jays 3rd rounder Dasan Brown is one of the youngest and fastest players in the draft. Big physical projection, bat has come on the last few months.
@CarlosACollazo Dasan Brown has an argument as the fastest player in the class. He absolutely flies. It's a light bat now, but he has some bat-to-ball skills and could be an exceptional defender in center field. #MLBDraft #BlueJays...Brown is an 80-grade runner for us.
@vcervinoPG Dasan Brown is really toolsy: plus run, plus bat speed, with a chance to stick. Here's my full report from earlier this year #BlueJays
Round 4 - 117th overall. OF Will Roberston, Creighton. 6-foot-2, 215 lbs. Bats Left, Throws Left. Born December 26, 1997. Slot Value $492,700.
MLB.com Scouting Report - As a junior, Robertson hit an extra-inning home run to give Fatima High (Westphalia) the 2015 Missouri state Class 3 baseball championship, but he otherwise drew little attention at his small-town school. After a modest freshman season at Creighton, he made a run at the Big East Conference triple crown in 2018 and continued to produce in the Cape Cod League during the summer. He has been streakier at the plate this spring, costing him a chance to join Chad McConnell (No. 13 overall in 1992) as the only Blue Jays position players ever selected in the first round. Omaha's TD Ameritrade Park is one of the toughest places to hit a home run in college baseball, yet it hasn't been able to contain Robertson, whose short, quick left-handed stroke and strength give him some of the best power in the 2019 college crop. He lets his home runs come naturally rather than swinging for the fences, making repeated contact that could allow him to hit for average as well. To do so, scouts believe he'll need to get more upright in his stance like he was in the past before getting too spread out as a junior. Robertson has below-average speed out of the batter's box but is closer to average once he gets going. He needs to improve his defensive instincts and his arm is merely average, so he could shift from right field at Creighton to left field in pro ball. His all-around profile is similar to that of College World Series hero Trevor Larnach, whom the Twins drafted 20th overall out of Oregon State last June, though Larnach had a more impressive junior season. Video

Baseball America Scouting Report: Since Creighton moved to TD Ameritrade Park on a full-time basis in 2012, home runs have been very hard to come by for the Blue Jays. In 2015, Creighton hit nine home runs as a team. Robertson is one hitter whose power has played even at TD Ameritrade. His 12 home runs in 2018 were the most by any Creighton hitter since moving to the new stadium, topping future major league Mike Gerberís 11 in 2014. Robertson reached double digits home runs again in 2019, showing a level, line-drive swing from the left side that provides plenty of contact and some power because of his innate strength. Robertson impressed evaluators last summer in the Cape Cod League, where he hit .300/.380/.435. He has plus raw power to go with an average hit tool. Robertson is more solid than spectacular. Heís a left fielder who can provide average defense in the corner outfield spots with a fringe-average arm. Heís also an average runner. There are a lot of 45 and 50 grades on Robertsonís scouting report. That, combined with his power production and his impressive stint on the Cape Cod League, should help him land a spot in the third to fourth round.

Twitter Reaction
@ZackMatt4 Will Robertson is honestly not too dissimilar to Griffin Conine, who the Jays took last year. Big power bat who performed on the cape but he's been streaky at Creighton, potential to be an impact hitter in the best case scenario
---

https://www.battersbox.ca/article.php?story=20190604030949914