2019 MLB Draft - Day 3
Wednesday, June 05 2019 @ 11:42 AM EDT
Contributed by: #2JBrumfield
The final 30 rounds of the 2019 MLB Draft goes today. You can follow the draft right here. #LetsGoBlueJays #BlueJays

After taking two pitchers on Day 1, the Blue Jays took all position players on Day 2. Sources are telling the Batter's Box Draft Panel the Jays will draft not only position players but pitchers on Day 3. You heard it here first!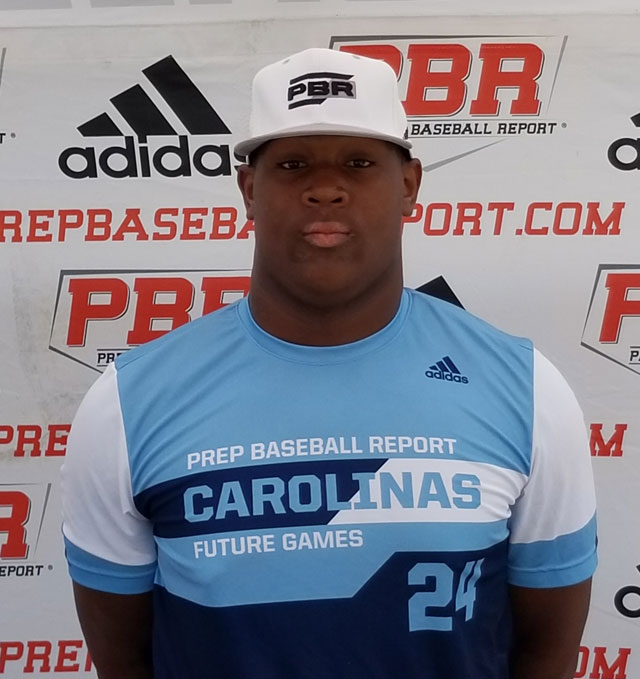 Image from prepbaseballreport.com

Round 11 - 327th overall. 1B/OF Nick Neal, Randleman HS (North Carolina). Bats Right, Throws Right. 6-foot-6, 285 lbs. Born October 4, 2001.
Twitter Reaction

Round 12 - 357th overall. RHP Sam Ryan, Virginia Commonwealth. 6-foot-3, 205 lbs. Born September 22, 1998.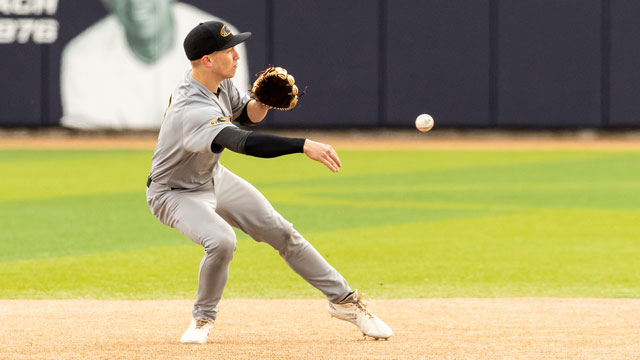 Image from mkepanthers.com

Round 13 - 387th overall. SS Trevor Schwecke. Wisconsin-Milwaukee. 6-foot-1, 185 lbs. Bats Right, Throws Right. Born December 18, 1997.

MLB.com Scouting Report - Schwecke has a busy right-handed swing with a lot of moving parts, but he possesses a good feel for hitting and some pop. Although he has solid athleticism, Schwecke profiles as a second baseman at the professional level because his arm and speed both rate as average.
Twitter Reaction

@jeffMLBdraft
Trevor Schwecke is a player I saw in person thsi year continuing the Blue Jays record of taking such a player. Solid actions at short. Good production, advanced approach likely a utility player
Round 14 - 417th overall. OF Eric Rivera, Florida Atlantic. 6-foot-0, 185 lbs. Bats Right, Throws Right. Born September 19, 1997.
Round 15 - 447th overall. RHP Michael Dominguez, Jefferson HS (FL). 5-foot-10, 175 lbs. Born August 17, 2000.
Round 16 - 477th overall. RHP Jackxarel Lebron, International Baseball Academy (Puerto Rico). 6-foot-3, 175 lbs. Born September 8, 200.
Round 17 - 507th overall. RHP Jared DiCesar, George Mason. 6-foot-0, 185 lbs. Born April 21, 1998.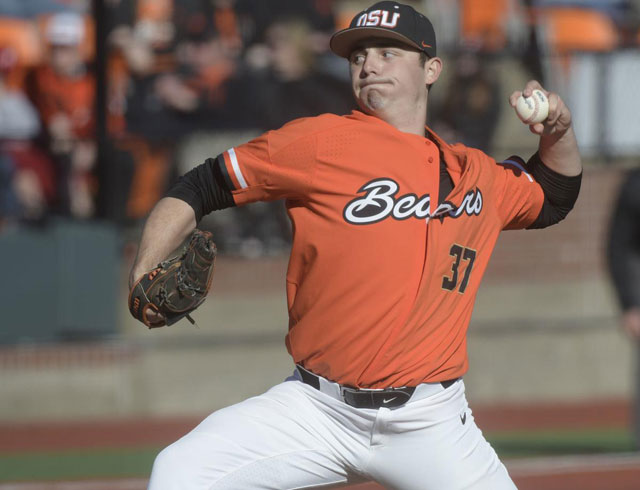 Image from gazettetimes.com

Round 18 - 537th overall. LHP Brandon Eisart, Oregon State. 6-foot-2, 205 lbs. Born January 18, 1998.
Round 19 - 567th overall. C Gustavo Sosa, Tottenville HS (New York). 6-foot-2, 180 lbs. Bats Right, Throws Right. Born July 17, 2001.

Round 20 - 597th overall. LHP Jimmy Robbins, Rollins College (Florida). 6-foot-3, 175 lbs. Born December 22, 1997.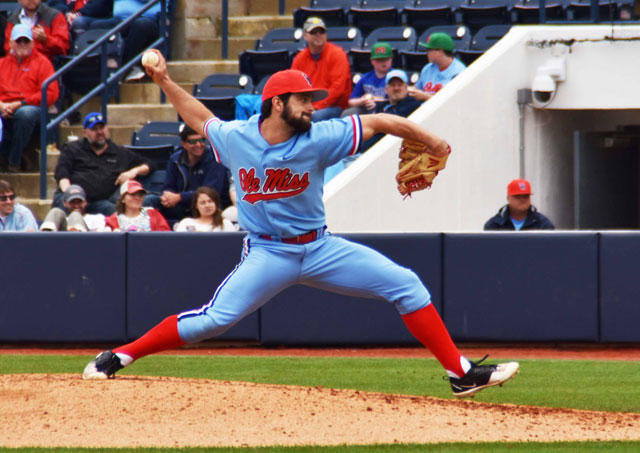 Image from the thedmonline.com

Round 21 - 627th overall. RHP Parker Caracci, Ole Miss. 6-foot-0, 205 lbs. Born September 13, 1996.
MLB.com Scouting Report - Caracci was drafted by the Blue Jays in the 37th round of the 2018 Draft after an impressive sophomore season at Ole Miss in which he went 5-2 with 10 saves and a 2.25 ERA in 48 innings. He showed good control as well with a 5.2 K/BB ratio and dominated batters with a 13.9 K/9 rate. He was chosen for the USA Baseball Collegiate National Team last summer as a result. His 2019 hasn't been as strong, but his prior success makes him an intriguing prospect.

Baseball America Scouting Report - Caracci has come a long way. After redshirting as a freshman, he didnít earn a spot on the Rebelsí 35-man roster in 2017. Caracci finally got his first chance as a redshirt sophomore and quickly became Mississippiís closer, earning second-team All-America honors and an opportunity to play with USA Baseballís Collegiate National Team. He was a 37th-round pick of the Blue Jays in 2018. This spring, Caracciís fastball generally continued to play better than its radar gun readings, but there were times when he was extremely hittableómost notably when he blew a six-run lead against Louisiana State. A couple of outings like that make Caracciís statistics hard to stomach for a draftable relieveróhe was 3-3, 5.60 with nine saves in late May with 4.9 walks per nine and 11.5 strikeouts per nine. Caracci has an up-tempo delivery and works quickly. His fastball has some late jump, helping him get swings and misses in the zone at 93-95 mph. It dipped to 90-92 mph early in the season. His low-80s slider has improved, but itís still fringe-average.
Twitter Reaction

@BaseballAmerica
The
@BlueJays
just took
@OleMissBSB
closer Parker Caracci in the 21st round. He was once cut from the Rebels' roster TWICE. But he stuck around, working his way onto the team and into a critical role this season. An awesome story of resilience:
Story
Round 22 - 657th overall. RHP Nick Fraze, Texas State. 6-foot-3, 180 lbs. Born October 24, 1997.

Round 23 - 687th overall. RHP Anders Tolhurst, Grossmount College (California). 6-foot-4, 190 lbs. Born September 13, 1999.

Round 24 - 717th overall. 1B Spencer Horwitz, Radford. 6-foot-0, 190 pounds. Bats Left, Throws Right. Born November 14, 1997.

Round 25 - 747th overall. C/RHP Nate LaRue, McGill-Toolen HS (Alabama). 6-foot-3, 205 lbs. Bats Right, Throws Right. July 27, 2001.
MLB Scouting Report
- Though Mobile (Ala.) Christian High's Ethan Hearn could be the first prep catcher selected in 2019, there are scouts who believe he's not the best in his own city. They prefer LaRue's superior athleticism and think he'll be a better hitter and receiver. There also are evaluators who wonder if LaRue might have a future on the mound, where he shows a low-90s fastball and closed out the clinching game as McGill-Toolen Catholic won its first state 7-A title in May. A former outfielder who's more athletic than most catchers, LaRue moves well behind the plate. He's already an average receiver and should continue to improve as he gains more experience. He has a solid, accurate arm that could play as plus if he can learn to quicken his release. LaRue's proponents like his relatively compact right-handed swing and his willingness to use the opposite field, though some scouts wonder if he'll make regular contact against more advanced pitching. The Auburn recruit has solid raw power and lets it come naturally rather than worrying about home runs. He has close to average speed but will slow down as he matures physically and spends more time behind the plate.
Video
Baseball America Scouting Report - LaRue is a 6-foot-3, 203-pound two-way prospect committed to Auburn. He is athletic and profiles well as a catcher, but evaluators seem to be most intrigued by what he can do on the mound. He shows above-average arm strength and throws plenty of strikes thanks to a repeatable delivery. LaRue throws his fastball in the low 90s as well as a breaking ball that flashes plus. LaRue also shows feel for a third-pitch changeup with sinking action. While he has some power with the bat, most evaluators see his long-term future on the mound.
Round 26 - 777th overall. OF Jean-Christophe Masson, Cardinal Roy SS (Quebec). 6-foot-3, 193 lbs. Bats Left, Throws Right. Born August 22, 2002.
Twitter Reaction
@BlueJaysAcademy
He looks great in blue!


Congratulations to
#T12
Alumnus Jean-Christophe Masson taken in the 26th round by the
#BlueJays
.
#MLBDraft
Round 27 - 807th overall. RHP Roel Garcia, Rice. 6-foot-4, 240 lbs. Born November 21, 1998.
Twitter Reaction
@KendallRogers INJURY NEWS: @RiceBaseball RHP Roel Garcia has Tommy John surgery this past Tuesday and will miss the 2019 campaign. Garcia is a power arm who has had some tough luck. Injury had lingered from last season, Iím told. #mlbdraft
Round 28 - 837th overall. RHP Gabriel Ponce, Arizona Western College. 6-foot-2, 205 lbs. Born April 29, 1999.

Round 29 - 867th overall. C Owen Diodati, Stamford Collegiate (Ontario). 6-foot-3, 210 lbs. Bats Left, Throws Right. Born August 17, 2001.
MLB Scouting Report - A solidly built catcher with pop from the left side, Diodati could profile more as a first baseman in the Minors. The Ontario native has a good amount of work to do on his defense behind the plate if he remains there in the future.
Baseball America Scouting Report - Diodati is a 6-foot-3, 210-pound lefthanded hitting catcher and first baseman. Diodati shows a feel to hit and has plenty of strength in his swing and regularly lofts balls deep in batting practice and games. He works from a quiet set up, with his bat resting on his shoulder and doesnít have much pre-pitch movement or noise in his load. While Diodati both catcher and first, most think heíll wind up being a first baseman only, as he is a well below-average defender behind the dish now, with lots of work to do to stick back there. Diodati is committed to Alabama.
Round 30 - 897th overall. OF Noah Myers, Wabash Valley College (Illinois). 6-foot-3, 195 lbs. Bats Left, Throws Right. Born November 11, 1999.
Round 31 - 927th overall. RHP Blake Sanderson, Florida Atlantic. 6-foot-0, 176 lbs. Born November 1, 1995.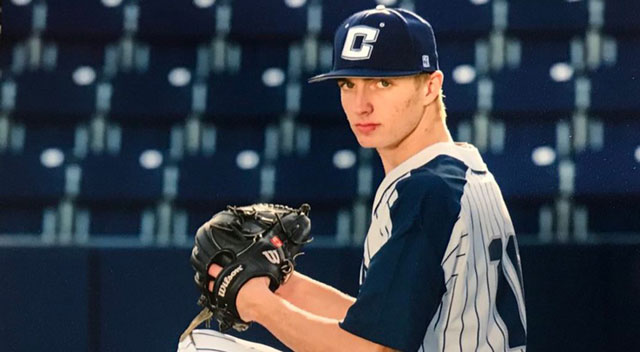 Image from sportsnet.ca

Round 32 - 957th overall. RHP Braden Halladay, Cavalry Christian HS (Florida). 6-foot-3, 150 lbs. Born August 14, 2000.
Twitter Reaction

Round 33 - 987th overall. LHP Daniel Batcher, George Jenkins HS (Florida). 6-foot-5, 190 lbs. Born September 15, 2000. Note - Brother of Blue Jays Minor League Strength & Conditioning Coach Justin Batcher.

Round 34 - 1,017th overall. RHP Luis Quinones, San Jacinto College North (Texas). 6-foot-0, 205 lbs. Born July 2, 1997.
Round 35 - 1,047th overall. RHP Connor Phillips, Magnolia West HS (Texas). 6-foot-2, 190 lbs. Born May 4, 2001.
MLB Scouting Report - Louisiana State grabbed two of the better pitching prospects from Texas for its recruiting class, though both Jimmy Lewis (Lake Travis High, Austin) and Phillips began turning their projection into reality this spring and thus may not get to Baton Rouge. Phillips helped Magnolia West win its first-ever district title and breeze through the first three rounds of the state 5-A playoffs, tossing three complete-game victories (including two shutouts) in his first three postseason starts. While Phillips has a pair of potential plus pitches in his fastball and curveball, both still require some work. He operates at 90-94 mph, reaches 96 and holds the velocity on his heater deep into games, but it gets hit harder than it should because batters see the ball well coming out of his long arm action and high slot. He spins his upper-70s curveball with power and depth, though he sometimes struggles to land it in the strike zone. Phillips also needs to refine his changeup, which should happen as he uses it more often against better hitters. He features effort in his delivery and may be able to tone it down a bit without sacrificing the quality of his stuff once he gets stronger.
Baseball America Scouting Report - A Louisiana State signee, Phillips has helped lead Magnolia (Texas) West High to its first-ever regional 5A final. Heís shown a big fastball at times, as he can brush 95 mph and sit 92-93 on a good day, but he has been prone to over-throwing to the radar gun as well this spring. That shouldnít be a long-term issue as heís shown himself to be a consistent strike thrower in the past. His slurvy breaking ball is regularly below-average at this point, but he will flash an above-average breaker enough for scouts to see the promise in the pitch and it has become more consistent this spring. Phillips has long impressed scouts and coaches with his intense, bulldog-like personality on the mound.
Round 36 - 1,077th overall. C/1B Scott Bradley, Indiana. 6-foot-2, 207 lbs. Bats Left, Throws Right. Born April 6, 1997.

Round 37 - 1,107th overall. RHP Andrew McInvale, Liberty. 6-foot-2, 195 lbs. Born November 3, 1996.

Round 38 - 1,137th overall. C Ryan Sloniger, Penn State. 5-foot-11, 200 lbs. Bats Left, Throws Right. Born March 20, 1997.

Round 39 - 1,167th overall. OF Octavio Corona, Otay Ranch HS (California). 6-foot-0, 170 lbs. Bats Right, Throws Rights. Born September 5, 2000.

Round 40 - 1,197th overall. RHP Miguel Obeso, Cowley County CC (Kansas), 6-foot-3, 280 lbs. Born September 3, 1999.
---

https://www.battersbox.ca/article.php?story=20190605113850800