Toronto at Tampa Bay, 5-8 September
Thursday, September 05 2019 @ 12:05 PM EDT
Contributed by: Magpie
Four games at the Trop? That seldom ends well. At least there probably won't be many witnesses.

The Jays finally get to play a team that's not in first place. Alas, Tampa Bay is both good and highly motivated. The Devil Fishies are locked in a tight battle to get into the Wild Card game - just half a game separates Tampa, Cleveland, and Oakland. There can be only... uh, two.
The Jays have 140 games in the books now, which means there's 22 games left. (Math skillz - I haz them.) Marcus Stroman and Daniel Hudson, both long gone, remain tied for the team lead in Wins with 6, and while it's not beyond the realm of possibility that someone on the staff could match that, I can guarantee that whoever leads the team will have the lowest team-leading figure in franchise history. Only one other time have the Jays not had a pitcher reach double digits in wins, and that was when Tom Underwood led the 1979 team with 9 of them. The 1979 team, with their .349 winning percentage still holds the dubious distinction of the worst record in team history. (While the 1981 team was the most pathetic crew I have ever seen in my life - even worse than that 1979 team -  the 1981 squad got to send Dave Stieb out there every four days and Stieb was astonishing that year.)
Is anyone going to hit 30 HRs? Possible, if not all that likely. Randal Grichuk is certainly capable of hitting 6 of them in a month - he's done it twice this year - and if he does it again this September he'll finish with 29.
Is anyone going to drive in or score 100 runs? Please.
One more thing. The other day I saw someone somewhere refer to Montoyo's "love affair with the bunt." (I don't think it was here.) Anyway, let's stomp on that idea right here, right now.  The Jays have 12 sac hits this year, which is just below the league average. Only twice in franchise history have they had fewer sac hits in a season. Six times in franchise history a single player has had more sac hits in a season (and one of them was Roberto Freaking Alomar, although I'm pretty sure he was trying to bunt for a hit with a man on base most of the time.) Twelve sac hits just seems like a lot compared to 2018, when John Gibbons' gang had exactly 5 sac hits. That was a little weird, actually.  In his first tour as manager, Gibbons - like Bobby Cox, Gaston, and Carlos Tosca before him - bunted much less than the average AL team. But he he shot up near the league average in 2007, was way over in 2008, and remained consistently above the league average in his second tour. Until last year. Ah, Gibby - so unpredictable!

But we saw a similar phenomena when John Farrell replaced Cito Gaston. Farrell was a completely average manager when it came to bunting, but coming after Gaston in 2010 Farrell looked like Gene Mauch.

We have come a long way. Roy Hartsfield's first team had 81 sac hits (league average was 66), and come to think of it, why not? It's not like he had any guys who could actually hit.
Hey, I can make a pretty picture.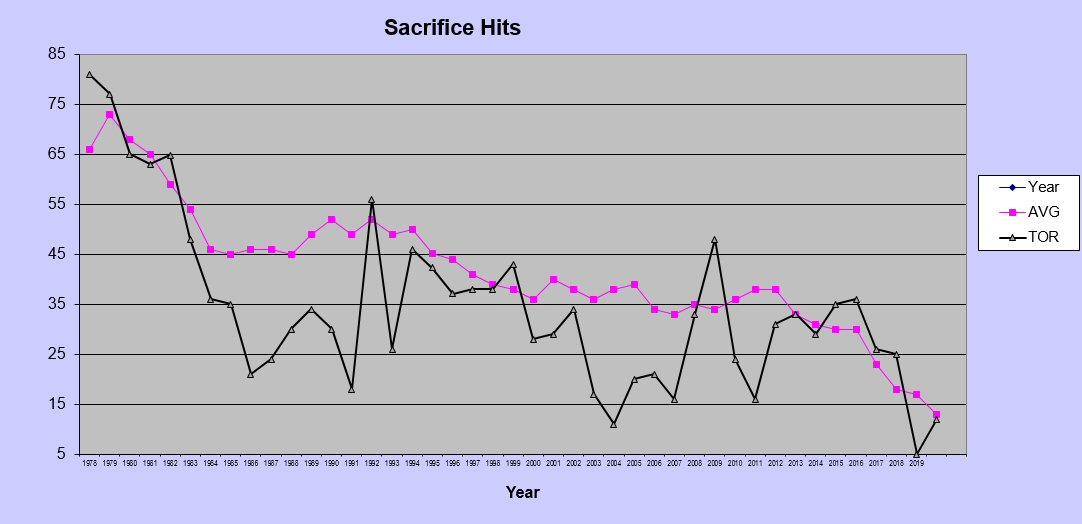 Figures for the three seasons with shortened schedules have been pro-rated. Is that the term? Whatever.
As you can see, the bunt has fallen out of favour over the years and good thing too. And the Jays have generally always bunted less than the average AL team, sometimes quite a bit less. The most obvious spike is in 2008 when John Gibbons was trying everything possible to avoid the double plays that were throttling his offense. He also had David Eckstein, John McDonald, and Joe Inglett receiving plenty of playing time.

Matchups!
Thu 5 Sep - Thornton (4-9, 5.34) vs Pruitt (2-0, 4.78)

Fri 6 Sep - Buchholz (1-3, 5.45) vs McKay (2-3, 5.55)

Sat 7 Sep - TBD vs Morton (14-6, 3.06)

Sun 8 Sep - Waguespack (4-3, 3.97) vs Yarbrough (11-3, 3.49)
The Jays haven't announced anything regarding Saturday's game, though it's generally expected that Anthony Kay will make his MLB debut, possibly behind an opener.
And a reminder - tonight's game is not on television. It's being broadcast on the YouTube, which I understand is something on that Internet thing .

---

https://www.battersbox.ca/article.php?story=20190905101947887