RIP Tony Fernandez
Sunday, February 16 2020 @ 01:31 AM EST
Contributed by: #2JBrumfield
Tony Fernandez—the greatest shortstop in Toronto Blue Jays history—has passed away at the age of 57. #BlueJays #RIPTony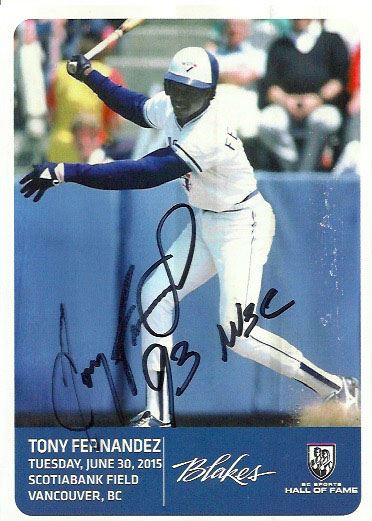 @ToddStottlemyre My heart is so heavy at the loss of former teammate, friend, and Champion Tony Fernandez. My prayers go out to his wife and their entire family. I will never forget this man. He influenced my life in a positive way. He made everyone around him better. RIP my brother.

@BoomerWells33 I'm so sorry to hear about Tony Fernandez passing. A great teammate and friend. A pitchers dream to have him at shortstop when your pitching. One of the best ever. R.I.P. my friend.

@Plesac19 RIP for my former @BlueJays teammate Tony Fernandez ...remarkable player (5 time All Star - 4 Gold Gloves) ...kind, gentle giant of a man. Soft spoken and a true professional. Thoughts & prayers to his family and friends. @Gonz_A8 Very sad day! We lost a legend and one of the best teammates a player could have. RIP Tony Fernandez. @bruce_arthur Tony Fernandez was so smooth, so cool. One of those guys you remember watching your whole life. Rest in peace.

@MikeCormack RIP Tony Fernandez. So effing good and so effing fun to watch both at the plate & in the field. Carter & Molitor (deservedly) get most of the credit, but Tony also played a huge role in '93 WS win. Had 9 RBI & .423 OBP in the six games.

@JamesCybulski Another piece of my childhood is gone. Sad to hear about the passing of Tony Fernandez. Never got the full credit he deserved playing the same time as Cal Ripken Jr. but he was such a treat to watch. One of my all time favourite Blue Jays and won't be forgotten.

@RobFai BLUE JAYS: Tony Fernandez was one of my true childhood heroes growing up in Toronto. A sad day in the baseball community having lost someone so respected both on and off the field. RIP Tony.

@peter_king RIP Tony Fernandez. Fielded shortstop like Ozzie Smith, just a beautiful fielder and accomplished spray-hitting guy, part of the best 1-through-4 of his day in San Diego: Fernandez, Gwynn, Sheffield, Crime Dog.

@DougGilmour93 Rest In Peace to Blue Jays Legend Tony Fernandez. Always such a professional and loved watching you play!

@fergieajenkins Very sad to learn of the passing of Blue Jays legend Tony Fernandez. Tony was a fellow member of the @CDNBaseballHOF and an all around Great guy. My thoughts and prayers are with the Fernandez family.

@JesseBarfield You will be greatly missed our dear brother! This is how I will remember Tony. Smooth as silk, graceful, giving, joyous, focused, and always someone you can count on not just in baseball but in life. Just an all around sincere person. Gone way too soon!!

@vancanadians We would like to express our sincere condolences to the Fernandez family. We will miss you, Tony. We are saddened to hear the passing of Tony Fernandez. As member of our 2015 Superstar Series, he was amazing with all our fans! Tony was a legend in every sense. 5x All-Star ⚾️ 4x Gold Glove Award winner 1993 World Series champion @BlueJays all-time hits leader

@BarryDavis_ I had the pleasure of getting to know Tony over the years. A truly wonderful person with a great sense of humour. Not to mention , the best shortstop the Jays ever had. RIP

@jparencibia9 One of the most kind and inspirational men I have ever been around. RIP Tony Fernandez. You will be missed but never forgotten.

@shawngreen15 So sad to hear about the passing of Tony Fernandez -my hitting and life mentor and awesome teammate. We referred to him as Yoda, the true master. Like Yoda, I know he will continue to shine on our world from the other side. All my prayers to his wonderful fam RIP Tony Fernandez. Deepest condolences to his family and friends.


---

https://www.battersbox.ca/article.php?story=20200216005520728