A Chat With Jesse Barfield
Monday, April 06 2020 @ 07:02 AM EDT
Contributed by: #2JBrumfield
The Blue Jays legendary outfielder was in Vancouver for the 2020 Vancouver Canadians Hot Stove Luncheon.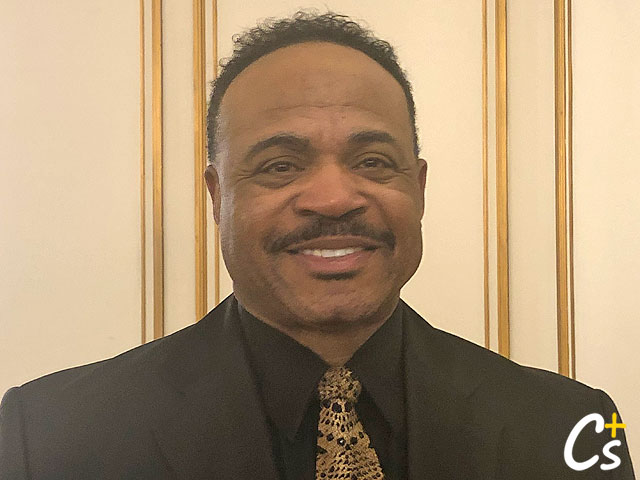 Jesse Barfield slugged 241 home runs over a 12-year major league career that began with Toronto in 1981.
---
After being selected in the ninth round of Central High School in Joliet, Illinois by the Blue Jays in 1977, Jesse Barfield would make his major league debut nearly an hour away from his hometown on September 3, 1981. The cannon-armed outfielder went 1-for-4 with an RBI single off Steve Trout and added a stolen base at Comiskey Park. His first major league home run came three days later as his two-run shot off Britt Burns lifted the Jays to a victory against the Pale Hose.

The 6-foot-1 outfielder made an early impression on Jays fans in his first game donning the home white pullover. His first hit was a home run into the seats in left field off Seattle's Ken Clay as the insurance marker in a 2-0 win September 10. To say Exhibition Stadium was not your conventional baseball stadium is a gross understatement but Barfield enjoyed playing there.

"I loved it. To me, it was the big leagues. I came up from Double-A Knoxville and never played Triple-A. It was either Double-A or Major League Baseball so I'll take Major League Baseball over minor league baseball any day."
The 1982 season saw the right-handed hitting Barfield spend his first full season in the bigs as his 18 home runs and 58 runs batted in helped him place eighth in American League Rookie of the Year voting. His career took off in 1983 during the Blue Jays first winning season as he slugged 27 bombs with a .510 slugging percentage. Though he only hit 14 homers in 1984, his batting average increased to .284 and his OPS went up 16 points to .822 in 1984.

1985 saw Barfield and the Jays reach new heights as Barfield popped 27 home runs and stole 22 bases during the drive of '85 as the good guys won their first American League East title. He hit .280 in the ALCS against the Royals and had a hit in six of the seven games of the series, including a two-run home run off Bret Saberhagen in Game 3. He earned AL MVP consideration by placing seventh that year.

"There's so many great memories from a team standpoint. From an individual standpoint, there's a lot of great players that came through Toronto and went on to have great careers elsewhere but '85 was the best for me. '92-'93 obviously was great for the fans and what have you and I'm happy for those guys. I wasn't there for that but that '85 team was really special. I remember Bobby Cox coming in and saying let's win this thing. We haven't even gotten to .500, let's get to .500! I think it was '84 when the Tigers got off to a 35-5 start. People don't remember the fact that we almost caught them. We ran out of juice at the end, we ran out of gas but the next season we won it. But Coxy was right on. He said, 'We're going to win this thing!" And we did."
Barfield was also a member of what was considered to the best outfield in baseball during the mid-1980's with Lloyd Moseby patrolling center field and George Bell in left.

"Great teammates, first off. Great teammates. They knew their stuff, they knew what they were doing. And from an offensive standpoint, those guys were always on base and made it easy for me. Defensively, we didn't have to take a back seat to anybody. We did a good job out there."
The 1986 campaign was the high-water mark of Barfield's career as he slammed a major-league leading 40 home runs, helping him earn a trip to the All-Star Game and capture a Silver Slugger and Gold Glove. He reached the century mark in RBI with 108 and increased his OPS by 22 points from the year before to .927.

"The ball was bigger and I was actually over .300 towards the end of the season. I said, 'I'm not going to win a batting title. You got guys batting .330. I had no chance to catch them.' But everyone was bunched up at 28-30 homers. I said, 'I'm going to go for it.' I think seven of my last nine hits were homers. My average went down to .289 but I didn't care about that (laughs). You want to take something home. You want to take something home with you and to be silver and gold in the same season was really special."
Though Barfield won another Gold Glove in 1987, he was not nearly as productive at the plate as his OPS+ slid from 146 to 105 despite 28 home runs. He only hit 18 homers in 1988 with an OPS+ of 102. He began 1989 with the Blue Jays but was traded at the end of April to the New York Yankees for left-hander Al Leiter.

Barfield surpassed the .800 OPS level with 25 home runs with the Bronx Bombers in 1990, two years before his final season in the bigs. He looks back on his time with his second major league team with great fondness.

"Still love it. I go to all the Old-Timers games and I just finished their Fantasy Camp down in January. I did the November camp with them as well. Lot of great memories there and it's a tight-knit fraternity as well. The Yankees are a great organization."
Barfield says still remains in touch with his former Blue Jays teammates at the Blue Jays Academy camps held throughout the country.

"(Bell, Moseby), Upshaw - all those guys. We do a lot with the Blue Jays Academy so we do camps all over Canada from Vancouver to St. John's and all the way in between so we're all over the place."
Travelling across Canada has given Barfield a sense of how much support there is for the Jays coast to coast.
"It's unique in itself. You got one team that represents the entire country, the entire nation. They're real avid fans. If they get off to a great start this year and things roll for them, you're going to see the fans just pile into that stadium, just pack it."
Known for his howitzer of his right arm, Barfield likes what he sees from fellow strong-armed outfielder Ramon Laureano of the Oakland Athletics.

"You know, the accuracy is amazing. I look at guys like him and Ichiro was amazing for a little guy but the accuracy is the key. The footwork and accuracy. You can have the arm strength but if you're off by an inch or two, that guy is safe so you have to be pinpoint."
Barfield attributed his success with the glove by working on the fundamentals.

"You really do (have to work at the fundamentals) and a lot of times, fans get to the ballpark, they don't see the extra work we put in. Jimy Williams was the best all-around coach we ever had in Toronto. He knew everything about every position - footwork, nuances, everything. And he worked us day in, day out. Worked on footwork, pirouette, turning, going around (the ball). We did that every day."
Though playing on the hard astroturf surface at Exhibition Stadium took a physical toll on Barfield, there were positives on playing on the fake grass.
"At the time, you probably don't realize (the toll it takes). It was great for fielding because the ball got to you quick and it was great for hitting because the ball got through fairly easily but when I got traded over to the Yankees, playing on the natural grass, it was a little bit of an adjustment. You had to get a quicker jump to get to (the ball) and charge it and cut the gap down a little bit. It was great. I enjoyed it."
Something else that Barfield enjoys is participating on social media with over 33,000 followers on his Twitter account @JesseBarfield29.

"I do. It doesn't bother me. I've been like that my whole life. I'm a people person and that's one of the reasons why I'm here. I didn't think about it at the time to be honest with you (about how popular his account would be) but I just try to keep it positive, something that's going to uplift people. You'll never hear me say anything negative about anybody and that's just the way I was brought up. It should be used for a positive. It should be used to uplift. It should be used to instruct and give kids hope."
Thanks a million to Jesse Barfield for the interview and to C's broadcaster Rob Fai for arranging it.
---

https://www.battersbox.ca/article.php?story=20200405204047640