2020 MLB Draft - Day 1
Wednesday, June 10 2020 @ 06:52 PM EDT
Contributed by: #2JBrumfield
Round 1 of the 2020 Major League Baseball Draft is tonight. Detroit has taken Arizona State slugger Spencer Torkelson with the first overall pick and Arkansas outfielder Heston Kjerstad goes to Baltimore with the second pick. Miami selected right-hander Max Meyer from Minnesota at number three and Kansas City grabbed Texas A&M lefty Asa Lacy. Vanderbilt shortstop/outfielder Austin Martinópredicted by many to go number two overallóis now a Toronto Blue Jay at pick number five.

You can watch here or check out the draft tracker here.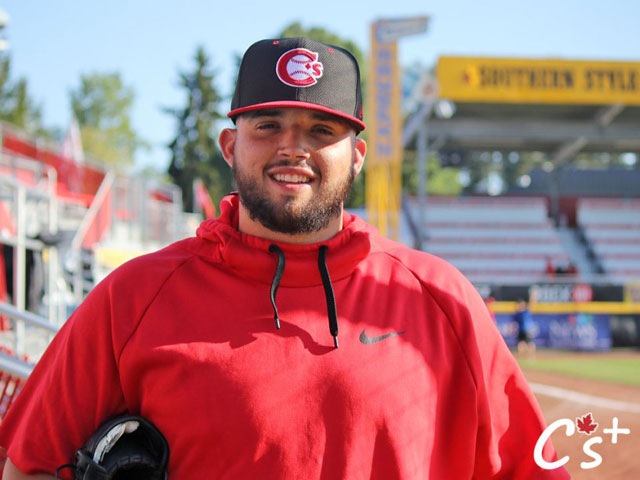 The Blue Jays selected right-hander Alek Manoah with the 11th pick of the 2019 MLB draft from West Virginia.
---

The Jays have a total bonus pool of $9,716,500 for the five-round Rule 4 draft. Rounds 2-5 will be held tomorrow.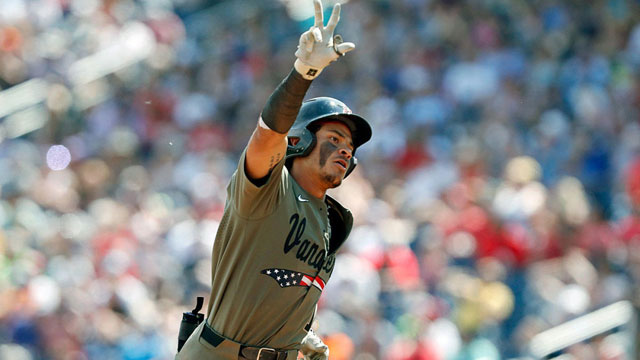 Round 1 - 5th overall. SS/OF Austin Martin. Vanderbilt. Bats Right, Throws Right. 6-foot-0, 180 lbs. Born March 23, 1999. Slot Value $6,180,700

MLB.com Scouting Report - Martin has a chance to follow the path set by Dansby Swanson, who played a starring role in a Vanderbilt national championship and went No. 1 overall in the 2015 Draft. A 37th-round pick by the Indians as a Florida high schooler in 2017, he could have gone in the top five rounds if signability weren't a factor. He started games at six different positions as a freshman and opened last year at second base before settling in at third base, leading NCAA Division I in runs (87) and the Southeastern Conference in hitting (.392) and on-base percentage (.486). The best pure hitter in the 2020 Draft, Martin has tremendous feel for the barrel and makes consistent hard contact with a short, quick right-handed stroke. He's not overly physical and may not have more than average raw power, but his hitting ability allows him to tap into every bit of it. He controls the strike zone extremely well and uses the entire field, exhibiting no weaknesses at the plate. Martin possesses solid speed and the instincts to play faster than that on the bases. A twitchy athlete, he has the quick feet, soft hands and enough arm to handle almost any position, though there are some concerns about his throwing. Scouts were hoping to see him at shortstop in 2020, but he instead opened the season at third base before moving to center field (where he could be a solid defender), and there's some thought he could wind up at second base. Video

Baseball America Scouting Report - A first team All-American and Golden Spikes semifinalist after an outstanding sophomore season in which he hit .392/.486/.604 and was third in the country in hits, Martin has long been one of the favorites for the first overall pick in the 2020 draft. Martin has some of the best pure hitting ability in the class, with eye-popping bat speed, excellent contact ability and impressive plate discipline as well. Martin also appeared to be increasing his power production. He hit eight home runs as a sophomore after tallying just one in his freshman season. He hit three in 16 games in 2020 before the season was canceled, with the best isolated slugging percentage of his career (.286). Some people have thrown Dansby Swanson comparisons on Martin, as both are at the top of their respective classes and Vanderbilt products, but without spending any time at shortstop, itís perhaps more misleading than accurate. There arenít many 1-1 candidate prospects who made position changes during their draft-eligible seasons, so perhaps Ian Happ is a better comparison in terms of tools and defensive versatility, though Martinís contact ability and presence in the box are superior to Happís at the time. After spending most of his time with Vanderbilt at third base, Martin moved to center field after a few games this spring. He also played center field with USA Baseballís Collegiate National Team, and while he doesnít have elite speed or the best first step, he has the instincts and athleticism to handle the position. Martin is more of a plus runner than a true burner, and while teams would have liked to see him handle shortstop, it is concerning for his pro potential at the position considering he wasnít the shortstop on his college team. Even if Martin doesnít wind up at shortstop, he has the defensive ability to become an asset at a premium position, whether thatís in center field, third base or second. While there are questions about his future defensive home, Martinís offensive resume is as impressive as any in the country, with the ability to hit for high average, draw plenty of walks, hit for extra bases and also be a disruptive runner on the bases. His profile is as complete as it gets in the 2020 class.

Twitter Reaction

@GregorChisholm #BlueJays take Austin Martin with the fifth overall pick. The 21-year-old was called the best prospect in the draft by @keithlaw and he was ranked second overall by @MLBPipeline, which had him as the best overall hitter in the draft. Listed at SS but could go 3B/OF too.

@jgoldstrass The Blue Jays selected James Bond's car at No. 5. (Seriously, though, I'm THRILLED)

@ShiDavidi #BlueJays select Vanderbilt's Austin Martin, described by BA and MLB Pipeline as the best pure hitter in the draft class.

@jonmorosi The @BlueJays are going to be an exciting team for a long, long time. They select Austin Martin of the @VandyBoys. Toronto *already* had one of the best position player cores in @MLB . Great night for baseball in Canada. @MLBNetwork

@bnicholsonsmith @keithlaw ranked Martin as the draft's top prospect over the weekend. Just now on MLB Network, Dan O'Dowd says #BlueJays got the best player in the draft. With multi-position versatility, exceptional contact skills & some power potential, Austin Martin has drawn comps to Justin Turner & Ben Zobrist (via @kileymcd).

@bnicholsonsmith Speaking with MLB Network, #BlueJays first-round pick Austin Martin, a native of Jacksonville, Fla., says he played with Bo Bichette when they were younger. As for being taken as a SS, Martin says, "I'm ready for whatever they want to throw at me."

@MattEddyBA How exciting is the Blue Jays' lineup of the future? Vladimir Guerrero Jr. Bo Bichette Austin Martin Lourdes Gurriel Jr. Cavan Biggio Jordan Groshans Alejandro Kirk And don't give up on Danny Jansen

Phil Clarke @PClarke_II Letís goo!!!! I canít wait to be teammates again @austin_martin99

@RobFai Blue Jays fans should be thrilled that Austin Martin fell to #5 - this is a huge get for this organization. Big time school, big time winner & could make Toronto infield unbelievable and donít forget Jordan Groshans as well... Amazing, love this pick. #bluejays #vandyboys

@ArashMadani New Blue Jays draft pick Austin Martin tells Jessica Mendoza, "I hate losing more than I like winning." Sounds like he and Bo Bichette will get along quite fine together.

@KPapetti Between Auston Matthews and Austin Martin, you could say that the city of Toronto has...Austin Powers.

@CarlosACollazo This is the best value of the draft so far for me. Love everything about Austin Martin's profile, and believe he's the best pure hitter in the class. #MLBDraft

@marchulet Biggest draft steals/value so far: Zac Veen to @Rockies at 9 and Austin Martin to @bluejays at 5. They were 1-2 for me. The fringe player development in Colorado worries me a bit but Martin is in a plus development org.

@ScottyMitchTSN In stealing Austin Martin at No. 5 overall Wednesday night, the #BlueJays added another potential cornerstone position player to an already-impressive core of kids. Suddenly, that 95-loss season doesnít seem so bad.

@ShiDavidi Austin Martin's surprise availability to #BlueJays at No. 5 is a reminder of importance of prepping for every scenario. On Monday, ASD Shane Farrell said, "we still want to process everybody at the top of our board equally and make sure weíre spending enough time on those guys."

@MMarinoMiLB Wow, some true surprises tonight, but I don't think there is anyone out there that saw Austin Martin dropping to five. A tremendous steal. #MLBDraft

Shane Farrell for POTUS2020 @mason_mcrae The Blue Jays have a nucleus of Bo Bichette, VGJ, Danny Jansen and Lourdes Gurriel Jr. Theyíll be adding Austin Martin, Simone Woods Richardon, Alek Manoah, and Nate Pearson soon. Shane Farrell just pulled off one of the greatest picks in Blue Jays history. Unbelievable.

@mason_mcrae Austin Martinís an absolute robbery at 5. Heís the top prospect on my board and thereís no way of truly understanding how much value heíll add off the field. This is somebody thatíll change the atmosphere in the organization, a leader and gamer with elite makeup.

@mason_mcrae Players like Martin donít grow on trees. These are players that teams spend years trying to find. A player with six tools and the competitiveness to still want to get better. Better hold onto him Toronto, four teams made a huge mistake passing on him.

@bnicholsonsmith As for where Austin Martin will report next, #BlueJays are still working through that. With no minor-league season expected and limits on travel & facility use, there's no roadmap for development here.

@bnicholsonsmith As for where Austin Martin will report next, #BlueJays are still working through that. With no minor-league season expected and limits on travel & facility use, there's no roadmap for development here.

@ArashMadani At No. 5, amateur scouting director Shane Farrell says that for the Blue Jays, Austin Martin was "the best player (left) on the board."

@bnicholsonsmith #BlueJays weren't expecting to land Austin Martin, but they're "ecstatic" to have drafted him 5th overall per scouting director Shane Farrell. At the plate, "extremely high contact rate" with power potential. Jays like his defensive versatility, too.

@ScottyMitchTSN #BlueJays director of amateur scouting Shane Farrell says they definitely were a bit surprised Austin Martin was there at 5. As expected, theyíre not talking much about his development plan in terms of position but the love the offensive package.

@ArashMadani Blue Jays amateur scouting director Shane Farrell on Austin Martin at the plate: "Well above average hitter; manages strike zone well; really good bat-to-ball skills."

@SNCarlyAgro Iím already preparing my on air apology for when Iím reading @BlueJays highlights again and I say Auston Matthews @am34 instead of Austin Martin #MLBDraft #BlueJays

@MaxHerzTalks Austin Martin fun fact, since the Blue Jays announced him as a SS. In 140 college games, he played 17 innings at shortstop. He played more at five other positions. SS was his high school position and his deployment elsewhere was almost universally based on team needs all 3 yrs

@JoeHealyBA Anyone who listens to our podcast know that I'm a huge Austin Martin fan. I don't really care what position he plays, although I think he would be good at a number of positions, the guy hit .400 in the SEC and that's enough for me (and probably the Blue Jays).

@MaxTGoodman It's only a matter of time until the Toronto Blue Jays are legitimate contenders in the AL East. And that's for years to come. Adding Austin Martin to an already incredibly talented young core? Watch out. #MLBDraft

@aaronfitt Certainly the Jays must be feeling pretty pleased to get Austin Martin at No. 5. I donít know what position he winds up being, but his athleticism will play. Maybe he gives you some Zobrist-ian flexibility and competes for batting titles.

@jjcoop36 Blue Jays taking Austin Martin at SS makes sense. A lot of scouts wanted to see if he could handle to spot at Vandy. Ended up playing more CF than anywhere else in the shortened 2020 season. Versatility helps for a team with Vlad Jr./Bichette.
---

https://www.battersbox.ca/article.php?story=20200610154453176