2021 MLB Draft - Day 2
Monday, July 12 2021 @ 09:02 AM EDT
Contributed by: #2JBrumfield
The Toronto Blue Jays selected Ole Miss righthander Gunnar Hoglund with the 19th pick Sunday. Rounds 2-10 will take place in Denver this afternoon.

Check out the MLB draft tracker or watch the proceedings on MLB.com.
The Jays lost their second-round selection for signing George Springer. Houston gets a compensatory pick after the fourth round at 132nd overall, like those cheaters deserve it! The Blue Jays have a bonus pool of $5,775,900 to work with, the third lowest total next to the Dodgers and the Asterisks. Pittsburgh has the highest bonus amount to work with at $14,394,000.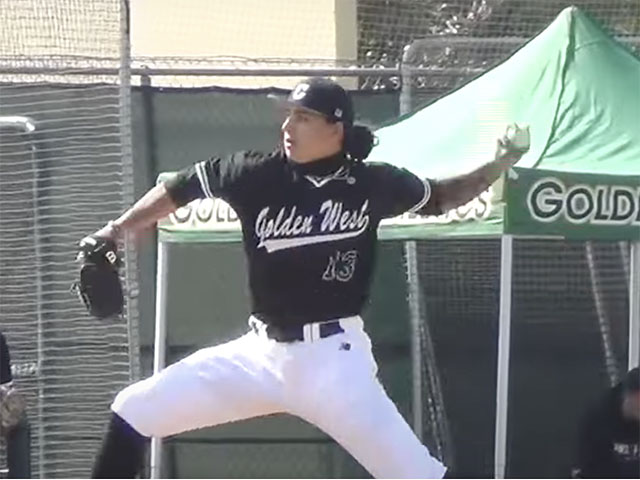 3rd round pick - 91st overall. LHP Ricky Tiedemann, Golden West Junior College. 6-foot-4, 210 lbs. Bats Left. Born August 18, 2002.

MLB.com - While the 2020 amateur season was cut short because of the pandemic, Tiedemann did manage to become a bit of a pop-up prospect who rose into MLB Pipeline's Top 100 prior to last year's Draft. The younger brother of Rangers Minor League right-hander Tai Tiedemann went undrafted in the five-round event and rather than head to San Diego State, he switched gears to Long Beach Junior College in order to be eligible this year. When Long Beach cancelled spring sports because of COVID-19, Tiedemann was on the move again, this time to Golden West College. Tiedemann's overall profile of solid stuff, size and athleticism hasn't changed much in a year's time, but there's plenty to like. His fastball sits in the low-90s and will bump 93-94 mph at times, with more in the tank as he continues to add strength to his 6-foot-4 frame. His changeup flashes plus and his slider has gotten a bit tighter and more effective. A good athlete who hit in the middle of his high school lineup, Tiedemann should be able to continue throwing strikes even if he starts throwing harder. He still hasn't been seen a ton, but given how hard it is to find projectable left-handed starters, scouts will be paying many visits to Golden West to see if Tiedemann is worthy of a top three or four round selection. Slot Value $647,300. Video

Baseball America - Tiedemann drew considerable interest out of Lakewood (Calif.) High last year, but teams weren't willing to meet his bonus demands and he went unpicked in the shortened five-round draft. Rather than stick with his commitment to San Diego State, Tiedemann enrolled at Golden West (Calif.) JC this spring to be eligible for the 2021 draft. Tiedemann has blossomed physically over the past year and now stands 6-foot-4, 220 pounds with broad shoulders and a strong, well-proportioned frame. With the increased physicality has come an uptick in his stuff. Tiedemann's fastball now sits 89-92 mph and touches 94 with life out of a low slot that creates a difficult angle for hitters. His changeup is a plus offering he can throw at any time to lefties or righties, and it has the potential to become a plus-plus pitch as he adds more separation from his fastball. His hard slider has become consistently average. Tiedemann has lots of promising ingredients, but he's still learning to put everything together. He underwhelmed at times this spring, posting a 3.55 ERA and allowing more than a hit per inning against subpar junior college competition, and requires a bit of projection. He is an excellent athlete who aggressively goes after hitters, but his arm slot can wander and make it harder to throw strikes. He'll show above-average control in some outings and struggle to find the strike zone in others. Tiedemann is only 18 and younger than many players still in high school. Teams are optimistic his stuff will continue to grow and he will become more consistent with experience.

Twitter Reaction

ProPlayAI @proplayai The @BlueJays get a good one in Ricky Tiedemann - who had the longest stride length in our draft class at 100% of his height - maximizing his athleticism with his delivery. We might be biased, but it's always great to see pitchers that will want to come to Canada.

Scott BlueJaysAlways @BluejaysAlways Our #BlueJays drafted Ricky Tiedemann a 6' 4", 18 year old LHP with the 91st pick in the #MLBDraft. Fastball, changeup, slider. Comparison to Sean Manaea. #BlueGrit #WeAreBlueJays

Mitch Bannon @MitchBannon What to know about the #BlueJays latest #MLBDraft pick, JuCo LHP Ricky Tiedemann: - Fastball velo up, sitting 91-94 predraft - Advanced changeup, hard-spinning slider - 6-4, 220, long frame with lengthy drive towards home plate - MLB's 125th ranked player coming into the draft

Jeffmlbdraft @jeffMLBdraft Ricky Tiedemann I thought could have been an Indians target a year ago. He went to a JUCO, and is a great pick by the Blue Jays here. He has a lot of room to grow, and another late cut from my board. Blue Jays loading up on arms

Evan Grant @Evan_P_Grant Toronto takes Ricky Tiedemann from Golden West College at 91. Brother of Rangers RHP Tai Tiedemann.

Mike Ashmore @mashmore98 Well then. @TiedemannRicky was *just* at our Pre-Draft College Combine, and was a standout at the @ftrstarsseries International Week event as well. https://futurestarsseries.com/video-2021-future-stars-series-college-pre-draft-combine-ricky-tiedemann/

Brian Sakowski @B_Sakowski_PG Jays going with the first JUCO player of the draft in Ricky Tiedemann, LHP at Golden West. 90-94 this spring, easy delivery, SL took a step forward this spring, always had good feel for CH. surprisingly hittable this spring. #PGDraft

Spokane Indians @spokaneindians Tiedemann is the younger brother of former Spokane Indians pitcher @TNTiedemann. Congrats, @TiedemannRicky, and take good care of him when he gets there, @VanCanadians #GoSpo



Image from UTSports.com

4th round pick - 121st overall. RHP Chad Dallas, Tennessee. 5-foot-11, 206 lbs. Bats Right. Born June 26, 2000. Slot Value $473,700.

MLB.com - After Dallas came out of the bullpen to strike out 71 in 39 innings as a freshman at Panola (Texas) JC in 2019, Tennessee recruited him as a reliever. Instead, he became the Volunteers' No. 1 starter in his first year in Knoxville and helped pitched them to their first College World Series since 2005 this spring. He won eight of his 11 Southeastern Conference starts and beat Louisiana State with a career-high 12 strikeouts in the super regionals. Dallas added a mid-80s cutter in 2021 and it has become his best weapon, a plus offering that destroys right-handers both in the strike zone and as a chase pitch. His low-80s curveball has depth and grades as solid at its best. His fastball sits at 90-94 mph and can reach 98, though it features only modest armside life and doesn't miss many bats. While his 5-foot-11, 206-pound build isn't ideal for a starter, Dallas makes up for it with his ability to pound the strike zone and his dogged competitiveness. He'll have to find a way to get left-handers out to remain in the rotation as a pro, and his mid-80s changeup with some fade will need significant improvement if it's to become the answer. The rest of his repertoire and his mentality would fit well in a relief role. Video

Baseball America - A transfer from Panola (Texas) JC, Dallas led Tennessee with 21.1 innings in the shortened 2020 season and posted a 2.53 ERA in the process. While he didn't quite hold opposing teams to that sterling mark this spring, Dallas did impress over 15 starts and 90.2 innings, with a 4.27 ERA and standout strikeout and walk numbers. He struck out 106 batters (10.5 K/9) and walked 19 (1.9 BB/9) and had the fourth-best strikeout-to-walk ratio among SEC pitchers who started 10 or more games. He's been mostly a three-pitch arm this spring, with an average fastball that sits in the 91-93 mph range but has been up to 97, with both a curveball and a slider—pitches he improved over the offseason. The curve is a hard downer in the 79-81 mph range that is effective against righties and lefties, while the slider sits in the mid 80s with late and hard bite that makes it an effective swing-and-miss offering inside and out of the zone. Dallas has flashed a mid-80s changeup as well, but he rarely uses it and it's a distinct fourth pitch at the moment. Dallas' arm action gets a bit lengthy in the back with some plunging action, but he's been a strong strike-thrower for two years now and scouts have confidence he can start at the next level, with the sort of breaking stuff that should be able to miss pro bats.

Twitter Reaction

David Salituro @DavidSalituro Blue Jays select pitcher Chad Dallas from Tennessee with the 121st pick. 11-2, 4.19 ERA in 17 starts in 2021 - 122 strikeouts in 103 innings - Nickname is "Cheese"

Tyson Shushkewich @Tyson_MLB Toronto Blue Jays select RHP Chad Dallas in round 4, ranked #210 by MLB. Out of the University of Tennessee, pitched to a 4.19 ERA over 17 starts this year for the Vols. Cutter is his best pitch with a curveball and a fastball that sit low 90s but has reached 98 before.

Steve Fek @USofJays Chad Dallas. #BlueJays 4th rounder. Out of Tennessee. Smallish a la Marcus Stroman. But his cutter slots him as a bullpen guy.

Scott BlueJays Always @BluejaysAlwaysOur #BlueJays have drafted RHP Chad Dallas from the University of Tennessee with the 121st pick in the #MLBDraft. His cutter has been described as very effective against right handers. He also features a fastball, curve, and changeup. #BlueGrit #WeAreBlueJays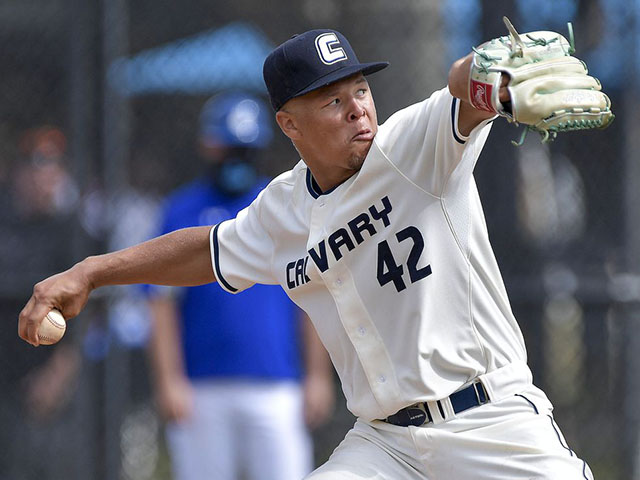 Image from South Florida Sun-Sentinel

5th round pick - 152nd overall. RHP Irv Cater, Christian Cavalry Academy, Florida. 6-foot-4, 210 lbs. Bats Right. Born October 9, 2002. Slot Value $350,300.

MLB.com - Teams that have to play Calvary Christian Academy in Florida might think they'd be lucky if they didn't have to face the school's ace and potential top 10 pick, Andrew Painter. They'd be wrong, as the school's No. 2 starter, Carter, would be the top guy in most other high school programs and is a legitimate Draft prospect in his own right. There are a lot of things to like with Carter, particularly his size, physicality and arm strength. The 6-foot-4 right-hander has a fastball that is currently up to 94 mph, but given his frame, scouts feel there's more in the tank, with a consistent mid-90s fastball certainly feasible. He complements his fastball with a very good slider, thrown in the low 80s. He hasn't needed it much, but Carter has shown some feel for a changeup, though it can get firm at times, up to 87 mph. Carter will change up his delivery, incorporating things like a Johnny Cueto-like turn-around, but he tends to be around the plate and should have average control once he commits to a consistent delivery. Given his size and stuff, the Miami recruit has reminded some of Touki Toussaint, who was a first-round pick from the area back in 2014. Video

Baseball America - There's a good chance that Carter is the best No. 2 high school arm in the country as the teammate of fellow 2021 righthander Andrew Painter. While Carter might benefit from being on the same team as Painter in terms of scouting eyeballs, he's a talented prospect in his own right with a three-pitch mix, super projectable frame and athleticism that give him exciting upside. Carter throws a fastball that sits in the low 90s and gets up into the 95 mph range at its best, with good downhill angle out of a high, three-quarter arm slot. After throwing more of a traditional 12-to-6 curveball earlier in his prep career, Carter transitioned to a slider last summer, and the pitch has shown plus potential with power and two-plane break in the mid-to-upper 80s with spin rates in the 2500 rpm range. He'll need to improve the consistency of the pitch, as he'll get around the ball at times, but it has real out-pitch potential. Carter also throws a mid-80s changeup with good arm speed, though he'll bury the pitch in the dirt fairly regularly. Carter has the athleticism and starter frame that teams are looking for, but he'll need to refine his strike throwing and potentially clean up his delivery to avoid a bullpen projection. There's plenty of effort in the delivery and he has length in his arm stroke with stabbing action in the back that could create issues with timing and repeating his breaking ball. Coaches and scouts alike do love his mentality and demeanor on the mound, however. Carter is a Miami commit.

Twitter Reaction

Ben Nicholson-Smith @bnicholsonsmith #BlueJays continue loading up on pitching in the 5th round, selecting RHP Irv Carter, a HS senior out of Calvary Christian Academy in Fla. (recommended bonus: $350k) That's 4 straight arms for Jays. Not that you draft for need, but their system tilts toward position players now

Brian Sakowski @B_Sakowski_PG Love the Jays going with Irv Carter here, prep RHP from Florida. FB into mid-90's, funk to operation, SL flashes plus, firm split-change with dive, hes just fun to watch. #PGDraft

Keanan Lamb @keananlamb Florida prep righty Irv Carter has really good stuff and stout body, ultra competitive, inconsistent delivery caused some control problems at times #BlueJays

Jake Marcus @JakeMar81 Miami top commit and 118th overall prospect in draft, RHP Irv Carter (6'4, 205) of Christian Cavalry drafted 152nd overall (5th round) to the Blue Jays. Jays have had strong youth movement incl. pitcher Nate Pearson and Alex Manoah who arrived to MLB recently #mlbdraft #bluejays

BVH @BVHJays Blue Jays 5th round pick is RHP Irv Carter, who pitched at the Florida high school Roy Halladay coached at.

BVH @BVHJays Irv Carter, FWIW, ranked #93 in the draft by Keith Law and #118 by MLB Pipeline - will likely be an over slot draft pick.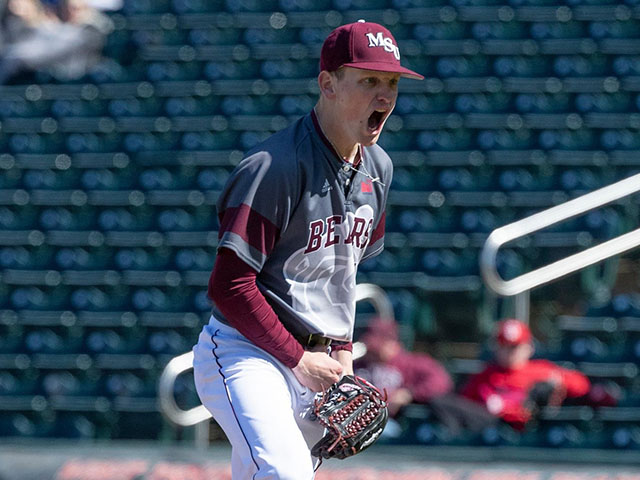 Image from MissouriStateBears.com

6th round pick - 182nd overall. RHP Hayden Juenger, Missouri State. 6-foot-0, 180 pounds. Bats Right. Born August 9, 2000. Slot Value $268,200.

MLB.com - Used almost exclusively as a reliever at Missouri State, Juenger worked just 21 innings this spring and left scouts wishing they could have seen more of him. Several evaluators believe he can start in pro ball because he has a mid-90s fastball that tops out at 98 and backs it up with an average slider and changeup. He also has a rotation-worthy delivery and throws plenty of strikes.

Baseball America - The 6-foot, 180-pound righthander was the closer for Missouri State this season, getting into 16 games, throwing 21 innings, walking six and striking out 31 batters. His fastball was 94-98 mph, to go along with an average slider and an average changeup. He gave up five of his nine earned runs in the first two weeks of the season, with a small sample of outings inflating his numbers, but he was lights out down the stretch.

Twitter Reaction

Perfect Game USA @PerfectGameUSA Feb 25, 2018 Hayden Juenger (2018-O'Fallon, IL) was 91-93 with run, also throwing slider for K's at 81 MPH #PGShowcase. Missouri State has a lot of talented players headed their way https://perfectgame.org/Players/Playerprofile.aspx?ID=490412

Alexis Brudnicki @baseballexis I like the Hayden Juenger pick for the #BlueJays in the sixth round at No. 182. He was lights out down the stretch for @MSUBearBaseball, and here's my report on him: https://www.baseballamerica.com/rankings/2021-mlb-draft-top-prospects/?Position=&Keyword=juenger

Scott BlueJaysAlways @BluejaysAlways Our #BlueJays have selected RHP Hayden Juenger from Missouri State with the 182nd pick in the #MLBDraft. Pitched as their closer with a power fastball, slider, and changeup. #BlueGrit #WeAreBlueJays

Jonathan Harris @J_Harris_29 Replying to @MSUBearBaseball @hjuenger23 and @BlueJays. Welcome to @BlueJays fellow Bear @hjuenger23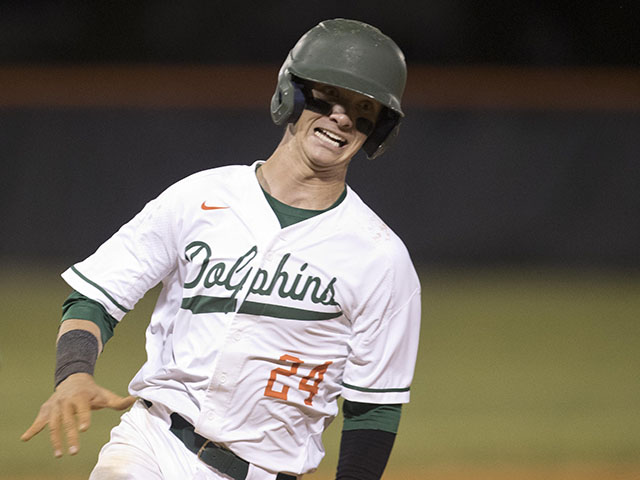 Image from Tuscaloosa News.

7th round pick - 212nd overall. OF Jaden Rudd, A. Crawford Mosley HS, Florida. 6-foot-0, 185 lbs. Slot Value $209,800.

Panama City News Herald - A pitcher and outfielder for the Dolphins over the past four years, Rudd was picked by the Blue Jays as an outfielder. Rudd, who was a four-year starter for the Mosley varsity and helped lead the Dolphins to state final four appearances ad their second state championship in program history, is currently in South Bend getting prepared to begin his college career with Notre Dame. In his senior season Rudd finished with a .397 average with 31 hits, a home run, 10 doubles, two triples, 17 RBI, 45 runs, and 20 stolen bases, while going 7-1 on the mound with a 1.21 ERA and 78 strikeouts to 24 walks in 46 1/3 innings. In five postseason starts, including the district championship game win over Milton, the left-hander Rudd went 5-0 on the mound with a 0.73 ERA and 41 strikeouts in 28.2 innings. Over that same span he also batted .350 with three doubles, five RBI, and five runs.

Twitter Reaction

Mark Skol, Jr. @markskoljr_WNDU Notre Dame baseball commitment Jaden Rudd gets selected in the 7th round with the 212nd overall pick by the Toronto Blue Jays.

813Preps @813Preps Rudd had a terrific complete-game effort in the 5A state semifinal win against Jefferson. He helped lead @MHSDolphins2021 to the state title the next day. Congrats Jaden!

Mitch Bannon @MitchBannon #BlueJays 7th round pick, Florida High Schooler Jaden Rudd, was drafted as an OF but he also went 7-1 as a pitcher with a 1.21 ERA, 78 strikeouts and 24 walks in his senior season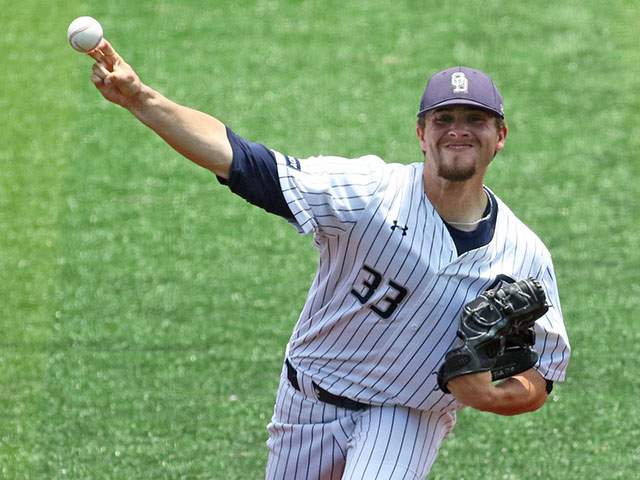 Image from Old Dominion University

8th round pick - 242nd overall. RHP Hunter Gregory, Old Dominion. 6-foot-3, 215 pounds. Bats Right. November 16, 1998. Slot Value $170,300.

The Virginia Pilot - He was the Monarchs' ace this past season, compiling an 8-2 record and 2.95 ERA in 16 appearances. He struck out 88 and walked 19 over 79 1/3 innings and was a first-team All-Conference USA selection. Gregory was the All-Tidewater Player of the Year as a senior at Hickory in 2017. That year, he threw the first perfect game in school history and finished 7-2 with a 0.54 ERA. Gregory was part of an ODU team this past season that finished 44-16, won the Conference USA Tournament championship and reached the title game of the NCAA Columbia Regional.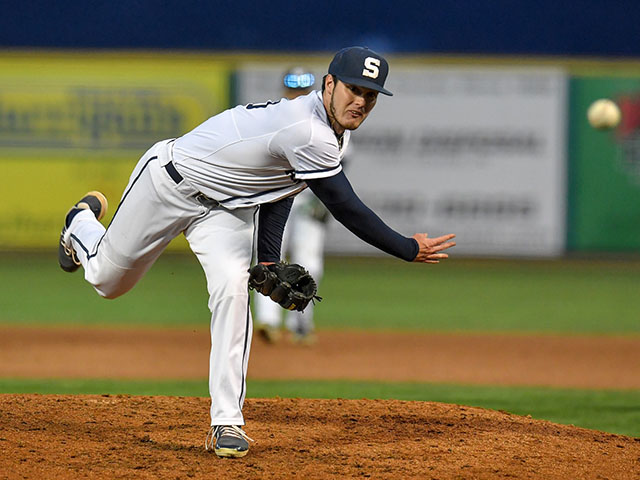 Image from Go PU Sports

9th round pick - 272nd overall. RHP Conor Larkin, Penn State. 6-foot-1, 205 lbs. Bats Right. March 17, 1999. Slot Value $152,900.

Twitter Reaction

Ray Dunne @RayDunneBTB Spring-Ford grad Conor Larkin gets picked in the 9th round. He went 7-1 for the Rams with a 0.80 ERA & two no-hitters as a senior. Had been a weekend starter for the Nittany Lions this spring.

Kyle J. Andrews @KyleJAndrews_#PennState starting pitcher Conor Larkin struck out 69 batters in 63.2 innings pitched last season.

Penn State Baseball @PennStateBASE Conor Larkin has recorded 191 strikeouts in 50 appearances as a Nittany Lion! In 2021, Larkin struck out seven or more batters in six starts! #WeAre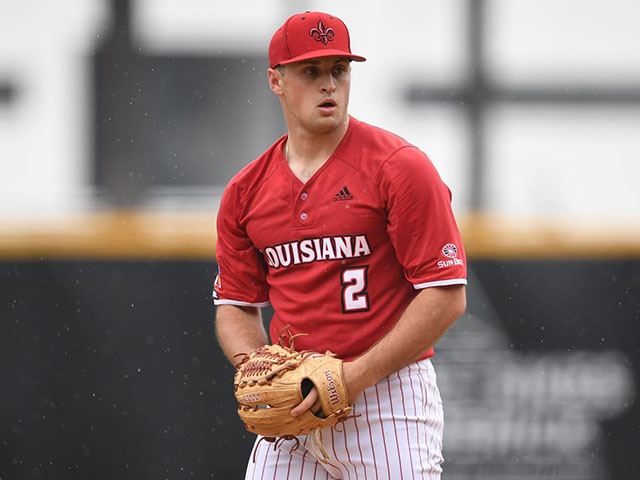 Image from Ragin' Cajuns

10th round pick - 302nd overall. RHP Connor Cooke, University of Louisiana at Lafayette. 6-foot-1, 203 lbs. Bats Right. Born November 2, 1999. Slot Value $144,400.

Acadiana Advocate - From UL coach Matt Deggs - "(Cooke) reminds me of a David Cone-type pitcher. He's got explosiveness to him and he can also power you or finesse you. He's got multiple ways to get you out. There's a lot of wiggle to his stuff and there's a lot of power behind it. He's a 6-foot righty with a ton of athleticism." Cooke's UL pitching coach was former Blue Jay B.J. Ryan.


---

https://www.battersbox.ca/article.php?story=20210712010404245