Blue Jays Report Card
Tuesday, October 05 2021 @ 08:00 AM EDT
Contributed by: Magpie

The last time the Blue Jays played 162 games, they lost 95 of them. This was better.


They did this despite having to call three different cities and three different ballparks "home." They did this despite almost every pitcher who even looked at a Jays uniform having to spend time on the Injury List.

I know some people are disappointed. Not me. I'm pleased. I'm a happy camper.



I realize that's an easy thing for me to say. Despite devoting my youth to sex, drugs, and rock'n'roll (not in that order, either), and despite maintaining many of those evil habits right into my old age, I've somehow lived long enough to see all my personal sports teams and individual rooting interests eventually win the championship they sought. Every one of them. Unlike some of you, I have actually known Fulfillment. Sweet, sweet fulfillment. It does take the edge off.





Besides - most seasons end in disappointment. The Yankees have had 92 seasons end in disappointment. The game is designed to break your heart, as an extremely overrated historical figure once observed. That's what it's for.



So let's try to be pleased. Just a little, maybe?

As always, I ask you, I beseech you, to remember that these grades are extracted from somewhere in the vicinity of my nether regions. There is not, there never has been, there never will be, anything even remotely scientific about it. That's just the way it goes. I'm in it for the wisecracks.

Here's what they mean, more or less:

A Outstanding (could be in the Awards discussion)
B Good (maybe even an All-Star, who knows)
C Average (generic regular)
D Below Average (replacement level, bench part, something like that)
E Fail (probably belongs in the minors)
F Epic Fail (time for this man to make a new career choice)

The cutoff, as is my custom, was 50 plate appearances for the hitters and I've decided to use the same standard (Batters Faced in their case) for the pitchers. So I have nothing to say about Josh Palacios, Kevin Smith, Riley Adams, Jarrod Dyson, Jake Lamb, Jared Hoving, Otto Lopez, Travis Bergen, Patrick Murphy, Jeremy Beasley, Jacob Barnes, Joakim Soria, A.J. Cole, Kirby Snead, Ty Tice, Tanner Roark, Connor Overton, Carl Edwards, Thomas Hatch, Bryan Baker, or Nick Allgeyer. I made exceptions for David Phelps and Brad Hand.

First the management

B+ Charlie Montoyo
It's a basic rule of life that every fanbase would like to see their manager's head on a spike. If they're actually playing World Series games at that very moment, the fanbase might reserve judgement. But I doubt it. Every fanbase, each and every one of them, knows in its heart that the only thing that prevents their team from going undefeated is the idiot in the dugout. Montoyo's no exception to this rule. And hey, from time to time, Montoyo will make a perplexing lineup choice, he'll bring in an ineffective reliever, he'll try something weird and counter-intuitive in the middle of the game. He'll go against The Book. And it won't work. Game management decisions will always be the most visible part of his job and so they're always what will get the most attention. But I don't think they are the most important part of the job. Not by a long shot. And I think this was especially true of this particular team at this particular time. I think the fact that Montoyo's team has managed to keep its focus and play as hard and as well as they have under the utterly bizarre, totally unprecedented circumstances of the past two years is simply remarkable. I think it's quite astonishing, in fact, and I don't think the manager gets nearly enough credit for it. I think it's far more important than any pinch-hitting decisions or pitching changes he could ever make. And I think that for the most part, those of us who follow the team closely grew so accustomed to it that we began to forget about it entirely. As if it were some kind of new normal. It was not normal. What this team has had to deal with these last two years isn't in the same ball park as normal.

B+ Ross Atkins
You may recall that during the 2019-2020 off-season Ross Atkins a) invested in one of the most desirable big-ticket free agents; b) took a flier on a couple of starting pitchers hoping for bounce-back seasons, and c) inked a bunch of more or less generic relief pitchers. He hit on two out of three and his team got much, much better. In 2020, the retread starters (Roark and Anderson) didn't pay off at all - but Hyun-Jin Ryu was excellent and Atkins did quite well with several of his seemingly random bullpen signings: Dolis, Cole, Bass in particular. So during the 2020-2021 off-season, Atkins a) invested in one of the most desirable big-ticket free agents; b) took a flier on a couple of starting pitchers hoping for bounce-back seasons, and c) inked a bunch of more or less generic relief pitchers. Once more, he hit on two out of three - George Springer was wonderful when he was healthy enough to play, and the two starting pitchers - Ray and Matz - were both much better than anyone could have imagined. Alas, it was his bullpen signings that let him down this around. Yates and Phelps got hurt, Chatwood lost the plot, Cole and Dolis were brought back only to get hurt and/or pitch badly. In fact, so many relievers got hurt that simply juggling the bodies on the 40 man roster grew extremely complicated. You may recall that Atkins had to address a similar issue back in 2016, another year when his off-season bullpen moves didn't work out (that year it was Storen, Chavez, and Floyd). Both that time and this he was able to make some effective upgrades in mid-season. When this year's bullpen (which looked utterly awesome early on) went bad towards the end of May, Atkins initially waited around a little while. Presumably just to see what was real, what was not, and what might be available out there. He ended up bringing in Cimber and Richards well before the all-star break, which did a lot to repair the situation. I think you have to respect the calm and methodical way he addresses a problem. He doesn't roll the dice or bet his entire stash on red, but he will promptly attempt to address his team's shortcomings, as the season unfolds and reveals them. He will cut his losses if something isn't working out as he hoped. It's also important that the players see and believe that the GM is actively trying to improve the team, and Atkins left his team with no doubts whatsoever on that score.

And the players...

A+ Vladimir Guerrero Jr
I told you so. The best young hitter in franchise history, by a mile. Fred McGriff didn't become an elite hitter until he was 24, and that's as close any young Jays hitter comes to Vlad. Carlos Delgado was 26 before he started having seasons like this. John Olerud only had one of them, and he was 24 when he did it. Oh ye of little faith.

A+ Robbie Ray
Robbie Ray, strike-thrower? What weird parallel universe have we stumbled into here? Even when Ray was an all-star in Arizona, he was walking almost twice as many hitters as he did for the 2021 Jays. I don't know exactly what they did to him here - was it because they got him to stop throwing the off-speed stuff, return to his old delivery, wear tighter pants, grunt like Nolan Ryan himself. He did all those things, and it sure did work. He's a free agent and he's going to get paid. Can a two pitch, maximum effort guy last long enough to make the investment worth while? Well, Randy Johnson was also 29 when he first contended for a Cy Young, and he hung around for a while. Fun fact: no major league pitcher allowed the opposition to steal more bases than the 25 against Ray. This had much to do with the extremely inexperienced rookie who emerged as Ray's personal catcher (Ray himself had never allowed more than 11 SB in any previous season.) It's not a very big deal, though - the two of them made a very effective team, and Ray-Kirk was in fact the team's most used pitcher-catcher combination in 2021. Ray missed the first 9 games after his spring training fall, but was in uniform and active for the remaining 153. No other pitcher on the team was active for as many.

A+ Marcus Semien
I don't expect him to be back and I'll miss him. He was like the team's dad, a calm voice of wisdom and experience in a dugout full of exuberant and excitable youngsters. Semien had a six week run from the beginning of May into mid-June when he might have been the best player in the American League - .344/.401/.625 with 10 HRs in 39 games, along with elite defense at a key position. The rest of his year was a little weird. He was having pretty dreadful luck on his Balls In Play for much of it - this may have been the wheel of fortune turning after a .466 BABiP in May - but he got by mainly by hitting lots and lots of home runs. Which is a pretty decent fallback, you must admit. I think the chances are very good that he's going to find someone who wants him to play shortstop, which is clearly his preference. Failing that, he may at the very least find an opportunity to go home to California.

A Teoscar Hernandez
He made it to the All-Star game despite a COVID timeout - this was partially on the strength of what I think must be an unsustainable BABiP. But that just means he's probably not destined to be a .300 hitter. He's still a great story. He'll be 29 in two weeks, and he's arbitration eligible once more this winter. He's going to get paid and he's going to deserve it. Hernandez has improved his game in just about every way he could improve it, mostly by working very hard at getting better. He made a real leap forward in reducing his strikeouts - the whiffs had consumed 31% of his plate appearances before 2021, when he cut them all the way down to 24.9%. Even his defence has achieved something very much like competence. And the price paid to acquire this player was two months of Francisco Liriano? Nice work.

A Jordan Romano
Montoyo showed a lot of faith in a couple of guys who'd never spent more than a month on a major league roster, counting on first one and then the other to finish off games for him. (While the Jays actually have a long history of turning rookies and assorted unproven guys into closers, the current manager wasn't a part of that history.) It was too bad that Julian Merryweather broke down almost immediately, but Romano did a very fine job all season long. There were no holes in his performance. He threw strikes, he was hard to hit, he kept the ball in the yard. He even began to do a better job at holding baserunners. We can cut him some slack there, surely. He just hasn't had enough practice. Romano had one stint on the IL in April, and he was shut down for a few days at the beginning of June and again at the beginning of July.

A- Alek Manoah
He announced his presence with authority, didn't he? I was extremely skeptical about the wisdom of summoning the big fellow to the show after just nine professional starts. Shows you what I know. Manoah had one stint on the IL in July.

A- Adam Cimber
Cimber doesn't look remotely like Paul Quantrill on the mound, but that's who he reminds me of. Like the mighty Q (all-seeing, all-knowing), Cimber will give up some hits, and he only strikes out an average number of opposition hitters. But he never walks anyone and it's almost impossible to take him deep. It's hard to beat anyone by hitting singles. It does mean that Cimber's probably not your man for extra innings with the Zombie Runner already in scoring position. I don't know how he gets LH batters out with that delivery, but they're positively helpless against him. Go figure. He's 31 years old and arbitration eligible for the first time. I would expect he's going to sign his first seven figure deal between now and the spring. He was healthy all year, and appeared in a career high 72 games.

B+ Bo Bichette
He makes it work, doesn't he? You watch him play, and you think - no way. That wild swing? Major league pitchers will carve him up. But they don't. I don't think he's a good shortstop yet, but I did think his play in the field had improved considerably by the end of the season. I have no doubt that six months playing alongside Marcus Semien had something to do with it, although Bichette was the one putting in the work to improve.

B+ Jose Berrios
He's arbitration eligible, and after earning $6.1 million in 2021 I expect he'll be getting a raise. Berrios does absolutely everything he needs to do. He's very much like a RH Mark Buehrle, except Berrios has an actual major league fastball. He commands several different pitches, he goes deep into the game, he throws strikes, he keeps the ball in the yard, he fields his position, he holds baserunners. Berrios has never missed his turn in the rotation - not even once - since coming up to stay in May 2017. That may be the most Buehrle-ish thing about him of all. Just a really impressive professional.

B+ George Springer
He's simply a tremendous ballplayer, and it was his absence for half the season was the real defining fact of the 2021 Jays. The team played .615 ball with him in the lineup, and .512 ball when he wasn't there. There's an impact player for you.

B Steven Matz
One is used to the concept of streaky hitters. Matz was a streaky starting pitcher, which doesn't feel quite as common. He began his Blue Jays career with a rush, going 4-0, 2.31 in his first four starts. That never seemed likely to last, and sure enough Matz went 1-2, 6.93 over his next five. He appeared to right the ship over his next four starts (2-1, 3.32) at which point COVID shelved him for a couple of weeks. He made just two starts over a four week period from mid June to mid July and they didn't go well (0-1, 9.45). Then he put together a very impressive second half of the season (7-3, 2.91). He heads for free agency at age 30 coming off the best season of his career, which is pretty decent timing. But I always liked him in New York, and was puzzled by why he wasn't doing better there. Oh right - Mets.

B Tim Mayza
One of the small highlights of the year for me came on August 1 when Tim Mayza pitched from the Rogers Centre mound for the first time since we saw him crumple in pain back in September 2019. It's always a very long way back, and Mayza made it all the way and then some. He had a little wobble in mid-May, which significantly shaped his numbers for the entire season - over four consecutive appearances in a single ten day span he gave up 9 runs in just 3 innings. That one week accounted for almost half the runs he gave up all season. Mayza apparently emerged as one of the leaders in the bullpen crew, especially once Phelps was gone. Strange but true: you'll recall that Mayza's brief stretch of ineffectiveness came in mid-May. Well, what happened next? The rest of the bullpen apparently did their best to follow Mayza's example, which led them deep into the Realm of Ineptitude, with results that were grotesque and awful. (Too soon to have some fun with this stuff? Probably.) Mayza made one ten day trip to the IL in August.

B Santiago Espinal
One can't help but think some of it was done with mirrors. That's a pretty nifty BABiP (.353) that he's sporting in his somewhat brief MLB career. He doesn't seem to hit the ball all that hard. But the hits just kept falling in, and he took to third base like he'd been playing it for years. (He hasn't.) With Biggio's injuries and struggles, Espinal was one of the best stories of 2021. And for the life of me, I couldn't figure out why they liked him more than Richard Urena. It mystified me, I must admit. Is that why Ross Atkins makes the Big Money, and I'm just a tired old guitar player?

B David Phelps
Pitched just great, but only lasted for a month after hurting himself while warming up in the 29th game of the season. I think his absence really hurt the team - obviously on the mound, but I also think it would have helped an extremely inexperienced gang of bullpen arms to have a veteran reliever around, some guy who'd Seen It All. (Chatwood wasn't a veteran reliever, he was a guy who'd lost his gig as a starting pitcher and wasn't all that happy about it.) Phelps will be 35 years old and looking for a contract coming off another lost season.

B- Lourdes Gurriel
All season long, I waited for one of those Gurriel hot streaks. We know this guy now. He'll get on one of his runs and for about a month he looks like the best hitter on the planet. You can't build your offence around a player like this, but you still have to keep him in the lineup while you wait for him to get hot. Because you don't know when it's going to happen. All you know is that those hot streaks are really worth waiting for. Like July 2018 (.423/.438/.648), or June 2019 (.337/.381/.683 with 10 HRs) or September 2020 (.368/.394/.653). And none of this can truly capture just how hot he gets because no one actually turns it on at the beginning of the month and off at the end. So I waited. And I waited. And I waited. Finally, in September my sweet Lourdes burst onto the scene. His performance - .364/.425/.766 with 7 HR and 30 RBI - was crucial to the September hot streak that vaulted the team into playoff contention. And then Randal Grichuk stomped on his hand. Chipped in his usual exciting outfield play, with inventive routes to fly balls on the one hand and utterly unexpected BaseRunner Kills on the other. He's an adventure, and I'm glad he's ours. He's signed for two more years for roughly $5 million per.

B- Trevor Richards
Can I just say, on behalf of all the follicly-challenged folks in the world, on behalf of those of us who have lost our Natural Protection from the rays of the sun - I'd have been delighted to have gone grey in my 20s. As long as one gets to keep it, you know? Hair dyes are cheap! They're sold in drugstores and grocery stores all across the land. Anyway - Richards turned out to be a strange, but quite useful pitcher. It was almost impossible to get a hit against him - as a Blue Jay, the opposition hit just .143 against him - but if you could manage a hit, there was a pretty good chance it was going to leave the yard. Almost half of the hits he allowed did (7 of 16.) It must have been a pretty interesting year for Richards, who had always been a starting pitcher before this season. This was his first real taste of life in the bullpen, which he spent working for four different teams (Tampa Bay, Durham, Milwaukee, and Toronto.) It looks like he may have found a major league role he can fill.

B- Hyun Jin Ryu
Didn't pitch nearly as well as in 2020. He was still decent, but he slipped pretty badly over the final two months. In his final 10 starts, he went 3-5, 7.43, and just to make that fade even more baffling, he dropped in a couple of absolutely vintage Ryu performances along the way (scoreless outings against the Tigers and Yankees), possibly just to confuse everyone. He appeared to have missed working with Danny Jansen - he posted a 3.91 ERA pitching to Jansen, and 5.05 with the other catchers (mostly McGuire.) Ryu made two trips to the IL, once with a pain in his butt and once with a pain in his neck. There was certainly some frustration.

C+ Danny Jansen
Got off to an utterly wretched start with the bat - when he went on the IL in early June, he was hitting a ghastly .157/.248/.278 - and as you may recall, I was mocking him unmercifully, naming all kinds of pitchers doing better with the bat than he was. I was cruel, I know. But Jansen started hitting immediately upon his return a month later. Problem was, he hurt himself again after just seven games and this time, he was gone for six weeks. But he made it back from his second injury in time for September, and proceeded to thoroughly outplay both Kirk and McGuire down the stretch. He's not exactly a great defensive catcher, though he does do a fine job on balls in the dirt. He does seem to be one of the few people in the game who can think along with Hyun-Jin Ryu. That alone makes him a useful guy to have on the roster, for the next two years anyway. He's obviously lot more useful if he can hit his weight. He's listed at 225 pounds and I don't think that's asking for too much. It's given him plenty of trouble in the past, though. The September hot streak that saved his season almost lifted him over that marker. Close enough for now. Jansen hit just .233 on his Balls In Play, which is unfathomably weird, but typical - his career mark is .230. Somebody up there doesn't like him, or something.

C+ Alejandro Kirk
I think he presents a genuine dilemma. It's a basic fact that catchers don't normally develop a whole lot as hitters. The position is simply too difficult and too demanding and takes too much of a player's time and attention. Kirk obviously can't play anywhere else. And he's not a good defensive catcher at this point. Among other issues, the other two catchers did a much better job at keeping the ball from going to the backstop, and while Kirk's arm is fine, his throwing mechanics need a lot of work. His potential as a hitter, however, is pretty enticing. But because Kirk's a catcher it's hard to know with much confidence how good a hitter he is right now, and hard to make an informed guess as to how good a hitter he can become. And it's even harder to know just how to balance his potential as a pure hitter with his potential as a catcher who can hit (but not as well as he'd hit if he weren't also having to be a catcher.) As we know, his bat disappeared in September. I think the league had adjusted to him (let's see if a guy with short arms can reach pitches on the outside corner) and Kirk hadn't yet figured out how to adjust to the league. Given enough at bats, he probably will. But how does he get those at bats? He's really too inexperienced to be catching at the major league level. He coped by faithfully following the scouting reports - but catchers do need to be able to make in-game adjustments, on the spot, while squatting between the hitter and the umpire. There's no way Kirk can do that yet. How could he? He doesn't know the league yet. How would he? But how does he learn these skills without doing? And there's the dilemma. Is it best for Kirk to stay behind the plate? Or should he become a full time DH, and let's see just how good a hitter he can become? What's best for Kirk? Also, what's best for the team, for these may be two very different things. Player development at the major league level may not be what the next moment requires. I don't even pretend to know. Other people get paid the Big Money to figure out stuff like this. Maybe they'll just go with the same plan they intended for this year. Jansen is the starter, set for 115 games or so. Kirk gets the rest of the games, as well as some DH activity against southpaws. And we'll see what happens.

C+ Corey Dickerson
Another free agent, at age 32. He's got the worst outfield arm seen in these parts since Shannon Stewart roamed the turf, but he's still got his uses, especially on a team so loaded with RH hitters. There's still some life in his bat and it did him a world of good to get out of Miami (Loan Depot Park was just killing him.) But it's tricky carrying five outfielders these days, and Dickerson can only play left field. Which didn't stop Montoyo from fearlessly starting him in both centre field (got away with it) and right field (didn't get away with it.)

C+ Ross Stripling
As I think everyone knows, after his disastrous start against Boston on May 19 left him with 0-3, 7.20 record, Stripling made a Great Adjustment to his pitching mechanics. And by gum, it actually worked. He stayed in the rotation and went 5-3, 3.29 over his next 14 outings until an oblique injury shut him down in mid-August. The injury put the kibosh on his season aside from a few desultory, and generally ineffective, relief outings in September. Alas, those first six starts remain part of the historical record. Stripling made two trips to the IL - a forearm strain took him out for three weeks in April, and the oblique injury in August shelved him for a month.

C+ Joel Payamps
Now with Kansas City. His numbers were quite impressive, but I'm certain it was done with mirrors. He strikes out even fewer hitters than Cimber, but without the same ability to eliminate walks and home runs. The kind of luck Payamps had on the Balls In Play just isn't sustainable. Remember Danny Barnes?

C Nate Pearson
At some point, he needs to stay healthy enough to play some baseball. Pearson's main problem this year was a groin injury that turned out to be a sports hernia. He finally returned in September and put on a pretty eye-popping display - 20 Ks in 12.2 IP is the sort of thing that gets one's attention. I'm sure the organization is hoping desperately that 2022 will be the year that he finally makes his claim to that rotation spot that's been his for the taking since early 2020. He spent the first six weeks of the season on the IL, and after his one start in May, he spent much of the next three months on the minor league IL. He was able to pitch just 45.2 IP this year. It doesn't matter how good you are if you can't play.

C- Tayler Saucedo
Finally got his shot in the Show at age 28, and did okay with the opportunity. A pair of bad outings in August when he allowed 6 hits and 7 runs in just 1/3 of an innings skewed his numbers considerably. The Jays won the first game anyway, as they already had an 8 run lead when Saucedo had his little implosion, and an extremely hittable Dolis was the true villain on the other occasion. He probably doesn't miss enough bats to be a viable major league pitcher, but as organizational depth goes - he'll do.

C- Reese McGuire
McGuire has always been regarded as an all-glove no-bat kind of guy. He is certainly the best of the team's catchers at throwing out opposition baserunners. Unfortunately for McGuire, this is a skill that would have been much more useful forty years ago than it is today. His other defensive skills don't really dazzle. He seems... adequate. He is also as helpless as a wee puppy against LH pitchers and probably wishes the entire species could be abolished, or eliminated from the game via some kind of rule change. So what's awesomely strange is the fact that McGuire contributed more to the 2021 Jays with his bat than with his defense. Here's why. During the period (covering most of June and early July) when both Jansen and Kirk were on the IL, McGuire stepped up and hit .328/.369/.475 while handling the bulk of the playing time behind the plate. Bonus points for his excellent timing. McGuire was never going to keep that up, but he was still chipping in offensively (mostly by drawing lots of walks) when he had to play semi-regularly again, sharing the job with Kirk after Jansen got hurt a second time.

C- Randal Grichuk
A very weird season. Grichuk actually played very well for two months - he was hitting .289/.322/.497 with 9 HR by the end of May - and then... well, he stopped hitting. His bat just got worse and worse and worse. And worse. By the time September came around he was practically unplayable, and Montoyo responded by drastically cutting his playing time. He started fewer than half the games in September. Much of his work was coming as a defensive sub. Breyvic Valera actually pinch hit for him, and if that's not your manager telling you exactly what he thinks of you.... One wonders just what on earth happened. It's possible that he simply wore down. He was in the starting lineup for every one of the first 80 games, and for most of them he was in centre field. It meant he had to work much harder on defense than normal, at a position he hadn't played so often since he was 24 years old. Or maybe it's not really that complicated at all. Maybe much of his misery was simply the result of bad luck on his Balls In Play. Grichuk hit just .266 on his, more than 30 points below his career average, and one of the worst figures on the team (better than only Kirk and Jansen.) He continues to reduce his strikeouts, and he now actually strikes out less often than your average AL hitter, something I may never be able to get my mind around. It seemed like a really good idea, something well worth working toward. But it doesn't seem to be working out for him. He's signed up for two more years at slightly more than $10 million a year, which seems a bit rich for a fourth outfielder. That's what he is on this team. He and Gurriel really ought to swap contracts.

D+ Julian Merryweather
For a brief, shining moment - about two weeks in April - it looked like the Jays had found an excellent option for the end of the game. Then he tweaked his oblique and didn't pitch in the majors again until mid-September, when his performance was pretty erratic. I always thought "oblique" was an adjective, not a noun. I certainly didn't know it was a muscle. But between Merryweather and Springer and Stripling, oblique issues were hurting the ball club. See what I did there?

D+ Cavan Biggio
A lost season. Biggio spent the whole year playing out of position and he was usually trying to play through an injury. He had about a month in mid-season, when he returned from his first stretch on the IL up to the All-Star Break, when he seemed to be feeling fine and he played just like the Biggio we're used to seeing - .259/.351/.457 - and then he started hurting again. I think the team obviously missed his LH bat and his plate discipline. I also think they missed - I don't know if you'd call it leadership - his baseball demeanour. He's got one - never too high, never too low, doesn't get rattled - and I think it's needed on a team that seems to have a lot of excitable kids, some of whom are older than Biggio.

D Joe Panik
Now with Miami, on the team that named itself after a fish. Panik hasn't actually been a good player in almost five years, but he still plays a decent second base, he can fill in elsewhere, he bats left-handed, he doesn't expect to play every day. All these things have helped keep him employed these last few years. Unfortunately for him, his work in Miami (.172/.241/.221) means his career may soon be sleeping with the fishes. Ross Atkins traded Panik to the Marlins in exchange for Adam Cimber and Corey Dickerson - yes, he really did - and it's possible that law enforcement may be speaking to Mr Atkins soon about that piece of larceny.

D Trent Thornton
Thornton's season was a little like Randal Grichuk's - he was just fine for two months, and then things went completely sideways. Through the end of May, Thornton was doing a solid job - in 13 relief appearances, he'd worked 20 IP and allowed 18 hits and 6 runs. (Note: his three fill-in starts had not gone nearly as well.) But over his next 10 appearances, all in relief, he posted a 9.49 ERA, thanks to allowing 17 hits and 6 HRs in just 12.1 innings. By this point no one had any faith in him whatsoever and he spent the rest of the season on the shuttle between Buffalo and Toronto. His main problem in 2021 was the disturbing number of home runs he allowed. This had never been a problem for him before. Strangely enough, his problem before was that he really didn't do anything badly. He had nothing that he really needed to work on and try to improve. He just didn't do anything particularly well. So maybe this is good news. Now he has a weakness he can address! A path to getting better! More likely it was just one of those things. It's baseball, sometimes things just happen and no one knows why. But anyway - it was still a very bad thing that happened, and he must be punished. He did manage to stay healthy throughout, which was encouraging after losing almost all of 2020 to injury.

D Anthony Castro
He's got a nice arm. He doesn't really know what he's doing. Shake the nearest tree, a dozen guys just like him will fall out. When their stuff is working, they can get hitters out. When it's not - and this happens to all of them - he doesn't have a clue. Every pitcher needs a Plan B. It's not negotiable. Castro hit the IL with a forearm strain twice, once for three weeks at the beginning of May and again in July.

D Ryan Borucki
This was yet another year that Borucki mostly lost to injury. Like all Jays relievers, he pitched pretty well for the first six weeks. And then the bugs started biting. It's possible that the odd numbered years simply don't agree with him. Injuries have now cost him all or most of 2013, 2015, 2019, and 2021. His good health in 2017 now looks like one of life's enduring mysteries, like the song the sirens sang or the name Achilles used when he lived among the women. Next season is an even-numbered year; let he and all of us look forward to it with hope. He hit the IL in May with a forearm strain that kept him out for two months, and again for three weeks in August after he was optioned to Buffalo.

D Breyvic Valera
It's easy to see the appeal of someone like Valera - a switch-hitter who can fill in at several different positions? In this day of the extremely shortened bench, that seems a wonderful thing to have. Valera's actually been a decent minor league hitter, and it's not inconceivable that he might be a useful major league bench part. But he turns 30 in January and he's never gotten anything that even resembles a major league opportunity. The 97 plate appearances the 2021 Jays gave him is the most playing time anyone's ever given him in the majors.

D- Rowdy Tellez
Now with Milwukee. Tellez was coming off an impressive 35 game performance in 2020, which gave him an opportunity to carve out a regular role here. He did nothing with that opportunity, nothing at all, and soon found himself with no role at all. The team gave up on him and sent him to Milwaukee in the Richards trade. There was another opportunity waiting for him there, and he gave the Brewers one of his occasional hot streaks as soon as he arrived. And then he cooled off, and then he hurt his knee...

D- Rafael Dolis
My gosh, but this is one truly weird pitcher. He was the team's best reliever in 2020 despite walking a rather frightening 5.3 batters per 9 IP. He was successful because the rest of his game - hits allowed, strikeouts, homers allowed - was exactly the same as Gerrit Cole's. Exactly. Which is pretty darn good. Alas, Dolis wasn't anywhere near as good as that in 2021, and - just for good measure - he began walking a truly terrifying 7.6 batters per 9 IP. No one gets away with that. And because Dolis works so very, very slowly, his outings became utterly impossible to watch. They were like some fiendish form of torture - drip-drip-drip - something no human being should ever be expected to endure. And just to cap off the general Weirdness of Rafael - in Japan, he was especially notable for his outstanding control. He's arbitration eligible this winter, not that it's likely to matter. He made two trips to the IL that cost him about a month of playing time, with a calf issue in May and a finger problem in June, before everybody just got fed up with him.

D- Tyler Chatwood
Last seen being DFA'd by the Giants, Chatwood's struggles took the same shape as those of Dolis - he lost all contact with the strike zone - and here's the thing. No man alive, and no woman neither, be they fan or manager, can endure the pain of watching a pitcher struggle in this particular way. You want to grab the guy by the scruff of the neck and just yell at him. You want to point out that home plate doesn't move and that Babe Ruth is well and truly dead. Throw a strike, dummy! I know, it's not as easy as it looks - the target is only 17 inches across and it's 60 feet away. But other guys can do it. Bloody hell, Eephus can do it (he's walked 97 in 264 career innings in the mighty TMBL.) Chatwood actually pitched great for about six weeks, and should probably rank higher than Dolis. But I rather like Rafael, and I didn't like Chatwood. So there. He spent two weeks on the IL in April with triceps inflammation. Back when he was actually pitching well, of course.

D- Anthony Kay
He'll be 27 when next season begins and he hasn't been able to establish himself as much of anything. He shows enough in occasional flashes that you're always tempted to give him another chance. His actual usage last season was so irregular it would have been very hard to establish himself as anything anyway. Let's recap. He spent most of April at the Alternate Training Site, surfacing with the big club for a day to make an emergency start which didn't go well. He was recalled at the beginning of May to make another (mediocre) start. He stuck around for three weeks but made just three appearances while he was here (one excellent, two lousy) before being optioned back to Buffalo. And almost instantly going on the IL, for the first of three times this year. He was recalled in June, and actually did a decent job over the next four weeks - just 5 outings, but he went 1-0, 1.84 with 18 KS in 14.2 innings. Then, in his first game after the All-Star Break, he took over in the first inning after a disastrous Stripling outing with the team down 6-0. Kay instantly allowed five more runs and was banished to Buffalo, never to return. He made two more trips to the IL and missed most of August and September. I wouldn't give up on him yet, but I suspect his best chance to make something of himself is to become a Brett Cecil type reliever.

E T.J. Zeuch
Now with St.Louis. His season got off to a very nice start, with four shutout innings against the Yankees in the third game of the season. He was roughed up for 13 runs in 8 innings in his next three outings, went on the IL with a sore shoulder, and was banished to Buffalo immediately thereafter, surfacing only to make an unimpressive emergency start in June.

E Tommy Milone
Released in August, and signed by the Reds, Milone received an opportunity during the avalanche of pitcher injuries that buried the team during the first half. To the surprise of no one, he demonstrated that he wasn't the solution, and soon went on the IL himself.

E Jonathan Davis
Now with the Yankees, who quickly discovered the same truth I've been shouting from the rooftops for the last few years. This is a man who can not hit. Not at all. Not even a wee, tiny, little bit. The only people who can get away with hitting at his level are the guys who spend most of their careers throwing the pitches rather than swinging at them.

F Brad Hand


Now with the Mets. He used to be good, and he spent the first half of the season working as a real major league's team Actual Closer. He didn't do badly in Washington, the 3.59 ERA notwithstanding. He was as hard to hit as he's ever been, the walks and homers allowed look the same as always. Perhaps there was one warning sign - his strikeout rate dropped significantly this season. But as soon as he got here, he began to stink so very, very badly that they cut him loose after barely a month. He was so horrible, so awful - and of course he brought most of this awfulness to high leverage game situations. I expect that we will all hold this against him, as we will with Chatwood, for the rest of his life. If you don't believe me - try saying the name "Joey McLaughlin" to an older Jays fan. These scars never heal.. By far the most encouraging thing about the Brad Hand Experience was how quickly the team cut bait. Just because they gave up something to get him, just because he was a Proven Closer, didn't stop them from dumping him after 33 days.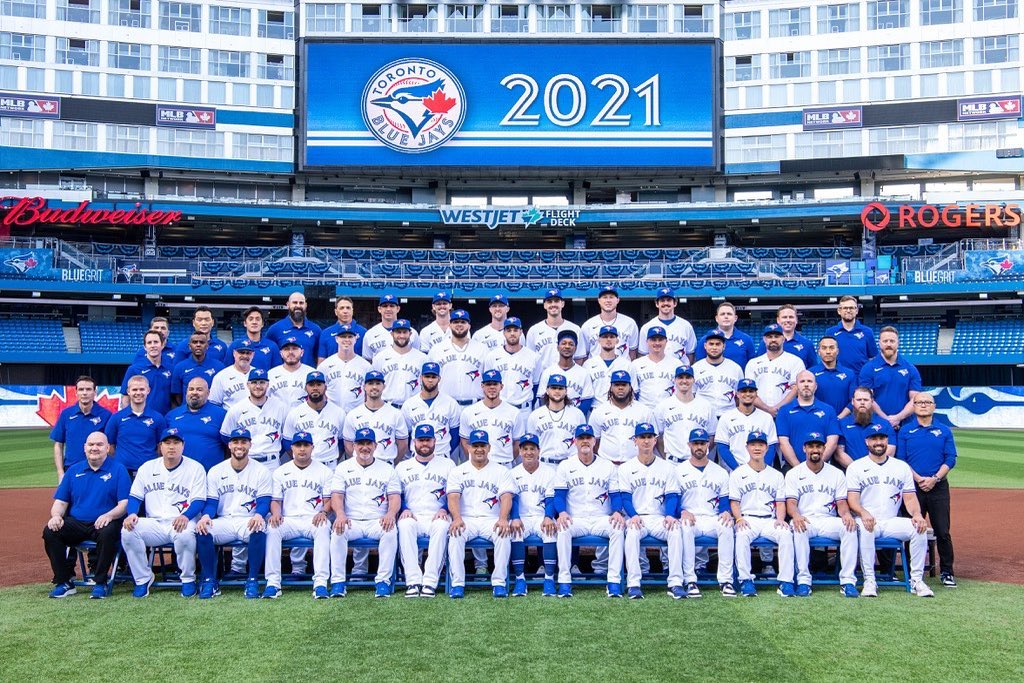 ---

https://www.battersbox.ca/article.php?story=2021100321184884