Blue Jays 2021 Top Prospects: 20 - 11
Wednesday, January 12 2022 @ 07:00 AM EST
Contributed by: Gerry
The middle ten of our top prospects has a lot of new blood. Drafted players in 2021 and 2020, along with international signings, provide seven of our middle ten.
20. Zach Logue | LHP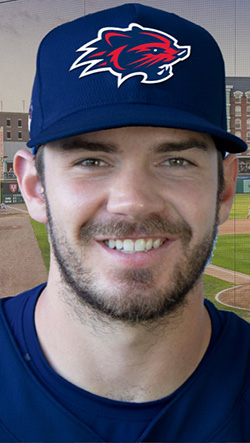 Photo from MiLB.com
| | | | | | | | | | | |
| --- | --- | --- | --- | --- | --- | --- | --- | --- | --- | --- |
| Year | Age | Team | G | GS | IP | H/9 | HR/9 | BB/9 | K/9 | ERA |
| 2021 | 25 | NH | 7 | 7 | 35.2 | 8.3 | 1.5 | 1.8 | 12.9 | 4.54 |
| 2021 | 25 | BUF | 18 | 17 | 89.1 | 8.0 | 0.9 | 2.0 | 9.4 | 3.93 |
Zach Logue is a step away from adding his name to the list of major leaguers who attended Archbishop Moeller High School in Cincinnati. The Mason, Ohio native is looking to follow the path from Moeller to the majors forged by the likes of Hall of Famers Ken Griffey Jr. and Barry Larkin and Buddy Bell and his sons David and Mike. Logue's chances of getting to the bigs got a huge boost when the Toronto Blue Jays decided to add him to the 40-man roster this past November.
After receiving a $125,000 bonus for being selected by the Toronto Blue Jays in the ninth round of the 2017 draft, the 6-foot-0 lefty has made a steady climb up the minor league ladder. The former Kentucky Wildcat got his first professional win with Bluefield in three appearances before being promoted to Vancouver. Logue was 3-1 with a 1.75 ERA and was the winning pitcher in the clinching Game 4 of the 2017 Northwest League championship.
The 2018 season saw Logue get his first taste of season ball and went 12-4 with a 3.15 ERA between Lansing and Dunedin, earning nine of those wins with the D-Jays. He encountered first struggle with Double-A New Hampshire by going 3-7 with a 4.10 ERA but he did earn a win for Triple-A Buffalo in his lone appearance despite giving up two runs in 3-1/3 innings.
Even though the minor league season was cancelled in 2020, Logue told the Toronto Star he was able to stay sharp by pitching in an independent league in Lexington, Kentucky. He also took part in velocity training to add a bit more zip to his fastball and learned how to throw a cutter, adding to his fastball-slider-changeup mix.
Despite his worst start of the year with the Fisher Cats in which he gave up six runs over 4-1/3 innings at Portland June 11, he was promoted to Buffalo where he threw seven innings of one-hit ball in Rochester, striking out eight on June 18. Mirroring his 2019 season, he posted a total record of 12-4 between Buffalo and New Hampshire, with nine of the wins coming with Buffalo. Logue finished ninth in the minors in strikeouts and tied for third in victories with 12.
Reports indicate Logue was able to bump his fastball from the 87-90 mile per hour range to 92-93 this past season from a low three-quarters arm slot. The added velocity helped Logue as he averaged over a strikeout an inning for the first time since 2017, finishing with a composite 10.4 Ks per nine innings. His career walk rate over his four years in the minors is a respectable 2.2/9. He throws strikes as evidenced by his 66.3 percent strike rate out of the 2,100 pitches he threw in 2021.
Logue's projected role in the majors appears to be that of a back-end starter or a multi-inning reliever. He will turn 26 years old April 23.
19. Victor Mesia | C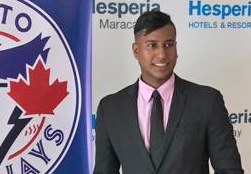 Photo from MLB.com
Year
Age
Team
AB
2B
3B
HR
BB
K
SB
CS
AVG
OBP
SLG
2021

18

FCL

59
5
0

2

6

12

0

0

.288

.371

.475

2021

18

DUN

31
1
0

0

1

8

0

0

.156

.161

.318

The Jays signed Victor Mesia in the 2019 international signing window out of Venezuela. Mesia was signed as a 16-year-old and made his debut this season at age 18. Mesia was skipped over the Dominican League and started in the Florida Complex League.
Mesia started slowly, he was hitting .200 on July 23rd. But then he got hot and hit .350 through the end of August. That earned him a promotion to Dunedin where he was not as successful.
The FCL rosters feature a lot of players and therefore Mesia had only 90 at-bats this season. But it was his first professional season so the few at-bats were offset by Mesia learning about being a professional. Mesia is listed as 5'9" and 175 pounds, a good size for a catcher. Scouting reports from when he signed suggested he should be able to hit for power. Obviously that did not show up in 2021 but he is still just 18. In the spirit of you can't walk off the island Mesia has a tendency to chase pitches out of the zone. Expect that to tighten up as he progresses.
Mesia ranks this high based on potential rather than performance. However for a player to reach Dunedin as an 18-year-old is a good sign. Expect him to start 2022 in Dunedin to try and build on his first pro season.
18. Adrian Hernandez | RHP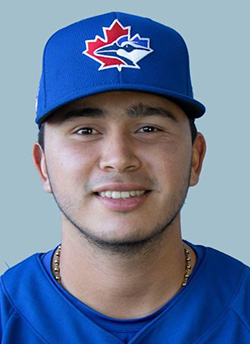 Photo from MiLB.com
| | | | | | | | | | | |
| --- | --- | --- | --- | --- | --- | --- | --- | --- | --- | --- |
| Year | Age | Team | G | GS | IP | H/9 | HR/9 | BB/9 | K/9 | ERA |
| 2021 | 21 | DUN | 9 | 1 | 18.2 | 6.5 | 0.5 | 7.5 | 18.5 | 4.50 |
| 2021 | 21 | VAN | 12 | 0 | 28.2 | 3.8 | 0.6 | 2.5 | 13.8 | 1.88 |
| 2021 | 21 | NH | 10 | 1 | 15.2 | 2.9 | 1.1 | 3.4 | 15.5 | 2.30 |
It's not usual for a reliever to make the top 30 list but Adrian Hernandez had a season to remember. He started in Dunedin, pitched well, moved to Vancouver, pitched even better, and finished the season in New Hampshire where he struck out 27 hitters in 15.2 innings.
Hernandez possesses a major league-ready changeup that could be the best changeup in the system. He complements those with an average fastball and a changeup. Hernandez is undersized in baseball terms at 5'10".
As mentioned Hernandez started the season in Dunedin where he did have some issues with walks. But this year was the first with the automated strike zone which caused a lot of issues early on in the season. He did strikeout 37 hitters in 18 innings. He cut down the walks in Vancouver to 2.5 per nine innings while he struck out 13.8 per nine innings, basically more than half his outs. Hernandez then pitched 15 innings in New Hampshire with 27 strikeouts. Over three levels he had 108 strikeouts in 62 innings.
While he wasn't striking hitters out, they were not hitting him hard. The opponents batting average over the three levels was .194, .125 and .096. His WHIP was 0.70 in both Vancouver and New Hampshire. The one exception was the home runs he allowed in New Hampshire, a changeup in the wrong spot can get hit hard. That is the one area to watch in AA next year and presumably in AAA at some point.
Hernandez is still just 21 years old. He could return to New Hampshire to start 2022 as the Buffalo bullpen is usually full of veterans, or the Jays could place him in Buffalo.
17. Rikelbin De Castro | SS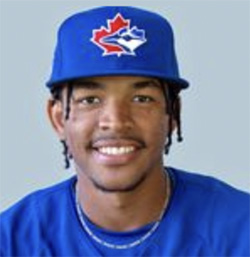 Photo from @rikelbin_de_castro17
| | | | | | | | | | | | | | |
| --- | --- | --- | --- | --- | --- | --- | --- | --- | --- | --- | --- | --- | --- |
| Year | Age | Team | AB | 2B | 3B | HR | BB | K | SB | CS | AVG | OBP | SLG |
| 2021 | 18 | FCL | 126 | 8 | 3 | 2 | 24 | 40 | 3 | 5 | .238 | .372 | .397 |
The six spot in the '6' could be soon be manned by Rikelbin De Castro given all the glowing reports about his defense. Signing as a free agent on July 2, 2019 for a $1.2 million bonus by the Toronto Blue Jays out of the Dominican Republic, De Castro has the requisite tools to remain left of second base with good range, hands, footwork, high energy and athleticism and is considered to be a future plus fielder. He is said to have average arm strength but that could grade higher if he puts on more weight on his 6-foot-0, 150-pound frame. Baseball America rated De Castro as the best defensive infielder in the Blue Jays system.
The pandemic led to the cancellation of the 2020 minor league season but De Castro did take part in fall instructs that year. The right-handed hitter made his pro debut with the Florida Complex League Blue Jays and picked up a double in his first game against the Phillies. His first multi-hit game came July 13 against the FCL Tigers West when he collected three hits and drove in three runs, two of them with a triple. That was the start of a six-game on-base streak, getting a hit in five of them. That was followed by an 0-for-23 skid that began in late July and seeped into early August.
De Castro enjoyed a much better August as he had a six-game hitting streak early in the month and finished with five hits in his last two games, including his first professional home run against the FCL Tigers West August 28. He batted .400 over 13 games in August but cooled off in September by hitting just .174 but his last hit went over the fence against the Western Tigers again September 15.
Considered to be a gap hitter with a quick, line-drive stroke, De Castro did show a good eye at the plate by walking just over 15 percent of the time to help offset striking out just over a quarter of the time.
De Castro made 12 errors over his 33 starts at short but was errorless in six starts at second base. He projects to be a utility infielder at least but his ceiling could see him turn out as Andrelton Simmons-type player. José Reyes is another name that has been mentioned as a comparable.
De Castro will probably get more seasoning at the FCL to start 2022 with a chance to go to Low-A Dunedin. He will turn 19 years old on January 23.
16. Sem Robberse | RHP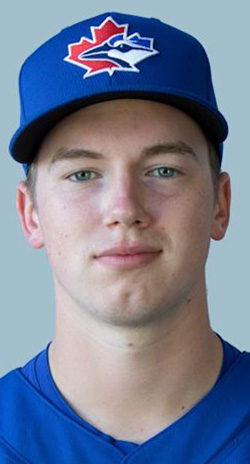 Photo from MiLB.com
| | | | | | | | | | | |
| --- | --- | --- | --- | --- | --- | --- | --- | --- | --- | --- |
| Year | Age | Team | G | GS | IP | H/9 | HR/9 | BB/9 | K/9 | ERA |
| 2021 | 19 | DUN | 14 | 12 | 57.2 | 7.2 | 0.6 | 3.1 | 9.5 | 3.90 |
| 2021 | 19 | VAN | 7 | 7 | 31.0 | 11.3 | 0.9 | 5.2 | 8.4 | 5.23 |
If you're buying stock on Toronto Blue Jays minor league hopefuls for 2022, you may want to invest in Sem Robberse as he has the potential to be the breakout pitching prospect in the system.
FutureBlueJays.com says Robberse drew the Jays interest when he was pitching at an MLB tournament in Barcelona and they were able to sign the Zeist, Netherlands native in 2019 for a $125,000 bonus. He got the win in his first two professional appearances with the Gulf Coast League July 27 against the Phillies East and the Tigers West August 3 with two shutout innings each time. Robberse was only scored upon once in his five outings covering 10-1/3 innings. He struck out nine batters, hit one and walked nobody.
Stuck in Florida for most of 2020 due to the pandemic, Robberse got on the mound again for Low-A Dunedin to begin 2021. He had a rough beginning by giving up 11 runs over 9-2/3 innings over four appearances in June but he found his footing by posting a 3.79 ERA in June, striking out seven batters in consecutive starts, including his first win of the year with five innings of one-hit ball in which he gave up a triple before uncorking a wild pitch.
Robberse began July by tossing five no-hit innings with just two walks while striking out eight in Palm Beach July 1. After a couple of tough outings, Robberse rebounded by allowing just two runs over his last three starts with Dunedin covering 17 innings, including a seven-inning outing of one-run ball in Bradenton July 29.
After blanking Fort Myers on the road for five innings on just one hit and a walk August 5, Robberse was promoted to High-A Vancouver/Hillsboro four days later. Much like in Dunedin, Robberse struggled early on. He did produce a quality start for the Canadians by allowing three runs over six innings against the Hillsboro Hops August 24. He was agonizingly close to his first High-A West victory as he yielded a pair of runs over 4-2/3 innings against the Hops August 29. Robberse was showing signs of adjusting to High-A ball by allowing four earned runs over his last two starts totalling 11 innings to end the season.
Robberse has been described as polished and poised on the mound with good mechanics. He throws a fastball that has touched 95 miles per hour and it is hoped he can add more velocity by packing on a few more pounds on his 6-foot-1, 160-pound frame. He also throws a curveball, slider and change up with the curveball being rated the best in the Jays system by Baseball America. FanGraphs projects Robberse to have an average fastball and changeup—even though his change remains a work in progress—and above-average breaking balls.
Two things Robberse did well was throw strikes and keep the ball on the ground. Nearly two-thirds of his pitches were strikes at Low-A Dunedin and 62 percent of his pitches with Vancouver found the strike zone. He also kept the ball on terra firma over 47 percent of the time with the D-Jays and over 51 percent during his tour of duty with Monty's Mounties.
With any luck, Vancouver fans may get to see Robberse begin 2022 at Nat Bailey Stadium. He will turn 21 years old on October 12.
15. Irv Carter | RHP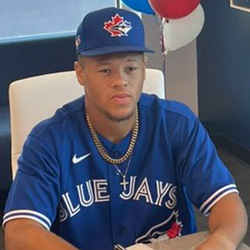 Photo from @irvcarter42
| | | | | | | | | | | |
| --- | --- | --- | --- | --- | --- | --- | --- | --- | --- | --- |
| Year | Age | Team | G | GS | IP | H/9 | HR/9 | BB/9 | K/9 | ERA |
| 2021 | 18 | None | 0 | 0 | 0.0 | 0.0 | 0.0 | 0.0 | 0.0 | n/a |
Irv Carter was the Jays fifth round selection in the 2021 draft but he received the second highest bonus, $847,000. Selected out of a Florida high school Carter did not pitch for the Blue Jays and so, like Gunnar Hoglund, information post draft is non existent. Here is the pre-draft scouting report on Carter.
There's a good chance that Carter is the best No. 2 high school arm in the country as the teammate of fellow 2021 righthander Andrew Painter. While Carter might benefit from being on the same team as Painter in terms of scouting eyeballs, he's a talented prospect in his own right with a three-pitch mix, super projectable frame and athleticism that give him exciting upside. Carter throws a fastball that sits in the low 90s and gets up into the 95 mph range at its best, with good downhill angle out of a high, three-quarter arm slot. After throwing more of a traditional 12-to-6 curveball earlier in his prep career, Carter transitioned to a slider last summer, and the pitch has shown plus potential with power and two-plane break in the mid-to-upper 80s with spin rates in the 2500 rpm range. He'll need to improve the consistency of the pitch, as he'll get around the ball at times, but it has real out-pitch potential. Carter also throws a mid-80s changeup with good arm speed, though he'll bury the pitch in the dirt fairly regularly. Carter has the athleticism and starter frame that teams are looking for, but he'll need to refine his strike throwing and potentially clean up his delivery to avoid a bullpen projection. There's plenty of effort in the delivery and he has length in his arm stroke with stabbing action in the back that could create issues with timing and repeating his breaking ball. Coaches and scouts alike do love his mentality and demeanor on the mound, however.
14. Miguel Hiraldo | 2B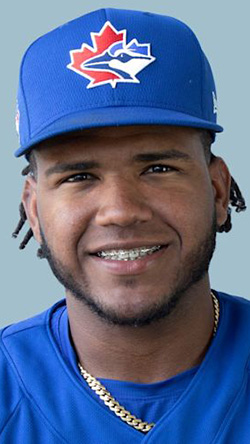 Photo from MiLB.com
| | | | | | | | | | | | | | |
| --- | --- | --- | --- | --- | --- | --- | --- | --- | --- | --- | --- | --- | --- |
| Year | Age | Team | AB | 2B | 3B | HR | BB | K | SB | CS | AVG | OBP | SLG |
| 2021 | 20 | DUN | 390 | 26 | 4 | 7 | 51 | 111 | 29 | 5 | .249 | .338 | .390 |
The pandemic that cancelled the 2020 minor league season slowed the roll of Miguel Hiraldo in 2021. After hitting .313 for the Dominican Summer League in 2018 and .300 with Bluefield in 2019 to earn Appalachian League Post-Season All-Star honours, his batting average dropped 50 points and his slugging percentage fell 90 points in 2021 with Low-A Dunedin.
Hiraldo—who signed as a free agent out of the Dominican Republic for $750,000 on July 2, 2017—had a roller coaster of the season with the bat. He batted. 270 with a .738 OPS in May but those marks fell to .216 and .666 OPS in June. The month of July was his best as he hit .277 with a .859 OPS. He struggled again in August at .222/.614 before bouncing back in September at .263/.754. The right-handed hitting Hiraldo batted was .320/.913 against lefties but struggled against righties at .232/.638. He showed a good eye at the pentagon by drawing a walk over 11 percent of the time but he struck out nearly a quarter of the time.
Hiraldo has shown good bat speed with quick hands and a short, compact swing that generates line drives from gap to gap. There may be more power to come if he adds more weight to his 5-foot-11, 175 pound frame. He is expected to be above-average in hitting for average and power.
Hiraldo also stole a career-high 29 bases in 34 bases, taking advantage of the rule change in Low-A baseball that limited pitchers to two pickoff attempts or two step offs. However, his speed is rated as a smidge below average so it may not be reasonable to expect higher stolen bases totals in the future.
After spending time at shortstop in 2018 and 2019, Hiraldo played second base and third base, with 50 of his 87 starts coming at second. That development did not come as a surprise as the consensus was Hiraldo did not have the range to stay at short. Hiraldo committed 24 errors but had a fielding percentage of. 944 at second base, 99 points higher than his glove work at the hot corner.
Save for one game with Lansing in 2019, the 2021 season was Hiraldo's first extended exposure to full-season baseball as he played in 105 games, just 16 games fewer that the 121 games he played in his first two minor league seasons combined.
Hiraldo's downturn in 2021 led to the Blue Jays not adding him to the 40-man roster and gambling that a team will not take him in the Rule 5 draft, whenever it is held. If he remains in the organization and is not part of a trade package for major league help, Hiraldo could see time at High-A Vancouver in 2022. He will turn 22 years old on September 4.
13. Estiven Machado | SS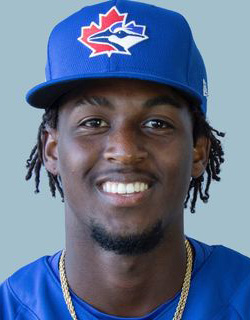 Photo from @lasalsa_30
| | | | | | | | | | | | | | |
| --- | --- | --- | --- | --- | --- | --- | --- | --- | --- | --- | --- | --- | --- |
| Year | Age | Team | AB | 2B | 3B | HR | BB | K | SB | CS | AVG | OBP | SLG |
| 2021 | 18 | FCL | 1 | 0 | 0 | 0 | 0 | 0 | 0 | 0 | 1.000 | 1.000 | 1.000 |
Estiven Machado is batting and fielding 1.000 in his minor league career. After ranging over from second base to catch a pop-up in foul territory, Machado lined a single to right field on the first professional pitch he saw against the Florida Complex League Phillies June 28. Is that enough of a sample size to project a future batting champion and Gold Glove winner?
Unfortunately that was as good as things got for Machado in 2021. A free-agent signing in 2019 from Venezuelan for a $775,000 bonus, he pulled up lame after his base hit and was immediately replaced by a pinch-runner. According to Baseball America's Ben Badler in the Blue Jays prospect chat, Machado missed the rest of the season with "really bad hamstring problems". Badler describes the switch-hitting Machado as an athletic shortstop with a quick, compact swing from both sides who can barrel up the ball during games. Baseball America's scouting report also says he has a good approach at the plate and is able to make enough contact to project as an above-average hitter.
Blue Jays minor league hitting coach Hunter Mense told the Toronto Observer that Machado's left-handed swing is ahead of his right-handed swing when it comes to contact but his power is more geared to the right side. Mense believes more power will come when Machado bulks up from 165 pounds on his 5-foot-11 frame while remaining athletic enough to remain as a switch-hitter.
Baseball America believes Machada can stick at short with a good first step, good footwork, good hands, a strong-enough throwing arm and enough range. BA also cites Machada's explosiveness and running gait as positives to help him improve his standing as an average runner.
The Athletic's Keith Law is also betting on Machado as the hitter most likely to take significant strides in Toronto's system this year.
Machado is expected to try his luck again with the Florida Complex League Blue Jays in 2022. He will celebrate his 20th birthday on October 4.
12. CJ Van Eyk | LHP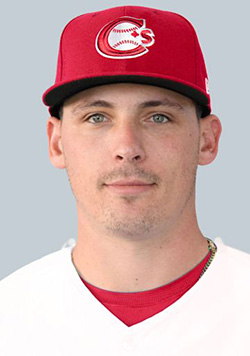 Image from MiLB.com.
| | | | | | | | | | | |
| --- | --- | --- | --- | --- | --- | --- | --- | --- | --- | --- |
| Year | Age | Team | G | GS | IP | H/9 | HR/9 | BB/9 | K/9 | ERA |
| 2021 | 22 | VAN | 19 | 19 | 80.1 | 7.2 | 0.7 | 4.2 | 11.5 | 5.83 |
C.J. Van Eyk is now the highest 2020 draft pick remaining in the Toronto Blue Jays system thanks to the trade of first-round pick Austin Martin to Minnesota in the deal that brought pitcher José Berríos north of the border last July 30.
However, it will be a while before Van Eyk will throw his next competitive pitch. He told C's Plus Baseball last month that he underwent Tommy John surgery to repair a tear in his ulnar collateral ligament September 20. That was less than a month after leaving a late August start for the High-A Vancouver Canadians in which he struck out four batters of the six batters he faced over two perfect innings. Van Eyk is expected to miss the 2022 season but is aiming to be back on the mound by the fall and be ready for Spring Training in 2023.
After an inconsistent start to the year, Van Eyk was hitting his stride with Monty's Mounties by putting up a 2.57 earned run average in August. That was after monthly ERAs of 5.87, 5.82 and 8.87 from May to July. The 6=foot-1, 215-pound hurler did show flashes of brilliance by striking out nine and giving up just one run on two hits and a walk in Hillsboro June 16. Van Eyk then picked up his first two professional wins with five innings of two-run ball in Spokane June 9 and he struck out seven in a five-inning, one-run effort against Everett June 16. He then struck out eight and walked nobody over six innings of two-run ball against eventual High-A West champion Eugene June 23.
Van Eyk received a signing bonus of $1.797,500 from the Toronto Blue Jays, an overslot deal for the 42nd pick of the 2020 draft. He was drafted by the New York Mets in the 19th round of the 2017 draft out of Steinbrenner High School in Lutz, Florida after being rated as a Top-100 prospect by Baseball America. However, a forearm injury and the Mets not meeting his asking price to turn down a college education led to a three-year stay at Tallahassee.
Van Eyk was off to a great start at FSU in 2020 when he recorded a 1.31 earned run average over four starts in his junior season. The 6-foot-1 northpaw may have earned first round consideration with the benefit of a full year. Instead, Van Eyk had to settle for an 18-4 record and a 3.19 ERA during his three years on campus, including a 10-3, 3.80 mark in 2019 to help Florida State get to the College World Series.
ESPN analyst Kyle Peterson thought the Jays did well to get Van Eyk in 2020.
"I think this guy could be the steal of the draft. It surprised me that Van Eyk was not higher on some lists. I would have had him somewhere towards the back end of the first round. I think Van Eyk is a guy that's a starter in the big leagues for a long time."
Van Eyk throws a four-seam fastball along with a curveball, a changeup and a cutter after trying out a slider earlier. The fastball has touched 95 miles per hour according to Baseball America but FanGraphs reported a reading of 97 on the radar gun. MLB Pipeline rates his curveball as a plus pitch, his fastball an above-average offering and his changeup as.average. Van Eyk told C's Plus Baseball that his focus is on improving his cutter.
"The slider/cutter thing where me and … the pitching office are still trying to kind of figure that one out but they seem to think it's a big-league pitch. I don't really see it yet (laughs) but that's what they think and we're still trying to figure that one out. Get the right spin down on it. But I would say my fastball and curveball were definitely complimentary of each other this year and they definitely helped me navigate through most lineups. And the changeup was just there to show to lefties I think but definitely the usage of that is going to go up along with when I figure out that cutter, it will be be good going forward."
Sportsnet's Shi Davidi adds that Van Eyk needs to improve his command and raise his strike-throwing percentage in the mid-60s range. which wound up at 63.6 percent.
His athleticism, delivery and pitch mix are the main reasons that evaluators give him a chance to develop as a major league starter.
Cornelius Johannes Van Eyk will turn 24 years old September 15.
11. Ricky Tiedemann | RHP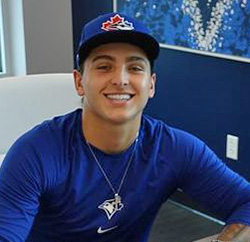 Photo from @tariq_tiedemann
| | | | | | | | | | | |
| --- | --- | --- | --- | --- | --- | --- | --- | --- | --- | --- |
| Year | Age | Team | G | GS | IP | H/9 | HR/9 | BB/9 | K/9 | ERA |
| 2021 | 18 | None | 0 | 0 | 0.0 | 0.0 | 0.0 | 0.0 | 0.0 | n/a |
Ricky Tiedemann, like Gunnar Hoglund and Irv Carter, did not pitch for the Blue Jays after being drafted. Tiedemann was the Blue Jays third round pick out of a junior college and signed for $645,000. Because he came out of a JuCo, Tiedemann was only 18 when he was drafted and turned 19 towards the end of the season.
Tiedemann was injured in his high school season and that, along with his bonus demands, left him unselected. He originally enrolled at Long Beach City College but Covid shut down their season. So he transferred to Golden State who were playing. Tiedemann is just one Covid impacted year out of high school but expectations of his progress need to be tempered.
Here is Baseball America's description of Tiedemann pre-draft.
Tiedemann drew considerable interest out of Lakewood (Calif.) High last year, but teams weren't willing to meet his bonus demands and he went unpicked in the shortened five-round draft. Rather than stick with his commitment to San Diego State, Tiedemann enrolled at Golden West (Calif.) JC this spring to be eligible for the 2021 draft. Tiedemann has blossomed physically over the past year and now stands 6-foot-4, 220 pounds with broad shoulders and a strong, well-proportioned frame. With the increased physicality has come an uptick in his stuff. Tiedemann's fastball now sits 89-92 mph and touches 94 with life out of a low slot that creates a difficult angle for hitters. His changeup is a plus offering he can throw at any time to lefties or righties, and it has the potential to become a plus-plus pitch as he adds more separation from his fastball. His hard slider has become consistently average. Tiedemann has lots of promising ingredients, but he's still learning to put everything together. He underwhelmed at times this spring, posting a 3.55 ERA and allowing more than a hit per inning against subpar junior college competition, and requires a bit of projection. He is an excellent athlete who aggressively goes after hitters, but his arm slot can wander and make it harder to throw strikes. He'll show above-average control in some outings and struggle to find the strike zone in others. Tiedemann is only 18 and younger than many players still in high school. Teams are optimistic his stuff will continue to grow and he will become more consistent with experience.
After the draft Tiedemann was able to throw up to 98mph in the Jays camp. This was much higher than his velocity before the draft. There are several theories about this added velocity. Tiedemann is athletic, he could be tapping into that athleticism. The Jays could have tweaked his delivery. He was pitching an inning at a time in Dunedin versus six innings in JuCo. Or, and this is not a nice one, some pitchers show increased velocity before their tendon snaps and they require surgery. We hope it is not the last one. In any event that extra velocity would have moved Tiedemann much higher in the draft if he had shown it in May or June. BA also ranked Tiedemann's change-up as the best in the system, high praise for a rookie.
Tiedemann's progress in the Jays camp makes his assignment in 2022 uncertain. Normally he would be headed to Dunedin but his extra velocity might get him pushed to Vancouver.
Join us tomorrow for the top 10.
---

https://www.battersbox.ca/article.php?story=20211029093715308