Blue Jays 2021 Top Prospects: 10 - 1
Thursday, January 13 2022 @ 07:00 AM EST
Contributed by: Gerry
The top 10 features four returnees from 2019's top 10, eight returnees from the top 30 and two players who are new to the system.
10. Manuel Beltre | SS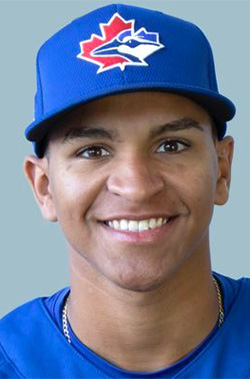 Photo from MiLB.com
Year
Age
Team
AB
2B
3B
HR
BB
K
SB
CS
AVG
OBP
SLG
2021
17
DSL
182

10
3
2
42
33
10
4
.225
.391
.346
Manuel Beltre played his first professional season in 2021 as a 17 year old and it was a roller coaster. Beltre just couldn't get going to start the season, hitting .130 in July. In his first eleven games he went hitless in eight of them. But in August Beltre was a different hitter, he hit early and often and his batting average was .317 for the month with a .985 OPS. He started September well but faded down the stretch.
Not only did Beltre play the season as a 17 year old, he only turned 17 on the 9th of June so he was 17 and one month when the season started. That is about as young as you get in the DSL. The Jays had signed him in January for a reported $2.35M. He was the major international signing of the Jays in 2021.
Beltre is described as an advanced hitter with a great understanding of the game. As of now he has a strong hitting tool with not much power. The power will depend on how he develops over the next few years. In the field Beltre plays shortstop and has a chance to stick there as he moves up through the system. He is listed as 5'11" and 165 pounds, although he could add to those as he matures.
Although Beltre didn't hit as well as he would have liked in 2021, he did show excellent strike zone judgement walking more than he struck out. Beltre walked 42 times and struck out just 33 times. His BABIP was a lowly .258.
At this stage Beltre's rating here is based off scouting reports and his bonus. His 2021 season shouldn't be analysed too much, because, as mentioned above, he was barely 17. Indeed he will still be 17 when he starts his 2022 season, probably in the Florida Complex League.
9. Adam Kloffenstein | RHP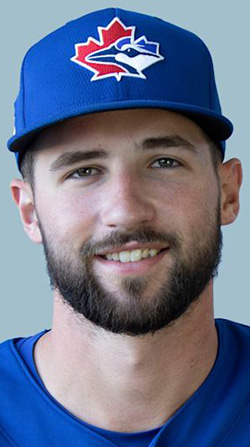 Photo from MiLB.com
Year
Age
Team
G
GS
IP
H/9
HR/9
BB/9
K/9
ERA
2021

20
VAN
23
23
101.1
8.5
0.9
5.4
9.5
6.22
Adam Kloffenstein was hoping to build on a strong 2019 campaign but 2021 turned out to be a step back. Toronto's third round pick in 2018 out of Magnolia High School in Texas, Kloffenstein compiled a 2.24 earned run average and his performance was worthy of consideration for the Northwest League Pitcher of the Year award in his first full season in 2019. The 6-foot-5, 245-pound righty—who received a well-above slot signing bonus of $2,450,000 to turn down pitching at Texas Christian University—did not enjoy the same level of success in his return engagement with the Vancouver Canadians in 2021.
Between his two years in a C's uniform, Kloffenstein pitched in the Independent Constellation Energy League in Texas in 2020 after the minor league season was cancelled due to the pandemic. He got in 21-1/3 innings worth of work with 20 strikeouts and 12 walks along with an earned run average of 4.64 ERA. According to FanGraphs, his sinking fastball picked up a little more velocity from the low-90s to 93-94 miles per hour.
Things started promisingly enough for Kloffenstein early last year. He got a taste of spring training action by throwing a shutout inning against the New York Yankees March 14. When he reported to Vancouver, he was the youngest pitcher in the High-A West League to begin 2021 at 20.6 years and the second youngest overall to Seattle Mariners outfield prospect Julio Rodríguez. Kloffenstein had a shutout string of nine innings over three starts to begin the year, culminating with six innings of one-run ball to earn his first win of the year against Spokane May 15. He would strike out a career-high 11 batters in Everett August 10 but his monthly ERAs ranged from 5.70 to 7.27.
Though he led Monty's Mounties in wins and did not miss a start last year, the big problem for Kloffenstein was walks. He issued a free pass to two more batters every nine innings from 2019, translating to a four percent increase in his walk percentage. He did average over a strikeout an inning last year but his strikeout percentage dipped nearly two percent to 23 percent even.
Kloffenstein's ground ball rate was 53 percent ground ball rate but that was down from the 60 percent mark he turned in during his first season with the C's. He was getting hit harder as his line drive rate jumped over three-and-a-half percent to 19.6 percent. His home run rate also went up two-and-a-half percent.
The Magnolia, Texas native was not helped by the BABIP gods in 2021 as he gave up a .306 batting average on balls in play, a 44 point hike from 2019. His ability to strand runners also suffered a drop from nearly 75 percent rate in 2019 to just less than 59 percent this past season.
FanGraphs felt Kloffenstein's four-pitch mix of a fastball, slider, curveball and change ticked down from the general average to above-average grades assigned by scouts.
In an interview with C's Plus Baseball in July, Vancouver catcher Ryan Gold believes the future is bright for Kloffenstein.
"Kloff is an interesting person. He's obviously loved by everybody in the clubhouse. He is young and you can tell sometimes that he is, but he is smart. He's a very smart pitcher. I love working with him. I think that he's really going to be a good pitcher in the next couple of years. Once he starts learning his craft and really honing in on throwing a lot of strikes, knowing that his sinker is going to get a lot of ground balls and just pounding the zone with his stuff, he's going to be a pretty good pitcher.

I think he's starting to understand that he doesn't have to strike out 10 people a game to have a good start. Those ground ball double plays that he can easily roll are going to help him get through five, six or seven innings pretty quickly.

I think he's starting to realize when he makes a good pitch and he executes it well, good things happen and he doens't have to try and strike everybody out to have a good outing. He's going to get his strikeouts but I personally don't think he's a strikeout pitcher. I think he's a weak-contact, ground ball guy, kind of like a T.J. Zeuch almost … He reminds me of lot of him. A big-bodied dude that gets down on the mound and throws a pretty heavy sinker with a good slider off of it. I think once he learns how to work those two together and really start pounding the zone with both of those pitchers, he's going to find a lot of success.

He's added a changeup and a pretty good curveball to his repertoire so I mean he's going to have four pretty decent pitches to work with as a young starter. Once he figures that out, he's going to have a lot of success for sure."
King Kloff will more than likely need to show he can reign in the hitters of the High-A West to begin 2022 before getting to Double-A New Hampshire.
Kloffenstein will turn 22 years old on August 25.
8. Samad Taylor | 2B/UT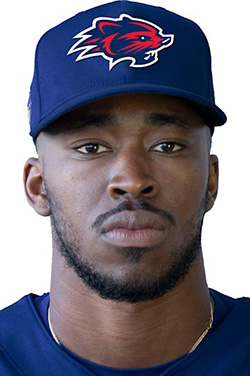 Photo from MiLB.com
Year
Age
Team
AB
2B
3B
HR
BB
K
SB
CS
AVG
OBP
SLG
2021

22

BLU

320
17
1
16
42
110
30
8
.294
.385
.503
The Blue Jays acquired Samad Taylor, along with Thomas Pannone in the 2017 Joe Smith trade. His development has been slow and the pandemic didn't help at all. He took a leap forward at Double-A in 2021, but it wasn't enough for him to be added to the 40-man roster perhaps because he turned 23 in July. He was eligible to be selected in the Rule 5 draft that didn't happen.
Taylor was a different hitter in 2021. He was selective, but was looking for pitch to drive rather than just put in play. He struck out more but succeeded in hitting the ball hard to all fields. The tradeoff was worth it. He runs very well, and the Fisher Cats had him in the leadoff role most often. He was apparently comfortable in that role hitting .331/.429/.574 there, with 8 homers, 24 walks and 45 strikeouts in 172 PAs. Overall, he stole 30 bases in 38 tries.
Defensively, he had most of his starts at second base and in left-field in 2021, but also spent some time at third base, in centerfield and at shortstop. He played almost exclusively second base for the majority of his minor league career. He is apparently about average or a little below at second base. I haven't seen him on the pivot, but he was involved in only 13 double plays in 280 innings in 2021. That's a low rate for him and generally. I wonder if, like Lourdes Gurriel Jr. and Tim Raines, he's headed for left field on a permanent basis. He seems to have the offensive profile for it.
7. Leonardo Jimenez | SS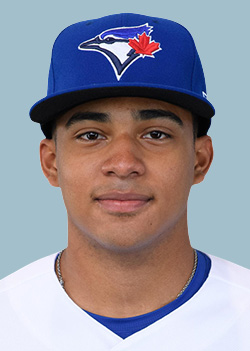 Photo from MiLB.com
Year
Age
Team
AB
2B
3B
HR
BB
K
SB
CS
AVG
OBP
SLG
2021

20

DUN

168

8
0
1
51
35
4
1
.315
.517
.381
2021

20

FCL

13

2
0
0
3
1
1
0
.385
.600
.538
It's pretty clear where Leo Jimenez is, but far from clear where he will end up. Welcome to prospecting.
He grew up in Panama and signed in July 2017 for $825,000. He made his minor league debut in the Gulf Coast League in 2018 where he held his own. He did the same in the Appalachian League in 2019 and then lost a developmental year due to the pandemic. He started 2021 with Dunedin in the "Low A Southeast League" (LASE) on the IL with a hand injury, but returned better than ever with league-leading plate control (a .517 OBP is very pretty at any level). The Jays sent him to the Arizona Fall League where he continued to control the plate against stronger competition, and the club put him on the 40-man to protect him from the Rule 5 draft. He is a fine fielding shortstop by reputation but moved to second base in light of Bo Bichette's stranglehold on the position. At the plate, he is a line-drive contact hitter who will happily take a walk. He has little power at this stage. He has pretty good speed, but he's not a burner. Can we pause a bit to elaborate on the "contact hitter" part of his profile, as we do need to mentally adjust K rate numbers to reflect the current K heavy context? In the LASE, Jimenez struck out in 14.5% of his PAs; league average was 26.5%. In the AFL, Jimenez struck out in 15.7% of his PAs; league average was 22.7%.
What would success for Jimenez look like? I ran a Statcast search of second basemen who at age 23 had 2 WAR and an IsoP of .100 or less. Aside from obviously unhelpful players (Ryne Sandberg, Eddie Collins), the following post-war names came up: Ken Oberkfell, Red Schoendienst, Julio Cruz, Luis Castillo, Jerry Remy and Chuck Knoblauch. Knoblauch is the most interesting from a baseball perspective. At age 20, Knoblauch was in the Low-A Midwest League where he hit .286/387/.393 with 23 doubles and 2 homers in 317 PAs. He did the same thing in Double-A at age 21 and was the Rookie of the Year at age 22 and was extremely valuable in his early and mid-20s.
6. Otto Lopez | UT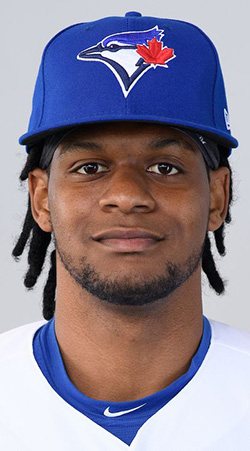 Photo from MiLB.com
| | | | | | | | | | | | | | |
| --- | --- | --- | --- | --- | --- | --- | --- | --- | --- | --- | --- | --- | --- |
| Year | Age | Team | AB | 2B | 3B | HR | BB | K | SB | CS | AVG | OBP | SLG |
| 2021 | 22 | NH | 278 | 24 | 1 | 3 | 28 | 62 | 7 | 3 | .331 | .398 | .457 |
| 2021 | 22 | BUF | 173 | 8 | 3 | 2 | 13 | 26 | 15 | 1 | .289 | .347 | .405 |
| 2021 | 22 | MAJ | 1 | 0 | 0 | 0 | 0 | 1 | 0 | 0 | .000 | .000 | .000 |
I have seen one Vancouver Canadians game ever, in 2018. Otto Lopez was the star of the game, and so there you have it, my bias from the first. It doesn't hurt also that he has a deep connection with Canada from spending four years of his childhood here.
What do we know of Lopez? Well, he can hit. He's hit .300 or very close to it at every stop since he signed. He has a nice short stroke, and the ball will jump off his bat. It's easy to imagine him having medium-range power when he is in his mid-20s. He has average plate control, or a little better. It's not an issue, but not a huge strength either. He has above-average speed and harnessed it for the first time in 2021 in Buffalo, stealing 15 bases in 16 tries in 43 games.
What do we not know about Lopez? The field. When I saw him in playing the infield in 2018, my first thought was iron glove. Interestingly the Jays gave him significant time in center field in 2021 for the first time in his minor league career, although he has a fair bit of time in the corners. I see four futures possible for Lopez - major league center fielder, major league left fielder, 4th outfielder, multi-position utility player. I think the third is the most likely, but hope for one of the first two. The Jays gave him a sip of coffee in 2021, and he might get a cup or four in 2022 depending on how the rest of the off-season goes.
5. Kevin Smith | SS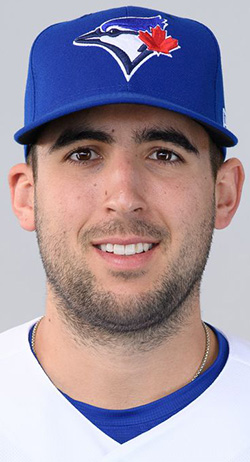 Photo from MiLB.com
Year
Age
Team
AB
2B
3B
HR
BB
K
SB
CS
AVG
OBP
SLG
2021
24
BUF
355
27
4
21
46
97
18
3
.285
.370
.561
2021
24
MAJ
32
0
0
1
3
11
1
0
.094
.194
.188
2021 was a turnaround year for Kevin Smith that culminated with him making his major league debut. Smith had struggled in 2019 after making some swing changes. He worked to fix those issues in 2020 at the minor league camp and came into 2021 trying to get back on track. It wasn't a smooth start, Smith hit just .225 in April but then he found his groove. He hit .326 in June and .317 in July. That earned him a promotion to Toronto and he bounced between Buffalo and Toronto a few times in August and September.
Smith's audition in the major leagues was inauspicious, he hit just .094 in 32 at bats. He also struck out 11 times in those 32 at-bats.
In Buffalo, Smith dominated for much of the season. His line drive rate of 26.1% was one of the best in the Blue Jays system. He did strike out 24% of the time, previewing his strikeouts in the major leagues. But his .931 OPS led the Jays minor leaguers. His isolated power was second only to Orelvis Martinez.
Smith can handle shortstop but that spot is occupied in the major leagues. Smith played 17 games at third base in Buffalo and spent most of his time in Toronto at third as well. There is no reason Smith couldn't handle second base too and become another Santiago Espinal. So both of his potential major league positions are currently occupied. Smith will likely continue to work on his versatility in 2022.
Smith has shown his ability to hit AAA pitching. But major league pitchers are a different challenge and they pitched to the edges of the strike zone and got Smith to swing at pitcher's pitches. Smith will likely return to AAA to start 2022 and will work on being more selective at the plate so that when he does return to the major leagues he can be ready to take those borderline pitches and swing at hitters pitches. Smith has already struggled, made adjustments, and recovered. I would bet on his ability to do the same again.
4. Gunnar Hoglund | RHP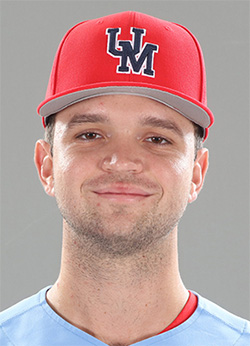 Photo from OleMissSports.com
| | | | | | | | | | | |
| --- | --- | --- | --- | --- | --- | --- | --- | --- | --- | --- |
| Year | Age | Team | G | GS | IP | H/9 | HR/9 | BB/9 | K/9 | ERA |
| 2021 | 21 | None | 0 | 0 | 0.0 | 0.0 | 0.0 | 0.0 | 0.0 | 0.0 |
The Jays selected Gunnar Hoglund with their first-round pick in the 2021 draft. But we haven't seen Hoglund since the draft and so the basis for this ranking is his pre-draft scouting reports. Coming into 2021 Hoglund was projected to be a top ten pick in the draft but he had to have Tommy John surgery this spring. This dropped him out of the top ten and the Jays took him at pick 19. Hoglund signed soon after the draft for $3.2M.
Hoglund is a big, 6'4", right handed pitcher. He primarily throws three pitches, a 92-95 MPH fastball with movement, a slider and a change-up.
Having said that there is not much to add to Baseball America's pre draft description.
Hoglund's command has long stood out. It made him an immediate contributor at Ole Miss, and it has helped him be one of the best pitchers in the Southeastern Conference in 2020 and 2021. Hoglund's 2021 season came to a premature end when he blew out his pitching elbow in his May 7 start against Texas A&M. His rehab from Tommy John surgery means he'll be sidelined until midway through 2022, and it likely ended any chance he had of being a top-10 pick. But Hoglund's body of work (154 innings in three years at Ole Miss) gives teams a lot of comfort with who Hoglund is—a relatively safe starting pitcher with plus command who has the ability to throw three pitches for strikes no matter what the count. Hoglund came into 2021 viewed as a starter likely to be taken in the back of the first round, but he quickly showed improved stuff. Hoglund had touched 95 mph going back to high school, but he generally sat 90-92. This year, he sat 92-94 mph. His slider got a little harder and sharper as well. Hoglund has shown he can spot his above-average fastball to the arm side or glove side, but he generally aims to keep his fastball away—he'll work glove side to righthanders and arm side to lefties. He consistently wins at 0-0 in the count, getting ahead which means he can then attack righties with his above-average, 80-84 mph slider, again generally staying away. Lefties have to worry about his low-80s, above-average changeup, but he's also shown he's comfortable working in on their hands with his slider. It's that ability to spot all three pitches and avoid the heart of the plate that is key to his success. Even after his elbow injury, he's seen as a low-risk surefire starter with a consistent, easy delivery.
Hoglund is unlikely to pitch until June of 2022. I would expect him to start in the FCL or Dunedin to stay close to the club's rehab staff. Once he is confident in his recovery he should move up to Vancouver.
3. Jordan Groshans | SS
Photo from MiLB.com
Year
Age
Team
AB
2B
3B
HR
BB
K
SB
CS
AVG
OBP
SLG
2021

21

NH

278

23
0

7

34

61

1

1

.291

.367

.450

On the positive side Jordan Groshans played in AA as a 21 year old and more than held his own, hitting .291 with an OPS of .817. Bo Bichette was a year younger when he played in AA and he had an OPS of .796.
On the negative side Groshans played just 75 games, which was a professional high for him. Until he plays a full season he will carry the injury-prone tag. He missed nine games in May, a week in July and nearly all of September.
After a slow start in May, Groshans improved from there and played better or equivalent each month thereafter. He showed a decent eye with an 11% walk rate and a 19% K rate. His power numbers were also reasonable for a 21 year old. He had 23 doubles and 7 home runs in those 75 games. His ISO power was .158. On a cumulative basis his wOBA was .360 and his wRC+ was 124.
Groshans played most of his games, 43, at shortstop with 21 at third base. Once Austin Martin was traded, he played more shortstop. Scouts are still undecided as to whether Groshans can play short in the major leagues, however the consensus seems to be that he is destined for third base. Baseball America in their top 10 prospect story listed Groshans as having the best infield arm in the system.
You can be picky and note areas where Groshans needs to do better to be a top prospect. But he played at 21 in AA and will play at 22 in AAA and he still has development time. If he could just stay on the field more he could be pushing for the Blue Jays number one prospect spot.
Groshans will likely start 2022 in Buffalo and could see the majors by the end of the year of he can continue to improve and play a full season. There are two priorities for Groshans in 2022. First is to stay healthy and play in at least 130 games. The second is to develop more power. If Groshans is to be a major league third baseman he needs more power than he has shown. I assume he is lifting a lot of weights this off season.
2. Orelvis Martinez | SS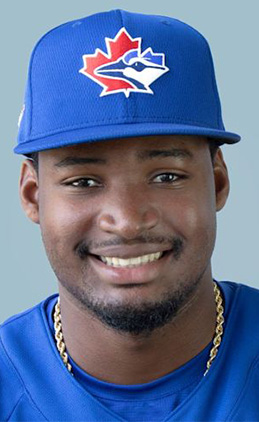 Photo from MiLB.com
Year
Age
Team
AB
2B
3B
HR
BB
K
SB
CS
AVG
OBP
SLG
2021

19

DUN

283

22
2

19

33

85

4

1

.279

.369

.572

2021

19

VAN

112

4
0

9

10

28

0

1

.214

.282

.491

When it comes to power-hitting prospects, Orelvis Martinez is the Bossa Nova Baby of the Toronto Blue Jays system. Signed on the Fourth of July in 2018 as a 16 year-old out of the Dominican Republic, Martinez got a healthy $3.51 million bonus from the Jays. Scouts at the time compared him to Adrian Beltre.
Martinez put together a strong first professional season in 2019 at the Gulf Coast League. He racked up 20 extra-base hits, including seven home runs, and posted a .901 on-base percentage in just 40 games. That earned Martinez top billing as the number one prospect in the Gulf Coast League by Baseball America and was named a GCL Post-Season All-Star.
After attending the Jays alternate training camp in 2020 due to the pandemic, the 6-foot-1, 188-pound Martinez provided a little less conservation and a little more action with his right-handed bat at Low-A Dunedin in 2021. He started the first two months with OPS marks of .772 and .802 before showing a little more bite and a little more spark with a 1.218 total in July thanks to 13 homers. That led to back-to-back Southeast League Player of the Week awards and the league's Player of the Month honours.
Early August saw Martinez earn a promotion to High-A Vancouver where he encountered his first prolonged slump as a professional. He hit a home run in his Canadians debut against Hillsboro August 3 before all this aggravation by High-A West pitchers was not providing satisfaction as Martinez had a .158 batting average after August 24.
However, Martinez did not procrastinate any longer as he began to articulate his power with five home runs in his last nine games with Monty's Mounties.
FanGraphs notes that Martinez had trouble laying off of breaking pitches out of the strike zone and was very pull-happy. His eight percent walk rate with Vancouver was in the ballpark of his 10 percent total but his strikeout rate climbed more than seven percent from 2019 to 25 percent in 2021.
Right now, it's a power-over-average profile for Martinez as scouting grades project plus power but a tad below average in the BA department. Scouts praise him for his advanced bat-to-ball skills and his athletic build.
Defensively, Martinez is said to have enough arm to stay at short but not the range and foot speed. He made almost as many errors at the six-spot in his short time with Vancouver as he did in Dunedin. Martinez committed nine errors at short in 19 starts with Vancouver (compared to 11 miscues in 46 starts with Dunedin) so the struggles with the bat appeared to carry over to the diamond. Scouts believe he is more suited to third base. In a small sample size, Martinez played errorless defence in his half-dozen starts at the hot corner with Vancouver as he handled all eight chances flawlessly.
Martinez may start the 2022 campaign in Vancouver for real this time if the pandemic cooperates and looks to drift through like a summer breeze on the way to Double-A New Hampshire. He will turn 21 years old November 19.
1. Gabriel Moreno | C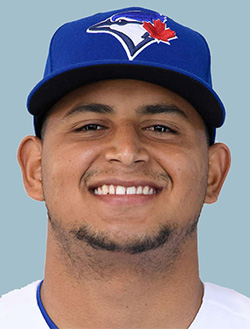 Photo from MiLB.com
| | | | | | | | | | | | | | |
| --- | --- | --- | --- | --- | --- | --- | --- | --- | --- | --- | --- | --- | --- |
| Year | Age | Team | AB | 2B | 3B | HR | BB | K | SB | CS | AVG | OBP | SLG |
| 2021 | 21 | NH | 126 | 9 | 1 | 8 | 14 | 22 | 1 | 2 | .373 | .441 | .651 |
| 2021 | 21 | BUF | 9 | 0 | 0 | 0 | 0 | 2 | 0 | 0 | .111 | .200 | .111 |
| 2021 | 21 | FCL | 4 | 1 | 0 | 0 | 0 | 1 | 0 | 0 | .750 | .750 | 1.000 |
If you go by what Baseball America's Josh Norris is saying, the Toronto Blue Jays have a future All-Star on their hands in Gabriel Moreno. Norris mentioned in BA's Arizona Fall League Preview podcast that the rave reviews he got from scouts were the best reviews he has gotten about a prospect in his eight years at the publication. Norris considers Moreno to be a better prospect than Orioles super prospect Adley Rutschman, considered by many to be the to prospect in baseball. BA has rated Moreno as a 65 prospect on the 20-80 scouting scale, rating him as a potential perennial All-Star.
Signed for just a $25,000 bonus in 2016, Moreno has made leaps and bounds from his rookie 2017 campaign in the Dominican Summer League when he fell three points shy of slugging .300. He began to find his footing in 2018 when he batted. 413 in 101 plate appearances in the Gulf Coast League and that led to a promotion to Bluefield where he batted. 279 in 66 trips to the plate.
The arrow continued to point up for Moreno in 2019 when he slugged .485 in 82 games thanks to 34 extra-base hits that included 12 home runs. He also added seven stolen bases and was caught just once. Despite COVID-19 cancelling minor league baseball in 2020, Moreno continued to shine at the team's alternate training site.
The next stop for Moreno was Double-A New Hampshire and he racked up 18 extra-base hits and 82 total bases in 32 games before being sidelined by a broken thumb on a hit by a pitch in June. Rated the fifth-best prospect in the Double-A Northeast League by Baseball America, Moreno did return to action in September to get a cup of coffee at Triple-A Buffalo and picked ujp his first base hit with the Herd.
Moreno shook off the rust in the Arizona Fall League where he had a .904 OPS thanks to 11 doubles, a home run and 18 RBI. Baseball America notes the Moreno showed he could handle velocity by doubling on a 97-mile per hour fastball and worked the count by seeing 26 pitches over five at-bats during one game. He's back home in Venezuela playing winter ball in Lara and had an OBP nearing .400 after 18 games there. He slugged .508 during his winter ball stint there in 2020.
One of Moreno's strengths is his ability to make contact which is getting louder and louder. He struck out just over 15 percent of the time with New Hampshire and continued to improve his batting eye by working a walk nearly 10 percent of the time. Baseball America believes Moreno will hit for a high average with the potential to hit around 20 home runs by assigning a 70-grade on his hitting ability and a 50-grade for power.
Behind the plate, Moreno is considered to be a strong defender as he threw out 44 percent of potential base stealers at Double-A and nailed runners at a 47 percent clip in the AFL. He allowed just one passed ball and that came during a rehab stint at the Florida Complex League but four did get by him during the Fall League. His athleticism was put to the test by getting a start at third base with New Hampshire and two more at the hot corner during the AFL.
Though one American League scout told Baseball America that Moreno would have been the Jays regular catcher if not for his thumb injury, it appears Moreno will get more seasoning with Triple-A Buffalo before getting the call to the bigs. However, a trade involving current catchers Danny Jansen, Alejandro Kirk or Reese McGuire and a strong spring performance by Moreno could push up the timeline.
Moreno will turn 22 on Valentine's Day.
And that's it, we hope you enjoyed it. Big thanks to #2JBrumfield and Mike Green for being part of the top 30 team.
---