2022 MLB Draft - Day 1
Sunday, July 17 2022 @ 02:42 PM EDT
Contributed by: #2JBrumfield
The Toronto Blue Jays have four picks on day one of the 2022 MLB Draft which gets underway at 7:00 p.m. Eastern Time on MLB Network and ESPN. For the MLB.com Draft Tracker, click here. The Blue Jays will be picking 23rd, 60th, 77th and 78th with the latter picks as free agent compensation for losing Robbie Ray and Marcus Semien. The Baltimore Orioles have the first overall pick.

Baseball America is projecting the Jays will take California outfielder Dylan Beavers with the 23rd overall pick. MLB.com's Jonathan Mayo and Jim Callis believe Toronto will go the high school route with Mayo saying Texas High School shortstop Jett Williams will be the Jays selection while Callis believes it will be Columbia High School third baseman Tucker Toman.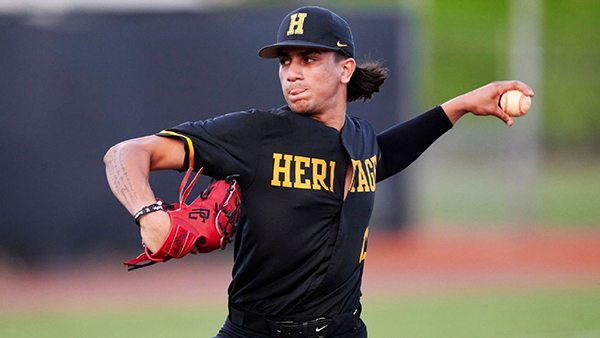 ESPN.com - Image by Mike James

Round 1 - 23rd overall. RHP Brandon Barriera. American Heritage High School - Plantation, Florida. Bats Left, Throws Left. 6-foot-2, 180 pounds. Born March 4, 2004. Slot Value $3,075,300.

MLB.com - American Heritage High School in Plantation, Fla., has churned out a good number of professional players, from All-Star Eric Hosmer to Red Sox prospect Triston Casas. Pitchers have been tougher to come by, with Shaun Anderson the one big league arm to come from the school, via the University of Florida. Barriera -- a smaller lefty with electric stuff who threw very well on the summer showcase circuit, including a perfect inning at MLB's High School All-American Game in Denver -- has a very good chance of being the next. It was more of the same for him this spring, though he made his last start on April 19 as he shut things down out of caution, not injury. While there are high school pitchers in this class who are more projectable, there aren't that many who have better stuff than Barriera. His fastball sits in the low-90s and touched as high as 96 mph over the course of the summer. He has a low-80s slider that misses a lot of bats, and his changeup, which he sells with excellent arm speed, has the chance to be plus in the future. Barriera, who reminds some longtime scouts of former Yankee great Ron Guidry, throws a ton of strikes and goes right after hitters. The only concern around the Vanderbilt recruit is about his size and whether he will hold up as a starter, but his stuff and feel for the strike zone have had scouts running to south Florida all spring and puts him firmly in first-round conversations talent-wise. Video

Baseball America - BA Grade: 60/Extreme | Tools: Fastball: 60. Curveball: 45. Slider: 60. Changeup: 50. Control: 55.

Barriera isn't a physically imposing pitcher by any means, but he more than makes up for his smaller, 5-foot-11, 171-pound frame with electric arm speed and standout athleticism on the mound. Barriera has one of the fastest arms in the class, and he uses that arm speed to throw a fastball that sits in the low 90s and regularly touches 96. This spring Barriera peaked at 98-99 mph, so pure stuff isn't a question. On top of that fastball, Barriera has shown a slider in the low-to-mid 80s. The slider features a lot of horizontal movement with late turn and sharp bite at its best, and he shows good feel to land the pitch for strikes. It's a 2,500-2,600 rpm offering and routinely gets plus grades from evaluators. The fastball/slider combination is Barriera's bread and butter currently, but he has also shown solid feel for a firm changeup in the mid 80s. He doesn't use the pitch often, but it has shown at least average potential and because he throws it with the same electric arm speed as his fastball, it could be a deceptive offering against better hitters at the next level. Barriera will also mix in a slower, mid-70s curveball at times to give him a four-pitch mix. Barriera fills up the strike zone and throws with a loose and fluid but whippy arm action. There's a slight head whack in his finish, but he stays balanced and fields his position well. The Vanderbilt commit is praised for his intense and competitive demeanor on the mound, and while he doesn't have much in the way of physical projection, he has plenty of stuff and the control that should give him a chance to start. Barriera will need to prove his durability and that his stuff can hold up to the rigors of a professional schedule, but he is a real first round talent and one of the best lefthanded pitchers in the class.

Twitter Reaction

Shi Davidi @ShiDavidi Blue Jays select lefty Brandon Barriera with the 23rd pick. High school lefty out of American Heritage in Florida. From Baseball America scouting report: "Fastball sits in the low 90s and regularly touches 96. This spring Barriera peaked at 98-99 mph."

Shi Davidi @ShiDavidi Brandon Barriera's first inkling Blue Jays would take him came a couple picks before he went. "I'm glad they picked me...When you look at their team, they play their young guys, they're not scared to bring up their young guys. That's something that I would love to be a part of."

Brennan Delaney @Brennan_L_D "Looking at the the 22 teams before me, they're going to regret this. I'm going to be the best pitcher in the MLB." Love it.

Rob Fai @RobFai Young HS LHP that throws mid-90s with nasty slider? #BlueJays get a good one out of Florida at the Draft in Round 1. Vandy commit, add his name to the Tiedemann's of the system and the Jays building back the bright young arms that they showcased a decade ago.

Mitch Bannon @MitchBannon #BlueJays director, amateur scouting Shane Farrell touted Brandon Barriera's athleticism but also the confidence he brings on the mound: "The compete level is something we definitely notice and something that drew us to him. We look forward to seeing that play out on the field."

Marc Hulet @marchulet @BlueJays with a great pick in Brandon Barriera. No 13 overall on my pre-draft ranking. Second best prep arm, best southpaw. Athleticism really stands out on mound... Potential for three above-avg offerings. Lack of size is the only knock.

Mason McRae @mason_mcrae Blue Jays grab a heavy supination profile with 60 athleticism. Fastball likely becomes sinker given the arm/release angle. Has two of the better breakers in the class and gets heavy sweep on both. Throws SL hard and the CB with drop. Solid pick.

Doug Freeman @DougFreemanPBR Barriera was electric as a freshman in the bullpen at the Preseason All State and consistently progressed there on out, including the Preseason Classic. Congrats to Brandon and his family.

Zack Silverman @ZackSilverman18 Brandon Barriera is the kind of guy you don't want to bet against. Fierce competitor, nasty slider, another plus makeup guy that can handle adversity. Blue Jays have a chance to get a real impact arm here.

Sebastian Alvarez @castlehill814 #BlueJays select my favorite LHP of the draft in Brandon Barriera. Touched 99 MPH and is only in HS, joins Manoah as a SFL talented pitcher in Toronto. Simple delivery with heat, laser beam command, high upside.

Dani Wexelman @DaniWex Brandon Barriera's family is from PR and BK, NY. Last season he wore a necklace from his Great Grandma Carmen. He told me it's a cross that she gave him before she passed and that she was a great baseball influence in his life showing him the game when he lived in NY #BlueJays #MLB #MLBDRAFT

Joe Doyle @JoeDoyleMiLB After what the Blue Jays have done with Ricky Tiedemann, fans should feel awfully excited about Brandon Barriera. Up to 99; sinking, flashing a plus slider and feel for a changeup. Better pure athlete than Tiedemann too. Could be scary.

Maria Torres @maria_torres3 With the 23rd pick, the Blue Jays will take Brandon Barriera, a LHP whose family relocated from New York to South Florida just so he could pursue a major-league dream. They didn't even know he would get this far back then. They banked on hope.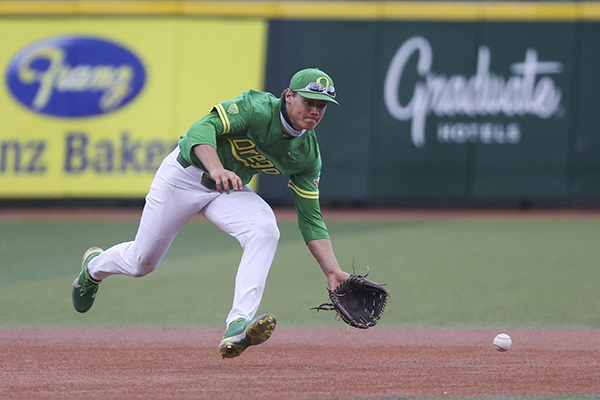 Image from GoDucks.com

Round 2 - 60th overall. SS Josh Kasevich, Oregon. Bats Right, Throws Right. Height, Weight. Born January 17, 2001 . Slot Value $1,216,100.

MLB.com - The University of Oregon has produced some solid offensive talent in recent years, with outfielder Aaron Zavala going in the second round in 2021 and infielder Spencer Steer being selected in Round 3 in 2019. It's Steer who comes up the most when talking about Kasevich, a talented shortstop for the Ducks who came off a very successful summer as one of the best hitters in the wood bat Northwoods League and continued to show outstanding bat-to-ball skills this spring. Kasevich has the chance to be a solid hitter from the right side of the plate at the next level. He has outstanding plate discipline and makes a ton of contact, walking nearly as much as he struck out at Oregon in 2021 and more than he struck out during his time in the Northwoods League. He uses all fields well and while he's definitely hit over power, there is the chance he could grow into a little more pop in the future. While he's just an average runner, Kasevich has every chance to stick at shortstop and is considered perhaps the best defender in the Pacific Northwest. His arm is above-average and very accurate and he has excellent hands and footwork to go along with it. All of his skills play up because of his instincts and if his bat continues to come along, he could go in the top three rounds just like Steer did a few years ago. Video

Baseball America - Oregon has produced a handful of highly-drafted infielders in recent years, including Nick Madrigal, Cadyn Grenier and Beau Philip. Kasevich is the latest in that line and likewise has a chance to be a top-two round pick after continuing to show steady defensive ability at shortstop and solid production at the plate. A 6-foot-2, 200-pound hitter, Kasevich slashed .310/.383/.445 through his first 61 games this spring, while showing good zone control—24 walks to 16 strikeouts—and hitting seven home runs and 10 doubles. He has a flat bat path and doesn't elevate the ball consistently, with almost half of his batted balls put on the ground. Scouts have liked his hard-hit ability in the past, so perhaps with a slight swing change he could tap into more in-game power, though contact and on-base ability are more in his wheelhouse than slugging. He's a steady and reliable defender at shortstop who should have a chance to stick at the position at the next level. He isn't a great runner and doesn't have the sort of quick-twitch lower half that scouts want to see in big league shortstops, but he rarely makes mistakes with the glove and has a career fielding percentage of .974 with just 14 total errors in 130 games played.

Twitter Reaction

Brennan Delaney @Brennan_L_D The #BlueJays have selected Josh Kasevich with their 60th overall pick. Contact hitter, rarely strikes out, room for power, and great glove. Utility player?! #NextLevel

Zack Silverman @ZackSilverman18 Josh Kasevich is an interesting sleeper pick for the Blue Jays. He almost never swing and misses, controls the zone really well and makes a ton of hard contact. Most of it is on the ground or low liners, scouts have always wanted to see what happens when he turns on more pitches.

Mitch Bannon @MitchBannon With the 60th overall pick in the MLB Draft the #BlueJays select SS Josh Kasevich from Oregon. Really good contact and on-base skills, could stick at shortstop, too.

Jeffmlbdraft @jeffMLBdraft Josh Kasevich is one of the safest guys in this class. Very hard to see him not being at least a utility guy. One of the hardest players to strikeout in this entire class. He runs well and is a solid defender.

Burke Granger @burkegranger For me, Oregon SS Josh Kasevich is a no doubt Top-50 #MLBDraft prospect. One of the better infield gloves I saw this spring (.980 fielding/5 errors) to go with an above average arm. Slashed .310/.383/.445 with just 16 strikeouts in 245 ABs. What am I missing?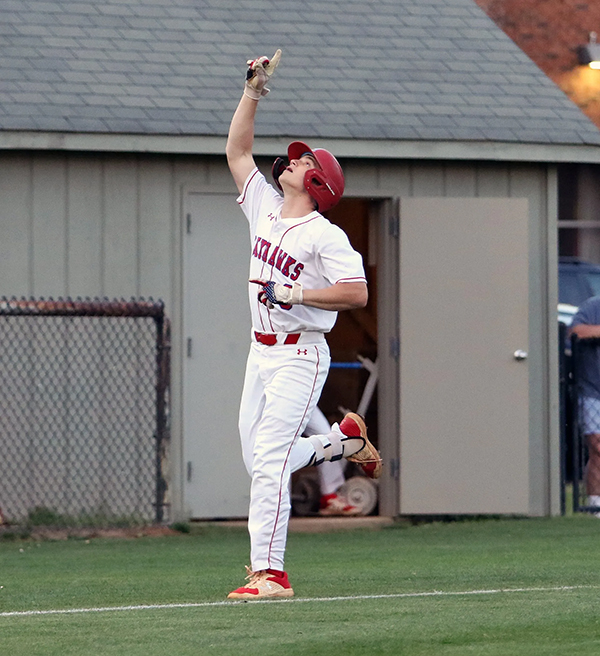 Image from HSSR.com

Round 2C- 77th overall. SS Tucker Toman, Hammond School (South Carolina). Bats Both, Throws Right. 6-foot-1, 190 pounds. December 12, 2003. Slot Value $846,500.

MLB.com - The son of longtime college coach Jim Toman, who currently heads the program at Middle Tennessee State, Tucker grew up around the game and has developed into one of the more polished hitters in the 2022 high school class. He had an uneven summer on the showcase circuit because he hunted home runs at times, but he has shown enough with the bat to go in the top two rounds. He's committed to Louisiana State but unlikely to make it to college because he's a potential first-rounder. A switch-hitter, Toman shows better bat speed with his left-handed stroke but is proficient from both sides of the plate. He understands his swing and barrels balls with ease when he just concentrates on making hard contact to all fields. He got too aggressive and pull-happy at times last summer but has the hittability, bat speed and strength for at least average and perhaps plus power without swinging for the fences. Toman has the bat to profile all over the diamond, but it's unclear where he'll wind up with below-average speed and average arm strength. The best-case scenario would be third base, where his arm and hands might be a little light but he has the work ethic to possibly make it to happen. Second base seems like a bigger stretch with his lack of quickness, and he could wind up on an outfield corner. Video

Baseball America - A 6-foot-1, 187-pound infielder, Toman stands out for his power potential from both sides of the plate, but he earned mixed reviews for his performance over the summer showcase circuit. Scouts had vastly different thoughts on his ability as a hitter depending on where they saw him, and those who saw him at his best and his worst were likely wondering which extreme was the real Toman, or whether the truth was somewhere in between. At his best (like at the Area Code Games), Toman found barrels from both sides of the plate and drove the ball with authority and impact, and at his worst he swung and missed with frequency and looked overmatched at the plate with poor swing decisions out of the zone. Toman has plenty of strength currently, with bat speed and a leveraged swing that is geared to elevate baseballs. He works from an open stance that features a bit of a toe tap to close before firing his hands with an uphill path. Toman has been scouted heavily this spring and impressed evaluators in-game and during batting practice, to the point where many in the industry view him as one of the better hit/power high school players in the class. A below-average runner and fringy defender, Toman has a chance for second or third, but could move to the outfield as well. He is committed to Louisiana State.

Twitter Reaction

Mitch Bannon @MitchBannon With the 77th pick the #BlueJays are taking high school hitter Tucker Toman. Probably going over slot here, as Toman was seen as a fringe 1st rounder by some. Big switch hitting power potential.

Mitch Bannon @MitchBannon #BlueJays director of amateur scouting Shane Farrell says the org "don't foresee much difficulty" signing high school picks Brandon Barriera (No. 23) and Tucker Toman (No. 77).

Kendall Rogers @KendallRogers or those wondering how @LSUbaseball has owned the portal this summer, you're seeing one of the big reasons why. A lot of scholarship room with the expected losses to the recruiting class in the #MLBDraft. Tucker Toman is likely gone now, too.

Patrick Ebert @PatrickEbert44 Yet another physical prep hitter with a knack for squaring up the baseball in Tucker Toman, really stood out to me during Baseball Factory's A-A game last September, goes #77 overall to the #BlueJays with significant offensive upside. #MLBDraft22

Lou Bezjak @LouatTheState @tuckertoman on craziness of draft night, getting picked by @BlueJays and ready to begin his pro career. https://twitter.com/LouatTheState/status/1548892431940304899

Will Hoefer @whoeferbaseball 2.77 TOR: SS Tucker Toman (Hammond (SC)) - Lean, high-waisted switch hitter w/ serious power potential. Really can lift the ball with impact as LHH, RHH production is icing. Avg runner with a strong arm, might move to 3B but has twitch to give SS a go.

Taylor Blake Ward @TaylorBlakeWard 2-38b and 2-39b #BlueJays: Tucker Toman, 3B, Hammond HS (SC) / Cade Doughty, 2B, LSU.
Toman: arguably best prep hitter in class, pretty uppercut switch-hitter with thud, potential to move to 1B (rumors TOR would take him at 23)
Doughty: polished hitter with solid eye and plan

Dani Wexelman @DaniWex Tucker Toman shared with me last year the part of his game he's most proud of is "hitting from both sides." He told me he learned to hit from the right side at 6yo. His dad Jim, is the head baseball coach at Middle Tennessee. #bluejays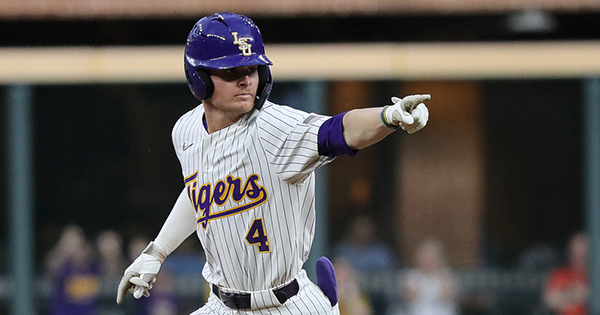 Image from On3.com - Bob Levey

Round 2C - 78th overall. 2B Cade Doughty, Louisiana State. Bats Right, Throws Right. 6-foot-1, 195 pounds. Born March 26, 2001. Slot Value $833,200.

MLB.com - Gatorade's Louisiana high school player of the year in 2019, Doughty could have factored into the top three rounds of that Draft if not for his commitment to Louisiana State. He's the third member of his family to play for the Tigers, following his father Richard and brother Braden. He became an immediate starter in college, playing second base as a freshman and third base last spring. Doughty has exhibited nice feel for the barrel and a quick, compact right-handed swing since he was a regular member of U.S. national teams in high school. One of the better contact hitters in the Southeastern Conference, he has grown into at least average power after adding 20 pounds since arriving on campus. He's an average runner with good instincts on the bases. With potential No. 1 overall pick Jacob Berry mainly playing third base for LSU this spring, Doughty has started at second while also seeing action at shortstop and the hot corner. He profiles best at second base or in a super-utility role. With average range, quick hands and average to solid arm strength, he gets the job done at second and third base but is a bit stretched at shortstop. Video

Baseball America - Doughty has been a pillar for LSU baseball since arriving on campus in the fall of 2019. Following the shortened Covid spring in 2020, Doughty's second year in the purple and gold was an impressive one. He hit .308 with 13 doubles and 11 home runs. The 2022 campaign began where 2021 ended. With Doughty adding strength to his frame, the 6-foot-1 195-pound righthanded hitter has worked himself into a solid-average raw power grade, driving balls into gaps with higher exit velocities than seen before, adding additional power to an already-potent LSU lineup. Doughty stands in with a slight crouch and the barrel rested on his shoulder. Prior to the release of the pitch, he likes to sink in to his lower half before letting his hands work. Doughty doesn't possess the lightning-quick bat speed seen in other high-round prospects, but more times than not, his timing is right, and his barrel stays in the zone with slight lift and proper extension. He has expanded the zone a bit more in 2022, as the punchouts increased from a year ago, with 49 in 238 at-bats. Seeing a heavy dose of plus sliders with high-velocity fastballs that the SEC has to offer, Doughty has proven in his time at Baton Rouge he can perform against the country's top arms. When his plate discipline is on point, he is in the discussion of the upper-tier bats in this year's class. On the defensive side, the Tigers have used Doughty primarily at second base with a start at third on occasion. His range isn't quite there for shortstop, but his solid-average arm is more than capable to handle third. There is room for improvement on the dirt—Doughty has a .931 fielding percentage—but his athleticism and baseball IQ are enough to be hopeful that Doughty will be able to stay on the infield moving forward. An average runner, Doughty won't collect a high number of stolen bases but will capitalize on defensive mishaps as he has throughout his career at LSU. Doughty is a gritty, high-makeup player on and off the field. He suffered a dislocated shoulder diving after a grounder in late May, but made it back for regionals. Look for Doughty to come off the board quickly in July due to the resume he's produced in college baseball's toughest conference.

Twitter Reaction

Zack Silverman @ZackSilverman18 I really liked Cade Doughty for a while, but he slumped at the end of the season which was obviously poor timing. Really professional approach at the plate, shows some sneaky power to all fields and is a good defender on the dirt. Got away from his approach a bit this year.

Brennan Delaney @Brennan_L_D Here's where I think each of the day 1 draftee's will end up:
Brandon Barriera: FCL (he may not pitch pro this season)
Josh Kasevich: High A, but there's a chance he starts in Low A
Tucker Toman: Definitely the FCL
Cade Doughty: Either High A or Low A
#BlueJays #NextLevel
---

https://www.battersbox.ca/article.php?story=20220717142129604