Pinch Me
Monday, August 01 2022 @ 07:00 AM EDT
Contributed by: Magpie

So there I was on the last Blue Jays off day thinking - I didn't prepare on off-day time waster, for a day without baseball. How will I ever look anyone in their virtual eyes again?




Oh quite easily, I assure you.

It's an off-day, but the trade deadline is nigh upon us. I thought I should supply a time-waster while we wait to See What Happens.




Alas, none of those Large Projects I occasionally crank out are anywhere close to being ready, or even close to attracting much of my attention. So I looked over the Jays roster and I thought - that Bradley Zimmer sure is one skinny fellow. He's listed at 6-4, like Gurriel, which makes the two of them the tallest people on the team (pitchers are not normal people, they're enormous creatures genetically engineered in some underground lab for one specific purpose...) Anyway, Zimmer weighs just 185 pounds, and only Raimel Tapia (6-3, 175) could reasonably be said to be skinnier than Brad.


That's right - it's not just Windy Baseball Lore - it's Windy Blue Jays Lore!

Our man Zimmer has an unsual role on the team - defensive sub and pinch-runner. It's unusual, at least in Blue Jays lore, for the team to carry a player and use him in such narrow and specific roles. Zimmer has been used as a pinch-runner 12 times, and a defensive replacement 43 times. He's only started 21 games, and I wondered - have the Jays ever had a player who was used more often as a pinch runner than he was in the starting lineup?

Because that seems like it would be just so, so disrespectful. Doesn't it? You're pretty much saying "look here my dude, you're not good enough to actually play, but at least you can run, so we'll make use of that." The 1973 Oakland A's used a veteran minor league outfielder named Allan Lewis as a kind of Designated Runner back in 1973. Lewis appeared in 35 games without ever once making a plate appearance, entering all of them as a pinch runner (he finished up one game in left field.) Finley was so proud of his cleverness that he went and hired a track star named Herb Washington to be his Designated Runner in 1974. Washington had never played pro ball, and didn't really know how to play baseball. He stole 29 bases but was caught 16 times, and picked off 4 times. In the second game of the World Series, with Oakland having just scored twice in the ninth inning to cut the Dodgers' lead to 3-2, Washington came out of the dugout to run for Joe Rudi - and Mike Marshall promptly picked Washington off first base and struck out Angel Mangual to end the game. After that fiasco, Finley went back to humiliating actual baseball players like Don Hopkins and Larry Lintz by making them into Designated Runners during his final years running the show out in Oakland.

Zimmer is obviously not one of those guys. He's a superb defensive player, and he hasn't always hit like a pitcher, that's just something weird that's happened to him this year. Zimmer's just the guy who sent me tumbling down this particular rabbit hole.



And of course the Jays have had players who made more appearances as a pinch runner than they ever did in the starting lineup. Of course they have.





So who was the most disrepected Jay of them all, who made far more appearances in the lineup as a pinch-runner than he was selected to be in the starting lineup? I shall pause a moment whilst you all write "Tom Lawless" on your answer forms...


And then I can tell you that it wasn't Tom Lawless.



It was Joe "J.J." Cannon.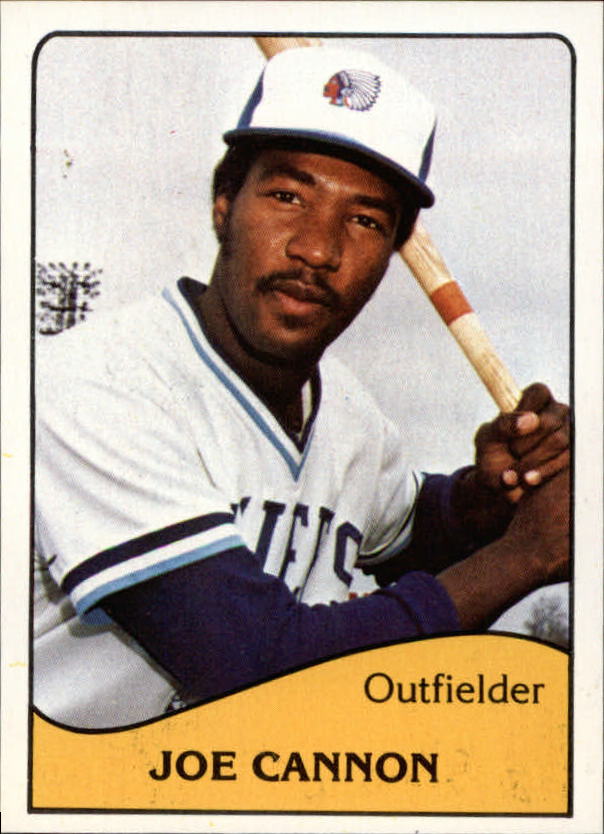 Cannon was an outfielder who came to Toronto from Houston in the trade that made the legendary Mark Lemongello a Blue Jay. Cannon has gotten to play a little bit in 1979 - he started 33 games in the outfield while pinch-running 16 times. In 1979, the Jays had a very young outfielder named Ted Wilborn, whom Roy Harstfield clearly didn't believe was ready for prime time. Well, Harstfield, this one time, was correct. Wilborn wasn't ready. He never would be ready. Hartsfield used Wilborn as a pinch runner 15 times while starting him just twice.

But by 1980, Bobby Mattick was the manager, Ted Wilborn was a Yankee and Joe Cannon was still a Blue Jay. Cannon spent the entire 1980 season on the active roster, and Mattick wrote his name into the starting lineup just 7 times, while calling on him as a pinch runner 42 times. No Blue Jay has ever pinch run as often. Cannon's ratio of 6 pinch running appearances to each game start is also worthy of some respect. It can really only be challenged by Wilborn the year before (15 to 2), and the dozen or so guys who appeared as pinch runners while never starting at all, led by Ron Shepherd who pinch ran 9 times and finished a few games in LF without ever once appearing in the starting lineup back in 1984.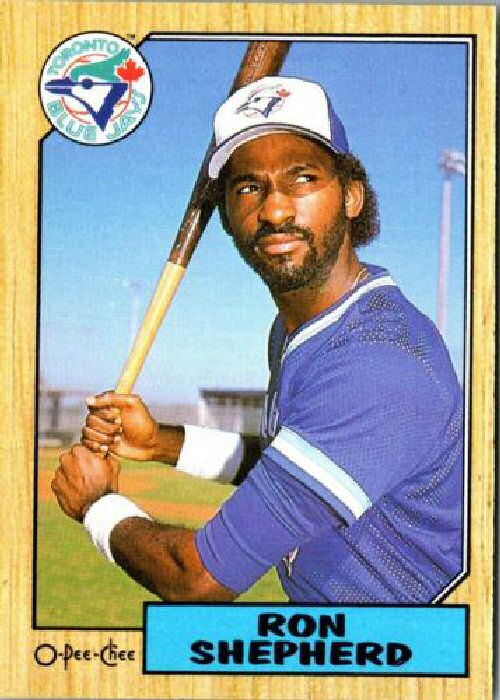 Shepherd is the man with the second most single-season pinch-running appearances in a single season, with 29 in 1986. Here is the single season leaderboard:


Joe Cannon 1980     45
Ron Shepherd 1986   29
Manuel Lee 1985     28
Tom Lawless 1989    26
Tony Johnson 1982   25

Lou Thornton 1985   23
Kelly Gruber 1986   23
Willie Upshaw 1978  22
John McDonald 2009  21
Juan Samuel 1998    20

The list overflows with young kids who hadn't yet established themselves as major league players, some of whom never would. Like Joe Cannon. Ron Shepherd was another tall, thin outfielder who showed a lot of promise at AAA in Syracuse in 1983. Shepherd played centre field between George Bell and Mitch Webster, and of that trio it was actually Shepherd who had the best season with the bat. He was also the youngest of the three. But Shepherd would struggle to hit as well as he had in 1983. He had a poor season in AAA in 1984, hit just .167 in three cups of coffee with the Jays, and was released in 1987. Bell, of course, made it to the majors to stay the following year and had a well remembered career. The Jays traded Webster to Montreal in 1985, and he would play in the majors until 1995. I think the Jays would have lost Webster to free agency after six years in the minor leagues, he was never going to crack that Toronto outfield, and the Jays system was overflowing with young outfielders - Sil Campusano, Rob Ducey, Glenallen Hill, Geronimo Berroa, and Lou Thornton.

Thornton makes our list, along with Manuel Lee, for his 1985 season - Thornton and Lee were both Rule 5 picks, nowhere near ready to play in the majors, but Bobby Cox had to carry them on the roster all season long as he fought with the Yankees for the AL East title. Lee was just 19 years old when the season began, not even particularly fast, and while he'd hit .330 in the minors the year before that had been in the South Atlantic League, A ball. Lee would at least have a career in the majors ahead of him. Thornton, who had also been in A ball the year before, wouldn't. Tony Johnson was already 26 years when he had likewise been a Rule 5 pick on the 1982 team - he would play two more years in the minors but never appeared in the majors again after his one season with the Blue Jays. Willie Upshaw was another Rule 5 pick, on the 1978 team - he would eventually establish himself as a quality major leaguer but that was four years down the road in 1982. Kelly Gruber had also been acquired in the Rule 5 draft, but the Jays made some kind of deal with Cleveland (history does not seem to record the terms of the arrangement) that allowed them to send him to the minors, where he spent most of 1984 and 1985. His first full season was 1986, and he hit just .196 while filling in at five positions and pinch running a lot.



There are also three veterans here - Tom Lawless, of course, is best remembered by Jays fans for being the pinch running specialist on that fondly remembered 1989 team - he only started 16 games while pinch running 26 times - and for spending a single inning catching Tom Henke's heater when the Jays ran out of catchers, the only time in franchise history that the team has ever had to put a position player behind the plate. He did his primary job very well, stealing 12 bases and getting caught just once. Lawless was a 32 year old career utility player by this time, best remembered for the three run homer he hit off Frank Viola to break up a 1-1 tie in Game 4 of the 1987 World Series. Lawless, filling in for an injured Terry Pendleton, had at this time hit exactly one homer in the majors, and he would hit just one more over the rest of his career. Nevertheless, he marked this one with one of the first truly memorable

bat flips

ever seen.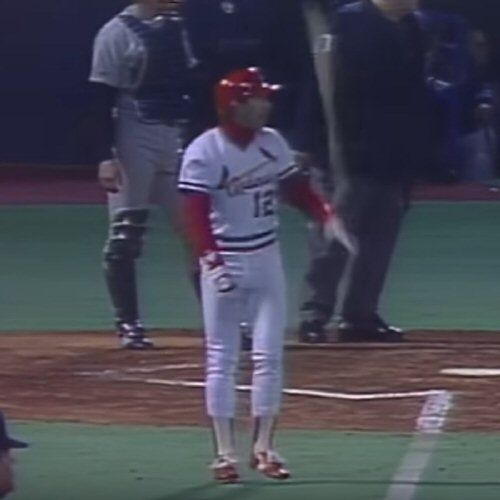 Juan Samuel had been a great base stealer when he was a young Phillie, but by 1998 he was 37 years old and it would be his final year in the majors. He could still motor, though, if not much else. He started just 12 games for Tim Johnson that year. And John McDonald - I was surprised to see him here. But this was the year that Marco Scutaro established himself, at age 33, as a major league quality shortstop. And with Aaron Hill established at second base, there really wasn't much else for McDonald to do, besides pinch run for the catchers and the DH.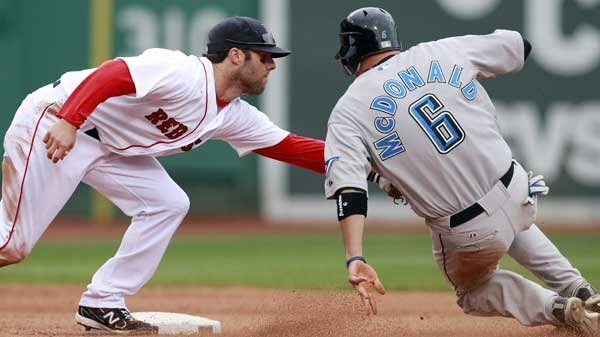 So... who have the Blue Jays used most often as a pinch runner over the years? I admit, I was a little surprised. Here's the leaderboard:


John McDonald      61
Joe Cannon         58
Willie Upshaw      54
Ron Shepherd       53
Kelly Gruber       41

DeWayne Wise       40
Ezequiel Carrera   37
Manuel Lee         34
Tom Lawless        34
Lou Thornton       33

Oh, I'll give you the next ten guys as well!


Alfredo Griffin    31
Garth Iorg         31
Juan Samuel        30
Mike McCoy         30
Chris Woodward     28

Rob Ducey          27
Tony Johnson       25
Rajai Davis        24
Ken Williams       22
Tim Johnson        20
Yes, down there at the bottom of the list is the future White Sox GM, and the Jays 1998 manager.
While I was engaged on this stupid pursuit, I thought I'd look into pinch-hitting while I was at it. The Blue Jays Media Guide provides a disappointingly tiny bit of help here. It merely lists every pinch-hit homer ever hit by a Blue Jay. But that's all. It's nice to know that Ernie Whitt, Adam Lind, and Jesse Barfield each hit 4 pinch-hit homers as a Jay, and that Willie Greene and Colby Rasmus are the only Jays to hit three pinch-hit homers in a single season, but it doesn't tell us who pinch hit most often. Or most effectively.
Both of those questions may very well have the same answer. It just might be the one you were expecting to hear. No one has pinch hit more often than Tony Fernandez in his 2001 swan song with the Jays - he made 45 pinch hit appearances, and went 16-44 (.364) with his one career pinch hit homer and drove in 10 runs. The PApps, At Bats, Hits, and RBIs are all single season team records.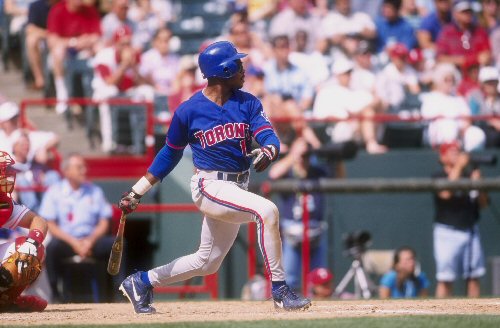 The other name you might expect to come up is, of course, the immortal Cliff Johnson. Heathcliff was famous for many things in his day, besides being the handsomest man who ever played in the majors. He broke Goose Gossage's thumb in a clubhouse brawl, which quickly punched his ticket out of New York. He was notorious for using anybody's bat, without ever bothering to ask, whenever he felt like it. This drove all his teammates absolutely crazy. Major league players rend to be a little weird about their bats. And of course he hit 20 pinch hit homers in his career, which stood as the major league record for many years until it was surpassed by Matt Stairs in 2010.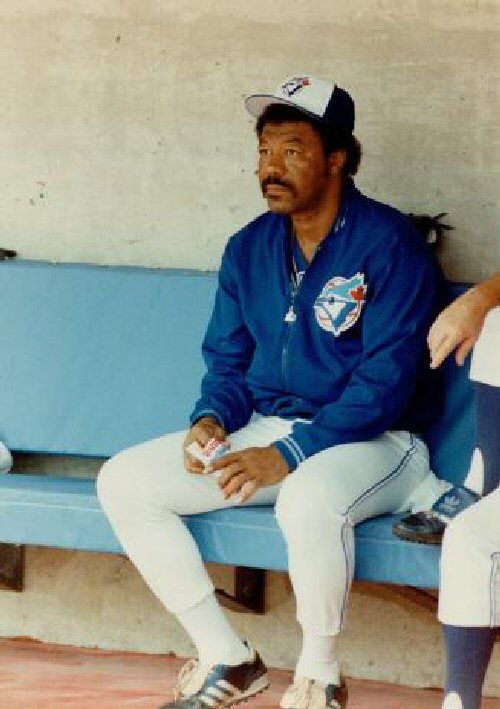 Johnson's 1984 season rivals Fernandez' work in 2001 for outstanding performance by a pinch-hitter. Johnson made 42 pinch-hitting appearances and went 11-34 (.324) with 1 HR, 8 rbi, and he also drew 7 bases on balls. No Blue Jay pinch hitter has reached base as often in a single season. The only other Blue Jay to have 11 pinch hits in a season was Wayne Nordhagen, who was the best of a pretty sorry bunch of DHs in 1972 (Dave Revering, the ghost of Otto Velez, Leon Roberts) but who did manage to go 11-26 (.423) as a pinch hitter. Seven times, a Blue Jay has had 10 pinch hits in a season: Garth Iorg (twice), Rance Mulliniks, Rick Leach, Hosken Powell, Steve Braun, and Sam Ewing.
As for the worst work ever turned in by a Jays pinch-hitter - well, Rick Leach's 1-19 in 1988 certainly merits our scorn. Obviously there's nothing good to be said about Shawn Green's work in 1997 (0-12), Ernie Whitt (1988) and Frank Menechino (2005) each managed an 0-11 season pinch-hitting. But I think the no-prize should go to Steve Tolleson in 2014. It started out well enough. Tolleson joined the team in May, and on July 6, he hit a pinch hit homer against Oakland. At that point had made 16 pinch hit appearances since joining the team and had hit .273/.500/.545, with 4 walks and a hit by pitch. John Gibbons may have concluded that Tolleson had an actual gift for the job. He did not. Tolleson went 1-23 as a pinch hitter over the final three months, leaving him a distinctly bad 4-32 mark for the season as a whole.

Those who made a habit of pinch hitting regularly over the years generally had their ups and downs, as one should probably expect. Cliff Johnson, who was so good in the role in 1984, had gone a not-so-good 4-24 as a pinch hitter in 1983 (he did draw 12 walks, easily the most by any Jays pinch hitter in a single season.) Sam Ewing went 10-28 (.357) as a pinch hitter in 1977, and 5-29 (.172) the following year. Garth Iorg went 10-22 (.455) in 1982, 4-28 (.143) in 1984, and 10-28 (.357) in 1986.
The career leaders in pinch-hit appearances by Blue Jays are, as you would expect, full of the various components of Bobby Cox's platoon packages from the early 1980s. The two third basemen gave a very good account of themselves - good thing too, because no Blue Jays have pinch hit as often as Mulliniks and Iorg. The catchers were not so great, Heathcliff was Heathcliff... and Adam Lind has a very good case for being the greatest Blue Jay pinch hitter of them all.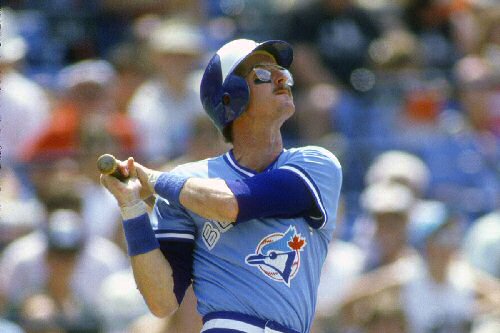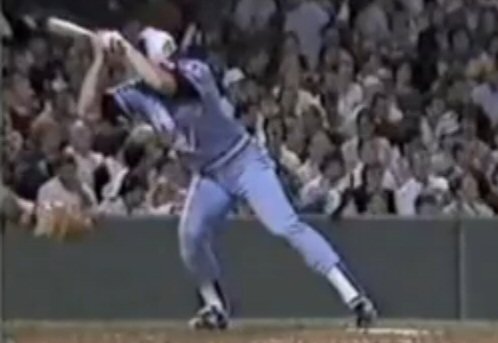 PH App   H   AB   BB    HR   RBI  BAVG
Rance Mulliniks     245  58  198   37     2   36  .293
Garth Iorg          174  42  151   20     1   26  .278
Ernie Whitt         155  27  135   18     4   22  .200
Rick Leach          139  27  106   16     1   19  .255
Cliff Johnson       106  22   77   22     3   20  .286

Pat Borders         103  23   81   12     1   13  .284
Otto Velez           90  18   70   16     3   19  .257
Jesse Barfield       78  23   72    4     4   16  .319
Buck Martinez        75  14   62   11     2   13  .226
Adam Lind            71  22   63    7     4   14  .349

Tony Fernandez       68  23   64    2     1   13  .359
Sam Ewing            60  15   57    2     1   11  .263
You will have noticed, I trust, a discrepancy in the PH Appearances and what appear to be times at bat. I've just included the At Bats and Walks. The most important of the missing items are the Sac Flies - there were more of them than Hit By Pitch or Sac Hits, although there were a few of those as well. In addition, there are Pinch Hit Appearances that do not actually result in a Plate Appearance. For example, Rick Leach had 26 Pinch Hit Appearances in 1988 but only came to the plate 22 times (1-19, 3 walks.) How can this be? Well, three times the other side changed pitchers, and Leach in his turn was pinch hit for by another pinch-hitter. The other time was quite unusual - Leach replaced George Bell in mid at-bat when George got himself ejected after getting angry with Tim Welke for not granting him time. Leach finished a strikeout that was charged to Bell and went on to finish the game in left field without coming to the plate again.
And finally... we miss you, Tony.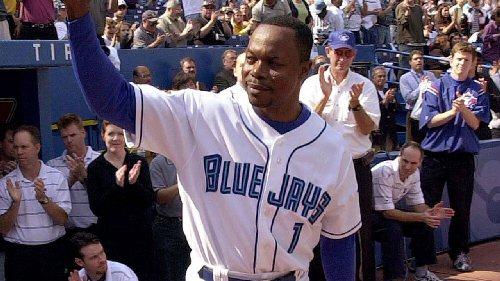 ---

https://www.battersbox.ca/article.php?story=20220726141720329