Blue Jays Report Card
Monday, October 10 2022 @ 09:00 AM EDT
Contributed by: Magpie

What happened? it happened, that's all. It happened like a car wreck or a rape or an aneurysm in the brain, an arbitrary punishment selected by an unseen God for an unknown reason which could have happened to John or Joe or George Bush or the St. Louis Cardinals, but which sought out the Toronto Blue Jays and sat upon their shoulders with wings of iron.

--- Bill James, The 1988 Baseball Abstract


Sometimes stories come to a sudden ending, before you're ready for it to be over. Sometimes it's pretty painful. The nature of Saturday's ending will likely inspire a revival of that same epithet - "Blow Jays" - that hung around the necks of the teams of a generation past, after 1985 and 1987 and 1989 and 1991 (and the years in between) like a bad and persistent smell. Until it got blown away.

But only the 1987 collapse was as painful, as shocking, as embarrassing, as this. That was a very different kind of pain - a week of daily torture that got worse and worse and worse. Trust me, it was a horrible thing to go through. This was more like someone bashing you about the head and body with a heavy object for an hour or so. Which is similarly awful, but at least it was over quickly.





I have, as you can perhaps imagine, been thinking about what happened in that last week of 1987 and how the team responded to it. Seven straight losses to blow a 3.5 game lead - a stunning collapse indeed. And yet - four of those losses, including the final three, were one-run games. And they came after season-ending injuries at the two most important positions on the field, shortstop and catcher. It was a random, evil fate. It was just One of Those Things. What the team needed to be told was "You guys got screwed. That was wrong. You deserved better."

But one automatically looks for something or someone to blame. It was one thing to say goodbye to a couple of longtime veterans, Willie Upshaw and Garth Iorg, who had outlived their usefulness. But there was more. And so we were treated to the whole Bell-Campusano-Moseby follies. More than anything else, it felt like an attempt to assign blame for the disaster. Something to scapegoat. In retrospect, that was probably the wrong way forward. And I think the temptation - and it's going to be there, how can it not? - to do that again needs to be resisted. So can only hope that the current group - players and management - responds better than the 1988 Jays. That's not a difficult bar to clear. But clear it they must.




And as brutal as this ending was, one might even wonder - what difference did it really make? Maybe it merely advanced the date of the season's inevitable end by a week or so. To the surprise of just about everyone - team management, the players, the fans, and Our Gang - this team simply wasn't good enough to hang with the real big boys of Houston and Los Angeles and New York and Atlanta. This is a good team. It's just not that good. Everyone got high on their own supply. Again. And everyone was wrong. Again. Remember how everyone picked the 2013 team to crush the opposition and cruise into the World Series? That team went 74-88. That was pretty disappointing, too, and it provided a lot less entertainment than this group did while they were at it. We had to make our own fun. We did our best to amuse ourselves. We spent a lot of time talking about Emilio Bonifacio and Munenori Kawasaki.




Oh well. C'est la guerre. It's that time again.





As always, I ask you, I beseech you, to remember that these grades are extracted from somewhere in the vicinity of my nether regions. There is not, there never has been, there never will be, anything even remotely scientific about it. That's just the way it goes. I'm in it for the wisecracks.


Here's what they mean, more or less:

A Outstanding (could be in the Awards discussion)
B Good (might even receive All-Star consideration, who knows)
C Average (generic regular)
D Below Average (replacement level, bench part, something like that)
E Fail (probably belongs in the minors)
F Epic Fail (may need to think about alternative career paths)

The cutoff, as is my custom, was 50 Plate Appearances for the hitters and 50 Batters Faced for the pitchers. So I have nothing to say about Tyler Heineman, Vinny Capra, Gosuke Katoh, Otto Lopez, Ryan Borucki, Andrew Vasquez, Anthony Banda, Thomas Hatch, Tayler Saucedo, Sergio Romo, Anthony Kay, Foster Griffin, Shaun Anderson and Bowden Francis.

Non-Players

Charlie Montoyo D / John Schneider A
Changing managers in mid-season is never a preferred strategy, but for the third time in franchise history it appears to have made a decisive difference (and for the first time, it wasn't Cito Gaston riding to the rescue!). What was different? Everything - the team was significantly better on both sides of the ball. They scored 4.56 runs per game with Montoyo in charge - that jumped up to 5.05 after Schneider took over. They had been allowing 4.44 runs per game before the change; they cut that down to 3.89 afterwards. Only twice before in franchise history has the team played .600 ball for the man in charge - once for Bobby Cox in 1985 (.615) and once for Cito Gaston, like Schneider a mid-season replacement, in 1989 (.611). They played .622 ball for Schneider. It's hard to argue with that, even if he did bring in the wrong reliever in a playoff game. It's worth noting that 12 of his games were started by Yusei Kikuchi or Mitch White (the team went 3-9) and one can hope he has some better options in 2023.

Was it you, Charlie? Could we have been a contendah? I don't know if Charlie Montoyo actually lost the team. He might have been in the process of losing them, I don't know. It may not even have had much to do with him. When a team is underachieving, knows it's underachieving, and doesn't know why it's underachieving - the mirror is seldom the first place anyone looks. Every player knows how hard he's working, and every player believes he's doing his best. They generally believe the same thing about the guy next to him. They believe they're good. They don't know why this is happening to them. The only place left to look is at the decision-makers. That's how John Gibbons lost the room in 2008 - it's probably how Jimy Williams lost the room in 1989 - and when it happens, there's no choice. A change has to be made, if only to demonstrate to the players that the real problems lie elsewhere.

Ross Atkins C+
The real problems lay elsewhere. But it was hard to anticipate that what I regard as the two major problems that afflicted the 2022 team would loom as large as they ended up looming. If any team looked prepared to call on a third catcher if circumstances required, surely it was the Toronto Blue Jays with their bright, shiny catching prospect lurking in the minors. And Yusei Kikuchi looked like a far better bet in the spring of 2022 than the man he replaced, Steven Matz, had looked in the spring in 2021. But Danny Jansen made two trips to the Injured List and the third catchers - Collins, Heineman, Moreno - were an utter disaster. And Kikuchi went completely off the rails. I think Atkins had trouble understanding his own team. They simply weren't as good as he thought they were, as he thought they would be. I think Atkins was confused and puzzled and disappointed by his own team, and he wasn't sure what to make of it or what to do about it. It made him somewhat tentative in responding to the situation, although he ended up making about as decisive a move as a GM can make - he replaced his manager. His minor moves at the deadline were certainly tentative - a modest upgrade to the bullpen, a couple of bodies for the bench. It's not clear what difference a big flashy move would have made anyway - the division was already pretty much out of reach at that point. He also didn't have the particular type of prospect resources teams like Cincinnati and Oakland were looking for. Still, Atkins needs to sit down this winter and have a good long think about his ball club - what he has, what he needs. He's built a good team, one that can sustain this level of success for longer than five minutes. That was always the professed goal. But is that good enough? Not really. There is, of course, a not insignificant portion of the fanbase that will never, ever forgive Atkins for replacing the sainted local boy who preceded him. So let's note that the team he's built has just posted consecutive 90 win seasons, and the only other time that happened in franchise history was 1991-93. But the bar has been raised, and for that he has only himself to blame.

Players

Alek Manoah A+
I confess I am simply fascinated by the frequency with which Manoah hits batters with pitches. Why wouldn't I be? He hits batters more frequently than anyone in the history of baseball, or at least since they moved the mound back to 60 feet in 1893. By this time next year, he'll have hit more batters in his career than Clayton Kershaw. He can do this with a kind of impunity - not too many hitters are going to charge the mound when he's out there. It would be like charging a building. Or a mountain. In his first full season - his first full season! - Manoah pitched as well as any starter has in franchise history. The only reason his season wasn't as valuable as the best work of Stieb, Clemens, or Halladay is because the old-timers provided this level of goodness over so many more innings.

Danny Jansen A
I've had a lot of fun mocking Jansen over the years, in particular his ongoing quest to merely hit his weight. So let me say right here and now that I am completely sold on his value to the team. If it's a catcher that has to go to bring in something needful, let it please be someone else. Anyone else, I don't care. Danny Jansen is untouchable, and you can't have him. The next person who suggests trading him - I will fight you. I will come to your house. He was fabulous. No catcher in franchise history has played better, ever, and if he could do this for a full season and stay off the IL, he's an MVP candidate. This team is simply so much better when he's behind the dish, as the team's 40-18 record - that's .690 ball - when he was the starting catcher suggests, loud and clear. I ask you to also ponder the fact that they posted that 40-18 record despite Jansen catching just one start by the team's best pitcher. I'm penalizing him a little here here for going on the Injured List twice. But the very fact that he was unavailable for 64 of the team's first 87 games hurt the team enormously, which in turn probably cost Charlie Montoyo his job. Which hardly seems fair to poor Charlie, but fair never has entered into it.

Jordan Romano A
Schneider went to the bullpen more frequently than Montoyo. The addition of Bass and Pop obviously gave him more quality relievers to work with, but he also used the good ones already on hand just a bit more often. It definitely agreed with Romano, who was perfectly fine for Montoyo but absolutely brilliant for the new guy.

Bo Bichette A-
Things weren't going his way for the longest time, but he kept playing, he kept working, and in the end he was rewarded. But even before he went utterly berserk in September, you were still going to have a 24 year old shortstop who hit more than 40 doubles and more than 20 home runs. That's just who he is, no matter what. He's obviously the best hitting shortstop in franchise history - it's not even close, folks - and Blue Jays fans should be counting their blessings. Bichette is one of those quiet, intense guys and I think he's occasionally had a tendency to get too self-critical and too self-analytical. But I also think that he's beginning to learn that about himself, let things go a little bit, and trust his talent. I think he could have used a few DH days - his play in the field, especially late in the year, looked like that of a guy who was running down a little bit. No one in the AL played as many innings at shortstop, and it's a hard position that wears on one, mentally as much as physically. Struck out 155 times, which sure seems like a lot - but it was actually exactly on the league average (22.2%). That's modern baseball. Something else that I think we all picked up on just watching him extend at bats over the course of the year - he really does hit an absurd number of foul balls. More than anyone else in the majors, in fact.

Vladimir Guerrero A-
Sometimes players have a unique ability to take advantage of certain ball parks, that other players simply don't have. Not even their own teammates. In 2021, Guerrero hit .294/.368/.566 with 10 HRs in 35 games at the Rogers Centre, which is outstanding. But he hit .364/.464/.827 with 21 HRs in his 44 games in Dunedin and Buffalo, which is from some other dimension altogether. I think it gave the team, the fans, and maybe even Guerrero himself a completely unrealistic idea as to what should be expected from him. So let's pro-rate his 2021 Rogers Centre numbers to 79 games, and see what kind of 2021 season he would have had without the minor league parks goosing his numbers. And voila! - his 2021 season would have looked something like .292/.369/.533 with 39 HRs and about 90 RBIs. That, and the fact that league-wide offense was down almost ten percent this year, creates an entirely new context for his work in 2022 and I don't think people, and Guerrero himself probably, would be anywhere near as disappointed by it. He's still absurdly young to be doing this in the major leagues, and he's still something of a big kid out there, having fun playing ball. Like most things in life, this works for him some of the time and works against him some of the time.

Alejandro Kirk A-
A weird player, one I've always had various reasons to be skeptical about, some of which may even be proving to have been justified. I will always be skeptical about the wisdom of putting a contender's pitching staff in the hands of anyone as inexperienced as Kirk - but he did just fine, folks. He's not very mobile back there (and that down-on-one-knee stance that Buck Martinez is always complaining about really doesn't help), but he was still better defensively than I think we had any right to expect. He's an unusual hitter - no one on the team swings and misses less often; only Biggio takes more called strikes; only Guerrero (and Tapia) hit more ground balls. I was, and I remain, skeptical that this particular type of physical specimen is built for 162 games and six months. His bat got very, very quiet - .246/.340/.320 - over the second half. And if this is what happened to him when he caught just half the games on the schedule, having him catch even more often seems extremely unwise to me. But he's a smart young ballplayer, he's alert, and he does hustle as best he can. And when you absolutely tear the league apart in the season's first half, a bit of latitude is called for. And granted. So less catching, and more DHing, if you please.



Anthony Bass A-
He didn't much resemble the pitcher I remember from 2020. That guy was a perfectly serviceable bullpen arm. This one was something else, until his disastrous outing against the Mariners in the post-season. Well, most batters hit right-handed, and Bass turns them into light-hitting pitchers (.161/.222/.245). The team has an option on him for 2023, and I suppose they'll exercise it.




Matt Gage A-
Finally got his chance this June, and pitched very well for an entire month. So they sent him back to Buffalo so the team could find out why the Pirates didn't want Anthony Banda. Baseball teams, man. They sure do dumb things. All of them. Even Tampa Bay.

Ross Stripling B+
There's nothing quite like having the best season of your career just as you head into free agency. Stripling will be 33 in a couple of months, and having never earned any really big baseball money, he's going to need to get paid. I also think he'd like to be assured that he's being signed to be part of someone's starting rotation, that his swingman days are behind him. In other words, he's exactly where Marco Estrada was after the 2015 season. Somehow, I think it'll take more than $26 million over two years to bring Stripling back. I hope they work it out. As I grew so fond of saying, he pitches like a grownup. It's almost refreshing.

Kevin Gausman B+
As you probably know, Gausman had the most impressive FIP in the league this past season. This is an excellent reason to believe he could be much more effective in 2023 than he was in 2022, when he was still pretty good. But in the meantime, that shiny FIP is meaningless. It doesn't matter. It's exactly like knowing how often a batter hit the ball hard. They're like style points. Because sometimes the line drives all go straight into the fielders gloves. Of course, Gausman never should have allowed 188 hits in 174.2 innings. The opposition never should have hit .364 against him on their Balls In Play. But they did. That's what happened. It was random and weird, but it happened. It turned what should have been an outstanding season into merely a pretty good one. Them's the breaks. You think this is supposed to be fair?

George Springer B+
This was not an especially good year by his own standards, but those standards are really, really high. He's still awfully good. Plays very hard, and it would sure be nice if he could cut that out just a little, now that he's 33 years old. I doubt he's built any other way.

Matt Chapman B+
He sometimes takes his sweet time getting the ball out of his glove, and often it looks like he's just teasing the batter - go ahead, fool, run as hard as you like, it's not going to do you any good. The team's three true outcomes king - he led the team in Ks and walks, and only Vlad hit more homers. He sure loves that high fastball - he swings and misses it plenty, but he gets right on to enough of them to make it worth his while. Was called out on strikes almost as frequently as Biggio, and because Chapman plays every day he took a called third strike more often than any hitter in the AL. The Blue Jays as a team do not strike out very often - only Houston and Cleveland's hitters fanned less often. Chapman and Hernandez are the only guys in the lineup who are above league average in Ks (along with Biggio, Bradley, and Zimmer off the bench.) Chapman, Jansen, and Biggio are the three hitters who shun the ground ball and hit everything in the air. As you would expect, they're also the three hitters with the worst BABiPs on the team as well, but that's just the cost of doing business.

Adam Cimber B
He was merely solid and dependable for the 2022 team, as opposed to his outstanding work in 2021. He gave up three times as many home runs as the year before - but it was still far, far fewer than an average pitcher. He also walked quite a few more - but again, far fewer than an average pitcher. Mysteriously, to me anyway, the man still baffles LH batters - he actually had a reverse platoon split this past year. Go figure. I wasn't wild about how he was utilized. Cimber's an effective pitcher because he limits the walks and home runs. But he's also the reliever who is the most likely (of the ones who are actually good) to allow a base hit. So he's not the man I would call on if there are already people on base. He's definitely not the man for extra innings, with the Zombie Runner already in scoring position. But only Mayza inherited more base runners than Cimber. Naturally, no one allowed as great a share of those inherited runners to score. They never listen to me.

David Phelps B
I started worrying about his workload about halfway through the year. I kept seeing a 35 year old who had lost all of 2018 and most of 2021 to injury. I was also seeing that same 35 year old on track to set a new career high in appearances, which he did indeed go on to do. Oh, I worried but the old fellow held up just fine. Was generally used to keep the game from getting away - two thirds of his appearances came with the game tied or the team trailing. He's a free agent and if he wants to keep pitching I assume the team would like to have him back.

Yimi Garcia B
I still don't know what it was in this guy's history that made the team decide, before the season even began, that he was the eighth-inning guy. From the moment he signed, he was the chosen one, the guy who will set up Romano. He did just fine in the role, except when he was facing the Orioles, but it still mystifies me. Ross Atkins may simply have decided that if you're good enough to pitch for the Dodgers, you're probably good enough to pitch for the Blue Jays. He may be on to something - Ryu, Stripling, Garcia - so maybe there's still hope for Mitch White. (Let us not speak of Mike Bolsinger or Brock Stewart.)

Tim Mayza B
Not quite as impressive as his fine 2021 season, but a solid year. His control is much sharper since his surgery - only Cimber (and Pop) are more stingy with the walks among the bullpen crew. Almost half of his appearances were for less than an inning. He threw more than 20 pitches exactly three times, all in the first half, and never more than 22. The life of a modern LOOGY. Mayza is yet another member of the team's sinker-slider brigade, and no one on the staff gets more ground balls. That's great I suppose, if ground balls are what you want out of life. Nobody knows what coaches really do, because no one really tells us, but doesn't this team's bullpen seem to have a lot of sinker-slider guys who don't strike out a lot of hitters? You know, guys who pitch the same way Pete Walker pitched back in the day?

Zach Pop B
There's something to like here. True, he didn't strike out very many as a Blue Jay, so he was probably getting a little lucky on the Balls In Play. But he doesn't walk anybody and he doesn't give up home runs. You can build on that. Ask Adam Cimber.

Teoscar Hernandez B
His strikeouts returned to a level closer to his career norms, but the rest of his offense was pretty much the same as always. He's always had a lot of swing-and-miss in his game, more than anyone else on the team (except Zimmer, of course.) He had some occasional troubles in the outfield - I suspect his confidence comes and goes out there, and when he makes a few misplays it gets in his head and he becomes a little tentative. He certainly has the tools to be adequate, at the very least, and he's much better than he was a few years ago. He turns 30 next week and he's one year away from free agency. I like him, but I wouldn't want to extend him - I think the shape of the lineup needs to change. Alas, there don't seem to be any credible replacements beating on the door.

Whit Merrifield B
Whit Merrifield made it to the majors the year after the Royals won the World Series. He was an All-Star twice, he led the league in doubles, triples, stolen bases (three times), and base hits (twice.) He played multiple positions, and he played every single day. He went four years (June 2018 to this July) without missing a game. And the Royals never had a winning record in the seven years he was there. Not once. Twice they lost more than 100 games. After a while, all that losing just gets to you. It has to. Given the chance to play for a contender, he got his shots and didn't complain about becoming a guy off the bench. He just felt bad that he hadn't been able to help his new team as much as he had wanted and hoped to do. Then an injury gave him an opportunity. And man, he ran with it.

Santiago Espinal B-
Everybody says Espinal and Bichette are the hardest working guys on the team, but Espinal's the one player who seemed to have worn down by the time we got to September. Well, him and Kirk, but catchers are supposed to get worn down. Espinal hit .258/.329/.315 in the second half, with just five extra-base hits, and that looks like a line out of 1908 or something. It's as if he no longer had the strength to swing hard. So while he's a good player, and one whose versatility makes him an extremely useful one, I'm not convinced that he's built for every day duty. I also can't understand why they have him try to steal bases.

Max Castillo B
Now with Kansas City. Pitched well for the Jays (and Buffalo, and New Hampshire), not nearly so well for the Royals (and Omaha.) He's been vulnerable to the home run in his brief bits of AL action and people are always going to worry about the 280 pounds.

Lourdes Gurriel C-
The only time Gurriel has ever made it through a season without getting hurt was the season that only lasted two months. He made into September this season before straining a hamstring trying to beat out a throw to first base. As always, his year was built around a hot streak - this year's lasted longer than usual and was also quite different from his previous reigns of terror at the plate. He hit .368/.413/.489 in June and July, but with just 3 HRs, and the homer he hit on 1 July was the last he would hit all season. What happened? His power stroke simply vanished, and if all you're going to hit are singles you pretty much need to hit .368 in the modern game. Very disappointing.

Jose Berrios C-
What a strange year he had. As I think we all observed, Berrios' numbers were skewed somewhat by how badly he pitched when he was losing (ERA of 14.14 over 28 IP in those seven games.) The Blue Jays did win 23 of his 32 starts. But the team won three of those games in spite of Berrios (who was busy allowing 14 runs in those 8.1 IP) by cleverly scoring lots and lots of runs. But in the grand scheme of things... Berrios did hold the opposition to three runs or less in 21 of his starts. That will always give you a chance to win, and the team did in fact go 20-1 in those games. He didn't pitch remotely like an ace, but he was generally a decent starting pitcher. Except on those days when he wasn't, and when he wasn't he had no chance at all.

Trevor Richards D+
He had a pretty strange season himself - he appeared in 62 games and literally half the runs he allowed came in just five of them. He got away to a decent enough start. He gave up 6 earned runs in his first 15 games (naturally, all but one of those runs came in one disastrous appearance.) Then everything went completely sideways on him in mid-May. In 20 appearances over 7 weeks, he posted an ERA of 8.85, which he achieved by being consistently bad - the opposition hit .283/.385/.571 against him. Then he went on the IL for two weeks and presto! He was just fine when he came back, something which makes me wonder if maybe he should have gone on the IL a little sooner. He'd fallen pretty far in the bullpen pecking order by then, but he gave the team a 1.98 ERA over the next two months. A couple of rough September outings - once when he ran out of gas pitching on consecutive days and once when he'd only made one appearance in the previous ten days (probably not a good idea for someone who relies so much on a changeup) - spoiled any chance he had of making his season numbers look close to competent. But he was generally better than those raw numbers suggest.

Cavan Biggio D+
Got off to a dreadul start, went on the IL and didn't get back into the lineup until late May. Played well until the All-Star break, but didn't hit a lick (.183/.283/.333) in the second half. His playing time was reduced considerably after Schneider took over. Was it because he stopped hitting? Or did he stop hitting because he was no longer playing regularly? The chicken, or the egg? I've always liked him, but this is two disappointing seasons in a row and I'm not really sure where he fits in going forward. The Jays appear to have three second-basemen/utility men on their roster, each of whom has one especially useful quality: Espinal can play shortstop, Biggio hits left-handed, Merrifield is a decent outfielder. But three seems a crowd.

Trent Thornton D+
He was the Designated Long Man for the first couple of months, and he was more or less serviceable in the role. Pitched in blowouts, or when the team was losing. He was also the mobile body who could be optioned to Buffalo when circumstances required. Went completely to pieces after Schneider took over, for no apparent reason, and was banished to Buffalo for the fourth time, not to be seen again until the season finale.

Raimel Tapia D
Tapia reminded me a little of Rajai Davis in the outfield. Tapia doesn't make as many mistakes - who could? - but he does give off that same feeling when he's tracking a fly ball, that this activity is something he's never done before. He was, of course, the Designated Scapegoat. The Jays asked quite a bit of Tapia - they wanted to remake his approach at the plate, and because he arrived near the end of the abbreviated spring training, they were asking him to do this during games that actually counted. They also needed him to play RF in the absence of Hernandez, which is way too much to hope for from his defensive toolkit. None of it went very well and when Tapia hit badly for the first two months, all anybody wanted to do was take him out back and shoot him. But then he hit quite well for two months. Did this improve how he was perceived? You bet it did. Now he was being offered a blindfold and a cigarette. Fun fact - he struck out 81 times (that's not a lot, actually, it's quite a bit less than the league average) but he was called out looking at strike three just four times all year. He was not going to get cheated. He hits more balls on the ground than anyone on the team, even more than Kirk and Guerrero, but not nearly as many as he'd been hitting in Colorado. He was actually hitting far more line drives instead. It didn't do him much good this past year, but it may suggest what they hope to achieve with him.

Yusei Kikuchi D-
It's worth remembering that after a shaky start, Kikuchi settled in and was just fine. In his five May starts, he went 2-0, 2.36; he struck out 31, walked 11, and allowed 17 hits in 26.2 innings. Two of those starts were against the Yankees, who went 19-9 that month. But I guess it wasn't good enough. I know some people have suggested that Pete Walker tried to make Kikuchi into a new version of Robbie Ray. I don't know if that's true, but we do know they couldn't leave him alone. They tinkered with this, they adjusted that, they had him modify this - and by the time they were done, the guy no longer knew how to throw a baseball.

Hyun-Jin Ryu D-
He seemed to be rounding into some kind of form after missing a month before he was shut down for the next year or so. He wasn't pitching all that well, but the team had won four of his six starts, so that didn't hurt very much. His injury helped the team in one sense - it got Stripling into the rotation right away. It probably would have taken at least another six weeks before everyone was sufficiently fed up with Kikuchi.

Jackie Bradley D-
There's not much left of his bat - there was never all that much there to start with - but he's still a wonderful outfielder. He's even better than Zimmer in CF, but his arm is so good - easily the best on this team - that it actually makes sense to play him in RF when the defensive caddies come out. He's a free agent and while his days as an every day player are surely past, there's probably a role for him on someone's bench.

Gabriel Moreno D-
He's got some tools, but he's got a lot of growing left to do. The pitchers went 4-13, 5.79 when he was catching, which is exactly what I would expect when a 22 year old rookie catcher, with less than 200 pro games on his resume, shows up in mid-season. Moreno's shown almost no power whatsoever, in the majors or minors. Which means that his BAVG represents a great big chunk of his offensive value, and he's going to have to hit a lot of singles to come out ahead. He's still very young, there's plenty of time.

Julian Merryweather D-
He's still got the big arm. He still doesn't know how to get hitters out with it.

Jeremy Beasley D-
Now with Pittsburgh. Was scored on in five of his nine appearances, which is no way for a relief pitcher to behave.

Zack Collins E
Now with Pittsburgh. Doesn't do much with the bat except hit the occasional home run, and he's never impressed anyone with his work behind the plate. The team did go 4-3 when he was catching, but we should note that the lights-out early season version of Gausman was the starter in four of those games, and three of those wins.

Mitch White F
Began his Blue Jays tenure with three semi-decent outings (0-1, 3.38) although he never managed to finish five innings in any of them. It's as if the team seemed to think he wasn't stretched out or something, despite the fact that he'd been in the Dodgers rotation for the previous two months, and had just worked six innings and thrown 98 pitches in his last game for them. But after that adequate beginning, he tossed up three absolute stinkers (0-3, 13.50). His final outings were somewhere in between, but generally trending in the direction of smelliness. The opposition hit .360 on their Balls In Play - it's hard for anyone to survive that unless you're Kevin Gausman, striking out twice as many hitters as White does. It was probably just One of Those Things. Nevertheless, it was a very, very bad thing.

Bradley Zimmer F
An outstanding outfielder and baserunner, but his bat appears to have been confiscated at the border, and his managers eventually assumed it was never going to clear customs. You have to think his struggles at the plate got into his head after a while. How could they not? Zimmer didn't merely hit like a pitcher - he was like one of those pitchers who are especially bad at hitting, like Jeff Fassero or Doug Davis or someone like that. It was inexplicable, and after a while it was just painful to watch him flailing away helplessly. I was so happy for him when he got that little bloop single to drive in two runs in what was sure to be his last at bat of the season. (Because we all knew that if he batted again in 2022, something had gone terribly, terribly wrong.)

Casey Lawrence F


By the time September rolled around, Ross Atkins was so confused that this was the first pitcher he added to the roster. Happily, the GM quickly came to his senses. We can at least be grateful for that.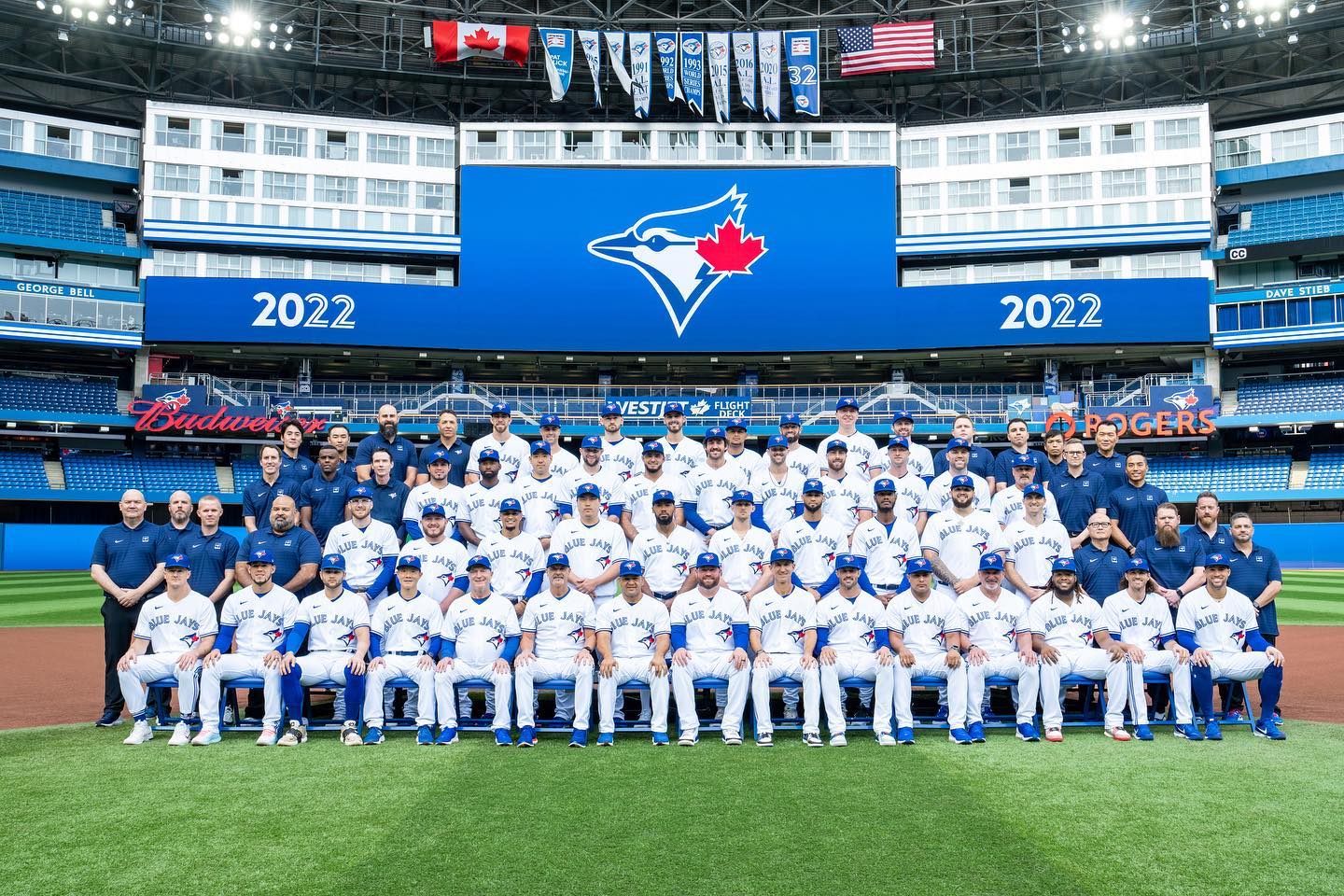 ---

https://www.battersbox.ca/article.php?story=2022100612004598