Blue Jays 2022 Top Prospects: 20 - 11
Tuesday, January 10 2023 @ 07:00 AM EST
Contributed by: Gerry
The middle 10 of our top 30 prospects have a lot of players who have been in the system for a few years and whose prospect status is now on the bubble. Six of them have reached AA and four have reached Vancouver so their time to put up or show up is now.
20. Hagen Danner | RHP
Photo from MLB.com
| | | | | | | | | | | |
| --- | --- | --- | --- | --- | --- | --- | --- | --- | --- | --- |
| Year | Age | Team | G | GS | IP | H/9 | HR/9 | BB/9 | K/9 | ERA |
| 2022 | 23 | NH | 4 | 0 | 3.2 | 5.9 | 0.0 | 1.2 | 9.4 | 3.52 |
Hagen Danner had a disrupted season, one in which he barely pitched. Danner pitched in four games in April and wasn't seen again until the Arizona Fall League.
Danner was a catcher in the Blue Jays system from 2017 through 2019. Having failed to hit, he switched to pitching and had an excellent season in Vancouver in 2021. Promoted to New Hampshire to start 2022, and hoping for a major league look before the year ended, Danner only got into four games in April before being shut down with an elbow injury. An injury was not unexpected for Danner. When an arm is subjected to pitching loads, having not been a pitcher for years, it creates stress on the arm and shoulder. The issue remaining is whether the elbow issue is fully resolved or if he could be headed for Tommy John surgery in the future.
Danner returned to pitch in the Arizona Fall League. In eight games he had a 9.4 K/9 and a 0.78 WHIP. That should give him some confidence after missing most of the season.
Danner throws a high-90s fastball with movement and a curveball. Danner has only 47 innings of pro pitching on his record so he likely needs a season of consolidation and experience in 2023. He could go to either New Hampshire or Buffalo depending on his condition.
19. Adrián Hernández | RHP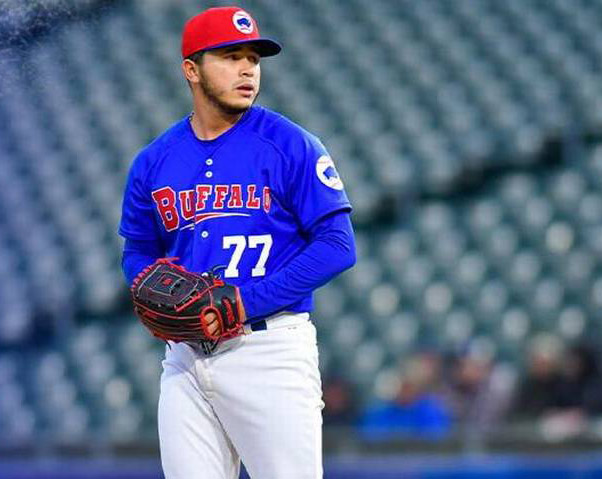 Photo from Cortesia | Buffalo Bisons
| | | | | | | | | | | |
| --- | --- | --- | --- | --- | --- | --- | --- | --- | --- | --- |
| Year | Age | Team | G | GS | IP | H/9 | HR/9 | BB/9 | K/9 | ERA |
| 2022 | 22 | FCL | 2 | 1 | 2.2 | 11.1 | 0.0 | 6.8 | 6.8 | 3.38 |
| 2022 | 22 | DUN | 2 | 0 | 3.1 | 5.4 | 0.0 | 0.0 | 18.9 | 0.00 |
| 2022 | 22 | NH | 3 | 0 | 4.0 | 4.5 | 0.0 | 6.8 | 13.5 | 2.25 |
| 2022 | 22 | BUF | 31 | 0 | 32.2 | 6.9 | 1.7 | 4.4 | 12.1 | 4.96 |
Adrián Hernández had an up-and-down 2022. He started the year in New Hampshire and was almost immediately promoted to Buffalo where he initially pitched well. In the middle of June, he went on the IL for six weeks and when he returned he pitched reasonably well, but not as good as he did prior to his injury. He then endured a very difficult September.
Hernández arrived in AAA in April at the young age of 22. The Mexican righthander had achieved success in the lower levels primarily thanks to his change up, which acted like a screwball. The unusual movement fooled a lot of hitters. Hernández jumped three levels in 2021 and struck out 27 in 15.2 innings in AA. While his changeup is a plus-plus pitch, Hernández's fastball was below major league average, coming in in the low-90s. At 5'8", Hernández was also much shorter than your typical major leaguer. The big question coming into 2022 was would the change up be as effective against more experienced hitters.
As mentioned Hernández made three appearances in AA in April before being promoted to Buffalo. In May he was outstanding, with a 0.82 ERA, a 0.45 WHIP and 16 K's in 11 innings.
Around June 11th things started to get tougher for Hernández. It was around this time that he started to pitch against teams for the second time. On June 11th he gave up just one hit, a home run. On June 16th that was repeated - one hit, another home run. And on June 19th another home run, all solo shots. After that June 19th appearance he went on the IL and had a 4.50 ERA with a 1.50 WHIP for the month.
Hernandez did not return until August 2nd. He pitched in four games for the FCL and Dunedin Jays but then, back in AAA, he ran into his bogey team, Lehigh Valley. Lehigh had hit the last two home runs off Hernandez before he went on the IL and in mid-August, they scored five runs off him over two appearances. Other than against Lehigh he pitched well, with four scoreless appearances in August against the other teams.
September was rough with an 11.57 ERA and a 2.43 WHIP in 7 games.
So what do we make of this? Hernández has a narrow window of success. He is short, and his fastball is below average but he has a plus-plus change up. Will that combination work? It did work some of the time in AAA but not others. Did the league figure him out, or was he trying something different that caused him to be hit around? We don't know but he was passed over in the recent Rule 5 draft so other major league teams are not convinced he is major league ready.
Hernández will return to AAA to start 2023. He will be just 23 years old, still young for the level. He could try to improve his fastball velocity with an off-season regimen. He has been pitching in the Mexican League. He could try and develop a third pitch to keep hitters off the fastball. 2023 will be an interesting season for him. He will return to Buffalo where a lot of the hitters will have seen him in 2022. If he pitches well he should be in line for a call-up.
18. Tanner Morris | 2B/3B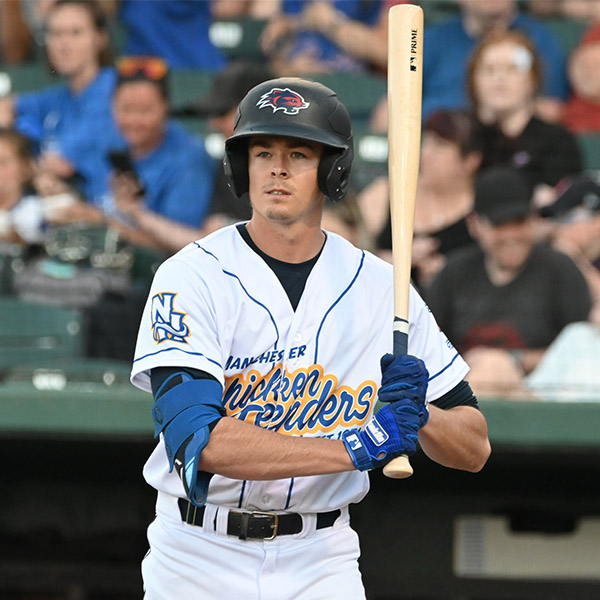 Photo from @BuffaloBisons
Year
Age
Team
AB
2B
3B
HR
BB
K
SB
CS
AVG
OBP
SLG
2022

24

NH

154
7
1

5

30

30

1

3

.312

.430

.468

2022

24

BUF

98
0
0

0

25

25

0

2

.174

.352

.174

Tanner Morris had a mixed season. He started the year in New Hampshire where he hit .312 with an OPS of .898. That looked really good so he was promoted to Buffalo. But Buffalo didn't go so well. He had two trips to the IL, one in July and the other from August 7th through the end of the season. When he was fit enough to play in Buffalo he hit just .173 with no extra-base hits. His BABIP was just .233. He did keep his eye, walking and striking out the same number of times.
Morris split his playing time between second base and third base in both New Hampshire and Buffalo. Because Morris missed time this season he went to the AFL this fall. He got off to a slow start but hit well in the second half of their season, ending with a .279 average and a .838 OPS. Interestingly he played some games in left field in the AFL. That could be an option for him in Buffalo in 2023.
So where does Morris stand in his career entering 2023? Morris will be 25 starting the season, and it will be a big year for him. Was Buffalo an aberration caused by the injuries or has he topped out? If we assume it was an aberration, he still needs to find some more power to make him useful for a major league team. He can hit, he has a good eye, and he can play several positions. But a utility infielder who doesn't play shortstop is less useful than one who does. Morris might need to add the outfield versatility to make him a utility option. Could he be a cheaper Cavan Biggio?
Morris will return to Buffalo in 2023.
17. Dasan Brown | CF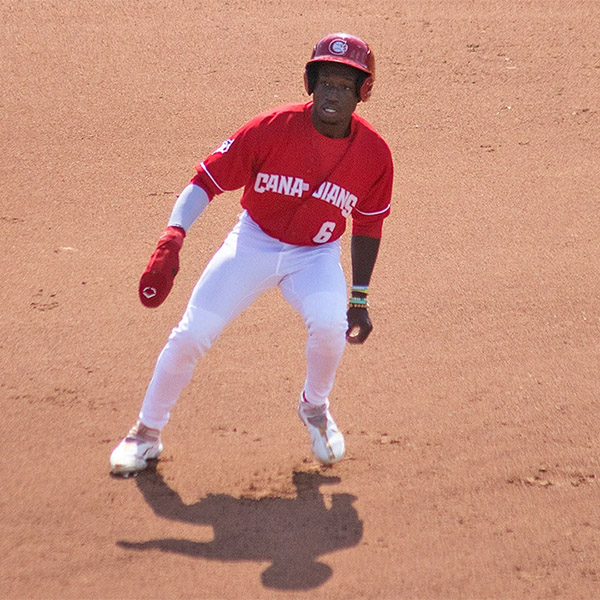 Photo from C's Plus Baseball
| | | | | | | | | | | | | | |
| --- | --- | --- | --- | --- | --- | --- | --- | --- | --- | --- | --- | --- | --- |
| Year | Age | Team | AB | 2B | 3B | HR | BB | K | SB | CS | AVG | OBP | SLG |
| 2022 | 20 | FCL | 16 | 1 | 0 | 0 | 2 | 7 | 2 | 1 | .188 | .409 | .250 |
| 2022 | 20 | DUN | 140 | 8 | 2 | 4 | 17 | 45 | 11 | 6 | .279 | .369 | .450 |
| 2022 | 20 | VAN | 151 | 11 | 0 | 2 | 14 | 50 | 11 | 3 | .298 | .392 | .411 |
Dasan Brown has been an Ontario Blue Jay, a Gulf Coast League Blue Jay, a Florida Complex League Blue Jay and a Dunedin Blue Jay. Had Major League Baseball not callously contracted 42 teams from Minor League Baseball after the 2019 season, he probably would have been a Bluefield Blue Jay as well. Regardless, Brown could soon be a Toronto Blue Jay after a promising 2022 campaign.
The Jays had plenty of looks at Brown as he played at the SkyDome in three Tournament 12 showcases, batting .438 and earning Tournament All-Star honours in 2018. He also suited up for the Canadian Junior National Team and helped them win a bronze medal at the COPABE Under-18 Pan Am Championships that same season.
Brown further impressed the Jays during an exhibition game between the Canadian Juniors and the parent club in Dunedin on March 23, 2019. That's when he went 3-for-4 with a home run and made a diving catch in center field.
The Oakville, Ontario native was drafted out of Abbey Park High School in round three of the 2019 MLB Draft on the recommendation of Blue Jays Amateur Scouting Manager Kory Lafreniere. Brown received a signing bonus of $797,500 to forego a commitment to Texas A&M.
In his first taste of pro ball, Brown got in 14 games with the GCL Jays. His first three hits went for extra bases, including a triple in his first-ever at-bat. He slashed .222/.444/.354 with five runs batted in and six stolen bases, getting on base at least once by a hit, walk or hit by pitch in all 14 games he played. Baseball America ranked Brown as the number 19 prospect in the Gulf Coast League and assigned him an 80 grade on his speed.
Though he worked out with Vanderbilt outfielder Cooper Davis at the Mississauga Tigers facility during COVID, the pandemic seemed to really hurt Brown's development when he got his first exposure to full-season baseball in 2021 at Dunedin. He slashed .210/.310/.323 with four home runs among his 16 extra-base hits and 22 stolen bases in 51 games.
Brown got another crack at the Florida State League level in 2022. He struggled at the beginning with his batting average sinking to .170 before going on a six-game hitting streak that included a pair of homers to end the month of April. Just when he was starting to find his groove, he was sidelined due to an oblique injury and missed the entire month of May and the first part of June. After a six-game tune-up in the FCL, Brown had a three-hit game in his return to Dunedin and that marked the start of a 16-game on-base streak that included three straight two-hit efforts. He followed that up by rattling off a seven-game on-base stretch before earning a promotion to Vancouver in late July.
He almost left the yard in his first at-bat at Nat Bailey Stadium. When Steward Berroa was sidelined with a season-ending wrist injury, Brown settled into the leadoff spot and helped the C's clinch a playoff berth after a 9-for-20 stretch with five walks and three RBI in a key series at Spokane. In September, Brown belted a leadoff homer for the first time on Canadian soil in Vancouver's playoff-clinching win over Eugene.
Though the Canadians were swept in the Northwest League final, Brown was the team's MVP by batting .467 with three homers, four RBI and two stolen bases.
Before the season, Brown spoke with MLB.com about his hitting mechanics by focusing on his lower half. In an interview with C's Plus Baseball, he felt he was gaining a better understanding of his swing.
"You need to have to hit a baseball, especially at this level, but I definitely took a lot of time and tried to understand the fundamentals and understand that like your swing is your swing, right? There's guys in the big leagues with okay swings and they still hit so I think it's more about understanding what makes you successful and trying to replicate that as opposed to, you know, just feel like you need a perfect swing to be successful. So I definitely took a lot more emphasis on the mental side of it."
Brown posted a career-high .171 isolated slugging percentage with Dunedin though it did fall to .113 with Vancouver but that does not include his power surge in the playoffs.
The one area for Brown to focus on is limiting his strikeouts as he whiffed around 28 percent of the time but he still maintained a decent enough walk rate that hovered between eight and 10 percent between Vancouver and Dunedin. He was extremely fortunate on the batted balls he put in play as his BABIP totals checked in at .385 in Dunedin before soaring to .430 with Vancouver.
The BABIP boost can also be partly attributed to Brown's 80-grade speed which gives him exceptional range when patrolling center field, making just two errors in 80 games. His arm is strong enough and is considered to be average but his throwing accuracy was off the mark at times.
Geoff Pontes of Baseball America had this to say about Brown.
"He might be the best minor league centerfield defender I saw in 2022. He's a top-of-the-scale athlete and the bat finally showed life this year. Lot of positive momentum heading into next spring. If he proves he's an average major league hitter he'll be playing centerfield every day for someone."
The 6-foot, 185-pound Brown looks to be on target to start the 2023 season Double-A New Hampshire but there is the possibility the Jays brass may give him more time in Vancouver before moving up. He will turn 22 years old on September 25.
16. Leo Jiménez | SS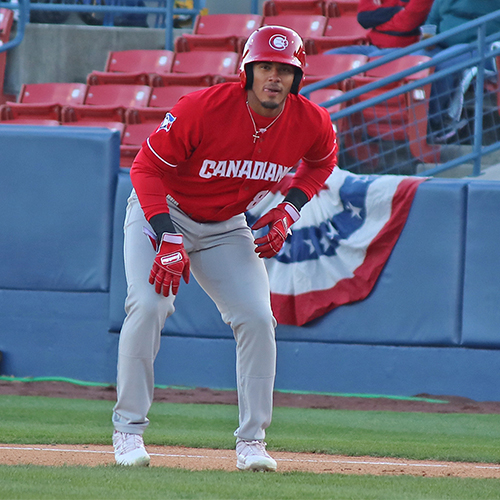 Photo from C's Plus Baseball
| | | | | | | | | | | | | | |
| --- | --- | --- | --- | --- | --- | --- | --- | --- | --- | --- | --- | --- | --- |
| Year | Age | Team | AB | 2B | 3B | HR | BB | K | SB | CS | AVG | OBP | SLG |
| 2022 | 21 | VAN | 244 | 14 | 3 | 6 | 27 | 58 | 7 | 3 | .230 | .340 | .385 |
Ups and downs, lows and highs, ebbs and flows, peaks and valleys. That was the 2022 season in a nutshell for Leo Jiménez but his body of work suggests he could still be a part of Toronto's future infield.
The pride of Chitre, Panama joined the Jays as an international free agent signing on July 2, 2017, for $825,000 after being scouted by Alex Zapata and Sandy Rosario.
Jiménez bypassed the Dominican Summer League and made his pro debut with the Gulf Coast League Blue Jays in 2018. He racked up eight doubles and two triples and displayed a good batting eye by drawing 16 walks against 17 strikeouts while batting .250/.333/.341 in 37 games.
Bluefield was Jiménez's next stop in 2019 and a strong finish in August helped him record a .298 batting average with identical .377 on-base and slugging percentages. He received a late-season promotion to High-A Lansing in September and recorded a hit in a two-game trial.
After the pandemic scrubbed 2020, Jiménez was bitten by the injury bug twice when he joined the Dunedin Blue Jays in 2021. First, it was a hand injury in May and then a left shoulder injury in June. When he did play, he was an on-base machine as he had an OBP of .517 in 242 plate appearances with Dunedin and a .600 OBP in 20 trips to the dish in the Florida Complex League. He received more seasoning in the Arizona Fall League and got on base at a .412 clip in his 51 trips to the batter's box. After making 39 of his 50 starts at short with the Dunedin and FCL Jays, Jiménez made nine starts of his 13 starts at second base with Mesa.
That showing in 2021 swayed the Blue Jays to add Jiménez to the 40-man roster to protect him from a Rule 5 draft that never happened.
Bulking up to 215 pounds, Vancouver was Jiménez's next destination in 2022 and he opened the Northwest League season with a single as the C's leadoff man but scuffled with a batting average of .163 in April but his OBP was 206 points higher.
After belting his first Northwest League home run to end April, the power began to emanate from Jiménez's bat in May as he hit .284 with a .464 slugging percentage, just a point shy of a 200-point hike from the previous month.
In a chat with C's Plus Baseball, Jiménez said there was not any huge mechanical change at the plate.
"There were years I didn't even like hit homers at all but I just trust the process. I was like, 'Okay, I'm going to start getting older, have more experience. The power is going to come, you know?' And to be honest, I haven't really changed anything at the plate. Maybe a little bit approach-wise but the swing and everything's been the same. Like the coaches said, 'Power is supposed to come.' So now everything is actually coming right into place so I just, you know, keep being myself to be honest."
Unfortunately, he cooled off in June when he slashed .196/.281/.235. The first three months of the year saw Jiménez miss chunks of time as he suffered the after-effects of a concussion as the result of an on-field collision.
When Canada Day rolled around, Jiménez enjoyed his best stretch of the season as he began to impact the ball by slugging .587 in July accompanied by a .286/.380 BA/OBP total. He homered four times and drove in 23 runs.
However, the see-saw went down again in August as Jiménez slugged just .240 and only reached base at a .290 pace in eight games. After not seeing any action for over a week in mid-August, he returned to the lineup as the designated hitter in Everett on August 19 and keyed a ninth-inning rally with a game-tying RBI double before scoring the winning run on a headfirst slide at home. That was the last competitive thing Jiménez would do on the diamond as he was sidelined for the rest of the year with a wrist injury. Surely another contributing factor was his proclivity to get hit by baseballs as he tied for the Northwest League lead in hit-by-pitches with 17. That's after taking one for the team 25 times in 2021. The HBPs did help Jiménez's OBP as he only heard ball four just over nine percent of the time, a sharp decrease from his 21 percent mark with the D-Jays.
After committing just four errors in 36 starts at short with Dunedin, Jiménez saw his error total go up to 10 in 49 starts at the six-spot with Vancouver in 2022. However, Baseball America says "Jiménez is an instinctive, fluid defender who doesn't have the explosive athleticism some teams prefer at shortstop, but he's a steady, reliable defender with soft hands, loose actions, good body control and a knack for slowing the game down, with slightly below-average speed and an average arm."
One thing is for certain, availability needs to become an ability for Jiménez in 2023. The 5-foot-11 infielder may return to Vancouver to start the year but the Jays brass has not been shy in moving him up the ladder so he could head to Double-A New Hampshire instead. He will turn 22 years old on May 17.
15. Dahian Santos | RHP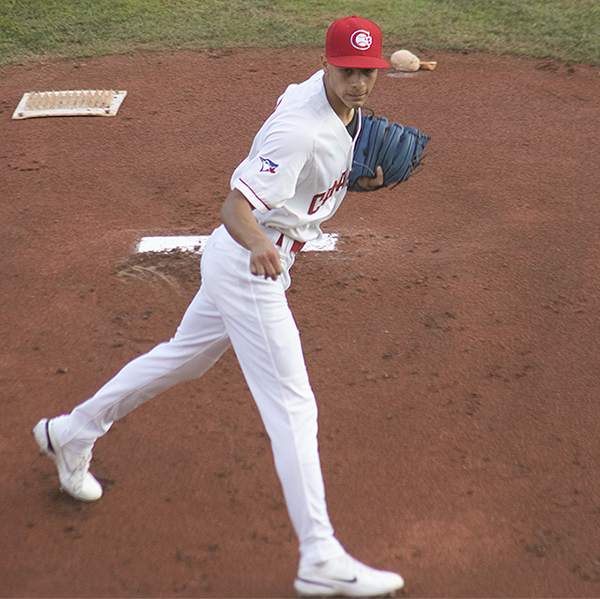 Photo from C's Plus Baseball
| | | | | | | | | | | |
| --- | --- | --- | --- | --- | --- | --- | --- | --- | --- | --- |
| Year | Age | Team | G | GS | IP | H/9 | HR/9 | BB/9 | K/9 | ERA |
| 2022 | 19 | DUN | 19 | 14 | 73.1 | 5.8 | 1.0 | 4.3 | 14.7 | 3.44 |
| 2022 | 19 | VAN | 4 | 4 | 12.2 | 12.1 | 2.1 | 6.4 | 15.6 | 10.66 |
The Blue Jays had to wait a while to see Dahian Santos pitch but the wait may very well be worth it.
Trained by Michael Ayaga, Santos signed as a 16-year-old out of Venezuela on July 2, 2019, for a signing bonus of $150,000. The pandemic delayed Santos' professional debut to 2021 and he provided a tantalizing glimpse of his potential in his first pro start for the Gulf Coast League Blue Jays. He threw five shutout innings of two-hit ball and struck out six against the GCL Tigers West on July 1. Santos would collect his first win on July 31 against the GCL Tigers East. Though his July earned run average was 5.30, he walked just three batters and struck out 28 over 18-2/3 innings.
In August, Santos yielded just three runs in 12-2/3 innings for a 2.13 ERA. He was promoted to Dunedin in early September but was roughed up for seven runs over five innings covering two starts. However, he struck out 58 batters in 40-1/3 innings while walking 16 despite losing four games and posting a composite 5.58 ERA.
Back with Dunedin in 2022 as the 10th youngest starter in the Florida State League at 19.1 years of age, Santos struggled early on by giving up two home runs and seven runs in total over his first two relief outings. However, he won the Florida State League Pitcher of the Month honours in May after winning two of three decisions and putting up an ERA of 0.83. Among the highlights were a pair of four-inning shutout performances with nine and 10 strikeouts respectively and five spotless frames with eight punchouts. He rang up 43 batters against 11 walks over 21-2/3 innings.
Santos wasn't quite as stellar in June and July as he put up consecutive 4.50 ERAs in June and July but had a combined 46-15 K/BB total in 34 innings.
In late August, Santos got the call to Vancouver and his first two starts were not great. He did not get out of the first inning in his Northwest League debut and only lasted three innings in his next outing. However, he turned things around by striking out 10 batters and allowing just two runs over five innings in an eventual extra-inning win in Spokane on September 3 that went a long to helping the C's clinch a playoff spot. He then permitted just two runs over four innings and struck out seven against the eventual league champion Eugene Emeralds in his final start. He would have been in line to start a potential fifth and deciding game in the Northwest League final.
Baseball America had this scouting report on Santos heading into the season.
Santos is a lanky, athletic pitcher who stands out for his touch and feel. He pitches at 89-94 mph with good movement on his fastball from his low three-quarters slot. While Santos has a loose, quick arm and a bit of physical projection remaining in his wiry frame, but his game is more about pitchability than power. He's an advanced strike-thrower for his age with feel for a curveball and a changeup. He has tight spin on his curveball, generally around 2,500-2,600 rpm. Though it can get a bit wide and slurvy at times, it's a slightly above-average pitch. His changeup is inconsistent but he shows feel for that pitch too. Santos isn't that big, but he has a starter look between his three-pitch mix, control and athleticism with an easy delivery."
Interestingly, BA later praised Santos for his breaking ball which it classified as a slider.
"The undersized righthander has an unusual operation and arm action that allow his pitches to play up, particularly his slider. Santos utilizes a tall-and-fall operation with a low sidearm action that plays up his horizontal movement upon release. As you would expect from any low-slot slinger, Santos' slider generates heavy sweep. Sitting 80-82 mph with 2,700-2,800 rpm of raw spin, Santos generates on average 14 to 15 inches of sweep with very little to no vertical break. The pitch is Santos' go-to offering, seeing nearly identical usage to that of his fastball. While still learning to command the pitch, Santos generates whiffs on 57% of swings and chases on 35% of swings. In a breakout season for Santos, his slider was the nucleus of his success."
BA rates Santos' slider as the best in the Jays minor league system and Geoff Pontes believes his prospect ranking will rise in 2023.
"Dahian Santos to me has a chance to push into the top 10 with a good season and some added power on his four-seamer. He already has a wicked slider, it's a low-80s sweeper with spin rates north of 2700 rpm. feel for a mid-80s changeup too. Blue Jays have had some wins on the pitching side of late, so I'd place my bets on it being a pitcher."
The 5-foot-11, 160-pound Santos will likely return to Vancouver to start the 2023 campaign. He will turn 20 years old on February 26.
14. Spencer Horwitz | 1B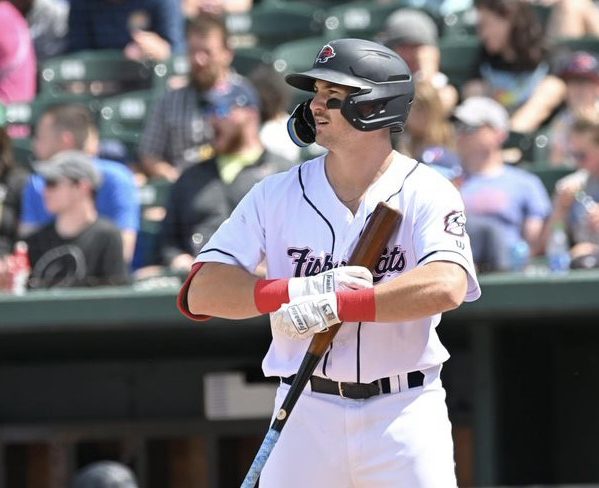 Photo from @BuffaloBisons
| | | | | | | | | | | | | | |
| --- | --- | --- | --- | --- | --- | --- | --- | --- | --- | --- | --- | --- | --- |
| Year | Age | Team | AB | 2B | 3B | HR | BB | K | SB | CS | AVG | OBP | SLG |
| 2022 | 24 | NH | 232 | 19 | 1 | 10 | 43 | 54 | 3 | 1 | .297 | .413 | .517 |
| 2022 | 23 | BUF | 171 | 14 | 0 | 2 | 30 | 41 | 4 | 1 | .246 | .361 | .363 |
Coming into 2022 Spencer Horwitz was an under-the-radar prospect, an unheralded player drafted in the 24th round of the 2019 draft. But Horwitz could hit. Could that continue in 2022?
Horwitz had been promoted to New Hampshire for the last week of 2021 and he returned there for 2022. In 70 games he hit .297 with a .930 OPS. That earned him a promotion to Buffalo where he found things a little tougher. In AAA he hit .246 with a .724 OPS.
The detailed stats show that Horwitz had similar walk and strikeout rates between AA and AAA. There are two major differences between the levels. First, his BABIP dropped from .347 to .313. That .313 number is low compared to his other stops in the minor leagues. The question is why? It could be due to better defences in AAA or it could be because of better pitching. Horwitz's infield fly ball rate jumped from 15% in AA to 24% in AAA. That change also leads to the other big change in Horwitz's numbers from AA. His slugging dropped from .517 to .363. His HR to FB ratio dropped from 17% to 5%. It looks like Horwitz was just missing his pitches and popping up more and therefore having less power. Horwitz is primarily a first base prospect so power is a necessity.
So, for 2023, that will be an area of focus for Horwitz, to make better contact and get his power back. There is also one other area. Horwitz, like many left-handed hitters, struggles against left-handed pitching.
Horwitz plays mostly first base but did play 10 games in left field in both AA and AAA. Horwitz is not a very good outfielder and probably is a major league first baseman.
It will be a return trip to Buffalo for Horwitz to start in 2023. With his current stats, Horwitz looks like either the left-handed side of a first base platoon or a lefty-hitting pinch hitter.
13. Otto López | UT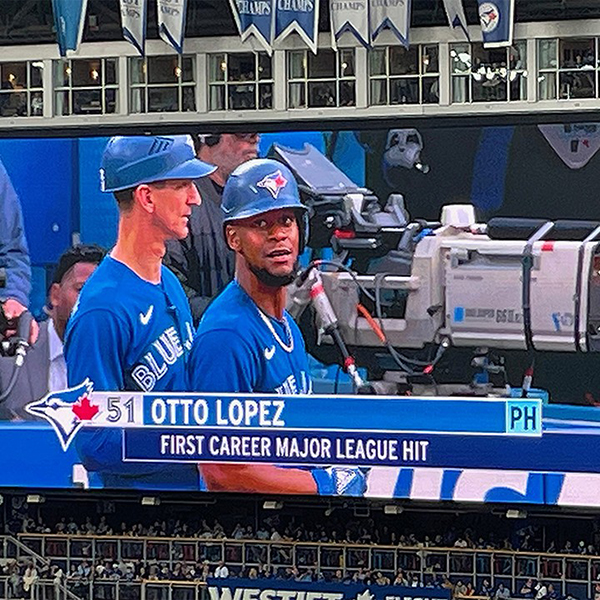 Photo from C's Plus Baseball
| | | | | | | | | | | | | | |
| --- | --- | --- | --- | --- | --- | --- | --- | --- | --- | --- | --- | --- | --- |
| Year | Age | Team | AB | 2B | 3B | HR | BB | K | SB | CS | AVG | OBP | SLG |
| 2022 | 23 | DUN | 20 | 0 | 0 | 0 | 2 | 4 | 0 | 0 | .050 | .136 | .050 |
| 2022 | 23 | BUF | 340 | 19 | 6 | 3 | 41 | 61 | 14 | 5 | .297 | .378 | .415 |
| 2022 | 23 | TOR | 9 | 0 | 0 | 0 | 1 | 1 | 0 | 1 | .667 | .700 | .667 |
Otto López is now 24 years old and he has been a regular on the top 30 list for the last five years. But who is Otto López? Is he a .300 hitter who can play all around the field? Or is he a .260ish hitter with little power who is a poor man's Santiago Espinal? Espinal also was in Buffalo during his age-24 season and he ended with a .793 OPS. López just had a .793 OPS in Buffalo in 2022. Espinal hit for a higher average while López walked more. But note that Espinal had just 100 ABs in Buffalo that season.
López can hit, we know that. He got off to a slow start in 2022, hitting just .221 in May having started the season on the IL. But he warmed up with the weather, hitting .273, .299, .387 and .291 in the subsequent months finishing with unbelievable numbers in the major leagues. Did the injury slow him down early in the season? Is his second half a true reflection of his talent level?
López does not have much power, he hit just three home runs for Buffalo this season in 340 at-bats. But he does have speed, he had 19 doubles and six triples. He could "do an Espinal" and bulk up some but I am not sure he has the body type.
López might not be quite as good defensively as Espinal. The Jays have turned him into a utility man in Buffalo. Last season he played 36 games at 2B, 22 in left, 16 in center and just 10 at shortstop. Is there room for a full utility player on the roster when Espinal is already there? When would he play?
López might have to spend another season in Buffalo in case the Jays trade Espinal or to build up his value for another team.
12. Hayden Juenger | RHP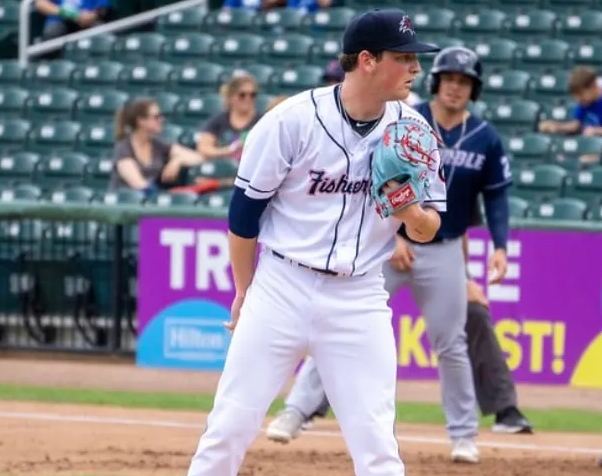 Photo from Sports Illustrated
| | | | | | | | | | | |
| --- | --- | --- | --- | --- | --- | --- | --- | --- | --- | --- |
| Year | Age | Team | G | GS | IP | H/9 | HR/9 | BB/9 | K/9 | ERA |
| 2022 | 21 | NH | 20 | 17 | 56.0 | 6.4 | 1.9 | 3.4 | 10.8 | 4.02 |
| 2022 | 21 | BUF | 18 | 2 | 32.2 | 6.3 | 1.7 | 4.4 | 9.1 | 3.31 |
Hayden Juenger was a sixth-round pick in the 2021 draft and he has been fast-tracked, ending the season in Buffalo. Juenger is still just 22 years old, young for AAA. He is listed at 6 feet exactly, not particularly tall for a major league pitcher.
Juenger started 19 of his 38 games in 2022 but seems to be a reliever long-term. Most of his starts were in New Hampshire and he never went more than four innings. In Buffalo, he started two games, although Buffalo was using relievers as starters, and there he never threw more than 2.1 innings. Baseball America have noted that Juenger tends to lose velocity as he gets deeper into his pitch count so that could be why the Jays dialled back his innings in the second half of the season.
Juenger is an RHP and he relies on his fastball which comes in at 93-97 mph. Because of his size, and his three-quarters delivery, Juenger has a lower plane on his pitches than many. However, if there is a weakness in Juenger's game it is his tendency to give up the long ball. In New Hampshire, he was taken deep 12 times in 56 innings, an HR/9 rate of 1.9. It was slightly better in AAA, with 6 homers allowed in 32.2 innings. That's a 1.7 HR/9. Both the AA and AAA rates are too high and that is an area that needs improvement before he is ready for the major leagues. In general, Juenger allows just 6.3 hits per nine innings so in 2022 18 of his 63 hits allowed were hit out of the park. That is just under 30%, quite high.
In addition to his fastball Juenger throws a slider and a changeup. His command is pretty good, he did walk 4.4 per nine in AAA, a little high. He struck out almost 11 per inning in AA and just over 9 in AAA. Juenger probably deserves a pass for some of his pitching in AAA. This was his first full pro season and to be in AAA is an achievement. He has gone from facing college hitters to major league veterans in a year.
Juenger should return to Buffalo in 2023 and could get a major league call-up if he can fix the long ball tendency.
11. Adam Macko | LHP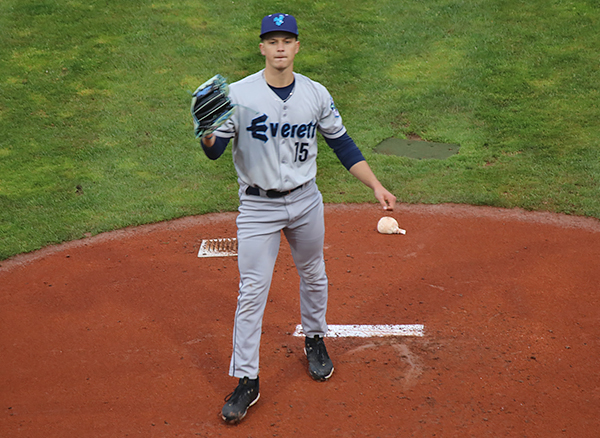 Photo from C's Plus Baseball
| | | | | | | | | | | |
| --- | --- | --- | --- | --- | --- | --- | --- | --- | --- | --- |
| Year | Age | Team | G | GS | IP | H/9 | HR/9 | BB/9 | K/9 | ERA |
| 2022 | 21 | AZFL | 7 | 1 | 13.1 | 8.1 | 0.7 | 8.8 | 9.5 | 6.08 |
| 2022 | 21 | A+ | 8 | 8 | 38.1 | 7.7 | 0.9 | 4.7 | 14.1 | 3.99 |
The Blue Jays hope to get an immediate payoff from the Teoscar Hernández in reliever Erik Swanson but the bigger payoff could come in the form of Adam Macko.
The lefthander was drafted by Seattle in the seventh round of the 2019 MLB Draft out of Vauxhall Academy and received a $250,000 signing bonus, turning down a chance to go to Purdue.
Born in Bratislava, Slovakia, Macko told Everett AquaSox broadcaster Steve Willits he got into baseball in Grade 1 when he went to a tryout on his second day at his school in Slovakia, one of the only schools to offer baseball as an extracurricular activity.
Watching YouTube videos of Justin Verlander and David Price, Macko's baseball journey took him to Ireland when he was 11 years old. According to Alberta Dugout Stories, he joined a ballclub in Bray, south of Dublin called the Greystone Mariners, foreshadowing the nickname of the team he would be drafted by. After winning a Little League title there, his family moved to Canada after getting a visa.
Setting up shop in Alberta, Macko pitched for Spruce Grove and was a part of Team Alberta. He also paid a visit to what he hopes will be his future major league home by taking part in a pair of Tournament 12 events at the SkyDome.
Macko then joined the Vauxhall Baseball Academy where he was teammates with current Jays prospect Damiano Palmegiani. C's Plus Baseball reached out to Palmegiani to get his thoughts about reuniting with his former Jets teammate.
"I think he brings an awesome attitude to the Jays org. He's a very easygoing guy who carries a massive quiet confidence and knowledge of what he does. Comes from a great family. He's an extremely mechanically sound lefty who has always had swing-and-miss stuff and just looks like he gets better every year. He's gonna be calm and collected in big moments."
After signing with the Mariners, Macko made a pair of relief appearances in the Arizona League before getting a call-up to Everett in 2019. His sole appearance with the AquaSox came on Canadian soil, tossing two shutout innings against Vancouver at Nat Bailey Stadium on July 25. He was sent back to the AZL Mariners and posted a 3.09 earned run average over 23-1/3 innings, striking out 32 and walking 12.
After the 2020 pandemic, Macko got back on the mound with Low-A Modesto in 2021 and made nine starts, splitting four decisions with a 4.59 ERA over 33-1/3 innings and posting a 56-21 K/BB ratio. According to Baseball America, his season was cut short by "recurring shoulder tenderness" as he missed most of June and the first half of July before being shut down for good in early August. Macko was rated the Mariners 14th-best prospect after that season, noting "his pitchability, athleticism and above-average command of four pitches. The Mariners see his curveball as a potentially plus pitch and his slider has progressed to average after he changed his grip. He's a studious worker who keeps a journal about what he's learned."
In 2022, Macko was sent to High-A Everett and struck out 11 batters in his first start of the year with five innings of three-run ball against Eugene on April 9 and struck out 10 after allowing just two runs over six frames.
He pitched in Vancouver twice and in front of friends and family, he blanked the C's over five innings and struck out seven in the opening game of a six-game set on May 3. C's Plus Baseball noted that Macko "bamboozled Addison Barger with curveballs at 65 and 67 miles per hour before dialling it up to 94. Macko was up to 95 at one point." He racked up seven more Ks over four innings in which he surrendered two runs in the series finale on Mother's Day.
However, Macko made only two more starts before undergoing a season-ending meniscus surgery in his right knee.
He struck out 14.1 batters per nine innings but Baseball America raised some concerns about his 2022 season with a walk rate of 4.7 per nine.
"Macko's stuff was inconsistent in 2022 as he lowered his arm slot and dealt with injuries, but it's still plenty potent. His fastball ranges from 91-96 mph out of a low slot and release point from the left side that creates a tough angle for lefthanded hitters. His signature pitch is a plus curveball with tight spin and late drop in the low 70s, but at times it devolves into a sweepy, soft offering in the upper 60s. Macko also has an average horizontal slider in the mid-80s that gives lefties trouble and a fringy, low-80s changeup that is improving. Macko is a good athlete, but overthrows at times and nibbles at others, resulting in below-average control. His biggest concern is health….Macko has the arsenal to start, but his control and health point to a likely relief future."
Macko did return to the mound in the Arizona Fall League and flashed his electric stuff by tossing three perfect innings of relief in one outing. Baseball America says he struck out Yankees prospect Jasson Dominguez swinging on a 95 mph fastball, Cubs prospect Matt Mervis looking on a silver at 86 and Marlins prospect Cameron Barstad looking at a bender of 72.
The 6-foot, 170-pound Macko will probably get to pitch in Vancouver for the Canadians instead of against them in 2023. He will turn 23 years old on December 30.
---
Join us tomorrow for the top 10.
---

https://www.battersbox.ca/article.php?story=20221219160228275