Blue Jays 2022 Top Prospects: 10 - 1
Wednesday, January 11 2023 @ 07:00 AM EST
Contributed by: Gerry
On to the top 10.
10. Sem Robberse | RHP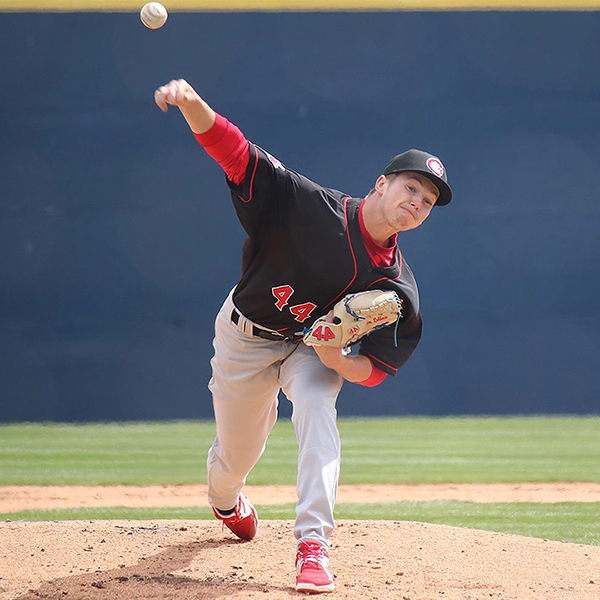 Photo from csplusbaseball.ca
| | | | | | | | | | | |
| --- | --- | --- | --- | --- | --- | --- | --- | --- | --- | --- |
| Year | Age | Team | G | GS | IP | H/9 | HR/9 | BB/9 | K/9 | ERA |
| 2022 | 20 | VAN | 17 | 17 | 86.2 | 7.9 | 0.7 | 2.5 | 8.1 | 4.26 |
| 2022 | 20 | NH | 5 | 5 | 24.2 | 6.9 | 1.5 | 3.6 | 6.9 | 3.65 |
Observers who predicted Sem Robberse would be the breakout pitching prospect in the Toronto system heading in 2022 were not left disappointed.
The Zeist, Netherlands native joined the Jays as a free-agent signing in 2019 and agreed to a $125,000 bonus after impressing Toronto's vice president of international scouting Andrew Tinnish. Robberse enjoyed early success in his pro career by getting the win in his first two professional appearances with the Gulf Coast League Blue Jays, allowing just one run while striking one nine with zero walks over 10-1/3 innings.
After a slow start with Dunedin in 2021, Robberse turned things around with a 3.79 earned run average in June and a 3.00 ERA in July. He won his last three starts with Dunedin, finishing up with a 5-4 record and a 3.90 ERA and a 61-20 K/BB total over 57-2/3 innings with the D-Jays.
Robberse was promoted to Vancouver in August and was 0-3 with a 5.23 ERA with 29 strikeouts and 18 walks over 31 innings. However, he finished the year on a positive note with a quality start before giving up just two earned runs over his last two starts covering 11 innings.
The pitch mix for Robberse is the standard fastball, curveball, slider and changeup. Baseball America rated Robberse's curveball as the best in the Blue Jays minor league system after the 2021 season. Assigned back to Vancouver for the start of 2022, he told C's Plus Baseball that his Dad Raymond, a former pitcher, was instrumental in that pitch's development.
"I developed it relatively late because my Dad always was like, 'You don't need to throw curveballs. It's better to have command first.' And so we started late and since I was already grown like I was 17. So from that point on, you already know how to throw and throw strikes and have command. And then when you start throwing a curveball, it becomes easier to just spin it and throw it easy and that's how it worked out for me. He taught me most of pretty much all my mechanics and always still to this day, he sends me stuff and things for me to get better. He's the biggest influence in my pitching career so far."
Returning to Vancouver to begin 2022, Robberse earned his first Northwest League win by spinning seven shutout innings and striking out seven in Hillsboro on April 26.
After a 2.65 ERA in the season's first month, Robberse was even better in May with five shutout frames and seven Ks against Everett on May 4, six spotless stanzas to earn a victory against Tri-City on May 17 and seven stellar innings of two-hit ball with four strikeouts and no walks in Hillsboro on May 24. The latter effort earned Robberse the Northwest League Pitcher of the Week award for May 23-29 and he finished the month with a 1.75 ERA.
June began on a winning note as Robberse limited Tri-City on the road to just one run over six innings. His next two starts saw him get hit around as he gave up a combined eight earned runs over 9-2/3 innings. He concluded that month with a gutty effort against Spokane on June 28, making it through five innings after giving up two runs in the first. In a conversation with C's Plus Baseball, Vancouver catcher Anthony Morales was impressed with Robberse's performance after the young hurler had to do away with half of his pitching repertoire in that start.
"His last performance here was outstanding because he got something in his (finger) nail so he couldn't spin his slider and his breaking ball. He never quit. He just told me that he was going to go throw a fastball and changeup. And he got like five innings just throwing fastball and change. And that was impressive for me…that was an outstanding job."
Robberse turned in ERAs of 4.61 in June and 4.87 in July despite earning a win with six frames of two-run ball and six whiffs against Hillsboro on July 13. It was after that start he was sent to the Player Development Complex in Dunedin for further development according to Steve Ewen of The Province.
In August, Robberse found his stride again by allowing just three earned runs in his last two starts, logging 10 innings with a 12-2 K/BB total. He received a promotion to Double-A New Hampshire in August. Just like with Vancouver in 2021, he struggled to find his footing after being promoted but his last two starts with the Fisher Cats showed he was making the adjustment to Double-A hitters. Robberse limited host Reading to two runs over five innings on September 10 before striking out nine batters and surrendering just one unearned run over six innings of three-hit ball against Harrisburg on September 17.
Diving into the numbers, Robberse's strikeout rate per nine innings dipped from 9.1 in 2021 to 7.8 in 2022 but he cut down his walk rate from nearly four to 2.5. He gives himself a chance by throwing strikes which he did at nearly a 65 percent clip to go along with a ground ball rate of over 48 percent.
Baseball America praised Robberse for his smooth mechanics on the mound in which he uses "a low-effort delivery with good arm speed…he still has a lean, lanky build to project more velocity to his 89-94 mph fastball. He shows feel to spin both his hard curveball and mid-80s slider, both average pitches that could still tick up. He throws a firm changeup that isn't much of a factor yet…While Robberse's stuff isn't overpowering, the projection indicators are encouraging, with the pitch mix, control and delivery to remain a starter."
The 6-foot-1, 160-pound Robberse is expected to hone his craft back at New Hampshire in 2023 with a chance to get to Triple-A Buffalo later in the season. He will be 22 years old on October 12.
9. Josh Kasevich | SS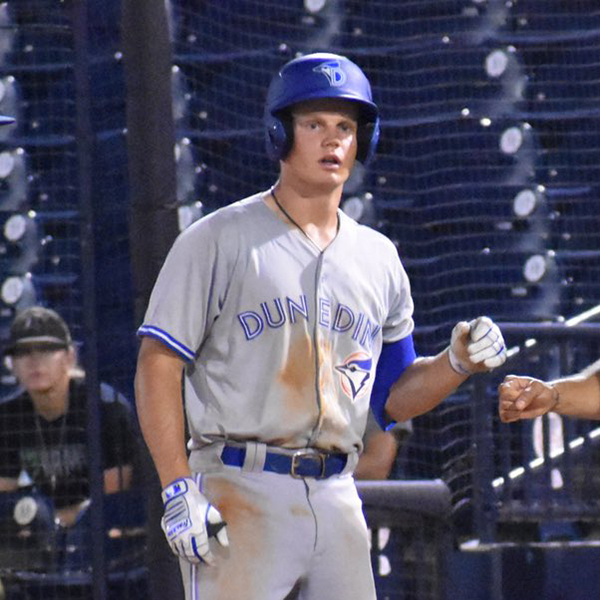 Photo from @DunedinBlueJays
Year
Age
Team
AB
2B
3B
HR
BB
K
SB
CS
AVG
OBP
SLG
2022
21
DUN
107

8
0
0
11
9
0
2
.262
.344
.336
Josh Kasevich was the Blue Jays second-round pick, 66th overall, in the 2022 draft. Kasevich was drafted as a 21-year-old and will turn 22 before the start of spring training. He is listed at 6'2" and 200 pounds and hits and throws from the right side. Kasevich plays short and would be expected to stick there as a professional.
Coming into the draft Kasevich was noted as a hitter with a flat bat plane, therefore not noted for hitting with much power. But he controlled the strike zone well, walking more than striking out in college.
Kasevich appeared in 21 regular season games as a pro and lived up to the pre-draft expectations. He walked more than he struck out and he had a 60% ground ball rate. He pulled the ball 42% of the time and went oppo 43%. His line drive rate was just 14%. He played mostly at short with some time at third base.
His infield fly ball rate was 30% which seems high, he might have been trying to adjust his swing to get more loft. How do the Jays maximize Kasevich's potential? Do they leave his swing as is and look at him as a singles-hitting shortstop or do they try and tinker with the swing to get more loft? I assume the latter is probably what the Jays will be asking him to try. Kasevich, like the other senior draftees, also got some playoff experience as the Dunedin Jays made it all the way to the championship final.
Kasevich should return to Dunedin to start 2023. An aggressive assignment would see him go to Vancouver. With several shortstops in the lower levels of the system, the Jays will have to place guys carefully. He will be asked to work on his hitting, to get some more loft and power in his game without losing that great strike zone control.
8. Cade Doughty | 2B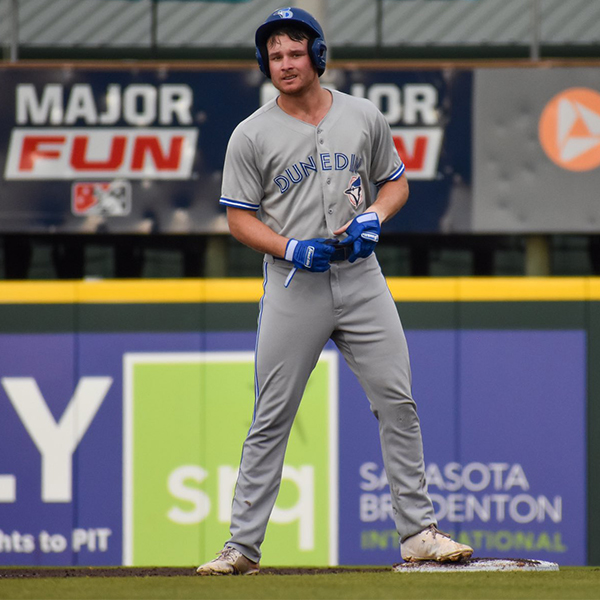 Photo from @DunedinBlueJays
Year
Age
Team
AB
2B
3B
HR
BB
K
SB
CS
AVG
OBP
SLG
2022
21
DUN
103

5
0
6
10
29
3
2
.272
.370
.495
Cade Doughty was selected by the Jays in the second supplementary round of the 2002 draft, 78th overall. Doughty is a right-handed hitter and played mostly second base in college. He is listed at 6'1" and 205 pounds. Doughty was drafted out of LSU, a college baseball powerhouse where he would have faced stiff competition. His father and brother also played for LSU.
Doughty had 119 regular season plate appearances for Dunedin plus more in the playoffs. He hit well in those regular season games with a .865 OPS and .400 wOBA. He had six home runs and five doubles in 26 games. Despite having the reputation of being a contact hitter in college, Doughty was more a free swinger with Dunedin, he ended with 29 K's and 10 walks. He will try and improve that plate control in 2023.
Doughty went on to hit .381 with a .933 OPS in the playoffs.
In the field he split his time between second and third. Pre-draft reports suggested he could handle both. He would not be suited for short and he is not a quick runner.
As with his fellow college 2022 draftees such as Josh Kasevich or Alan Roden, Doughty could go to either Dunedin or Vancouver to start 2023. The Jays will likely leave his bat as is and just loom for him to get some better plate control. He could be a crowd favourite and do some damage to left field when he gets to Vancouver.
7. Gabriel Martinez | OF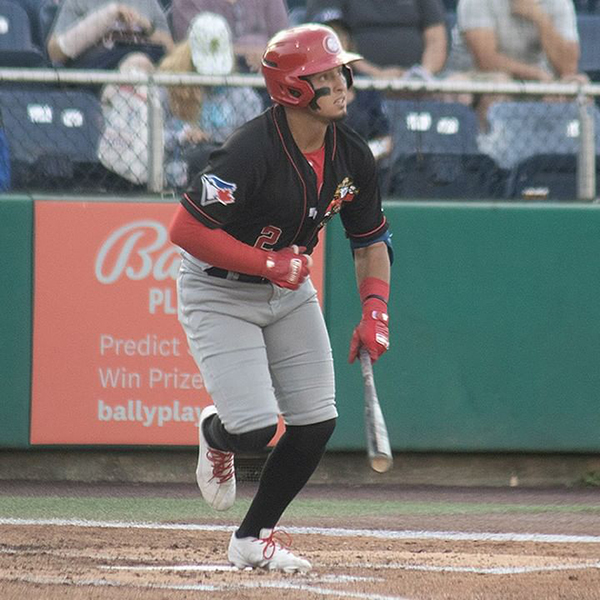 Photo from csplusbaseball.ca
Year
Age
Team
AB
2B
3B
HR
BB
K
SB
CS
AVG
OBP
SLG
2022

19

FCL

10
1
0
0
1
2
1
0
.100
.250
.200
2022

19

DUN

240
14
0
11
22
45
3
1
.288
.349
.483
2022

19

VAN

102
8
0
3
9
17
0
0
.324
.381
.490
"A very good contact hitter, somebody that will have very good discipline at the plate and a very good outfielder."
That was how Gabriel Martinez described himself in an interview with C's Plus Baseball with the help of translator and C's mental skills coach Raul Pimentel. Gabriel or Gabby, which he prefers to be called, provided ample proof of that personal scouting report in 2022.
Martinez signed with the Jays on his 16th birthday as a free agent out of Venezuela in 2018 on the recommendation of Toronto's Director of Latin American Operations Sandy Rosario. The young man from Maracaibo was discovered by the Jays when they were keeping tabs on another pitcher they had signed in Alejandro Melean.
Before joining the Azulejos organization, Martinez did get a brief taste of professional baseball with the Zulia Eagles of the Venezuelan Winter League for the 2018-2019 season. A fan of the Águilas del Zulia growing up, he singled in his lone at-bat as a 16-year-old and played four innings in left field over two games.
The 2019 season saw Martinez join the Dominican Summer League Blue Jays. He had a single and a walk against the DSL White Sox in his first professional contest on June 1 to mark the start of a seven-game hitting streak. However, he tailed off with a batting line of .238/.317/.347 with 13 doubles, two triples, two home runs and 28 runs batted in over 58 games. He also added eight stolen bases but was caught nine times.
Martinez made his U.S. debut with the Florida Complex League Blue Jays in 2021 after COVID cancelled the 2020 minor league season. He reached base with an infield single on the first pitch he saw on American soil as part of a 3-for-5 day at the plate against the FCL Phillies on June 28. After seeing his batting average drop to .229 on July 19, Martinez ran off a 23-game on-base streak that included seven multi-hit games. That boosted Martinez's line to .330/.442/.441 with 14 RBI, 21 walks against 18 strikeouts and seven stolen bases in nine tries.
That led to a September call-up to Dunedin where he enjoyed a spectacular debut with three hits and a walk and scored the winning run against Clearwater on September 17. He went 4-for-12 in his three games with the D-Jays to wrap up the season.
The only negative for Martinez was a zero in the home run column but he took care of that and then some when he came back to Dunedin to start the 2022 season, hitting his first dinger against Fort Myers on April 21. Scuffling with a .158 batting average towards the end of April, Martinez got himself locked in with a 13-game hitting streak that included four consecutive two-hit efforts. He launched eight home runs in May, including a two-homer game against St. Lucie on May 26. That gave Martinez Florida State League Player of the Week honours for May 23-29 in which he batted .435 with three homers and 11 RBI. He was also named the FSL Player of the Month for May after driving in 28 runs and compiling an on-base-plus-slugging mark of 1.094.
That was the good news. The bad news was the month of May ended with Martinez suffering a left wrist fracture during a game against Clearwater on May 31. He had to be replaced by Hugo Cardona during a third inning at-bat which ended with a strikeout.
After a three-game tuneup with the Florida Complex League Blue Jays in early July, Martinez announced his return to the Florida State League with a two-run home run in his first at-bat and a double against Clearwater July 6 to commence a seven-game hitting streak. His best game was a 4-for-4 day at the dish with a walk, a double and three runs scored at St. Lucie on July 16.
In August, Martinez belted a two-run home run in Lakeland during a doubleheader on August 4. Two days later, Martinez was called up to Vancouver and joined the team in time for its series finale against Tri-City at The Nat. He homered in just his second Northwest League at-bat to spark a comeback victory against the Dust Devils.
The momentum from a .932 OPS in August and a batting average of .303 in September carried into the postseason. In the Northwest League final against Eugene, Martinez had at least one hit in all three games, bookending the series with two-hit performances. He came through with a clutch RBI double to tie the game in the ninth but was left stranded as the C's fell in the 10th inning.
Despite a breakout 2022 season, the Jays gambled by leaving Martinez off their 40-man roster but it paid off as he was not claimed by another team.
Baseball America tabbed Martinez as the team's best hitter for average in its Best Tools survey of the Blue Jays system.
"Martinez has impressed scouts with his bat speed and feel to hit. There's projectable power in his frame and good barrel control. He shows above-average bat-to-ball skills, but his approach can get aggressive at times as he's prone to expand the zone. He has enough bat-to-ball skills and power to get by with a certain level of chase, as he's able to make contact with pitches on the fringes of the zone. He's a corner outfield-only player with average defensive skills, and is most comfortable in left field. It's a profile where he'll have to hit but he has the baseline bat-to-ball skills and bat speed to make it work."
Martinez kept his strikeout rate in check as it ranged from 15-17 percent with Vancouver and Dunedin and maintained a walk rate of eight percent at both stops. He did benefit from batted ball luck with a batting average of balls in play of .314 with Dunedin before it shot up to .360 with Vancouver.
On the basepaths, Martinez only attempted to steal five times but was successful on four of them. He did not try to pilfer a base in Vancouver but that was more than likely due to his lingering wrist injury. However, he did ground out into 15 double plays so he will not be confused with Rickey Henderson.
Vancouver fans missed out on Orelvis Martinez at Nat Bailey Stadium in 2021 when the team had to play in Hillsboro during the pandemic. However, they did get to see Gabby Martinez in 2022.
New Hampshire Fisher Cats fans will more than likely get to watch Gabby at the start of the 2023 season. The 6-foot-, 170-pound outfielder will turn 21 years old on July 24.
6. Tucker Toman | SS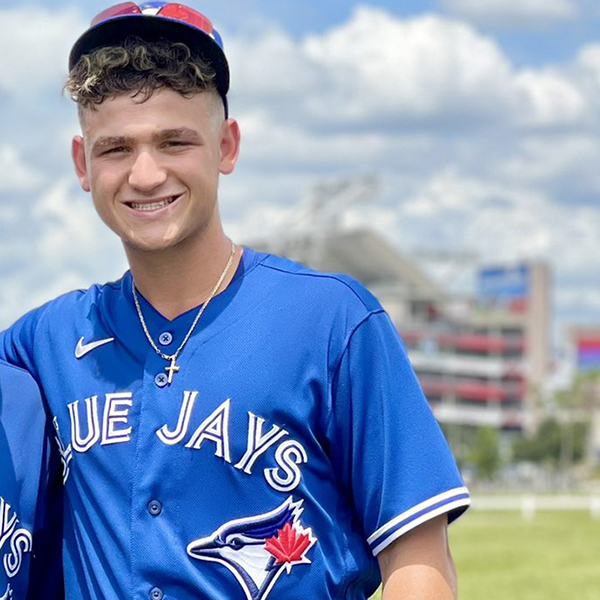 Photo from @manuel_beltre09
Year
Age
Team
AB
2B
3B
HR
BB
K
SB
CS
AVG
OBP
SLG
2022

18

FCL

38

3
0
0
7
12
0
0
.290
.391
.368
Tucker Toman is a bat-first prospect. He was drafted as a shortstop and played short and third in the FCL, although most evaluators believe he will end up at second base mainly due to his lack of sufficient arm strength to handle the left side of the infield. Toman is also described to be an average runner so no bonus points there.
So that leaves the bat. Toman had a mixed spring leading up to the draft, looking dominating at times but also having some struggles at other times. Nevertheless, his bat speed and ability to barrel the ball led him to be a high draft pick. Toman usually handles the strike zone well. His batting from the left side is more advanced than from the right, with more power from the left.
Toman will likely go to Dunedin to start 2023. At that time he will be a 19-year-old. It will be interesting to see where the Jays have him play in the field. In Dunedin, he will work on his defence and hitting from the right side. It can be a lot of work to improve your switch-hitting in the minors. It is double the practice time, or to put it a different way, if you do the same amount of work as the other hitters, you only get half the amount of practice on each side. You also don't know how many left-handed pitchers you will get to face. Knowing that Toman needs to improve his hitting from the right side, Will the Jays start him against left-handed pitchers, which could lower his offensive stats as he gets better from that side? Lots of things to look at for Toman in 2023.
5. Yosver Zulueta | P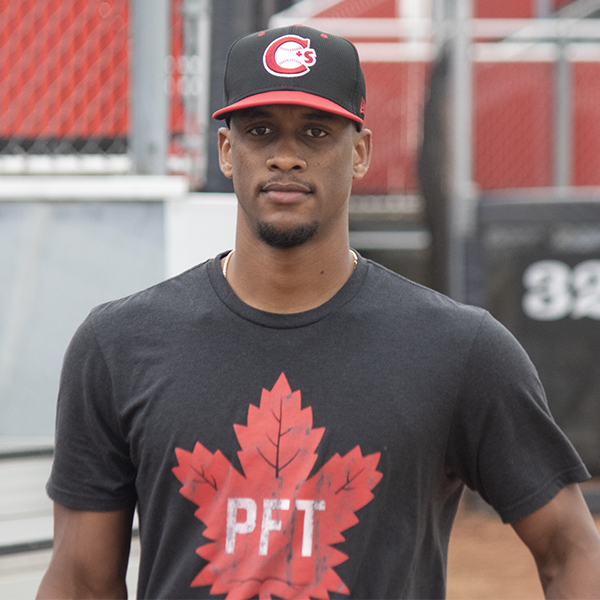 Photo from csplusbaseball.ca
| | | | | | | | | | | |
| --- | --- | --- | --- | --- | --- | --- | --- | --- | --- | --- |
| Year | Age | Team | G | GS | IP | H/9 | HR/9 | BB/9 | K/9 | ERA |
| 2022 | 24 | DUN | 3 | 3 | 12.0 | 6.8 | 0.0 | 2.3 | 17.3 | 3.00 |
| 2022 | 24 | VAN | 6 | 6 | 23.2 | 6.8 | 0.4 | 4.2 | 11.8 | 3.80 |
| 2022 | 24 | NH | 9 | 2 | 15.1 | 5.9 | 0.6 | 8.2 | 14.7 | 4.11 |
| 2022 | 24 | BUF | 3 | 1 | 4.2 | 5.8 | 0.0 | 7.7 | 9.6 | 3.86 |
Yosver Zulueta went 4-for-4 by making a stop at all four full-season affiliates in the Toronto system and nearly made it to the big club in 2022. Health permitting, he should get to the Dome at some point in 2023.
According to Sportsnet's Shi Davidi, the Blue Jays first saw Zulueta at the world junior championships and kept track of him when he was with the Cuban senior national team during its tour of the Canadian-American Association in 2017. The club also liked what they saw of Zulueta at a showcase in the Dominican Republic.
The right-hander from Remedios, Cuba was signed by Toronto's Vice President of International Scouting Andrew Tinnish in 2019 for $1 million. The Jays were able to acquire international bonus pool money to sign Zulueta by trading Kendrys Morales and Dwight Smith Jr. to Oakland Baltimore respectively before the start of the 2019 season.
Tommy John surgery in 2019, the pandemic in 2020 and an ACL injury to his right knee limited Zulueta to just three pitches with the Florida Complex League Blue Jays in 2021. The mishap occurred when he went to cover first base but could not handle an offline throw.
In 2022, Zulueta was back in action at Low-A Dunedin where he struck out seven batters and walked one over four scoreless innings of one-hit ball in Bradenton on April 28. He then punched out 10 batters over 4-2/3 innings of one-run ball against Tampa in his third appearance and that led to him getting a plane ticket to Vancouver.
Zulueta had a scintillating debut at Nat Bailey Stadium as he yielded just two unearned runs and struck out eight while walking one over five innings against Tri-City on May 19, ranging from 77-102 miles per hour. His next home start at The Nat was even better as he blanked Spokane for five innings with just one hit and one walk allowed while whiffing five. He encountered his first bump on the road by giving up five runs over five innings over his next two starts but he bounced back to earn his first Northwest League victory with five innings of one-run ball with five Ks at Hillsboro on June 23.
Vancouver catcher Zach Britton had this to say about Zulueta in a chat with C's Plus Baseball.
"That guy's a tough guy to face. And sometimes when I'm catching him, the fastball, it'll knock the wind out of you if you catch it wrong. That guy's got electric stuff. He's a pro, a pro's pro. Just goes about his business and he's a great teammate with electric stuff."
I also heard a couple of C's pitchers comment on how tough it is to catch Zulueta during long toss due to its movement and ask if they can't catch the ball, how are hitters supposed to hit him?
It was back on the plane again for Zulueta as he was assigned to Double-A New Hampshire. The month of July saw him earn an invite to the All-Star Futures Game where he needed just one pitch to retire New York Mets prospect Francisco Álvarez and end the inning, stranding two runners in the process.
After the All-Star break, Zulueta was sent to the bullpen and had mixed results. He increased his strikeout rate per nine innings from 11.8 in Vancouver to 14.7 in New Hampshire but his walk rate nearly doubled from 4.2 to 8.2. He missed most of August after going on the injured list due to knee and shoulder injuries but was able to return to the Fisher Cats in September.
The Jays bumped Zulueta up to Buffalo late in the season to give him a taste of Triple-A life and added him to their 40-man roster in early November.
Zulueta had a ground ball rate of over 50 percent at Low-A and High-A but that dipped to over 38 percent and 41 percent at Double-A and Triple-A. His line drive rate shot up from 14 to 17 percent at the A-levels to 29 and 25 percent at AA and AAA respectively.
A four-pitch pitcher, Baseball America provided this breakdown of Zulueta after the season.
"Zulueta is a high-powered righthander with a fastball that can reach triple-digits with ease. His fastball comfortably sits at 96-97 mph as a starter and repeatedly reaches 100 with heavy armside run, making it particularly effective against lefthanded hitters. His fastball can play down at times and be hittable, especially against righthanded batters, but he's able to offset that with a plus, mid-80s slider that features a foot of horizontal break. Zulueta throws his slider nearly as often as his fastball against righthanded hitters and commands his slider better, landing it for strikes more consistently. Zulueta's arsenal is built around his fastball and slider. He has a mid-80s changeup that will flash above-average, but he struggles to execute it consistently. His curveball is a softer variation of his slider with greater depth at 78-80 mph…He has below-average control and may profile best as a reliever, but the Blue Jays say they were just managing his innings. Zulueta's power stuff and feel for sequencing give him a chance to start. His powerful fastball/slider combination gives him a fallback as a high-leverage reliever."
The 6-foot-1, 190-pound Zulueta is expected to return to Buffalo to begin the 2023 campaign and will likely be back in a starting role to build up his innings before a call to the bigs. He will turn 25 years old on January 23.
4. Brandon Barriera | LHP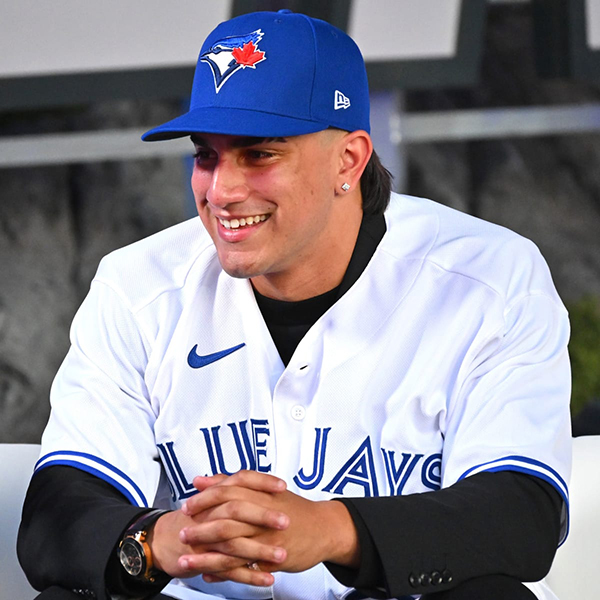 Photo from Sports Illustrated
Year
Age
Team
G
GS
IP
H/9
HR/9
BB/9
K/9
ERA
2022
18
None
0
0
0.0
0.0
0.0
0.0
0.0
0.0
Brandon Barriera was the Jays first-round pick in the 2022 draft. He did not pitch after being signed which was a bit of a surprise as Barriera cut short his high school season to be ready for the draft. Barreira was drafted out of South Florida and has some experience with the USA underage national teams.
Barriera is listed at 6'2" and 180 lbs and throws left-handed. Barriera was 18 when drafted and will turn 19 during spring training.
A fastball/slider combination is what got Barriera noticed. He sits mid-90s with the fastball and he can hit 98-99. The Blue Jays likely have him on an arm-strengthening schedule so he could see those speeds regularly hit 100 with some development. His high-80s slider ranks high on the spin level measurement at 2500 to 2600 rpm which gets him a plus grade. Baseball America has graded the fastball as a 60 and the slider as a 65. That's pretty good for an 18-year-old. Those two pitches drive his value but Barriera has also shown a decent change up and a curve. Dominant high school pitchers don't get to use their third pitch much so the change up needs time. I would imagine Barriera will be under instructions to throw it at least five times in every start next season. That third pitch is key to his development as a starting pitcher.
Because Barriera didn't pitch professionally in 2022 it is hard to say where he will start 2023. If the Jays want to protect him he could stay in the complex league/extended spring training to start. But you would expect that as a first-round pick, he should be ready for Dunedin.
3. Orelvis Martinez | SS/3B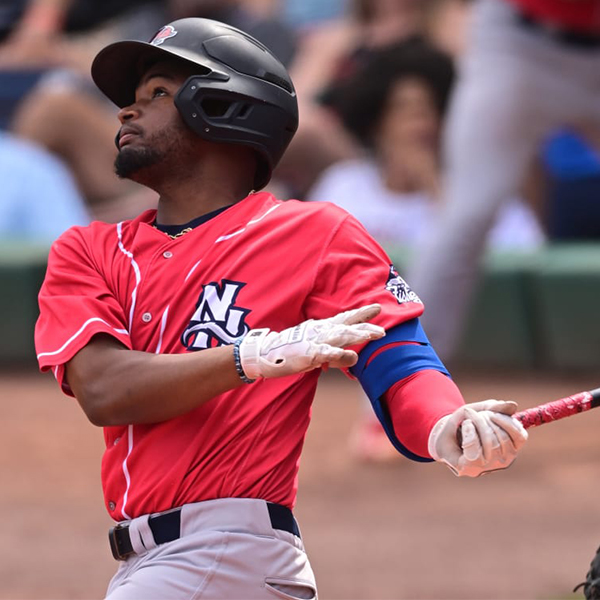 Photo from MiLB.com
| | | | | | | | | | | | | | |
| --- | --- | --- | --- | --- | --- | --- | --- | --- | --- | --- | --- | --- | --- |
| Year | Age | Team | AB | 2B | 3B | HR | BB | K | SB | CS | AVG | OBP | SLG |
| 2022 | 20 | NH | 433 | 15 | 0 | 30 | 40 | 140 | 6 | 3 | .203 | .286 | .446 |
Here is your abbreviated Orelvis Martinez scouting report. If he learns which pitches to swing at, he could be a star. If he doesn't, he will have a very short career.
You want more? Orelvis is one of the best-known Blue Jay prospects. He had a 150 wRC+ in rookie ball at age 17. After missing 2020, the Covid year, he went to Dunedin in 2021 and had a 149 wRC+. That earned him a late-season call-up to Vancouver where he hit nine home runs in 27 games, although the home runs took the attention away from a .214 batting average and 22% K rate. Many observers thought Orelvis would be back in Vancouver to start 2022 but the Jays surprised by sending him to New Hampshire off some good appearances in major league spring training games. That didn't work out. He struggled offensively all season hitting just .203, his K rate was up a bit at 28% but his BABIP was just .217.
Let's look at plate discipline. Orelvis walks at an 8% clip and strikes out 28% of the time. That ratio should be one-to-two but it is one to 3.5. That's not fatal but Orelvis' swinging strike percentage was 17%. The only hitter from the top 30 above that is Rainer Nuñez. In comparison, Gabriel Martinez and Addison Barger are at 12%, Spencer Horwitz at 10% and Gabriel Moreno and Otto López at 7%. If we look at pitches per plate appearance Orelvis is around 3.5 with the better hitters around 4.
Batted ball data shows a 50% fly ball rate for Orelvis, the second highest in the Jays system. His line drive rate at 16% is in the bottom 20%. Most of the better hitters have a line drive rate above 20%, for example, Gabriel Moreno is at 26% and Addison Barger, another home run hitter, is at 22%. So what do we make of all these numbers? Orelvis is swinging and missing at too many pitches and when he does connect he is more likely to hit a fly ball and less likely to hit a line drive. This could be because he is selling out for the long ball or it could be because he is swinging at the wrong pitches. Anecdotally, pitchers were throwing sliders away to Orelvis and he was reaching for them and popping them up. AA pitchers are smart, and if they know you will swing at pitches off the plate, that's what you will see. In Orelvis' case, his first couple of weeks of the season were very good. He then went through a rough patch before homering eight times in May. It was July and August that were his worst months, and that was when teams were seeing him for the second time and learned how to pitch to him.
So what is the good stuff? He has big, big power behind top-notch bat speed. Despite the bad swings he hit 30 home runs this season. His isolated power is tops in the Jays system alongside Addison Barger. He played this season as a 20-year-old in AA, very young for the level.
This was his first experience of struggling as a baseball player. Some players find it hard to fix things mid-season and, as noted above, he hit a lot of home runs in the first two months. So, to be positive, Orelvis might not have bought into the "I have to change" camp until August. He did hit .256 in September. He now has an off-season to reflect and understand what he needs to change.
Defense reports on Orelvis are not great. Scouts always thought he would move off shortstop but he played more at short than third this season. Scouts now question whether he will be good enough at third to play there. However, if he hits bombs, there will be a place somewhere.
To return to the abbreviated scouting report. If Orelvis can be more selective and learn to wait for better pitches he could be a star. If not, this ranking is too high. He just needs to look at Addison Barger who reduced his K% by 8% from A-ball to AA. Orelvis needs to knock 8% off his K% in 2023.
Orelvis is likely to revisit New Hampshire next April. He is likely to make noise again in spring training when he will see a lot of fastballs in the first couple of weeks. That's his sweet spot, fastballs.
2. Addison Barger | SS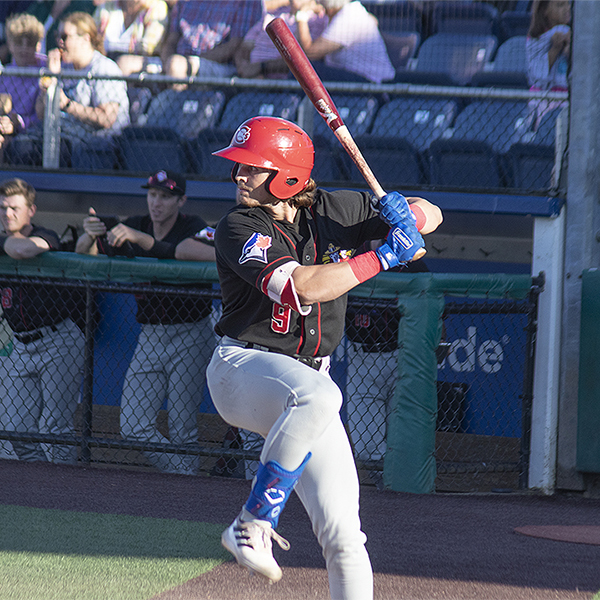 Photo from csplusbaseball.ca
Year
Age
Team
AB
2B
3B
HR
BB
K
SB
CS
AVG
OBP
SLG
2022

22

Van

260

21
2

14

25

76

7

2

.300

.366

.588

2022

22

NH

176

11
0

9

18

50

2

2

.313

.384

.528

2022

22

BUF

31

1
0

3

5

5

0

1

.355

.444

.677

I'll take the easy pun here. Addison Barger barged his way onto Blue Jays prospect lists wherever fine prospect lists are sold after a spectacular 2022 season.
Barger turned down a commitment to the Florida Gators after Toronto selected him in round six of the 2018 MLB Draft out of King High School in Tampa on the recommendation of scout Matt Bishoff.
Agreeing to a $271,100 signing bonus, Barger hit just .194 with two home runs in 49 games with the Gulf Coast League Blue Jays in 2018 but did draw a walk in over 11 percent of plate appearances with a .318 on-base percentage.
The 2019 campaign turned out to be a short one for Barger. He played just 13 games with the Bluefield Blue Jays and slashed .283/.345/.434 but he was placed on the restricted list.
Barger had to wait a while before returning to the diamond again. After the 2020 pandemic, he returned to action with the Dunedin Blue Jays in 2021 and in hindsight, turned in a season that really was worthy of a top-30 showing on this prospect list a year ago.
With the D-Jays, Barger slugged .492 with a .826 on-base plus slugging percentage after racking up 18 homers and 80 RBI. He won two Florida State League Player of the Week awards in May and September. His best game was a perfect 5-for-5 performance against Tampa on May 28 as he clubbed two home runs and drove in seven to complete the cycle. He was called up to Vancouver/Hillsboro for the final week of the 2021 season and batted .158 in five games.
Before returning to Vancouver for the 2022 campaign, Barger provided a few hints of what was to come when he homered off Jays starter Kevin Gausman during an intrasquad game in spring training. He also went 2-for-4 in Grapefruit League action, including an RBI double against Pittsburgh reliever Anthony Banda on April 1.
In Vancouver's season opener, Barger's first hit was a two-run home run in the C's opening night win in Spokane on April 8. That was the start of an 11-game hitting streak to start the year. He also recorded a hit in 10 straight games that resulted in Northwest League Player of the Week honours on May 30-June 5. He put together another 11-game hitting streak in June.
Born in Bellevue, Washington, Barger was able to pay a visit to Everett Memorial Stadium where he grew up watching the AquaSox as a kid. He homered in his first at-bat on the Fourth of July and racked up three doubles and a walk in the series finale. That resulted in a promotion to Double-A New Hampshire.
Barger continued to crush the rawhide as he began his Fisher Cats tenure with 10 hits in his first 22 at-bats and recorded 14 multi-hit games, including two four-hit efforts and a trio of three-hit performances.
Barger was then called up to Triple-A Buffalo for the end of the season and all he did was reel off a seven-game hitting streak that included a two-homer game against Rochester on September 22.
The year for Barger ended with a trip to the Arizona Fall League where he batted .189 with two home runs and a spot on the Blue Jays 40-man roster in November.
Looking back on the year, Barger struck out swinging 26 percent of the time with Vancouver but did manage to slightly curb the whiffs with by more than half a percent with New Hampshire. He walked just over eight percent of the time with Vancouver but bumped that up to just over nine percent with New Hampshire. While the small sample size alert applies, Barger's K and BB rates were identical at nearly 14 percent with Buffalo and that continued in the AFL with a ball four rate of over 12 percent and a strike three rate of nearly 16 percent in 16 games.
In an interview with FanGraphs at the end of the season, Barger said he bulked up from the 155-160 pounds he weighed as an 18-19-year-old to his current 200-plus. He also talked about working with an iPitch pitching machine to improve his approach at the dish.
A big fan of Seattle Mariners legend Ichiro Suzuki growing up, the left-handed hitting Barger told Steve Ewen of The Vancouver Province that he is considering the idea of becoming a switch-hitter.
With the glove, Barger made 36 starts at shortstop and 19 at third base with Vancouver. He nearly matched his length of time at the hot corner with New Hampshire by making 18 starts, just two fewer than at the six-spot. His defensive assignments in Buffalo were split evenly with three at short and three at third. Interestingly, Barger made five starts at second base in the Fall League as well as eight starts at short and one at third. He made a combined 19 errors in all four stops but turned in his better fielding percentages at short.
Like Batter's Box, Baseball America did not rate Barger among its top 30 Blue Jays prospects heading into 2022 but he now is in the top five.
"Barger has an unorthodox setup at the plate with an upright, open stance and a pronounced leg kick he uses as a timing mechanism. He looks to do damage on the inner half and shoots balls to his pull side, with 24 of his 26 home runs in 2022 going to right field. After previously struggling to control his aggressiveness, Barger has become more subdued to cut down his chase swings and make more contact in the zone. He's still a fringy hitter who doesn't walk much, but he makes enough contact to get to his power. Barger can play multiple positions on the infield. His sound actions and plus arm strength should allow him to stick at shortstop as an average defender, and he can also capably play second base or third base. Barger's power and defense give him a chance to be a regular in the middle infield. He is in position to make his major league debut in 2023."
The 6-foot Barger began the 2022 season playing in Canada with Vancouver and he may very well end the 2023 season north of the border with Toronto with a stop in Buffalo in between. He will turn 24 years old on November 12.
1. Ricky Tiedemann | LHP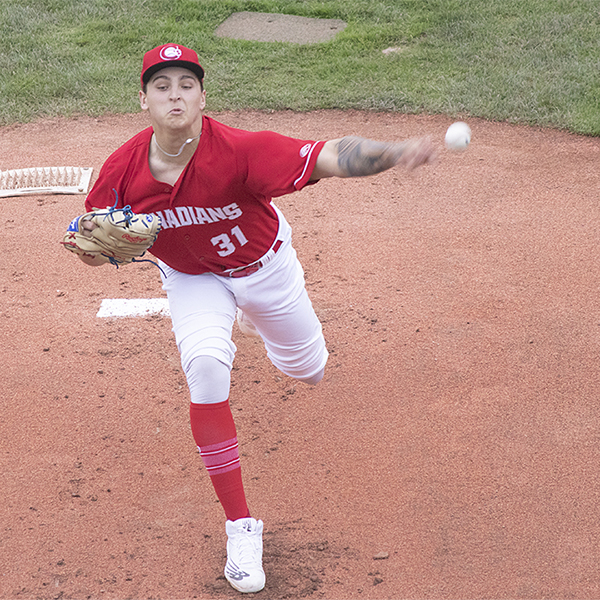 Photo from MiLB.com
Year
Age
Team
G
GS
IP
H/9
HR/9
BB/9
K/9
ERA
2022

19

DUN

6
6
30.0
3.3
0.3
3.9
14.7
1.80
2022

19

VAN

8
8
37.2
5.5
0.5
2.9
12.9
2.39
2022

19

NH

4
4
11.0
4.1
0.0
3.3
11.5
2.45
To paraphrase the late deejay Casey Kasem on the American Top 40, (begin drum roll here), the new number one prospect in Blue Jays land is...(end drum roll here) - Ricky Tiedemann!
The talented lefty from Long Beach, California moved into the top spot after the recent trade of catching prospect Gabriel Moreno and outfielder Lourdes Gurriel Jr. to the Arizona Diamondbacks for outfielder Daulton Varsho.
Tiedemann was taken in the third round of the 2021 MLB Draft out of Golden West College on the recommendation of scout Joey Aversa. Had Aversa had his way, Tiedemann would have been selected by Toronto in the 2020 draft according to Sportsnet's Shi Davidi.
No team met Tiedemann's asking price in the 2020 draft after completing his high school career at Lakeview High in California. Teams may also have been hesitant to commit to him when he broke his right, non-throwing wrist on a collision at first base late in the season" according to Baseball America. He had a commitment to San Diego State but reversed course to go to Long Beach City College where his older brother Tai Tiedemann, a pitcher in the Texas Rangers organization, had pitched. However, the pandemic scuttled those plans and he opted to go to Golden West College instead in 2021.
In 38 innings with the Rustlers, Tiedemann struck out 60 batters over 38 innings and posted a 2-1 record with a 3.55 earned run average. His final start of the year was a complete-game shutout in which he struck out 13 batters with the Rustlers against Cypress on May 27.
Tiedemann became the first junior college pick of the 2021 draft and was given a signing bonus of $644,800. He was not assigned to a minor league affiliate as he attended fall instructs instead.
Baseball America reported that Tiedemann's velocity "hit another gear when he reported to the Blue Jays, ranging from 94-98 mph in short bursts," at the team's new Player Development Complex in Dunedin. The publication also pointed out his "physical appearance and pitch mix have long earned comparisons to Sean Manaea".
When the Jays traded 2021 first-round hurler Gunnar Hoglund to Oakland for third baseman Matt Chapman and lost their second-rounder for signing free-agent outfielder George Springer, Tiedemann became the highest remaining draft pick from Toronto's 2021 draft.
Tiedemann's pro debut resulted in two wins out of the gate, spinning five innings of two-run ball with eight strikeouts against Bradenton on April 8 before blanking Tampa with eight more punchouts over five frames for a second straight win in Tampa on April 15. Tiedemann rang up nine batters to offset four walks over five more spotless stanzas in Fort Myers on April 22. And to continue repeating myself, he put up a zero on the linescore over five innings, striking out nine of the 15 men he faced in a perfect outing to earn the win in Bradenton on April 29. Nobody should have been surprised when he won the Florida State League Pitcher of the Month for April.
A promotion to Vancouver followed and so did the Ks as he allowed just two runs (one earned) and struck out nine in his C's debut on May 20 versus Tri-CIty. In his next start at Hillsboro on May 27, he allowed just one hit and a hit by pitch over…wait for it…five shutout innings that included four whiffs.
Tiedemann got the call to Vancouver as he went 3-1 with a 1.80 ERA with a 49-13 strikeout/walk total in 30 innings with the D-Jays. He made his C's debut on May 20 against Tri-City at Nat Bailey Stadium and allowed two runs (one earned) while ringing up nine batters in 4-2/3 innings. On May 27 in Hillsboro, Tiedemann shut down the Hops over five innings, allowing just one hit and a hit by a pitch while collecting four Ks. His first Northwest League win came on June 4 against Spokane with just one unearned run allowed over five innings in which he struck out six. In his next start at Tri-City on June 10, you won't believe this. I hope you're sitting down. If you're thinking he threw five shutout innings, you are absolutely correct. Si! Cinco entradas en blanco! He struck out nine to offset three hits and a walk for his segunda victoria in a Vancouver uniform.
After a sparkling 0.98 ERA in June, things did not go quite as well for Tiedemann when he pitched in Everett on July 8. He gave up four runs over 4-2/3 innings, including a two-run home run by rehabbing Seattle Mariners outfielder and 2020 American League Rookie of the Year Kyle Lewis. After getting Lewis to ground out to third, Tiedemann was unable to close the door in the fifth when Lewis kept the innings going with a two-out single to left. Still, he managed seven strikeouts in what turned out to be his last outing with Monty's Mounties.
Tiedemann's next scheduled start in Vancouver was scrubbed as he joined fellow C's hurler Yosver Zulueta at the All-Star Futures Game in Los Angeles where he set down the side in order in his lone inning of work.
In an effort to limit his innings, Tiedemann was transferred to the Development List as he reported to Dunedin to hone his craft at the Player Development Complex. He was then promoted to Double-A New Hampshire in August and kept the opposition scoreless in three of his four outings before he was shut down for the year and returned back to the PDC in Dunedin.
In an interview with C's Plus Baseball, Tiedemann spoke about his pitch mix which consists of a circle change, slider and four-seam fastball.
"My four-seam has a little bit of a run to it so it's just a little bit of movement automatically. I started throwing that changeup when I was nine years old. My pitching coach in travel ball taught me so I kind of stuck with it. I never changed the grip on it or anything. I just kept throwing it and I kind of got comfortable with it so it's just been the same ever since. And naturally as I started throwing harder, it's been tougher for hitters to pick up differences in the speeds and everything so it just automatically just came together. The changeup has been working well too and so is the fastball."
Tiedemann also talked about the progress of his slider.
"I think it's really good, especially when it's dialled in. My biggest thing is just getting it in the zone and getting it where I want it to be. But other than that, the movement is great. I feel like I'm in a good spot with it. All it is is just throwing it more, getting more comfortable with it but yeah, I feel good with it."
Blue Jays general manager Ross Atkins went on record during the 2022 season saying Tiedemann has the ability to compete right now in the major leagues and Baseball America agrees.
"A tall, physical specimen whose frame balances strength and athleticism, Tiedemann sets up on the third base side of the rubber and delivers the ball from a low arm slot. This creates a difficult angle for both lefthanded and righthanded hitters and allows him to wear out the armside half of the plate. Tiedemann mixes three pitches, topped by a plus mid-90s four-seam fastball with heavy armside run. His sweepy slider sits 80-82 mph with a foot of horizontal break and is another plus pitch he mostly throws against lefthanded batters. His changeup is a plus-plus mid-80s offering with tumble and fade that plays off his fastball and annihilates righthanded hitters. Tiedemann is a good athlete who throws all three of his pitches for strikes with above-average control. All of his pitches drive swings and misses, and he has the ability to keep hitters off-balance with advanced sequencing. Tiedemann's strong three-pitch mix, unique release characteristics and power from the left side give him the ingredients to develop into a front-of-the-rotation stalwart. He'll see Triple-A and possibly the majors in 2023."
The 6-foot-3, 220-pound Tiedemann will turn 21 years old on August 18.
---
And that's it, we hope you enjoyed it. Big thanks to #2JBrumfield for being the other half of the top 30 dynamic duo. Come back tomorrow for some extra prospect content.
---

https://www.battersbox.ca/article.php?story=20221219160811527