One of These Teams is Going to the Post-Season...
Friday, August 19 2005 @ 08:00 AM EDT
Contributed by: Magpie
Well, it wasn't supposed to go down that way.
But they burned his brother, you know,
And they left him lying in the driveway.
They let him down with nothin'.
He tried to do his best but he could not.
They are trying to do their best. It's just that... they're not very good. Try not to laugh, these guys are trained professionals:

WEST	         W	L	PCT	GB	HOME	ROAD	RS	RA	
San Diego	59	61	.492	-	32-27	27-34	509	547	
Arizona	        57	65	.467	3	27-32	30-33	538	639	
LA Dodgers	55	65	.458	4	29-30	26-35	520	584	
San Francisco	53	67	.442	6	25-33	28-34	507	591	
Colorado	45	76	.372	14.5	31-34	14-42	531	676	

Let's update the Progress Chart. Are they still building a ski slope?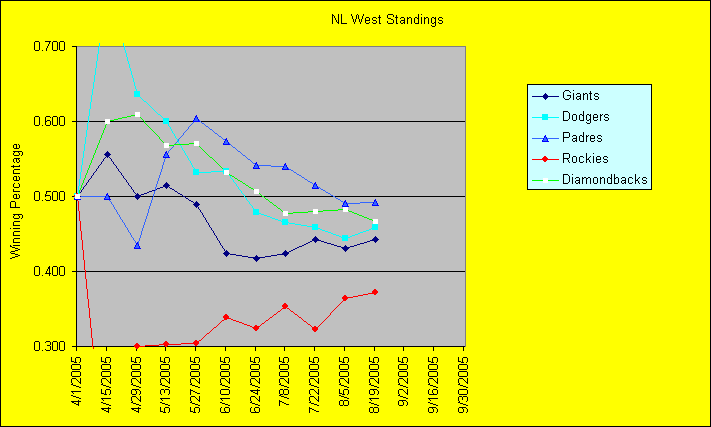 Oh dear. Oh dear. The Rockies at least are making some progress, and have slowly improved from Awful to Bad. They soon may be within reach of Mediocrity...
Well, let's make another pretty picture! I've learned a new skill, you see. I want to show off. I'm a kid with a new toy. Let's divide the season into a series of 10 game segments, and see how everybody played.
It's been a while since anybody in this division got hot, don't you think? We have to go back to May, when the Padres were briefly kicking butts and taking names. And that, along with the Dodgers strong getaway, represent the only time teams in this division have actually played well for longer than a week.
Now a confession - I was working on this Update, and I had about half a dozen windows open. And having finished my work, I started closing the windows.
And I closed one too many.
And my Update... POOF! Gone. Vanished into the ether, its electrons scattered.
It's the NL West - these bozos are barely worth five minutes of your attention, never mind a couple of hours of my labour. Bitterness... frustration...
What has been lost? A nostalgic look at all the former Blue Jays now prowling the NL West. I assembled all their numbers and everything. I'm not doing it again.
There's a couple of big hitters, Jeff Kent and Shawn Green. They've both been gone a long, long time. They both make a gazillion dollars.
Woody Williams is in San Diego - like Green, he sports a Toronto World Series ring (maybe Kent does as well).
Woody is the only ex-Jay who is a starting pitcher in the NL West, but there are a number of relievers employed in the division. Scott Eyre of the Giants has been by far the best of them. Giovanni Carrara is still with the Dodgers. Aquilino Lopez was waived by the Rockies, Kerry Ligtenberg was DFA'd by the Diamondbacks. Paul Quantrill, however, has gotten more or less back on the rails in San Diego.
As everyone knows, the Blue Jays lack depth at catcher. Mike Matheny is the Giants starter, of course, making way more money for being older and not-as-good as Gregg Zaun. Todd Greene is still in the league, working in Coors Field. He hasn't changed, by the way. He can still hit, he just has trouble with the throwing and the catching.
Jose Cruz is a Dodger now, having been dumped by the Diamondbacks and the Red Sox in succession. He joins Jayson Werth in the outfield - Werth hasn't played nearly as well this year as he did in 2004, and has had trouble staying healthy.
I haven't heard anyone lamenting the fact that Cesar Izturis is no longer roaming the Rogers Centre infield - doubtless because this would necessarily also involve watching him hit. And that is not nearly as pleasant.
---

https://www.battersbox.ca/article.php?story=20050819005958308