Learnin' the Words, Turnin' the Double Play
Wednesday, April 12 2006 @ 08:00 AM EDT
Contributed by: Jonny German
Doin' some damage in my own subtle way

The Sox enjoy their home opener, beating the Jays 5 - 3.

Star of the Game: Josh Beckett recovers from an extremely shaky first inning to shut the good guys down for 7 innings.
Unsung Hero: Mike Lowell goes 4-for-4 with 3 doubles. This is not a good sign. He's supposed to be a weak link, and came into the game hitting .190/.292/.381 in 21 AB. Look for Sweet Smelling Gus to remind Lowell today that he lost it a year and a half ago.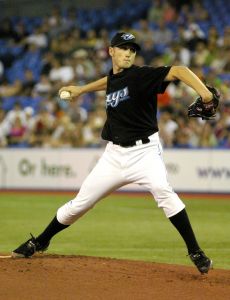 For the Jays: Josh Towers recovers from a 2nd inning whuppin' to hold the Sox off through the 6th. The bullpen needed that.
Defensive Play of the Game: With Lyle Overbay at first, Bengie Molina smacks a liner towards right field which Mark Loretta leaps to get a glove on, deflecting it towards shortstop Sea Bass Gonzalez, who picks it up, steps on the bag, and fires to first for not just your average 4-6-3.
Defensive Misplay of the Game: Wily Mo Pena gives Frank Catalanotto's fly ball the little extra boost it needs, clanking it off his glove and into the bullpen for a homer. Did you know you can watch the top plays of the previous day's games for free at MLB.com? I wouldn't lie to you about this. Follow this link, and look for "Top Play".
Qué Onda? Jerry Howarth mentions the wave splashing around Fenway in the bottom of the 8th. Ha! Idiots got idiot fans too!
Streakers: Vernon Wells has at least one hit in all 7 games this season. Ben Molina has at least one base knock in all 5 games he's played. Aaron Hill has a 6-gamer that started in the 2nd game of the season.
Injury of the Game: Trot Nixon strains his left groin at some point in the 3rd. He says he'll miss at least 5 days.
But More Importantly: The Blue Jays announced that Roy Halladay will miss his next start with "stiffness in his right forearm".

2 DP Too Many DP: As much as it felt like the Jays hit into about 16 double plays, it was actually just the highlight reel one to end the 4th and the knife-in-the-throat one to snuff the first. Shea The Hit Man Hillenbrand has now tallied 4 GIDPs and 2 HBP on the young season. Last year he totalled 21 and 22. The team is on pace for 185 rally killers, compared to 125 in 2005. American League average was 133, and only 3 teams hit into fewer than the Jays. Who knew?
Is it OK to Panic? Not yet.
When? Maybe in a week. But panic's a strong word, unless something is really wrong with Doc. If Shea hasn't started into his customary hot start a week from today and Rios is still hitting well, look for Hinske to move into a platoon with Hillenbrand and Rios to play every day. Concurrently, expect better D and fewer DPs.
Boxscore: Voila.
Elsewhere
Contender or Pretender? I say Chien-Ming Wang was well over his head last year. Millions of Yankee fans disagree. The Kansas City Royals have more influence than me and several of those Yankee-ites, and they see things my way: they cuffed Wang for 8 hits, 2 walks, and 5 runs over 6 innings and nearly spoiled the Yankee home-opener. Down 9 - 7, two Royals reached with one out against Rivera in the ninth, but he came out of it by striking out Reggie Sanders and catching a Doug Mientkiewicz liner back up the middle. I say Mint-kay-vich. What say you?
Curious Line of the Day: Brian Bannister held the sad-sack Nationals to just 3 hits and no walks through 7 innings, but managed to strike out only one. And after an uneventful Aaron Heilman eighth, Billy Wagner came on to walk three Nationals in the ninth. No harm done.
That Warn't No Pitchin' Dool: On paper, the best matchup of the night was Danny Haren versus Brad Radke. On the field, they surrendered 4 bombs and 11 runs.
Back In The National: Bronson Arroyo is lovin' it, collecting his second W of the season by tossing 7 shutout innings and hitting his second round-tripper in as many games. While Bronson leads Wily Mo 2-0 in home runs hit, he trails Pena 2-1 in home runs allowed.
Today
Gustavo Chacin in the blue corner, David Wells in the red. Last year the Jays boomed Boomer for 32 hits and 18 runs over 26-1/3 innings, 4 starts, a nifty 6.15 ERA. That'll do!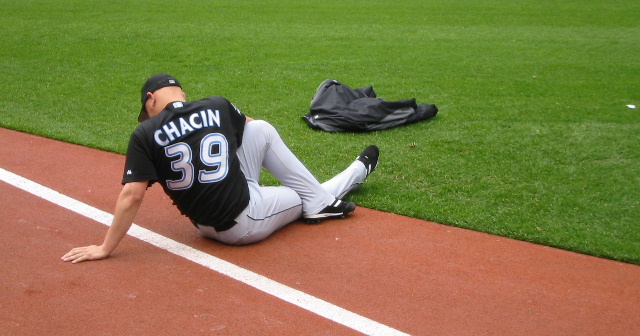 Josh Towers is brought to you by the man, the myth, the legend, A-ron Reynolds. Gustavo Chacin is brought to you by Bradley Newbatt and the letter F.
---

https://www.battersbox.ca/article.php?story=20060411231016278