TDIB: Jays beat Angels
Thursday, May 18 2006 @ 10:00 AM EDT
Contributed by: Gwyn
"He's a strike-throwing machine," John Gibbons said. "He's so far ahead of where he ought to be."

Casey Janssen had 42 tickets reserved for friends and family last night; he didn't let them down.


IP H R ER BB SO HR PC-ST ERA
8.0 2 0 0 0 3 0 88-59 3.06

Not a bad line for a guy who was in A ball a year ago. The outing did a lot of good to his career totals too, he now sports a rather nifty 3.06 ERA in 32.1 Innings with a 13/5 K/BB ratio and a terrific 54% groundball percentage.

Star of the Game: Janssen, don't you think?

Unsung Hero: Gregg Zaun was dropped into the DH spot at the last minute and responded with a 3 for 4 night with a run and an rbi. Having all those third basemen around was pretty useful last night as Hinske could step in with Glaus and Hillenbrand needing a night off.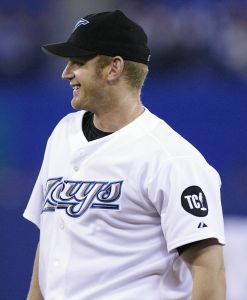 Defensive Play of the Game: Lyle Overbay's snag of a liner from McPherson in the top of the third that was threatening to break the sound barrier, it saved a hit and kept Janssen perfect through the earlier going.

Box Score: right here

Elsewhere in the East: Baltimore finally realised that they are allowed to beat Boston. Erik Bedard had one of his good days, although he seemed very disaffected with Ramon Hernandez. Wakefield pitched well for the Sox but his knuckler was hard to handle, even for the master of the art Mirabelli, and he had a couple of wild pitches. Chris Ray made things interesting in the ninth, giving up a couple of runs, but he avoided a meltdown and came back strong to finish off the Sox. New York took another from Texas as Jorge Posada continued to ride a hot streak with 2 more rbi, he's at .310/.420/513 for the season now. Wang got the win going 8 Innings for two earned runs and Rivera got the save. Tampa Bay lost to Chicago, although Seth McClung had another good start, he has an ERA of 2.50 over his last four starts. Lugo came in in the eighth though and the White Sox got to him for three runs and that was all the help Garland, Cotts and Jenks needed.

Standings:
EAST               W            L            PCT           GB    
Boston             23            15        .605            -    
NY Yankees         23            15        .605            -   
Toronto            22            17        .564            1.5    
Baltimore          19            22        .463            5.5    
Tampa Bay          16            24        .400            8    


Today: HLH takes the mound against John Lackey at 10:05
---

https://www.battersbox.ca/article.php?story=20060518094154157