TDIB: Jays 6 - Devil Rays 4
Tuesday, May 23 2006 @ 08:45 AM EDT
Contributed by: Gwyn
The Jays seem to have avoided the Coors Hangover effect.

Fun afternoon at the RC yesterday a good sized crowd having a lot of fun (at least where I was), there was a nice buzz about the place yesterday. They didn't get to see the greatest game ever, but there was plenty going on - mainly thanks to the bullpen. Casey Janssen clearly didn't have his best Anaheim stuff going for him yesterday, but he battled hard and left to an appreciative hand after giving up 4 runs in 6 2/3 Innings. Luckily Seth McClung was back to his normal form for the opposition, after a recent hot streak, and the Jays were able to knock him around for 6 runs in 7 Innings with Glaus and Hinske going deep. The bullpen looked a little shaky after taking over from Janssen, although no runs were given up there seemed to be lots of Rays popping on the basepaths in the later Innings, they had the tying run as close as third in the eighth. Even Sir Robert Victor let a couple of them on - in between strikeouts.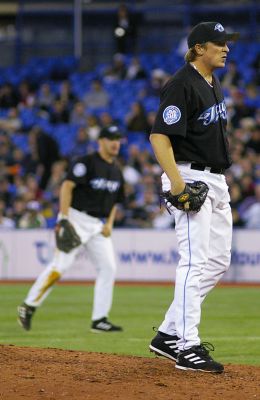 Star of the Game: Julio Lugo was an impressive 3 for 5 and as he's on both my fantasy teams he earns extra Star of the Game points.

Crazy: Who sings Glaus' striding to the plate song? It's quite growing on me. Mind you I liked Josh Paul's music too yesterday.

Defensive Play of the Game: Apparently Hinske made a spectacular diving catch, some accounts even say game-saving, but I missed it as a late lunch went on a couple of drinks longer than it should have and I didn't make it to the RC until the top of the third.

Defensive Mis-Play: In the Ninth Ryan was far too casual fielding a ball near the first base line and allowed Crawford to reach base ahead of his throw.

Boxscore

Chacin: Will make a minor leage start on Thursday at Syracuse and should return to the rotation next Tuesday against the Red Sox.

Rob don't read this: Dave Bush had a little trouble with the long ball yesterday, and was tagged for 7 runs in 4 Innings by the Mighty Reds. He did strikeout 6 though, and now has a very studly 55/15 K/BB ratio for the year.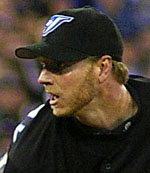 What do you have to do to get a win around here: Jake Peavy struck out 16 last night and still lost, the only ball the Braves went for a Home Run and with John Smoltz mowing down Padres left and right that was enough to seal Peavy's fate. Tough job this pitching lark sometimes.

Elswhere in the East: Boston beat the Yankees confortably and the Orioles lost to Seattle with Ontario's own Erik Bedard getting picked on by Richie Sexson.

Today: Halladay looks to take his unbeaten streak to seven as he takes on Lurch at 7:07

---

https://www.battersbox.ca/article.php?story=20060523083238491