Rangers 5, Blue Jays 2
Wednesday, July 19 2006 @ 08:30 AM EDT
Contributed by: Jonny German
A key misdecision helps the Jays snatch defeat from the jaws of victory.
Goat of the Game
: John Gibbons.
Unsung Hero
: Vicente Padilla went a strong 7 against the depleted Toronto lineup.
For the Jays
: Shaun Marcum did a stellar job in his first Major League start, allowing just 3 baserunners over 5 innings and punching out 5.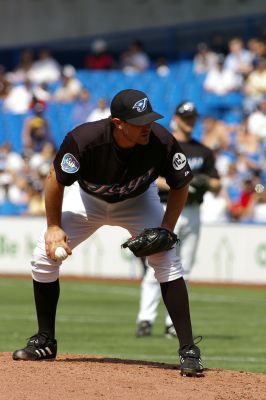 Will The Real John Gibbons Please Stand Up:
I've been asked a couple times recently what I think of John Gibbons as a manager. My reply has been that last year I thought he did a really good job, particularly in terms of bullpen management, getting the most out of his staff – but this year I'm beginning to think it was the vice versa, that the pitchers were making the manager look good. His latest maneuver for which the logic escapes me came in the 8th inning last night: Justin Speier had struck out 2 and allowed 2 singles in throwing 11 pitches. The switch-hitting Mark Teixeira was due up, he of these splits in 2006:
Vs. L: .265 AVG, .324 OBP, .529 SLG (102 AB)
Vs. R: .277 AVG, .364 OBP, .434 SLG (267 AB)
Speier's breakdown was like so:
Vs. L: .159 AVG, .260 OBP, .341 SLG (44 AB)
Vs. R: .258 AVG, .337 OBP, .441 SLG (93 AB)
And ready in the pen was Mr. Scott Schoeneweis, breaking it down thusly:
Vs. L: .242 AVG, .309 OBP, .274 SLG (62 AB)
Vs. R: .302 AVG, .373 OBP, .547 SLG (53 AB)
So the choice was Speier's 601 OPS vs Teixeira's 800 OPS, or Schoeneweis' 920 OPS vs Teixeira's 853 OPS. Gibbons chose 372 points of OPS to the bad in going to his LOOGY.
Was Speier tired? I think not, having thrown just 11 pitches. Was Speier not throwing well? I think not, having struck out two and one of the two singles he allowed being of the infield variety. Are the 2006 splits out of line with career norms for these players? They're more extreme than normal, but the career trends also say that calling for SS was a horrible decision: Teixeira and Speier have shown little left/right split over their careers, while Schoeneweis has firmly established that he's murder on lefties and meat for righties.
If anybody other than Gibbons thought it was a good idea to bring in Schoeneweis I'll be very surprised, and I'd love to hear the reasoning.
Elsewhere
: The Yankees and Mike Reilly got together to beat the Mariners 5-4 in Sir Fat Sidney's pinstriped debut. The Red Sox could only score once against the Royals, but that was enough as Jons Lester & Papelbon combined on a 1-hit shutout.
Today
: Casey Janssen toes the rubber for Toronto in the rubber game of this series, opposed by Kevin Millwood.
---

https://www.battersbox.ca/article.php?story=20060719083114547