TDIB Saturday: That There, That's Not Me
Saturday, August 05 2006 @ 08:30 AM EDT
Contributed by: Alex Obal
I go
Where I please
I walk through walls
I float down the Liffey

The heart of the White Sox lineup is a patient, powerful animal.
Even against the ultra-efficient Roy Halladay, it was business as usual for Thome, Konerko and Dye yesterday, as they combined to go 7-12 with three walks, milking the good Doctor for 50 pitches in 11 plate appearances. Dye struggled, going 1-5 with a mere RBI single and stranding a combined 8 runners with his four outs. But he was picked up in the fifth by A.J. Pierzynski, who jacked a three-run opposite-field homer to put the South Siders ahead 5-3. They didn't let that lead go, as Brandon McCarthy and Bobby Jenks closed out a 6-4 victory.

Starter Jon Garland kept his team in the game and picked up his 12th win of the year. He hasn't lost since June 8.

Despite ten Toronto hits, only five Jays actually batted four times. A caught stealing and four double plays will do that to you. The gorilla on the Jays' collective metaphorical back is starting to get comfortable.


Boxscore: Put it on the boooard...

Star of the Game: Troy Glaus homered in the first and last innings to account for all four Toronto runs.

Unsung Hero: Doc left Thome and Konerko on second and first with nobody out in the seventh, but Jeremy Accardo induced a double-play grounder from Dye and whiffed Pierzynski on a changeup to get out of the jam. He then pitched a scoreless eighth just for kicks.

For the White Sox: How about Scott Podsednik. With the Chisox down 3-0 in the third, Podsednik bunted for a hit, stole second and scored on a Thome double. In the fourth, Podsednik drove in Pierzynski on a double of his own, lining an 0-2 pitch just out of the reach of Alex Rios to cut the Jays' lead to 3-2.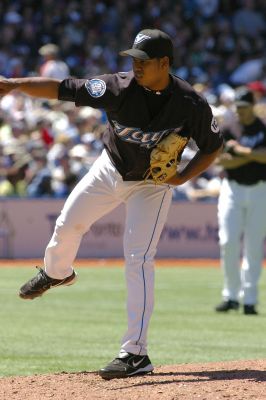 Elsewhere: The A's beat Seattle 5-2 behind Barry Zito. Oakland has now beaten the Mariners 10 times in a row, and they've won five of six and seven of nine. Dan Haren goes today. Yup, it's that time of the year again...

Today: Surprise! Francisco Rosario starts. He'll face Javier Vazquez at 4:07. Dustin McGowan remains on the 25-man roster. He warmed up in the bullpen briefly last night.

And since the focus of some of the most interesting Jays talk has moved on to 2007, here's a very premature prediction semi-contest. I'd be curious to see what kind of production Bauxites think the Blue Jays have under their control for next year, barring catastrophic injury of course.

What offensive contributions can reasonably be expected from the following players in 2007, assuming full health and the given usage patterns?

- Reed Johnson starting 150 games as a full-time leftfielder
- Aaron Hill starting 150 games as a full-time second baseman or shortstop (either but not both)
- Eric Hinske starting 130 games as a near-full-time DH, sitting out a majority of games against lefties and starting 30 times in the outfield

As full-time starters, do any of those players constitute a liability significant enough to justify actively looking elsewhere for an offseason upgrade?

---

https://www.battersbox.ca/article.php?story=20060805000250636