TDIB Sunday: I Close My Eyes
Sunday, August 06 2006 @ 09:30 AM EDT
Contributed by: Alex Obal

I can't give it up
I dose my mind
I can't get enough
I'm in no shape
I gotta turn it off
Just let it play...

Actually, I didn't see this game. With Francisco Rosario making his major-league starting debut after posting very good stats in Syracuse, I was fairly certain I'd regret missing it.

Nope.

Javier Vazquez dominated. Rosario hit the 70-pitch mark in the third. Dustin McGowan was slapped around and then started pitching around people, finishing with four hits, walks and runs in 2.2 innings. The Sox coasted to a 7-1 win.

Boxscore: Right size, wrong shape.

Star of the Game: Hands up, everyone who had Javier Vazquez striking 13 Jays out and leaving after eight with a two-hitter. Thirteen! Wow!

For the Jays: Troy Glaus keeps on trying. He homered in the fifth.

Unsung Hero: Scott Downs worked 3.1 no-hit innings with four strikeouts and a walk.

Elsewhere: The A's beat Seattle 5-2 behind Dan Haren. Oakland has now beaten the Mariners 11 times in a row, and they've won six of seven and eight of ten. Joe Blanton goes today. Yup, it's that time of the year again...

Today: A.J. Burnett tries to end this wretched streak against Jose Contreras at 1:07.

Why have Burnett's results been so surprisingly mediocre? Here is a noteworthy A.J. Burnett split:

NO RUNNERS
ab k bb hr ba obp slg
2003-05 775 184 72 15 .221 .292 .320
2006 140 27 4 4 .293 .322 .414


RUNNERS ON
ab k bb hr ba obp slg
2003-05 525 148 63 8 .253 .330 .370
2006 140 26 7 5 .271 .327 .521


Check out that slugging percentage with runners on this year. That's... that's not good.

Burnett's last two starts have given his legion of detractors in the Toronto media plenty of ammunition. He's had trouble getting out of jams in those games, and he's taken two big losses. However, his track record suggests that he doesn't really struggle much more than every other pitcher when forced to pitch from the stretch, and particularly not in the slugging department. I think it is wholly unreasonable to expect his struggles with runners on to continue, and it is unfair to question Burnett's mental makeup simply because he has been prone to big innings at times this year.

In fact, let's play Spot the Outlier! with some of Burnett's peripheral stats. The following stats are for 2002, 2004, 2005 and 2006. (2003 doesn't count, as Burnett was injured and made four starts.)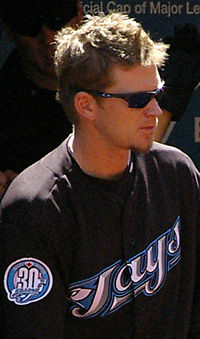 K/9: 8.94, 8.48, 8.53, 8.27. Remarkably consistent.
BB/9: 3.96, 2.85, 3.40, 1.72. Hum. Maybe a bit too aggressive this year?
GB%: 42.8, 50.2, 58.4, 50.8. Consistent.
LD%: 19.7, 16.7, 19.3, 21.3. The jump is predictable since A.J. isn't facing pitchers twice a game anymore.
HR/9: 0.53, 0.68, 0.52, 1.40. Welcome to the AL East?
HR/Fly%: 6.1, 8.4, 9.4, 17.6. Outlier city. I think we found it. Burnett's stuff is conducive to keeping the ball in the park; most pitchers will settle in around 11 or 12% in the long run regardless of stuff and pitching style anyway, with very few exceptions. This is a figure that is almost certain to decline as Burnett's season goes on, and he doesn't give up many flyballs to begin with. As this figure goes down, so will Burnett's ERA.

A.J. Burnett has struggled in clutch situations in a very small sample, and he's been homer-unlucky. I think that's all there is to it, unless there is actually a hitch in his delivery from the stretch that makes him more hittable or causes him to make mistakes. He's giving up a few more liners than usual, but he's also cut his walk rate in half, and that's a tradeoff he should be very happy with.

Injury will always be a concern with Burnett, but I see very little to worry about in his actual performance this year. Ideally it would translate into a few more wins. Today would be a nice time to start.

---

https://www.battersbox.ca/article.php?story=20060806015358494