Advance Scout: Orioles, May 14-16
Monday, May 14 2007 @ 03:02 PM EDT
Contributed by: Alex Obal
The second-place Orioles are the Jays' last opponent before interleague play. Baltimore will throw their top two pitchers and an Adam Loewen replacement at the Jays this series, plus one shellshocked closer too.

Erik Bedard: Is second in the AL in strikeouts. He throws a heavy fastball from around 90 to 94 which induces lots of ground balls. The O's broadcasters like to talk up how Ramon Hernandez hates catching Bedard's heater because it moves so much in the strike zone. When Bedard gets ahead in the count, he looks for strikeouts with his deadly combination of breaking pitches: a sweeping slider around 84 and a biting curveball in the 70s. When defensive hitters zero in on the wrong breaking ball, Bedard induces some ugly swings. In Bedard's last start, he struck out 10 Rays over 7 shutout innings. No Jays have particularly noteworthy numbers against Bedard. Alex Rios is 8-24 with two walks and two homers. If he sits, it's definitely not because of the matchup...

Daniel Cabrera: Still the same guy - 5th in walks, 10th in strikeouts... I'm pretty sure that's him, right? - but he's inching ever closer to the Great Revelation. He's sitting on a career-high K/BB of 2 and a career-high 50% groundball rate. He seems more comfortable relying on his fastballs to get hitters out all by themselves than he has been in the past. Cabrera tends to throw first-pitch fastballs when there's nobody on base, so a hitter who's really struggling against him (see: Wells, Vernon) might do well to go up hacking if there's nobody on. Of course that just increases the risk of a one-pitch out, which is the absolute positive last thing you want to happen when Cabrera's pitching. The Rays roughed Cabrera up in his last start, only striking out twice in six innings while hitting two homers and barely seeing 3 pitches per PA, so the hacking method may have some merit. Cabrera surrendered six runs but still picked up the win to move to 3-3.

Brian Burres: Waiver claim from the Giants' organization who pitched in AAA for the O's last year. Burres is keeping Adam Loewen's spot in the rotation warm while the stress fracture in Loewen's elbow heals. Burres is a typical lefty who throws in the high 80s and relies on deception and keeping hitters off balance. He throws lots of late-breaking sliders, a looping 12-6 curve, a diving changeup and lots of balls. His strikeout rate is very high, but he only gets 1.4 strikeouts per walk. Burres' style is really conducive to giving up crooked numbers against a patient team.

Scott Williamson: The veteran reliever is finally active at the major-league level again after years of elbow and triceps aches and pains. He replaces Jon Leicester.

Chris Ray: Mulligan. Ray's season WPA total was positive on Saturday. Now it sits at -0.81.

Notable lines in the chart:
- Tomo Ohka's numbers are becoming scary;
- It's not hard to see why Jesse Litsch has been very effective, though he certainly doesn't look overpowering;
- A.J. Burnett is doing an admirable Cabrera impression so far this year, except with far more homers allowed;
- Chad Bradford and Todd Williams are both legitimate groundball pitchers with career groundball rates in the 60s - their stats are not a fluke;
- John Parrish seems more determined than ever to miss bats as he ascends the leverage ladder. His walk rate has increased dramatically since the last O's-Jays series.
- This is a very impatient lineup, especially when Kevin Millar sits. I'd love to see Dustin McGowan face them. He should get a shot at Camden Yards next week.

The Credit Section: Batted-ball and Leverage Index are available at Fangraphs. K% and BB% are strikeouts and walks as a percentage of plate appearances. Jesse Litsch's stats are from Minor League Splits. Everything else, most notably the AL average statistics, is available at The Hardball Times.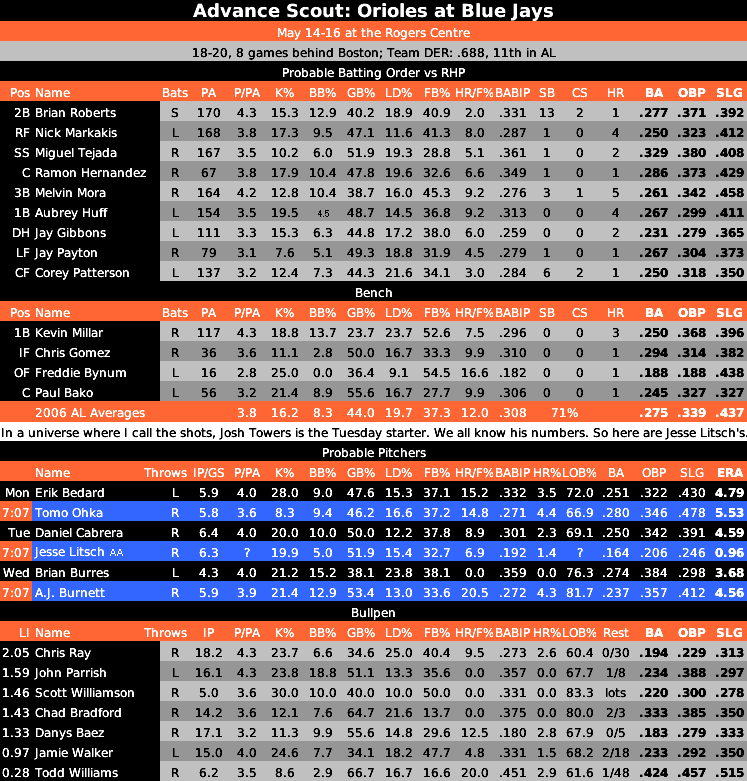 ---

https://www.battersbox.ca/article.php?story=20070514080900794