Mini-Advance Scout: Phillies, May 18-20
Friday, May 18 2007 @ 03:02 PM EDT
Contributed by: Alex Obal
No Cole Hamels this weekend, but the lefty the Jays do get to contend with might be even scarier...

The Phillies, as a team, don't enjoy striking out. Their one regular who doesn't mind, Ryan Howard, is on the 15-day DL with a quad injury. That takes a huge bite out of this lineup's potency. Third baseman Wes Helms alternates between third and first in Howard's absence, with Mariner refugee first baseman Greg Dobbs and veteran utilityman Abraham Nunez splitting the playing time not occupied by Helms. Howard's injury means that the long-awaited titanic Mo State collision between him and Shaun Marcum will have to wait another year at least.

Philly's regular lineup with Howard missing is full of BABIP wonders. Some of those high hit rates seem sustainable (Chase Utley, Shane Victorino) and one abnormally low one will almost certainly improve (Jimmy Rollins), but the rest appear to be due for a slump.

Pat Burrell is a walking machine.

The contact-mad nature of the Phils' lineup will make for some interesting clashes with the Jays' young starters, as Dustin McGowan's raw stuff, Marcum's stellar strikeout rate and Jesse Litsch's surprise sinker collide with an NL-style BIP machine. It also means that pinch-hits that compromise the Jays' defense in close games are risky, since there will be more balls in play than usual.

In a desperation move, Brett Myers was moved to the bullpen after his second and third starts of the year were lousy. I think this weakens the Phillies' pitching staff (especially so long as Adam Eaton gets to take the ball every five days). At least Myers has been very effective in relief, so the Phils have a solid closer in the absence of the injured Tom Gordon. They definitely aren't shy about using Myers as a super-closer: he's been brought in at the start of the eighth inning for multiple flat-out two-inning saves. Progressive!

The chart lies: Jon Lieber is actually still Jon Lieber. His walk rate is just inflated by a six-walk showing in a draining loss against Atlanta. Saturday starter Jamie Moyer is back up to his usual masterful standard of hit avoidance, using his super-devious method of throwing just enough cutters that hitters are tempted to sit on inside pitches and get themselves out when Moyer goes for the trash on the outside corner. Adam Eaton is coming off two strong starts, in which he's gone 7+ innings each time.

The Credit Section: Batted-ball and Leverage Index are available at Fangraphs. K% and BB% are strikeouts and walks as a percentage of plate appearances. Minor-league stats are from Minor League Splits. Everything else, most notably the AL average statistics, is available at The Hardball Times.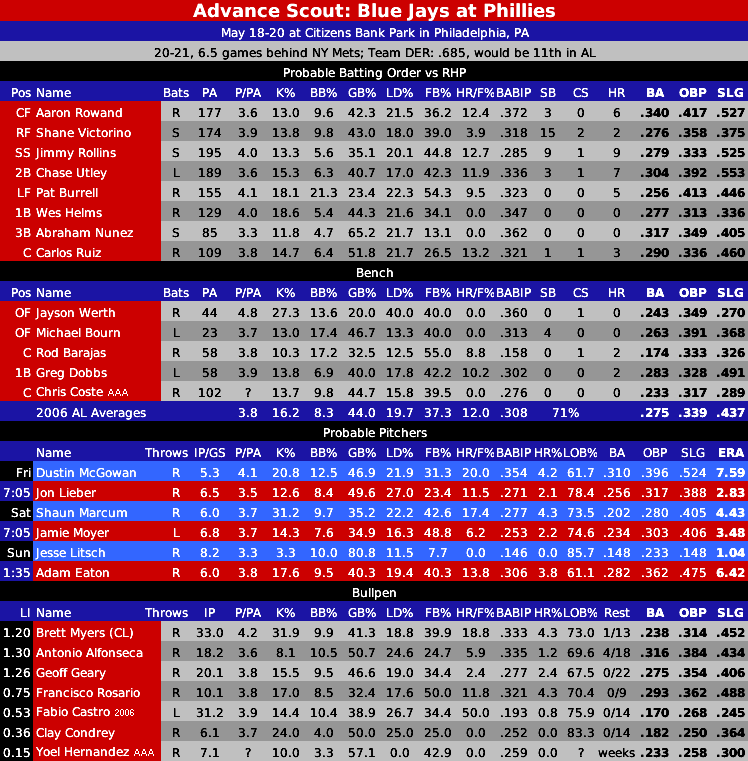 ---

https://www.battersbox.ca/article.php?story=20070515164510726