Advance Scout: Devil Rays, June 5-7
Tuesday, June 05 2007 @ 12:00 PM EDT
Contributed by: Alex Obal
This week's previews come to y'all from an Advance Scout Icon who appreciates Rays beat writer Bill Chastain almost as much as I do. Take it away, Rob Pettapiece:


Alex probably figured his week of finals was bad enough without bringing the Devil Rays into it. So here I am, and here we are at yet another Toronto-Tampa Bay series. And no, I'm not sick of scouting the Rays. Why do you ask? The MLB.com copyeditor is getting tired of this team, one would infer, since Saturday's headline read "Rays, Jackson lose in multiple ways." Read on anyway to learn more about Jonny Gomes' new career, Shawn Riggans' absurdly long scouting reports, Joe Maddon's man-love for his shortstop, and Akinori Iwamura's friend named Nuts.

On to the Advance Scout!
Disney plus the Devil Rays? The unholy alliance started in May, with three "home" games against the Rangers at Disney's Wide World of Whatever in Orlando. Did it go well? Carl Crawford didn't enjoy it at all ("The only thing I liked is that we won three games there"), Jonny Gomes' Chrysler 300 got clipped on the highway on the way, and the MLB.com writer, who was certainly not Bill Chastain, could use a geography lesson: "Tampa Bay first extended its fanbase south toward its soon-to-be Spring Training home in Port Charlotte, and now is making an effort to stretch the zone westward as well." The least expensive ticket prices advertised were $15 US, which is just a little bit ridiculous.

Rotation rotations: Short version: Seo and Fossum out, Howell and Sonnanstine up from AAA.

Long version: After an early May loss in Baltimore, Joe Maddon broke down Jae Seo's poor outing thusly: "He threw a couple of decent breaking balls, but his bread and butter pretty much is fastball location and changeup location, and it just wasn't there tonight." Let us pause and reflect on all the good Bill Chastain has done for this world. And now we move on to another bit of Chastainity, as he found a nice way to say Seo and Edwin Jackson suck: "The presence of Seo and Edwin Jackson in the Rays rotation is making the prospect of putting together a sustained winning streak a difficult proposition." So, after Friday night's game, Andy Sonnanstine and J.P. Howell were promoted from Durham, Casey Fossum went to the bullpen, and Jae Seo was DFA'd. Jackson still remains.

On the morning of May 20, Seo, Fossum, and Jackson's ERAs were 7.80, 7.80, and 7.78. That's gold, Jerry.

Andy Sonnanstine: I wonder how well pitchers fare in their ML debut when they face Roy Halladay. Sonnanstine struck out RHB at a much higher rate than lefties this year in AAA and last year in AA. Only struck out one batter in his last start, May 31 vs. Ottawa, Lou Collier. Thanks to small sample size, that dropped his K/9 from 9.3 to the chart-visible 8.4. Sir Chastain, doing my job for me through quotes from backup catcher Shawn Riggans: "He pounds the zone. His game is either going to go one way or the other. He's either going to dominate you or you're going to pound him because he throws so many strikes. He uses three different arm angles, from up top, three quarters, and low three-quarters. Three pitches from each arm angle, excellent control, he doesn't walk many guys. He's working on coming inside a little more. Down and away is his money pitch, fastball down and away; slider in the same location. The one problem he has is coming inside, sometimes it leaks out over the plate. He can still throw fastballs by guys with his deception." Sonnanstine didn't get any advice from Maddon, nor will he be allowed to call his own pitches on Tuesday. Don't think, meat: "I want to keep his mind as uncluttered as possible."

Scott Kazmir: You know him.

Edwin Jackson: Tampa Bay is 1-9 when he starts this year. The one win came when they were down 5-3 heading to the bottom of the 8th. So yeah, he hasn't really helped the team win much. He somehow struck out nine batters in six innings against Toronto last month, with another nine in six last Monday vs. Detroit. Saturday, not so much. The Royals knocked him around and he knew it: "I don't know if it's back to square one, but it's a couple of squares back." He's not as bad as his traditional 0-7, 7.77 line indicates, but still. Ouch. Adam Lind homered in the third inning of that game, which is not significant on its own, but when you consider that Lind nearly killed Jackson last September 16, perhaps Edwin was looking to get him out for a change. Those seven losses in a row? Bryan Rekar did it to start 2001, but the Devil Rays' record is Tanyon Sturtze's 0-8 start in 2002.

Mike Wilner on Greg Norton: "For all we know, Greg Norton is the Mark Messier of baseball. But nobody will ever know, because he's surrounded by crap."

Akinori Iwamura: Singled off Sean Henn to start off his North American hit counter, but his first career hit was against now-Dodgers closer Takashi Saito, about whom you will read more anon. In Akinori's last four full years in Japan, he averaged 32 homers but he is quite a bit behind that pace after suffering a right oblique strain from April 24 to May 27. Contributes a diary to MLB.com as told through his interpreter, which includes fun phrases such as, "We were celebrating so excitedly that my teammates fell on top of me. I was the smallest and I was on the bottom of the pile. It was awesome." He also shared: "I'm looking forward to becoming a father. Right now we just have a toy poodle named Nuts." Or, "I went to pick up a flat-screen TV the other day at Best Buy and a lady came up to me and asked if I was the guy who played for the Rays." Apparently, Japanese TV-buyers constitute a minority in St. Petersburg. That TV came in handy after Saturday's game, as he could have watched himself on Sportscenter, getting poked in the eye by a foul ball.

I hope you enjoyed reading that, because Akinori won't play this weekend.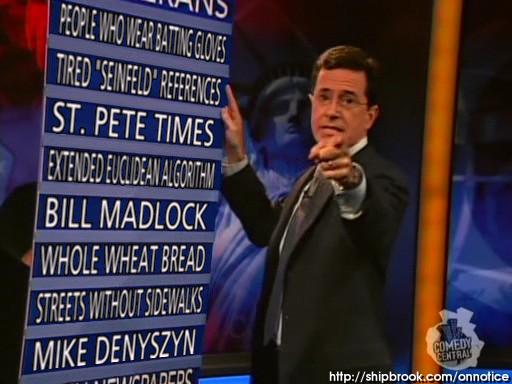 Elijah Dukes: Great inside-out swing. Not sure how to show that in his batted-ball data, but this amateur scout thinks it's true. I assure you I only meant one thing by that "powerful swing" statement; his most recent troubles could lead one to believe otherwise. And the St. Pete Times is on notice after they sort of forgot that whole journalism thing and equivocated on the meaning of "complimentary newspapers."

Rocco Baldelli: To hell with Torii Hunter's Spiderman persona. Maddon thinks Baldelli is Superman: "The rubber track, with his athleticism, he's going to leap tall buildings in a single bound." He's been less like the Man of Steel and more like the DH of Glass, with the Rays' abundance of 7-8-9ers and his recent hamstring strain. Rays Index calls him Bubble Boy, and not because he doesn't like the Moops. He probably won't play, either.

Brendan Harris: "I really like guys like him, makeup guys, guys who do the little things on their own. He really likes to play the game. He comes prepared on a daily basis. I watched his skills. I heard all about his ability to drive the ball to right center, and he's showing us that, he has a real fine throwing arm, he's showing that. I'd heard that maybe defensively he wasn't able to cover all the infield positions. But he's shown me that was incorrect immediately. He's very good at all three spots, and I think he could play some first base. And we could use him in the outfield, too. So he's a very valuable member of the team...He does everything right. He's a true pro."

Now tell us what you really think, Joe Maddon.

He (Harris, not Maddon) was part of that four-team Nomar trade in 2004 in which Les Expos traded away Orlando Cabrera for 50 AB of Harris, 14 innings from somebody named Francis Beltran, and old friend Alex Gonzalez, who took off for San Diego soon after. That one worked out well.

Raul Casanova: Called up when Shawn Riggans suffered a strained elbow again just a few days after recovering from same. Through age 27, Casanova was most similar to Gregg Zaun, but they've certainly diverged since then. Minor League Splits doesn't have his stolen bases listed, but without loss of generality, I'm going with 0-for-0.

Carl Crawford: Back in the #3 hole after a brief stay atop the order. You think Maddon knows something? His 1-2-3 hitters are first-second-third on the team in walks and one more walk from Crawford puts them 1-2-3 in BB% as well among full-timers. When Crawford hits with power, he pulls it; if he hits a homer to left field during this series, I'll buy you a coke. I'll make this point every time Alex forces me into writing a Devil Rays Scout: Crawford keeps getting better. Improved his walk-to-strikeout ratio in 2004, his basestealing in 2005, his hitting against LHP in 2006, and now his OBP sits at a career high .357. Three of his most-similar players through age 24 are in the Hall of Fame. He has, however, been held to a .240/.255/.260 line in his career against Halladay.

Al Reyes: Has thrown the ninth inning three days in a row, with a total of 46 pitches. Hasn't topped 30 pitches yet this year. Maddon seems to be using him as a pure 1-inning closer: 26 appearances, 21 of which came in a D-Rays' win, 25 of which were three outs long (the other was a "get some work" game). He'll come back to Earth soon.

Jorge Cantu: In his mind, he can still play second base.

The Demoted Jonny Gomes: Oh, to be 25 years, 6 months, and 2 days old again: after the Rays' 10-8 win over Toronto on May 24, 2006, Gomes' career line was .270/.370/.533. The rest of '06 didn't go well (.175/.280/.318) and he's often suffered the ignominy of playing twice a week as a 9-hole DH this year. Gomes is not allowed to finish a game in the outfield unless his team is losing by nine runs. Please read that sentence again, as it's one of my favourite ever written. As you might expect from a DH who hardly plays, Gomes is now bored with baseball and considering a career in pro wrestling. "I can't imagine the adrenalin rush those guys get. That's the main event. Everyone's watching you." His last line indicates he is very aware that he plays for the Devil Rays.

Well, not anymore -- he was sent down to Durham last Monday and wasn't too happy about it (is anyone ever happy?). Maddon said, "Jon wants to be a part of the first-rate team that wins the World Series," giving pissant bloggers everywhere a setup so easy, it's not even sporting.

The Credit Section: Batted-ball data and Leverage Index are available at Fangraphs. K/G, BB/G, and HR/G are from The Hardball Times and are "per games pitched" except for Sonnanstine, whose stats are per 9 innings. K% and BB% are strikeouts and walks as a percentage of plate appearances; GB%/LD%/FB% are expressed as percentages of balls in play. Minor-league stats are from Minor League Splits. Some AL average stats had to come from ESPN.com, I'm afraid. Everything else is available at The Hardball Times or MLB.com. Casey Fossum's LI of 0.82 is based on two relief appearances.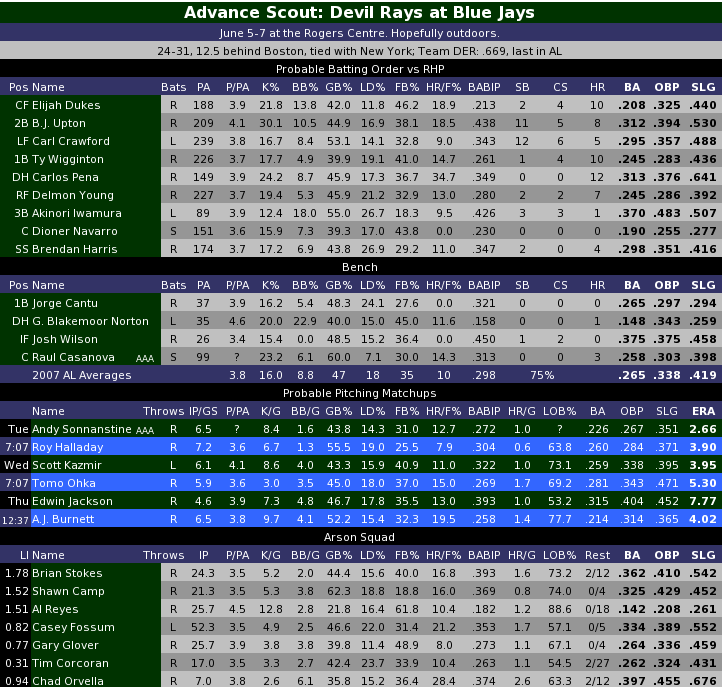 ---

https://www.battersbox.ca/article.php?story=20070605114417222