It's hardly a slow descent for Tampa Bay, a team that has lost six in a row. The Jays have won five of seven, but are still 7.5 games out in the division and 8.5 games behind the wildcard leader. A good series against Tampa Bay might get them closer, but the odds are stacked crooked against the Blue Jays. As for Tampa, it's all about the future -- um, well, it's not about 2006, anyway.
Read on to learn about a couple of new prospects, the best Korean pitcher on the Gulf Coast and the Lugo brother the Rays didn't trade away. That's right, it's time to proceed...
On to the Advance Scout!
General: On pace for about 65 wins, after recent seasons of 62-55-63-70-67 ... Strange but true: in Tampa, it is illegal to eat cottage cheese on a Sunday after 6 pm ... No, none of those bullpen stats are misprints. Yes, Danny Miceli really has that many walks ... Have lost 17 of last 18 road games, but won 11 of 20 at the Trop ... On Sunday, they moved B.J. Upton to the leadoff spot and dropped Carl Crawford to the 3-hole. Not sure if this is a long-term change or not, but it's certainly a logical experiment, and Maddon's talking like he thinks it'll stick. The new top of the order consists of Upton, Baldelli and Crawford (at least against RHP) ... Like everyone else, have been going through post-9/11 airport security checks. Unlike most flights, though, "team personnel will be prohibited from bringing aboard liquids, creams and gels" ... Worst second-half record in baseball ...

Jae Seo: Following Rob's suit... "For the love of a God," you say, "not a pitcher from replacement level!" (6.5 VORP, with 67 of his 117 innings coming in the NL in Chavez Ravine) ... Strikeout rate is very unintimidating; line drive rate is very mediocre ... But before you revert to the "Mediocre pitchers always do well against Toronto" refrain, take solace in the knowledge that every single fan of every single team moans about getting stymied by a guy like this at least once a month. Case in point, Jeff from Lookout Landing: "Jae Seo, on the other hand, was just the latest in a long line of generic arms to show up throwing slop and shut the Mariners down." ... Something else happened with Seo in that game with the manager: "Maddon came out, asked Seo if he was fine, and - dissatisfied with the response - physically grabbed Seo's arms and made him look his manager in the eyes while assuring him that nothing is wrong." This was after a ball that made the count 3-0 in the eighth; Seo's next (and final) pitch was ball four ...

James Shields: Made his presence known early with four straight wins in June ... Since June 21, he's lost six times with a no-decision, but there have been some serious tough-luck defeats during that streak, such as a 2-0 loss to the Mariners in his last start, wherein Shields went eight innings for his first "complete game," allowing five hits and a walk ... Has a high leg kick ... Can hit 93 with his fastball, but usually settles in around 90 ... If you get two strikes, there's a dirty power changeup coming with your name on it. Look for lots of swinging strikeouts the first time through the Jays' order. Shields fanned David Ortiz twice in one game with that change, which tends to hit 83-84 on the gun with sharp movement and frequently bounces in ... Also throws a curveball in the mid-to-high 70s and, once in a while, a slurve as well ... However, because he relies so heavily on only two pitches, he tends to get hit hard, as his 25 LD% can attest ... His strikeout rate is very good, though ...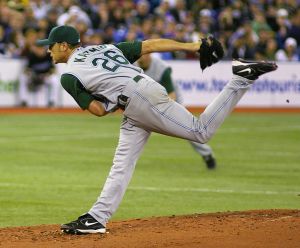 Scott Kazmir: Maddon says his first start since coming back from inflammation in his left shoulder was good: "Kaz is fine. He came through really well. He felt good. He actually wanted to go deeper into that game last night...and that was a good sign." ... Kazmir just keeps getting better and better, as his strikeout rate is now up to an obscene-for-a-starter, better-than-Johan-Santana 9.76, while his walk rate is down to a career-best 3.23 ... The knock on this live-armed lefty is that he's inefficient: he often hits the 90-pitch mark in the 5th inning, and he's #2 among AL ERA qualifiers in pitches per PA at 4.0 ... Wednesday starter Ted Lilly is third at 3.9 ... That inefficiency hasn't stopped Maddon from having the 22-year-old go deep. Kazmir has thrown 110+ pitches in 7 of 22 starts, including his 8.2-inning performance against the Good Doctor in the first weekend of April ...

Carl Crawford: Adds a new skill every year. In 2004, he improved his BB/K ratio. In 2005, he went from 79% success at stealing bases to 85%. This year, he's hitting lefties and he's already matched his career high in HR with 15 ... Turned 25 two Saturdays ago, and celebrated by going 0-for-4 with 2 K ...

B.J. Upton: Stats shown below are Melvin Emanuel Upton's from Durham (AAA) this year ... If you're wondering, his father's nickname was Bossman. If you're familiar with the Blue Jays' closer and "straight redneckology," you can probably fill in the blanks from here ... Is beating the ball into the ground, with a 58.8 groundball percentage and only two walks in 48 PA. Of course, as the sample size grows, so too will his offensive numbers ... Didn't set the world on fire in Durham, but had very good K/BB numbers, particularly against lefties ...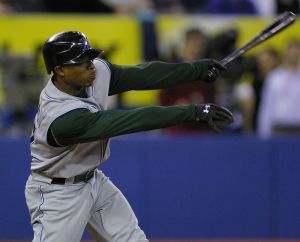 Damon Hollins: Hideous K/BB numbers, but handle with care. Hollins may not reach base often, but he absolutely pounds the ball against lefthanded pitching: .232/.277/.505, and that's not terribly out of line from his career numbers ...
Jon Switzer: Lefty reliever who wears apparently traditional lefty number 52 and has been death on lefties in the minors this year (.372 OPS) ... BIP numbers are very good - 10.0% LD - but he doesn't get major leaguers to swing and miss with much regularity ... Hits 89-90 with his fastball; tries to put hitters away with a sweeping slider in the high 70s ...

Rocco Baldelli: Is being limited to five games a week to avoid putting excessive strain on his hamstrings. The Rays want to ensure that Baldelli is at 100% health for next year .... Maddon to the St. Pete Times: "Just to get him back playing is a pretty good accomplishment. Whatever it takes to get him to play maybe 140-150 games next year, it'll be great. If you really evaluate this, there's a guy that had not played in a year-and-a-half, and he came back and he's playing at a pretty good level." ...

Ben Zobrist: Was one-half of the Rays' return from Houston in the Aubrey Huff deal ... A 6'3" switch-hitter from Eureka, Illinois, but he's got the agility and sure-handedness to play short at the big-league level in spite of his height ... Sure, he's a rookie, but putting fastballs on a tee for this guy is a very bad idea, and pound him inside at your own risk ... Loves to make fruit slushes ... Stats below are cumulative minor-league numbers from Corpus Christi and Durham ...

Dioner Navarro: Yet another switch-hitter ... Was acquired from the Dodgers in the Mark Hendrickson trade ... Is catching almost everyday, spelled occasionally by Josh Paul ...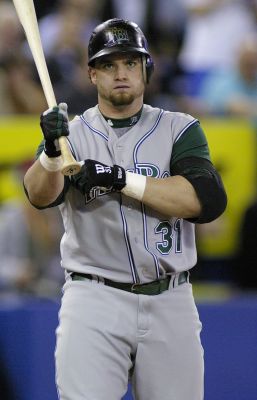 Jonny Gomes: Is mired in a monster slump ... His line-drive rate has simply plummeted. It was 23.0 last year, accounting for his excellent batting average on balls in play, and was even higher for the first month and a half of this year. Times have changed ... His groundball rate hasn't changed, which leads me to believe that Gomes reacted to his power numbers in May by trying to uppercut the ball to the moon. He's always been notorious for an uppercut swing; it'll be interesting to see how soon he gets out of this funk ... 1-for-6 stealing bases ... Batting average by month: .305, .237, .203, .125, .115 ...

Jorge Cantu: Power numbers have fallen off a cliff after his remarkably consistent 2005 season ... Struggling since returning from his fractured foot; he's also been fighting through neck soreness during his recent slide ... Is walking more and striking out less, but he's getting fewer hits and his isolated power has dropped significantly ... LD% by year: 23.1, 21.4, 19.1 ...

Ruddy Lugo: At first glance, Ruddy Joraider Lugo has been the best pitcher in this sad bullpen, but he's consistently pitched in low leverage situations. That may change soon ... Since his brother's move to Los Angeles, Ruddy no longer suffers the indignity of wearing "R. LUGO" on his uniform ... A flyball pitcher who relies heavily on his mid-90s fastball ... When he was a Vero Beach Dodger, he commissioned a fan poll to decide on his hairstyle. We actually mentioned this back in April, but I'm still wondering why nobody wanted the Afro ...

Brian Meadows: Believe it or not, is actually the nominal closer, with 8 saves ... His 4.53 K rate puts him barely above the Michalak Line ... Has never broken 5.5 with his K rate; he's not at all overpowering ... Is most successful when he induces ground balls, keeping the ball low in the zone and using his cutter to keep batters off balance ... Hasn't blown a save all year ...

Greg Norton: Switch-hitting Gregory Blakemoor Norton hit a walk-off homer against Julian Tavarez last Sunday to give the Rays a victory over Boston ... Small platoon splits this year, and his K/BB numbers are much better against lefties, but he actually has historically done much better as a lefthanded batter ...