Advance Scout: Dodgers, June 8-10
Friday, June 08 2007 @ 05:13 PM EDT
Contributed by: Alex Obal
Once again, here's Rob.


Alyssa Milano, I mean, Dodger Stadium welcomes the Blue Jays this weekend for the first time since June 2002, when shortstop (!) Dave Berg hit second, Justin Miller couldn't get through the first, and Roy Halladay got a complete game win. Jays fans are thankful that only one of those events is possible five years later.

Alex's week might be brutal, but so is having to put up with interleague play. Jeff Kent agrees with me, which is slightly disconcerting. Aside from that, this Scout features the likely reality of two top-priced tickets for a Twins game; Jim and Pam's new six-player chain to Tinker, Evers, and Chance; an impatient power-less lineup; and Jamie Campbell saying "East York" a lot.

Take the Maddencruiser: The Dodgers' flight from Pittsburgh to San Diego landed under emergency procedures. Why, Grady Little? "There was stuff in front of the plane that started in the back of the plane." Rumours are rampant that Little will join the NTSB after his baseball career, which may or may not be reborn.

Oscar, we'll use your talents come baseball season: Two hours before Saturday's 7:10 PT start, fans will be able to "watch from Dodger Stadium's outfield grass and warning track to see their favorite Hollywood celebrities play" in the 49th annual Hollywood Stars Game. Presumably there's an audience for a Luc Robitaille-Carlos Mencia-Oscar Nuñez heart of the order with Steve Lyons as the manager.

Brad Penny: Power pitcher with a straight four-seamer around 93-96, what looks like an 87ish two-seamer, and a solid curve near 78, but his bread-and-butter pitch is the cheese. To say the least, it might be tough to hit. He'll come in tight against righties and almost always pitches lefthanded hitters away; there are no meaningful platoon splits to speak of. Started throwing a split lately, but I haven't seen much of it. As for his performance this year, you can see his chart line and it's all good. I was originally curious when looking at his game log (never longer than 7 innings) but then again, he's made it to the sixth in each and every start. Before May 18, held batters to a .226/.298/.285 line with a 1.39 ERA. Since then, he's had two good starts, a bad one, and a really bad one. Has never faced Frank Thomas, so Penny may still think he's the Thomas of old.

Derek Lowe: Pure groundballer: second in GB% to Brandon Webb in 2006, second to Brandon Webb in 2005, second to Brandon Webb in 2004. This year: see for yourself. If you missed the memo, his sinker weighs about ten pounds. This is his third straight year with an ERA under 3.7 (or an ERA+ over 110), yet he has the lowest run support on the team and has been handed two complete game losses in which his team scored 1 total run in 18 innings.

Jason Schmidt: Is back from the DL, replacing old friend Mark Hendrickson in the rotation. I dare you to say "Jason Schmidt" seven times fast. While you're doing that, I'll tell you that he used to hit 89 with his heater and, as Joe Morgan would say, showed a good slide piece every now and again. However, he started off the year losing about 10 mph off his fastball before some shoulder bursitis which disabled him on April 18. He didn't throw off a mound until May 10 and threw a semi-simulated game on May 20. His first start after being activated was Tuesday night in San Diego. The Dodgers were hoping for about 90 pitches going into that game; they got 86 (55 strikes) as he held the Padres to one hit and three walks over six innings. His velocity was back up, hitting 92 at points. Despite that start, $47M over three years is looking about as good as $55M over 5 was around this time last year, but there's always money in the banana stand.

Juan Pierre: Great leadoff hitter or greatest leadoff hitter? I'm putting him down for neither. "He wasn't seeing many pitches the other day when he had four extra-base hits. The angle of his bat isn't right." Grady Little decided to move Juan D'Vaughn Pierre up to the leadoff spot against RHP despite his 2-hole line of .277/.305/.314. He was traded from Florida to the Cubs in December 2005 for the powerful trio of Sergio Mitre, Ricky Nolasco, and Renyel Pinto. Pierre wears his hat under his batting helmet, for some bizarre reason and is like a lefthanded, more fidgety Alfonso Soriano...without the power. Doesn't seem like a basestealer to me, nor a very "range-y" outfielder.

Luis Gonzalez: Appears in no less than 40 tables in The SABR Baseball List & Record Book: owns the first career HR in Tropicana Field history (1998 was his one AL year, with Detroit), on the list of most HR in a season without leading the league (2001, obviously), and lost a batting championship by a wide margin (1999; Larry Walker led him by 43 points). But Alyssa Milano thinks he throws like a girl.

Russell Nathan Coltrane Jeanson Martin, Jr.: Yeah, yeah, born in East York. We get it. But he lived in Paris for two years as a child and actually attended the same Montréal high school as Éric Gagné. None of his five names are accented. Martin has big-time opposite-field power and surprising catcher speed. He chose L.A. over Team Canada last March and has probably felt the benefits of that move: the Dodgers are quite high on him. His signing scout, Clarence Johns, thought he had more than just the Good Face: "If I had a daughter, I'd want this guy to marry her." Also, Jon Weisman at Dodger Thoughts says he's "the guy whose name may become symbolic with heroism in Dodger annals." Personally, I'd just like to see a successful Martin Junior for a change.

Nomar Garciaparra: Still has the same pre-pitch routine he had in 1997. In fact, it probably took him the past ten years just to finish it all. Has faced Jeremy Accardo once, and it didn't go so well for the young righty. His striding-to-the-plate music is "Low Rider" and I hope that doesn't imply he actually liked Gone in 60 Seconds. I mean, really.

Yes, he was an All-Star last year, but his overall career post-Boston hasn't been as kind as his early days in Fenway. Put another way, .272 is more likely than .372. A final bit of trivia for you: on May 11, Garciaparra did not record a putout in nine innings of play at first base, making him just the 16th first baseman in ML history to play a full game and not touch the ball (he didn't have any assists either).

Andre Ethier: Will sing the Canadian national anthem before Saturday's game, after Michael Clarke Duncan turns two with James Van Der Beek.

The other Andre Ethier: Will not sing. Oakland's 2005 Minor League Player of the Year came over for Milton Bradley two Decembers ago. He tore up Arizona State for a couple of years: about a 1.000 OPS with 84 walks and 50 strikeouts in two years -- and that's why he was an Oakland draftee in '03 (his first pro team was Vancouver, but he quickly showed himself to be too good for the league).

Olmedo Saenz, Saenz, everywhere a Saenz: Vin Scully said, "There isn't a pitcher in the league who can throw a fastball past Saenz." To compare, Magpie said, "The pitcher who can throw a fastball by Manny Ramirez... well, it's merely a theoretical possibility. It's not like one actually exists."

David Cone: Jeff Kent, that is. Just seeing who was paying attention. Kent is one of three players still active from those 1992 Jays (two retired members can be found in the Sportsnet booth), and his OPS+ was only below 100 in the partial seasons after his Jays-to-Mets and Mets-to-Indians trades. He's the rare second baseman who hits cleanup, maybe because his slugging average is second only to Martin. It must make him feel good, knowing that between him and six-years-younger Nomar, he's not the old guy who has to move to first. Kent is also a proud member of the All-Pretty-Common-Two-First-Names Team.

Takashi Saito: Will make you look stupid with his slider (or his curve, but especially the slider). 30 strikeouts and 2 walks in 24 innings! The 36-year-old rookie finished 8th in Cy Young voting last year with a 2.07 ERA, 0.91 WHIP, and (probably most importantly to whatever LA voter put him third on his ballot) 24 saves. What was he like in Japan? Glad you asked. He's one of many Saitos here and my favourite tidbit is "Hideki Matsui went 7-25 against him in 1996, all of those hits homers." He also threw 11 complete games in 1996, his second of four All-Star years. He will play this weekend.

Chad Billingsley: Fastball-slider pitcher who also has a great curve, but relies heavily on the heat. He was a starter throughout the minors with great numbers but a few too many walks, but he's working in long relief now. Has been teammates with Martin at seemingly every level. The Dodgers have tried not to send him out on 0 days of rest; when they do, he typically gets two or three more before his next start.

Mark Hendrickson: Stepped into rotation after Schmidt went down. His first three starts had people wondering who was wearing his jersey, but then successive Game Scores of 36, 35, and 35 brought him closer to the Lurch we know and love. He's been working with Ken Ravizza, a sports psychologist on the suggestion of his former pitching coach, Mike Butcher. Hendrickson, of course, was traded in part for Dioner Navarro, who in turn was involved in one of the most lopsided bets ever made.

Mike Lieberthal: Full name is Michael Scott Lieberthal and he was teammates with David Brent Bell on the Phillies. That may or may not be Bell's middle name.

The Credit Section: Batted-ball data and Leverage Index are available at Fangraphs. K/G, BB/G, and HR/G are from The Hardball Times and are "per games pitched." K% and BB% are strikeouts and walks as a percentage of plate appearances; GB%/LD%/FB% are expressed as percentages of balls in play. The AL average stats, used because I don't want the NL pitchers in there, are the same as they were three days ago. Because I'm lazy. Everything else is available at The Hardball Times or MLB.com. Mark Hendrickson's Leverage Index is based on four relief appearances.

Those homerun totals are not misprints.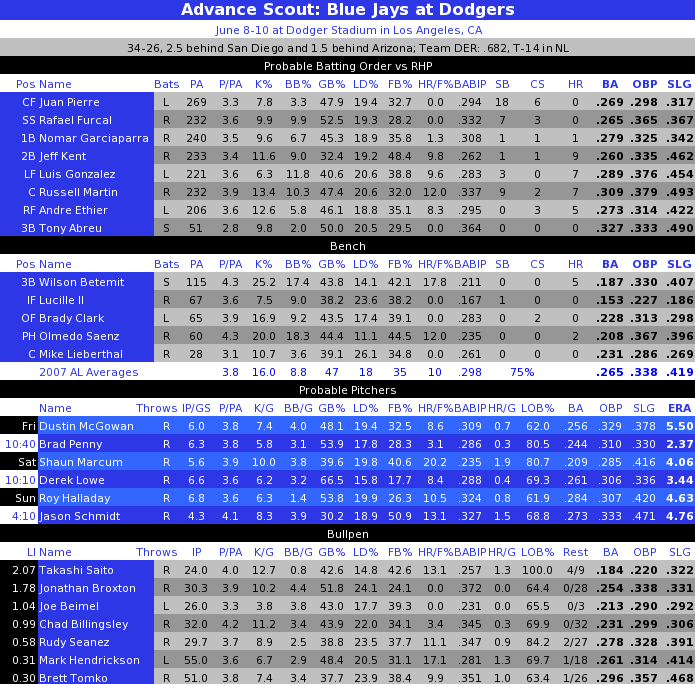 ---

https://www.battersbox.ca/article.php?story=20070608171308803