Just can't get that third one, can they. Just can't get that Sweep Monkey off their backs. On the other hand....
There were some people out there (I heard them speak!) who questioned the wisdom of giving Doc an extra day off to set him to start Monday's opener against the Red Sox. That gave Ty Taubenheim the task of beating Chicago on Sunday. He wasn't up to it, and the Jays had to settle for two of three against the White Sox.
Nevertheless - Gibbons obviously made the right move. A win is a win is a win... but a win against the Red Sox is also
a Boston loss.
The Jays are better off taking two of three from both the White Sox and the Red Sox, as opposed to taking three from Chicago but just one from Boston.
Last night's game was a dreary enough affair. I, alas, was obliged to stay put, trying to give it my full attention, for all 3:36 of it - which means that as I get home and prepare these notes for you I am indeed talking about
last night's
game. So I mostly have some Random Thoughts...
I suppose Ted Lilly's mojo over the Red Sox had to go missing sooner or later. In the first inning, he made a mistake to David Ortiz, with utterly predictable results. Lilly was cursing himself out while Ortiz was still finishing his backswing. Ted seemed a little shocked, though, when Loretta's well-hit fly ball in the third actually cleared the fence. Still, heading for the fourth it was a 3-2 game. At which point, Lilly completely lost touch with the strike zone. (For what it's worth, I thought Marquez tended to squeeze the top and bottom of the zone, but gave the pitchers room to work with on the sides of the plate. I watch from a funny angle, though.) Lilly briefly came totally unhinged - walk, double, wild pitch, walk, walk. To his credit, he rallied to get Nixon and Gonzalez, and got a big assist from Catalanotto, throwing out Lowell at home to end the inning after Crisp's RBI single that made it 5-2.
But that was enough of Ted the Tease, and on came Francisco Rosario to work the fifth inning. Now it's time to talk about Manny. On Wednesday evening, Manny treated us to a neat display of what he can do for you in left field. We saw him hustle to the wall, smartly play the carom on Glaus' booming line drive, and gun a perfect throw to second base, driving Mighty Troy back to first. And then a few innings later he came clumping in on Hinske's little looper, which landed somewhere near his feet. He then had a bit of trouble... uh, picking up the baseball. But once he finally had it firmly in his possession, he uncorked another very strong throw and almost nipped Overbay at the plate. The man does have more than 100 BaseRunner Kills, and has led the AL twice. He's not a complete clown out there.
But it's his bat that's taking him to the Hall of Fame. On Monday, Ramirez lit up Roy Halladay for his 50th home run against the Toronto Blue Jays. That's way more than anyone else has hit against Toronto over these 30 years, and I do feel it ought to be pointed out that Ramirez spent more than half his career
playing in another division.
This is just his sixth year in the AL East.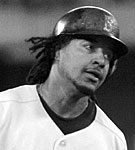 Manny turned 34 on Tuesday, and Francisco Rosario's fastball hits 97 on the gun. Big deal. The pitcher who can throw a fastball by Manny Ramirez... well, it's merely a theoretical possibility. It's not like one actually exists. Rosario did try, however, and Manny went "whoopee" and pasted that sucker some 420 feet to left-centre. And so it was a 7-2 game, and Ramirez had now hit 51 home runs against the Blue Jays.
Aren't you wondering - what did we ever do to him? When did this start?
Ramirez' played briefly in 1993, but did not face Toronto. His first full season (sort of) was the strike-shortened campaign of 1994. In 8 games against the Blue Jays, he went 6-27 (.222) with a single homer (hit off Mike Timlin.) In May 1995, the Indians came up to Toronto for three games. Manny roughed up Pat Hentgen for two homers in the first game, and hit another against Danny Darwin in the third game. The Blue Jays visited Cleveland a week later, and Al Leiter hit Ramirez in the head in his very first at bat. It was a breaking ball that ran in him, no one seemed too upset at the time -
but I wonder.
..
Oh well, enough about Manny.
The Red Sox tossed a 22 year old kid out of AA to the wolves last night, and the Blue Jays pounded out 11 hits off him in just 4.1 IP. But they had the Rally Killer working full-time last night. They had two men aboard with one out when Glaus ended the first inning by hitting into a double play. They had a run in, the bases loaded, and one out when Catalanotto ended the second inning by hitting into a double play. They had two men aboard with one out when Hillenbrand ended the third inning by hitting into a double play. And finally, they had two men aboard with one out when Overbay ended the sixth inning by hitting into a double play.
If you're wondering why John Gibbons seems to be starting his runners at odd times, even forcing it... well, go read that paragraph again.
The Blue Jays do not - repeat,
do not
- lead the majors in hitting into double plays. It just seems like it. In fact, they don't even lead the American League (hello, Texas!) - but they are next in line. And Shea Hillenbrand went into last night's game tied for the AL lead with 10 Rally Kills, but seeing as how both Miguel Tejada and Michael Young hit into
two
double plays last night, Hillenbrand now finds himself in a second place tie with Young - Tejada, with 12 GDPs, stands alone. Lyle Overbay, with 10, has fourth place to himself. And if anybody is going to break Jim Rice's record this year, it might be Garrett Atkins of the Rockies who has 13 in 51 games.
Finally, just a thought about the bullpen. Did it not seem like the 2005 team had a somewhat shaky closer, but the rest of the pen was superb? Does it not seem like the 2006 team has a superb closer, but the rest of the pen has been... well, somewhat shaky? For what it's worth, Vinnie Chulk is doing just fine at Syracuse, and I would expect to see him back up here shortly. Also doing rather nicely at AAA is one Ben Weber (2-1, 2.86), who also sports as nifty a K-W ratio (35-4... yup) as you could possibly hope to see. Am I crazy, or might Weber be more useful than Brian Tallet?