The Canadians evened up their series with Everett with their first home victory of 2016.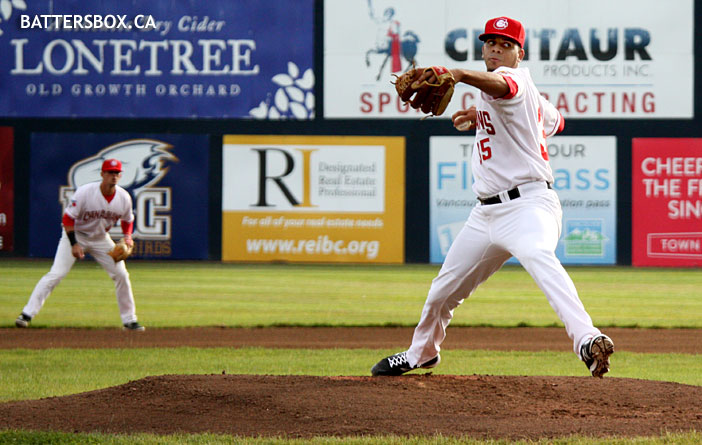 C's starter
Luis Sanchez
set the tone early with a 1-2-3 inning in the first.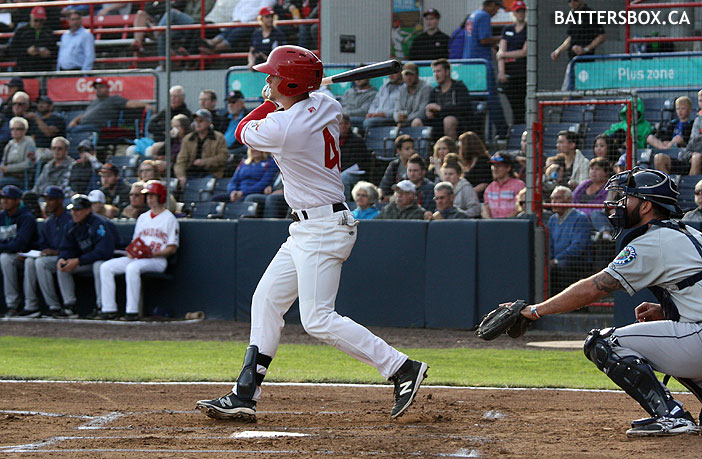 Cavan Biggio
lines the second pitch of the game up the middle for his first professional base hit.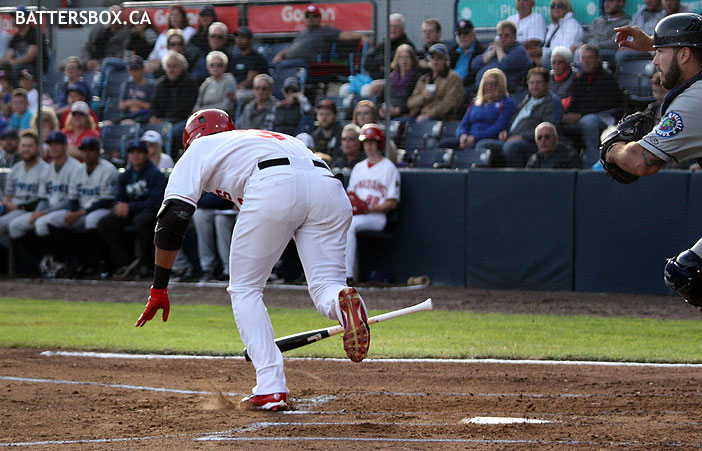 It looks like
Jesus Severino
was about to trip over himself but he laid down a sacrifice bunt to move Biggio to second.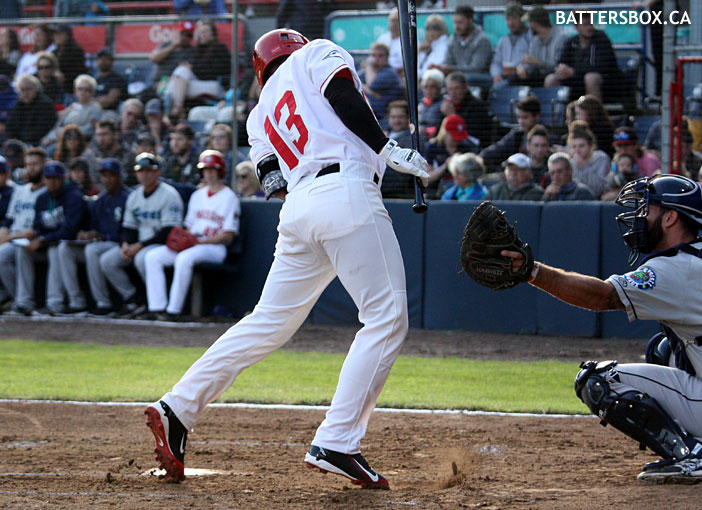 Deiferson Barreto
takes one for the team in the second inning.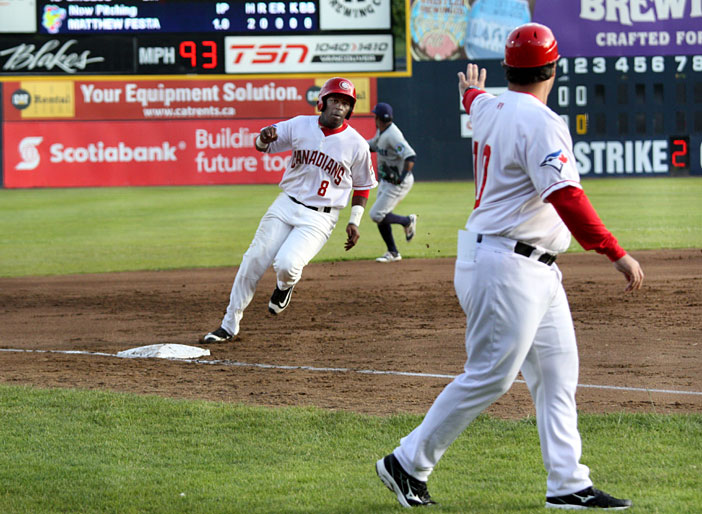 C's manager
John Tamargo Jr.
gives the stop sign to
D.J. McKnight
at third after a
Jacob Anderson
single to left loaded the bases.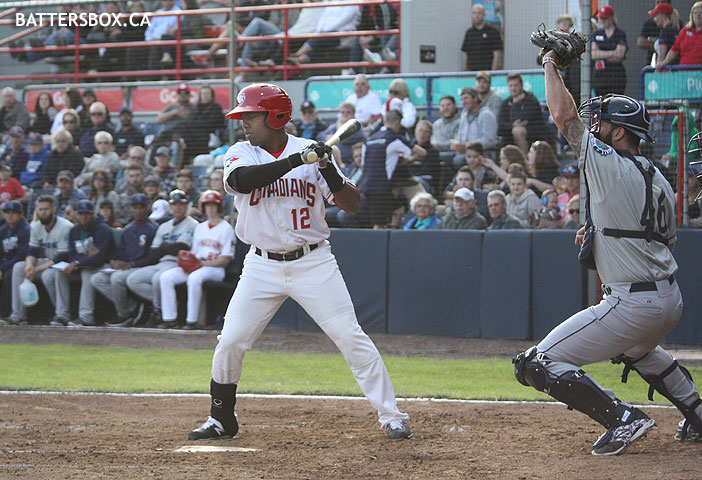 Rodrigo Orozco
takes a pitch upstairs for ball four.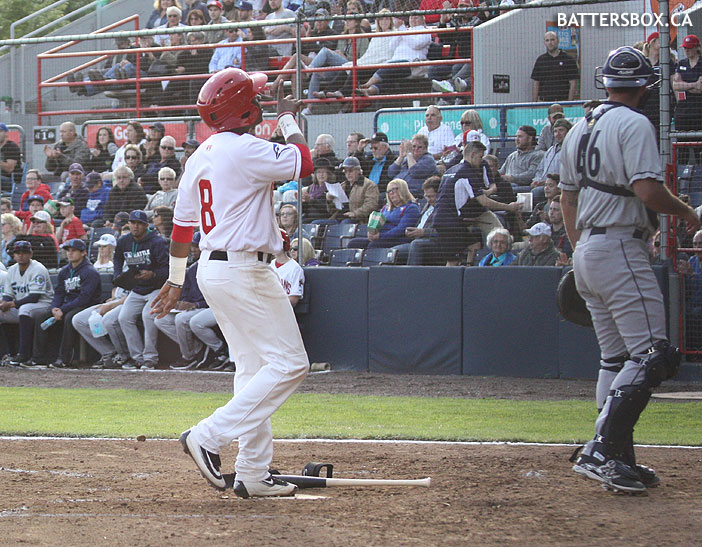 That walk brought in
D.J. McKnight
, who points skyward after scoring Vancouver's first run at home in 2016. It was McKnight's leadoff single that set the spark for a four-run second inning.
Everett left fielder
Austin Grebeck
- son of former Blue Jay
Craig Grebeck
- tracks down a deep fly ball from
Jacob Anderson
to end the third inning.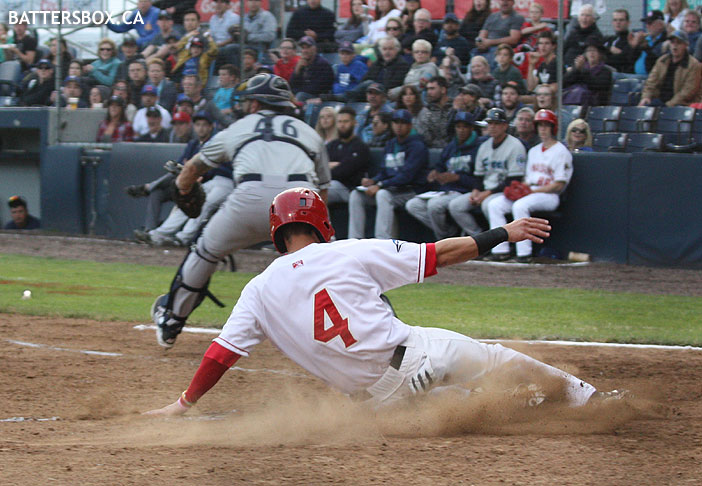 Cavan Biggio
slides home safely in the fourth inning after an RBI single by
Yeltsin Gudino
to make it 5-3 Vancouver.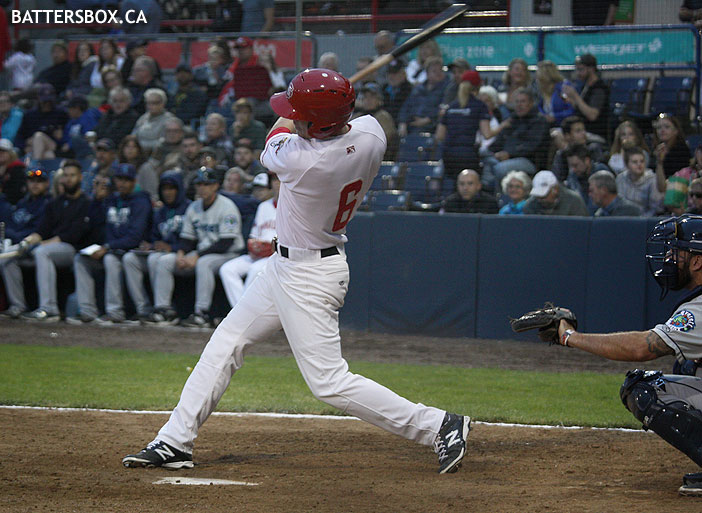 J.B. Woodman
grounds a single up the gut to score
Cavan Biggio
in the seventh inning. That turned out to be the winning run in Vancouver's
6-5 victory
over Everett.
---

Random Observations...
Luis Sanchez
had a fastball that registered 90-93 miles per hour with offspeed offerings in the low 80's. He did a nice job fielding his position by snaring a comeback to end the first and he flawlessly handled a sacrifice bunt and another tapper back to the mound to help limit the damage of a three-run fourth inning by Everett.
Winning pitcher
Dan Lietz
reached 92 on the gun and was able to go into damage control by stranding runners at second and third with a three-pitch strikeout to end the sixth.
Evan Smith
took care of business in the seventh and left with one out, one on in the eighth.
Jackson Lowery
, who clocked in at 90-92 miles per hour with his heater, allowed Smith's run to score in the eighth but he whiffed four to get the final five outs for the save.
Javier Hernandez
got some exercise behind the plate as he had to chase down four wild pitches and a passed ball. However, he picked off
Austin Grebeck
at second base to help Lietz get out of the fifth. If Hernandez wasn't feeling beat up enough behind the plate, he was also hit by a pitch in the eighth.
Cavan Biggio
enjoyed a 4-for-4 night at the plate and none of his two singles or two doubles were cheap. He made solid contact and used an all-fields approach with a double to left and right and singles to center and right.
Monty the Inflatable Mountie
was a no-show for a second straight night. He will be missed.
Justin Maese
gets the call on the mound tonight for Vancouver in the rubber match of their three-game series with Everett.
Dalton Rodriguez
and
Juliandry Higuera
will pitch the first two games of their series against Hillsboro Thursday and Friday to open up a five-game set. Tonight and tomorrow's games are 7:05 starts. Friday's game goes at 1:05.