Advance Scout, Royals, May 23-26
Friday, May 23 2008 @ 04:25 PM EDT
Contributed by: Anders
The Royals bring their league worst (by a hair) offense to town for a four game set having lost four straight. The Jays will seek to capitalize, and potentially crack the elusive .500 barrier.

On to the Advance Scout!

Now turn around, it's burning down
The city we live in
Should we mumble lies?
Take them by surprise?
Let them have their way with us?

The Royals are basically the type of team that the Jays should and can beat - they can hardly hit a lick (and got no-hit the other day) and have been struggling of late. They are the type of team that good teams can sweep, like the Red Sox, for example. May is always to early for must win games, but if the Jays can go 3-1 they will be over .500. Nifty.

Tonight we're treated to the best pitching matchup in the majors on the night, and the best of the series, as Roy Halladay faces Royals ace Zach Greinke. Of course its the fourth straight Jays game not on television because of the Memorial Cup. Good one, Sportsnet, I'm really glad I pay for each of your four channels. In any event, Zach Greinke has been en fuego, as the kids say, and is carrying the staff along with Brian Bannister. He's averaging just under seven innings a start, with a 2.18 era and a 43/15 K/BB in 62 innings. Somehow he's even managed to go 5-1 despite the Royals terrible offense. Greinke suffered from a well documented Social Anxiety Disorder, but seems to have made a recovery. If it seems like he's been around for a while, well, he has - he's 24 and this is his fifth full season. He has very good command (although I guess only good control), and is able to locate his fastball, which runs into the low 90s, on any part of the plate. He also throws a slider, curve and changeup, and is effective at changing speeds, working from the low 70s to the low 90s. He'll get in trouble if he tries to nibble too much. Alex Rios and Kevin Mench are both 4/10 with no homers off Greinke; only Stewart has more than 10 ab's, and he only has 3 hits. Otherwise, we're lucky were not in the NL, as Greinke is a career .375 hitter with a home run in eight at bats... Greinke's brother, Luke Greinke, was named the best prospect in the Valley Baseball League by BA last year; he plays college ball at Auburn.

Saturday its Luke Hochevar (pronounced ho-CHAY-var) against Jesse Litsch. The Hype hasn't quite matched the results for Hochevar yet, as he has struggled with his command, walking 20 against 26 strikeouts in 35.2 innings. The 2006 number one overall pick (he was also the 1171st and 40th overall pick at various points) received a four year guaranteed contract thanks to Scott Boras, which is why he is in the majors with less than 200 innings under his belt in the Royals minor league system. He was roughed up in his last start against the Red Sox, giving up seven runs, walking six and whiffing two in six innings. Against the Jays earlier this season he allowed only one run as the Jays lost 2-1. He throws a low 90s fastball, a plus curve, a change and a slider; he'll throw the slider most of all the non-fastball pitches. He changes speeds effectively, or at least does when he's pitching well. No Jays have more than 5 at bats against him. He is apparently an awesome Rock Band player. As long as he doesn't pull a Zumaya I guess....

Sunday afternoon features almost-Jay Gil(ga)Meche up against Dustin McGowan. The Meche signing was ridiculed when it happened, and I guess things worked out alright for the Jays, but other than every FA pitcher being overpriced and not worth the risk almost by definition, Meche has been not bad at all. Meche has now pitched 275 innings as a Royal, in which he has a 199/83 K/BB ratio with an era around 4. Of course, he's struggled this year, and sports an ugly 5.58 era. He's picking up though - in his last five starts he's allowed only 13 runs in 31 innings. Perhaps a fiery speech from manager Trey Hillman did the trick. Meche throws both a two and four seam fastball, both have some zip to them. He'll also throw a plus slider at around 88, a couple mph slower than his fastball. He'll throw quite a few curveballs, as well as the odd change. He really doesn't rely on his fastball that heavily. He's more of a flyball pitcher. The Jays have had plenty of success of Meche - Scutaro is 7/20, Hill is 5/15, Barajas 4/12, Overbay 4/14, Stewart 5/14. Alex Rios has had 13 at bats against Meche, in which he has two doubles, two triples and six singles - yes, he's 10/13. Small sample size alert I guess, but maybe Meche should intentionally walk him - he's hitting .769/.786/1.231... with only one RBI. Go figure.

The finale Monday afternoon features Brett Tomko going up against Shaun Marcum. The Royals are Tomko's seventh team. One team he's never played for is Cleveland, despite the fact that his father was the person who chose the name for their basketball team, the Cavaliers. In any event, Tomko has been, well, Tomkoesque this year. He's pitched 50 innings and allowed 32 earned runs, which is not so good. He's managed a pretty good 35-13 K/BB ratio though, roughly in line with his career numbers. Like seemingly every other, Tomko throws a fastball, slider, change and curve, as well as what pitch f/x identifies as a splitter. He can still dial it up there with the fastball, hitting 92/93 on a regular basis. Scott Rolen is 9/22 lifetime off Tomko, Stairs is 5/11, Zaun is 2/10, and no one else has more than 6 at bats against him.

Unfortunately we miss Brian Bannister, perhaps baseball's most statistically inclined pitcher. He got rocked by the Red Sox yesterday, alas. This also means that we're missing a Banny Log, Joe Ponsnanski's awesome tracking of Bannister starts. I would still recommend JoeBlog though, as Posnanski is one of the best sportswriters around, period.

As repeatedly alluded to, the Royals offense is terrible. They hit a ton of singles, and thats about it. As the Red Sox series was starting up they were fifth in the AL in batting average, despite being last in scoring, though I think being no hit might have dropped that a bit... Anyway, they hit for empty averages as there is little in the way of walks or power. The best regular has been Alex Gordon, who's hitting a respectable .295/.378/.451 at third, though there haven't been any Evan Longoria contract type rumblings surrounding Gordon. Gordon might have the most valuable baseball card of any recent player, for somewhat esoteric reasons.

Miguel Olivo has been a fine backup catcher; he's hitting .289 with six home runs and eleven doubles in ninety at bats. Backup John Buck, however, has an OPS of .671 in more at bats. DH Billy Butler has struggled this year, and was benched yesterday after going 0-10 in the first three games of the Red Sox series. He's hitting .267/.341/.352 with only one homer in 165 at bats. Apparently, though, his nickname is 'Big Donkey'. I can't make this stuff up folks. I guess when you are so bad defensively that the club would rather play Ross Gload and his 19 career home runs at first...

Tony Pena Jr. is probably the worst hitter in the major leagues, hitting .162/.185/.208 in 130 at bats. Of course, this means that Pena must do all the little things that don't show up in the stat sheet, like play good defense, right manager Trey Hillman? I call it Ron Gardenhire disease. Mind you, none of this stopped John Gibbons from intentionally walking him earlier in the year. Joe, what are your thoughts on this one?

Jose Guillen has admitted he showed up to Spring Training this year out of shape. This might help explain his .251/.280/.450 line, although he hit even worse than that two years ago. No editorial comments here about Guillen's bust for being linked to performance enhancing drugs and his subsequent fifteen game suspension. The Royals are Guillen's 9th team in 12 years, and has had well documented feuds with Mike Scioscia amongst others, so I guess he isn't winning Mr. Congeniality anytime soon.

Mark Grudzielanek (and yes, I copy/pasted that) was hitting .331 as recently as May 18th, though he's mired in an 0-13 stretch thats dropped his average down to .301. To be fair, the man is almost 38.

Joakim Soria just signed a three year, $8.75 million dollar extension with three club options that could bring the total value of the deal closer to 30 million. Soria has been lights out so far this year, allowing only two runs in 18.1 innings with 22 k's and 4 walks. The Royals bullpen as a whole has been surprisingly good, blowing only three leads all year, out of 38 chances.

A couple of other fun notes: the Royals have only issue two intentional passes so far this year, after allowing 54 freebies last year... they're hitting .284 with RISP....

The Infirmary: Luke Hudson and John Bale, both with shoulder problems.

2008 Motto Rating: New. Blue. Tradition. I'm gonna go with a C+, because its not really stupid on the surface, but if you think about what it actually means, well, new and tradition don't go together so much. Also, it sounds like some sort of wedding superstition.

Breaking News Alert: Joey Gathright can jump over a car. Still not as good as this.... He also might be Aaron Hill's least favourite player ever.

The Chart: The Chart is delayed today it takes hella long to do and (shameless plug alert) and I am about to be on the radio with Alex Obal discussing the Blue Jays on CFRC Kingston at about 4.45 (http://www.cfrc.ca/). Alex has volunteered to whip something up, so that should be along in a while.

The Credit Section: All offensive stats, pitches per PA for pitchers and league average stats are from the Hardball Times. Pitchers' stats and leverage indices are from Fangraphs. Minor-league stats are from Minor League Splits and First Inning. K% and BB% are strikeouts and walks as a percentage of plate appearances; GB% + LD% + FB% = 100. These are 2008 stats, except where noted. Special bonus high five to Alex for doing the chart I was too lazy to make.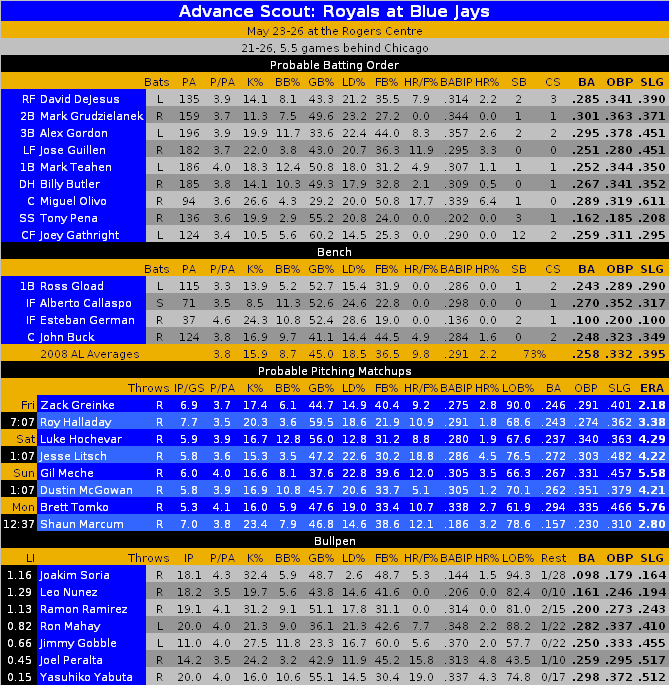 ---

https://www.battersbox.ca/article.php?story=2008052314230656