Advance Scout: Yankees, July 11-13
Friday, July 11 2008 @ 02:30 PM EDT
Contributed by: Alex Obal
Fine. I admit it. I'm a bit excited about this series. Maybe it's tonight's pitching matchup, or maybe it's tomorrow's, which is pretty intriguing itself. Maybe it's the presence of Brett Gardner and Jose Molina in the Yanks' regular lineup, or maybe it's just Adam Lind walkoff fever. Whatever it is, there should be a decent atmosphere in the Dome this weekend.

Tonight, it's Joba Chamberlain taking on the Doc. This time, Joba won't have to contend with the 62-pitch leash that limited him to 2.1 innings in his debut as a starter, the last time he took on the Doc. This is Joba's eighth start of the year. He's basically the same guy he was in the bullpen, maybe minus a couple of mph on the gun. He's running deep counts, just like he did as a reliever; throw away his first two pitch-count-shortened starts and he's still only averaging 5.7 innings. Joba has a 2.57 ERA as a starter, but he's been much less dominant since being stretched out: his WHIP is up from 1.14 to 1.49, and his K/BB is down from 30:11 to 37:21. It should go without saying that I'd like to see every lefty position player on the roster in tonight's lineup. Joba's bag of tricks is the same thing it was last year: hard fastball, hard slider, change and curve, except he's breaking out those last two a bit more often. Should be fun. It'll be interesting to see how the new aggressive approach fares in a game where patience is clearly more of a virtue than it usually is.

The surprisingly competent Darrell Rasner goes tomorrow. Rasner was given a spot in the Yankees rotation on May 4 and he hasn't let go of it. He's a 27-year-old righty of the cutter/changeup variety with an 80-point backwards OPS split this year. He throws in the mid-high-80s, and his other pitch is a slow curve. He's struggled of late, averaging 4.25 runs allowed over 5 innings in his last four starts, but until Wang or Hughes returns it's going to be tough for the Yanks to find someone to replace him. John McDonald owns a triple off Rasner.

Sunday, it's Andy Pettitte, who's a hair behind Mike Mussina in the Yankees' best starter race in the first half. Pettitte is his usual self this year, and his cutter is going to present a nasty matchup for a team that's had major problems with lefty pitchers. The Jays' most accomplished Pettitte bashers are... Shannon Stewart and Vernon Wells. John McDonald is 5-10 with a walk; Lyle Overbay is 1-18 with 5 strikeouts and 0 walks against the cutter-throwing lefty. I think he really hates those guys.

Injuries! Hideki Matsui has an inflamed left knee. He won't be back until at least after the all-star break. Johnny Damon sustained a shoulder injury when he crashed into the Yankee Stadium fence. He's on the DL and won't play this weekend. Jorge Posada's shoulder problems persist, so Jose Molina has caught four games in a row while Posada DHs, not that Molina is really taking a lineup spot from anyone substantially more qualified, especially when you factor in his defense. And Brian Bruney is on the 60-day DL, currently rehabbing a foot injury he picked up while covering first base.

With Matsui and Damon out, the Yanks' lineup looks a bit weird. It's not often you get to face these guys and have the luxury of two auto-outs in the lineup, and that's not even counting Robinson Cano's usual first-half swoon. Of course that didn't stop the Yankees from pitching the Rays to death in a two-game sweep earlier this week, but it does make the Jay pitchers' task a little bit easier.

Here are the replacements:

Brett Gardner, a 24-year-old speedster who bats left, has been starting in left field most of the time. "He creates havoc," says Joe Girardi. Gardner was a third-round pick of the Yankees in 2004, a few years after walking onto College of Charleston's baseball team. He's hitting .143/.194/.143 in 33 PA, but that includes a walkoff single against Jonathan Papelbon, so the True Yankee factor is strong in this one. He's 4-for-4 stealing bases in the majors after piling up 34 thefts in AAA. He'll probably start the first two games of the series and bat leadoff.

Justin Christian is a 28-year-old career minor leaguer who bats right and is likely to platoon with Gardner until one of the regular outfielders returns. Christian is a speedster, too - 20/23 stealing bases at Scranton. Also like Gardner, Christian has struggled early, going 3/18 in his first 20 PA, but he's only struck out once. He won't get cheated. Christian was obtained by the Yanks as an undrafted free agent in 2004.

While Jose Molina does an uncanny Jose Molina impression with the bat and glove (24/49 throwing out basestealers), Jorge Posada is wondering when he's going to get his defensive job back. It goes without saying that if Joe Girardi decides to catch Posada anytime this weekend, his arm should be tested often.

Mariano Rivera is in the midst of his best season since at least 2005 and maybe ever. His K/BB ratio is 12.50 for the first time ever, and 28.6% of his flyballs are staying in the infield, which is ridiculous. Rivera has blown zero saves this year. He is simply a mensch.

Hard-throwing, straight-throwing Professor Kyle Farnsworth seems to have claimed the role of full-time setup guy, and he's even pitching OK in it after a terrible 2007, save for his traditional home run issues. The much less erratic and vastly superior Jose Veras and Edwar Ramirez languish in middle relief. Ramirez, the changeup artist, is a huge flyball pitcher and probably not the greatest guy to have on the mound in Yankee Stadium with a one-run lead, but he's tremendous at making batters swing and miss, and he's really no more of a homer threat than Farnsworth, who's allowed a 1.000 OPS vs lefties this year. Veras, for his part, has been a major revelation in his first real shot at pitching in the bigs. He throws mid-90s hard and has a fairly hard curveball - think Manny Delcarmen - to go with a show splitter. So even with Joba out, the Yanks do have a reasonably strong setup corps, but its weakest link (in my view) is the one that gets to pitch the 8th inning with a lead all the time, so this could be tougher.

Everyone loves the Giambi stache. It's even made him sort of popular again, as people notice that he can sort of hit again.

Alex Rodriguez, private citizen, took a personal detour between games Wednesday and Thursday. He didn't travel with the team to Pittsburgh and arrived himself. "He had to take care of something," according to Girardi. This is news!

The Credit Section: All offensive stats, pitches per PA for pitchers and league average stats are from the Hardball Times. Pitchers' stats and leverage indices are from Fangraphs. Minor-league stats are from Minor League Splits and First Inning. K% and BB% are strikeouts and walks as a percentage of plate appearances; GB% + LD% + FB% = 100.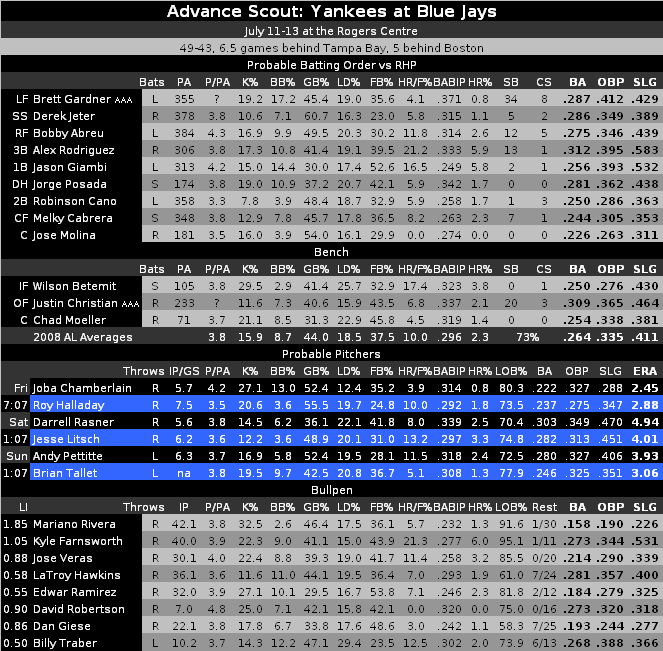 ---

https://www.battersbox.ca/article.php?story=20080711074553400