Advance Scout: Rays, July 18-20
Friday, July 18 2008 @ 10:00 AM EDT
Contributed by: Alex Obal
As usual, the good guys' first series after the all-star break is a major gut check against an AL East team. That's normal. What's weird is that the Jays get to perform the checking of someone else's guts this time. The upstart Rays have lost seven straight games as they face actual pressure for the first time in franchise history. They'll look to bounce back by sending their big three starters to the hill at home, where they're 36-14 this year.
The Rays are still 55-39, 16 games over .500, which puts them 2.5 games ahead of Minnesota for the wild card. So it could be worse. But the big mo is not on their side, and whether the pressure of playing in a pennant race will crush them remains to be seen. Scott Kazmir wishes they wouldn't worry so much about the out of town scoreboard. "You see guys coming in right from playing on defense and they're like, 'What's the Boston score? What's the Boston score?' That's not how you're supposed to do it."

The Rays Index currently sits at 7.8, slightly below "They will be in playoff contention all season." That sounds... a bit pessimistic?

Tonight, it's Blue Jay killer James Shields, 3-0 with a B.J. Ryan meltdown and a 2.70 ERA in four career starts against Toronto. He's averaging just under 7 innings in those starts and holding Jay hitters to a .202/.248/.354 line.

Shields is basically a harder-throwing, more convincing-looking version of Shaun Marcum with less effective breaking balls. He's all about the sinker, cutter and the power changeup. His splits are, not surprisingly, small. The effectiveness of Shields' change has to do mostly with downward movement rather than velocity difference from the fastball. In that sense it's kind of like Marcum's, though Marcum's relies more extremely on movement and Shields' average fastball/change velocity differential (AFCVD?) is 8 mph to Marcum's 6, according to Fangraphs. If pitch fx is your thing, compare the fastballs and changes in Shields' horizontal/vertical graph with Marcum's (another power change guy) and Javier Vazquez's (a guy whose change kills hitters in the more traditional way - because it's 10-12 mph slower than the heater, not because of any movement.) There was a little discussion of changeup velocity dropoffs over at the Fangraphs blog the other day.

Shields may look like an inviting target for base thieves because of his high leg kick when he pitches from the windup, but they are actually only 22/37 against Shields all-time, and he has five pickoffs. He has three complete games, which ranks him second in the AL behind Doc. Looking over the Jays' career numbers against Shields, the pickings are slim. Two homers: Aaron Hill (injured) and Vernon Wells (injured). Take away Hill and Wells and the pickings get slimmer. So... bring it, AJ!

Tomorrow, it's Matt Garza. This is how you can tell Scott Kazmir has developed big-league command: Garza has replaced him as the official Best Stuff on the Staff Guy according to TV bullet-point scouting reports. Crazy as it may sound, they might be right. Check out Garza's pitch fx - if you're a hitter and you can't tell his slider and curve apart quickly out of his hand, it's not going to be a fun day and aggressive hacking may be the way to go.

As the graphs show, Garza has a really hard moving fastball around 93 which he throws often. I imagine he has trouble with Fastball Hitters, though for what it's worth he has no platoon splits. Hard slider in the mid-80s, curveball in the mid-70s which is like the slider with much more vertical break, occasional change of the non-dropping Vazquez variety. Johnny Mac's homered off Garza. Delmon Young is now .286/.330/.386 and his strikeout rate has fallen modestly. He turns 23 in September. Garza is 20 months older.

Sunday, it's The Ace: Scott Kazmir.

Due to the length of the All-Star Game, Kazmir's start was pushed back a day, depriving us of a matchup of very arguably the two best starters in baseball. Kazmir has lost his last two starts and hasn't posted a game score above 60 since June 6, but his peripheral stats have been consistent all year, so I'm not calling it a slump. Kazmir throws around 92 with the fastball, 82 with the late-breaking slider and 79 with the change. His change is much slower than usual this year, and it even has some vertical movement to it too, but that hasn't dented his 162-point career OPS split yet. He's held the high standard of lefty batting he's faced this year to a .206/.242/.286 line. I'd like to see a John McDonald start here. Mac is 5/16 against Kazmir - actually, he has really good numbers against all three Rays starters this weekend. And Lyle Overbay, defying the splits, is 4/12 with a walk. Kazmir isn't a soft-tossing cutter guy, which I suspect suits Overbay just fine.

Rays' bullpen, in two words or less: Time bomb. The overachievers have combined for a 6.98 WPA and 3.38 ERA in 274 innings over the first half. I have no faith in their ability to come anywhere near sustaining that performance the rest of the way.

The closer, Troy Percival, is a colossally huge flyball pitcher (18.6% GB) who runs deep counts and is currently on the 15-day DL with a hamstring injury but likely to be activated sometime this weekend, and apparently his running-out-of-the-bullpen anthem is by someone or something called "Godsmack," as far as I can tell, which isn't helping anyone. Not that the Jays lineup is particularly good at punishing flyball pitchers for their flyballs, but there are some teams in this division that are, most notably everyone else. Percy's BABIP is .197, which is actually not that farfetched given his obscene flyball rate, but it's yet another red flag. Percival has a 3.54 ERA, a 1.22 WPA and he's allowed only four homers in 28 innings. That will change.

When the Rays bring in lefty J.P. Howell in a tie game, you know they mean business. Howell's supposed to be the long guy, but he's easily the Rays' WPA leader with a 2.60, mostly because whenever there's a tie game in the late innings, Joe Maddon just sics him on the other team for as long as he feels like and watches them flail helplessly at Howell's sweeping breaking balls. Howell hasn't blown a game yet. He's 6-0. Howell looked like a prototypical AAAA pitcher heading into '08, failing in each of his three attempts at starting over the last three years, but working out of the pen has enabled him to add about 3 mph to his fastball and only helped to make his nasty breaking stuff nastier.

Dan Wheeler is an OK setup guy with awesome stats due to his .174 BABIP. Al Reyes returns from the DL this weekend. He's been out for a month with shoulder tendinitis, but at least he doesn't have to worry about the ceramic pot bar fight Taser incident anymore. Aussie righty Grant Balfour blows hitters away with fastballs, has a 38.4% K rate, and should probably be given the closer's role if Percival collapses in the second half. And Trever Miller is getting lefties out (.200/.293/.260).

The Rays will get the services of Jason Bartlett back at some point this weekend. Bartlett is not the best offensive shortstop ever, but the Rays blamed some of their struggles on his injury, since they missed his defensive range. Bartlett is also an excellent baserunner, but his injury is a right knee sprain, so he may not be at full speed if he returns right away. For now, tall switch-hitter Ben Zobrist remains on the roster as the starting shortstop. Zobrist has hit three homers in his very short stay in the majors. I would not be shocked to see his career high in homers turn out to be 3. Since he doesn't really do anything better than Bartlett, he's probably the guy who will be sent down when Bartlett returns.

In his last 25 at-bats, Carl Crawford is 0-25. I'd walk him intentionally every time if he weren't 33/34 stealing bases against the Jays since 2005. Meanwhile, B.J. Upton is still on track to become an underrated star. He has a .384 OBP and 27 stolen bases as the Rays' #3 hitter, while improving his walk and strikeout rates from last year. His power has vanished, but he's only 23. If it returns, watch out.

Dioner Navarro has hit like a really slow version of Johnny Damon this year. Who doesn't love a singles-hitting catcher with a line-drive stroke who puts tons of balls in play? Somehow, he's only grounded into nine double plays this year.

And MC Hammer is giving a free postgame concert after Saturday's game, so he can give a rousing rendition of "2 Legit 2 Quit" as the losing streak hits 9. Or something.

The Credit Section: All offensive stats, pitches per PA for pitchers and league average stats are from the Hardball Times. Pitchers' stats and leverage indices are from Fangraphs. Minor-league stats are from Minor League Splits and First Inning. K% and BB% are strikeouts and walks as a percentage of plate appearances; GB% + LD% + FB% = 100.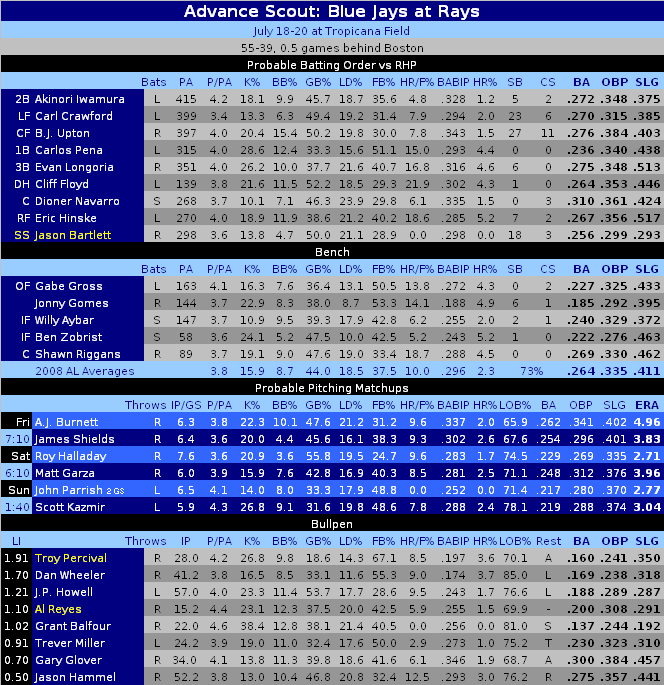 ---

https://www.battersbox.ca/article.php?story=20080718070435778