Advance Scout: Red Sox Sept 12-14
Friday, September 12 2008 @ 03:10 PM EDT
Contributed by: Anders
The Advance Scout also jumps back on the Blue Jays bandwagon, for the series that Alex and I are tentatively calling THE BIGGEST SERIES EVER. Not to, you know, jinx it or anything. On to... the Advance Scout!
The Jays make their way to Fenway Park, where the Jays are 3-2 this season. Overall, they are 7-4 against those dastardly Red Sox, having outscored them 66 to 31 in those 11 games - the 10-2, 15-4 and 11-0 beatdowns being the chief reason for that. Now we all know how the Jays have done - winners of 11 of 12 - but how about the Red Sox? Well, they come into this series on a bit of a down note after a long string of success. After winning the opener of their set against Tampa, the Sox promptly dropped the next two, with the last game being in 14 inning fashion. On the whole though, they have won 11 of their last 16. After all, this is a pretty good team, and one that is seeking vengeance and a division title - they are 2.5 back of Tampa. All of this is why this is... THE BIGGEST SERIES EVER (in the last few years).

On Friday youngster David Purcey takes to the mound against grizzled veteran™ Tim Wakefield. Purcey's been alternating dominant and mediocre/poor starts for a while, and this one is scheduled to be a poor one...Wakefield is definitely a veteran - this will be his 501st career appearance for the Red Sox, and most of them have been starts. Dude's been around a long time. Anyway, he is coming off his worst start of the year: he was lit up by the Rangers to the tune of 7 runs in 1.2 innings - he walked 4 and whiffed none. Other than this, Wakefield has been surprisingly consistent. He basically goes 6 or 7 innings every start and allows between either 2 or 3 runs. Seriously - he's pitched 6 or 7 innings in 15 of his 26 starts and allowed 2 or 3 runs 12 times. Maybe that information isn't phenomenally helpful, but I think it's about what should be expected of Wake tonight. At this point in his career there isn't much need for a scouting report on Wakefield. He throws a knuckleball, which bores in on hitters in the mid 60s generally. Hurrah! Well, he also throws a fastball in the low 70s, which he uses sparingly. Even more sparringly used is his curveball - might see two of those a game. Wakefield has been extremely streaky throughout his career, and he's on a cold streak at the moment. He's 15-11 all-time against the Jays, with an ERA of 3.87 - versus 4.32 for his career. No current Jays have hit him particularly well - Kevin Mench is 6/19 with 3 doubles and a homer, Barajas is 5/19 with a homer, Rios is 9/36 with 3 homers, Wells is 13/48 with 2 XBH, Scoots is 5/13. Bonus fun fact: Wakefield made his major league debut with the Pittsburgh Pirates in 1992. The last year they had a winning season. He was a teamate of Barry Bonds.

The first game of the day night doubleheader on Saturday features AJ Burnett against Paul Byrd. Burnett is pitching on three days rest, something he's done three times prior in the regular season. He's been great in those games, going 3-0 with an era of 3.00, averaging 7 innings a start. He's also only allowed 14 hits and 6 walks in his last three starts, spanning 21.2 innings, while whiffing 23. Anyway, back to Byrd. It was a month ago today that he was traded to the Red Sox for a PTBNL. It's worked out alright for the Red Sox - he's 4-1 with an era of 3.82 in his five starts. His one loss was against... you guessed it, the Jays. He also beat us, giving up four runs both times. Byrd has had a pretty interesting off field career. He was named in the Mitchell Report and accused of using HGH, he wrote a book, Free Byrd, in which he extolled his Christianity and also some, uh, not particularly Christian issues. He's also garnered the nickname Frasier, after Kelsey Grammer's character in the eponymous TV show, whom he is said to resemble (visual evidence follows). He seems like a pretty good dude - here he is talking about the worst 'spread killers' in baseball - guys who kill the post game spread the quickest. He also has a sick windup. Anyway, back to the baseball. Byrd throws a fastball, slider, curve and change, none particularly hard at this point in his career. He'll work between about 72 mph and 87 mph. Joe Inglett is 7/10 lifetime, Lyle Overbay is 7/13, and everyone else has pretty much been terrible.





The nightcap Saturday sees Jesse Litsch going up against Bartolo Colon. The 2005 Cy Young Award winner has had a rough time since then, as he's struggled with injuries; this year has been no different. Still, he's managed to make six starts, going 4-2 with an era of 4.09 and a 26/9 k/bb ration in 33 innings. He continues to have problems with the longball, giving up five so far, though three of them were in his last start, when he allowed four runs in four innings. Colon is essentially a two pitch pitcher at this point, throwing a low 90s fastball and a mid 80s slider. Occasionally he'll mix in a change, which comes in at the same speed as the slider. His off speed stuff has been necessarily good in his career - after all, the man could pitch at one point. He threw a one hitter for the AAA Paw Sox earlier this year. He still looks pretty portly... Vernon is 8/23, Mench is 6/22, Zaun is 3/9, and it just gets ugly after that. Barajas is 0/18, Rios 2/9, Scoots 3/16, Rolen 0/7.

On Sunday, Doc takes the bump against Jon Lester in the finale. Lester has been very good this year, probably their best starter (unless you believe Dice-K is for real...). He's got an era of 3.23 in 189.1 innings, with good ratios. He's coming off a phenomenal start against Tampa, where he allowed nine baserunners, no runs and struck out nine in 7.2 innings. He's 14-5 on the season, and put a lot of beatings on people. Also beaten by Jon Lester: lymphoma. So the dude is pretty tough. He even threw a no-hitter earlier this year! In any event, the Jays handed Lester the worst loss of his career last time the two teams faced, with the Jays roughing him up for seven runs using only five outs. That one start definitely sticks out as an anomaly this year, as Lester has been one of the five best pitchers in the American League this year. On his start against the Rays, everyone's favourite ex-Jay employee Keith Law says he showed "outstanding command of three pitches... over the first five innings, he worked heavily off his fastball, mixing in his cutter and curveball, both of which were very sharp." Lester throws his fastball around 92 on average, but has reportedly ratcheted it up to 97 once or twice. His cutter is faster than a lot of fastball, as it can also touch 90 but is generally a bit slower than that. Finally his curve, which he drops in on hitters in the mid-70s. It's a pretty potent combo. Mench is 3/4 (seriously, just dh this guy a bunch Cito!), Overbay 2/4, Wells 2/6, Rios 2/7. Vernon is the only Jay to have ever homered off Lester.

In other Red Sox news:

The Sox seem pretty set up the middle for years to come, with Dustin Pedroia and Jed Lowrie at second and short. Pedroia has been nothing short of en fuego for the longest time. Over his last 65 games he is hitting .387/.432/.606, with 24 walks, 19 k's and 11 homers. And the guy is 5'9'' 180! He has become a surprise MVP candidate. Ultimately he isn't that close to deserving the MVP, but he's got a pretty good narrative and plays for a playoff team (for now!), while the stronger candidates (the Minnesota boys and Grady Sizemore, to my mind), do not at the moment. Also, Pedroia has his own brand of salsa. Which I'm pretty sure none of the other candidates do. Lowrie is hitting a not shabby .275/.358/.430 - not bad for a 24 year old rookie SS, though he is 8 for his last 41.

Jason Varitek is also mired in a slump, though this one has lasted most of the season. He's 1 for his last 14, and hitting just .226/.314/.365 on the year. The Red Sox captain has had a tough year, as he got divorced, He is the one of two major leaguers to play in the Little League World Series, College World Series, and Regular World Series. He's caught more games than any other Red Sox. He wants a big new contract from the Sox after this year. Good luck with that one, Tek.

David Ortiz is hitting .283/.409/.474 since returning from the DL, with 5 homers in 152 ABs... good, but not Papi-esque. He has apparently been stricken by the Vitamin Water curse. Oh I know, I never would have guessed it either. Jason Bay, on the other hand, is hitting .299/.354/.535 as a Sox, with 7 homers. Those numbers looked a lot better before he went 0/7 yesterday... Bay want's to stay in Boston after 2009, or at least he's saying it. I guess the Jays outfield will be full for a while anyway. Fun fact: Jason Bay's sister, Lauren Bay-Regula, and Brett Lawrie's sister, Danielle, both pitched for team Canada in the Olympics! Brett was there with the men's team as well.

Previously annointed Red Sox deity Jacoby Ellsbury has fallen back to earth, once again showing why we look at minor league track records. Since May 24th he's hitting .240/.282/.321, and is only 12/17 stealing bases (after going 19/21 before that... and hitting .299/.399/.428).

Red Sox close Jonathan Papelbon has been getting himself into some trouble lately. He gave up his first runs in 18 appearances spanning 20.1 innings on Wedneday, blowing the save against Tampa. However, as Keith Law and others have noted, Papelbon, over the course of two games against the Rays, threw 30 straight fastballs. The league caught up to Billy Koch, and they'll catch up to Paps too if he doesn't get his act in order. Red Sox Nation, as always, overreacts.

The Infirmary: Curt Schilling is basically dunzo, but that doesn't stop him from making fun of Yankees fans. Julio Lugo has a left quadriceps injury and has been out for two months. Meanwhile, the future has passed him by.

The 2008 Slogan: "2007 World Series Champions". Rating: A. Hey, it's true.

The Credit Section: All offensive stats, pitches per PA for pitchers and league average stats are from the Hardball Times. Pitchers' stats and leverage indices are from Fangraphs. Minor-league stats are from Minor League Splits and First Inning. K% and BB% are strikeouts and walks as a percentage of plate appearances; GB% + LD% + FB% = 100. Once again, the Chart has been brought to you by Alex's technowizardry. He truly is the advance scout. Also, if any of the links don't work, it's his fault. Or Firefox 3, one of the two.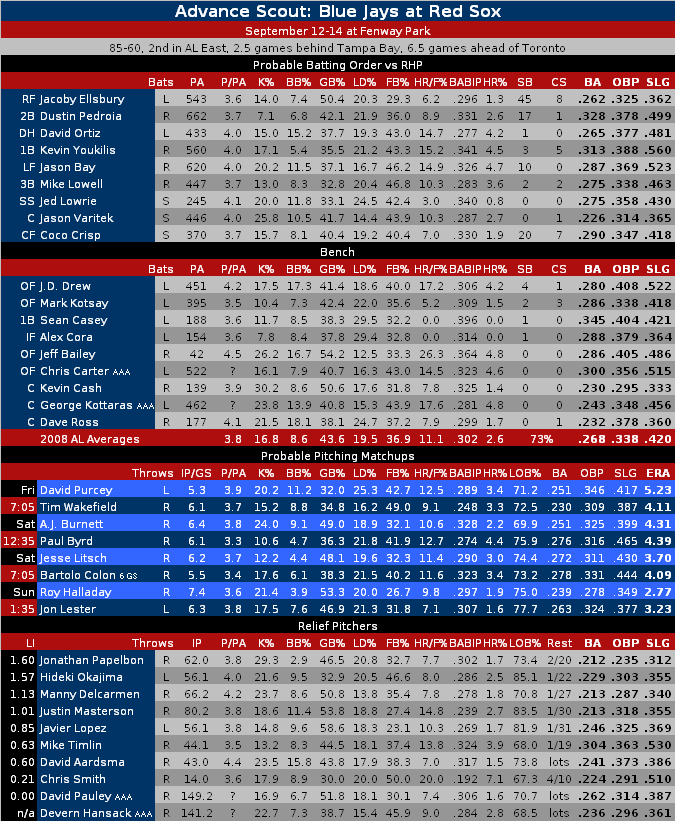 ---

https://www.battersbox.ca/article.php?story=20080912122342732