They ... could ... go ... oh, never mind ...
Friday, January 22 2010 @ 09:54 PM EST
Contributed by: Mick Doherty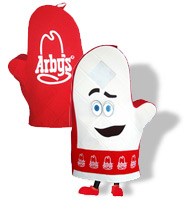 A recent essay by Batter's Box's own #2JBrumfield examined arbitration-eligibility news in the world of Major Leage Baseball. That called to mind recent efforts to build teams for our ongoing Baseball's Hall of Names based on player initials ... we've done dozens of such rosters of all types, ranging from G.M. to M.D. and P.R. to B.S. (that latter pairing, some wags would argue, is repetitive). But we've never done one for "R.B."
To do so, as always, we first need to set some ground rules ...
First and foremost, we will limit the literally hundreds of possible candidates for the team (courtesy, as always, of BaseballReference.com -- which, ironically, is BR rather than RB), by limiting our roster only to players who actually went by a name with the initials RB, so full given names are out.
For example, Robert "Bob" Bescher is not a candidate, but Rob Bell is eligible; similarly, Rick Bauer is eligible, but Richard "Dick" Bass, not so much. (Alas, neither is Rik Aalbert "Bert" Blyleven or orginal Blue Jay Robert "Bob" Bailor or even the nicknamed Robert "Bo" Belinsky.) As wonderful as his name is, David "Red" Barron is right out, and so are Emile "Red" Barnes and Stanley "Rabbit" Benton, and even the charmingly nicknamed James "Red" Bird. Of course, middle names are not considered -- sorry, Lawrence Robert Bowa -- unless the player, as noted above, went by that given name.
You get the idea. So given all that, let's move on to meat ... er, meet ...
The Roast Beef Sandwiches
** indicates Hall of Famer
* indicates All-Star
STARTING LINEUP
C Roger Bresnahan** (.279, 1897, 1901-15)
1B Rico Brogna (.269, 106 homers, 1992-2001, five teams)
2B Ross Barnes (.359, 1871-81; versatile, played all over)
SS Rick Burleson* (.273, 1974-87)
3B Ray Boone* (Also 1B/SS; .275, 151 homers, six teams, 1948-60)
LF Ryan J. Braun* (Also 3B; .308, 103 homers for MIL since 2007)
CF Rocco Baldelli (.279, 59 homers since 2003, TBR, BOS)
RF Russell Branyan (Also 1B/3B; .234, 164 homers since 1998)
DH Ron Blomberg (.293, parts of 1969-78, mostly NYY)
BENCH
C Rod Barajas (.238, 92 homers, four teams since 1999)
IF Ronnie Belliard* (.275, 112 homers, six teams since 1998)
SS/2B Rafael Belliard (.221, 1982-98 PIT, ATL)
OF Rich Becker .256, five teams, 1993-2000; .291/12/71 with 1997 MIN)
OF Ray Blades (1922-32 STL; .301 with 50 homers)
UTIL Ron Brand (.239, parts of 1963-71)
ROTATION
RHSP Ray Brown** (est. 101-30 in Negro Leagues, mostly Homestead Grays)
RHSP Ralph Branca* (88-68, also 19 saves, 1944-56)
RHSP Ricky Bones* (63-82, seven teams, 1991-2001)
RHSP Ron Bryant (57-56, 1967-75 SFG, STL; 24-12, 1973 SFG)
RHSP Rex Barney (35-31, 1943, 46-50 BRK; 15-13 in 1948)
BULLPEN
CL-RH Rod Beck* (286 saves, four teams, 1991-2004)
RH-SET Ricky Bottalico* (33-42, 116 saves, 1994-2005)
LH-SET Rigo Beltran (2-3, 1 save, four teams, parts of 1997-2004)
RH-LONG Ray Burris (108-134, six teams, 1973-87)
LH-LONG Ross Baumgarten (22-36, 1978-82 CHW, PIT; 13-8 for 1979 CHW)

Really Brief Notes & Comments ... There isn't an obvious lefty for the rotation -- the best candidate there would be Baumgarten, who at least rounds out the bullpen, which looks like it might be quite a strength for this club ... With the exception of Branyan in right field, this is a genuinely star-studded club from a defensive standpoint, but the offense is middling at best, though there are a number of variations we could make in the lineup as Bresnahan, Barnes, Boone and Branyan all saw significant time at three or more positions, while Brand and the (apparently unrelated) Belliard boys make the bench a flexible spot as well ...
Among those cut from this roster were a huge number of middling right-handed pitchers like Roger Bailey, Ray Bare, Russ Bauers, Rick Baldwin, Rich Batchelor, Rafael Betancourt, Rich Bordi and 101-game winner Ray Benge, who also lost 130 times and thus lost out on the final rotation spot to Rex Barney ... Other names you might know who didn't quite make the cut include IF Rafael Bournigal, OF Reid Brignac and 1B Randy Bass ...
Crossing sporting lines, we could always acknowledge a couple (or more) NFL RBs who made it to The Show in baseball as well, including D.J. Dozier and of course Bo "Knows" Jackson ... Rocco Baldelli's nickname is apparently "The Woonsocket Rocket" -- yeah, I'd never heard of his Rhode Island hometown before now either ... Ross Barnes hit .400 or better four times and cleared .425 in three of those seasons. Not unreasonably, his BBRef page sponsor writes, "Defined greatness in his era. The first legitimate superstar in MLB history. He belongs in the Hall of Fame" ...
Batchelor was once traded, even-up, by the Yankees to the Cardinals for a fella named Lee Smith ... When Rich used a hot water bottle, was it, in effect, a "Batchelor pad"? ... Rivington Bisland was the personification of the light-hitting shortstop, managing a career .118 mark with three teams over a three-year career spanning 1912-14 ... No, don't look back -- he didn't make the team, but what a cool name! ... The final cut from the bench should be a familiar name to Blue Jay fans: OF Rick Bosetti (.250, 1976-82, four teams) ...
Brand, while primarily a catcher, played multiple games at every position except 1B and on the mound -- he never appeared either of those places in the big leagues ... Some Canadian-based fans might remember him as part of the original Montreal Expo-nsion draft haul ...Ryan J. Braun has been an All-Star cornerman as a young Brewer; Ryan Z. Braun was a middling cuppajoe RHRP for the 2006-07 KCR ...
Hall of Famer Roger Breshnahan was a fine rookie pitcher for the 1897 Washington Senators -- 4-0 in six appearances, including five starts, three complete games and one shutout -- but is Cooperstown-enshrined primarily as a catcher and outfielder; he actually made multiple appearances at all nine defensive positions throughout his career ... Ron Bryant was 24-12 for the 1973 Giants (wrapping up a 38-19 two-year run) and not only didn't win the Cy Young Award (which went to Tom Seaver), he didn't even make the NL All-Star team!
So who's missing? And how does this team do in the 2010 AL East?
---

https://www.battersbox.ca/article.php?story=20100122215450232