It's a Wonderful Life, for Zach Stewart
Thursday, June 16 2011 @ 09:40 PM EDT
Contributed by: Gerry
Zach Stewart was the headliner on Thursday as he showed why the Jays are excited about his future. There were no angels on this day, at least not for the bullpen, who conspired to lose the game in the ninth inning. The Jays were in some ways lucky to get to the ninth inning tied, Jeremy Guthrie had been knocking them down but he injured his back and had to leave the game after five innings. His replacement, Jim Johnson, was not really ready and what usually happens in these situations is that the pitcher can be hit around. The Jays did and scored twice but EE snuffed out the rally by hitting into a DP. That was it until Jon Rauch gave up three ground balls, only one of which was hit hard, in the ninth.
But let's get back to Stewart and look at his pitch chart from Brooks Baseball:
Pitch Statistics
Pitch Type
Avg Speed
Max Speed
Avg H-Break
Avg V-Break
Count
Strikes / %
Swinging Strikes / %
Linear Weights
Time to Plate
FF (FourSeam Fastball)
91.08
92.8
-6.13
9.66
56
38 / 67.86%
0 / 0.00%
-1.1820
0.416
CH (Changeup)
83.80
86.5
-6.87
2.89
3
2 / 66.67%
0 / 0.00%
-0.0617
0.448
SL (Slider)
82.88
84.5
1.55
-0.06
15
8 / 53.33%
2 / 13.33%
0.9076
0.450
FC (Cutter)
88.70
88.7
-4.81
7.34
1
0 / 0.00%
0 / 0.00%
0.0613
0.423
FT (TwoSeam Fastball)
90.05
91.8
-9.31
9.12
11
7 / 63.64%
0 / 0.00%
-0.5360
0.424
Pitch classifications provided by the Gameday Algorithm and may be inaccurate.

From the chart we see Stewart threw mainly fastballs and sliders, only three of his pitches were off-speed. His fastball has excellent movement both downwards and horizontally. That movement earns him a lot of groundballs and doubleplays. He will have days when the ground balls find the gaps but Thursday was not really that day. The linear weight for his slider showed it to be his weakest pitch on this day. Also Stewart had only two swinging strikes but with the movement of his pitches he induced a lot of weak swings.
In his pre-game interviews on Wednesday Stewart talked about his change-up and curveball but he only threw three changes and no curves. In watching some of the game I thought I saw one or two curves but pitchfx did not see them. I thought the pitch that hit Reynolds was a curveball.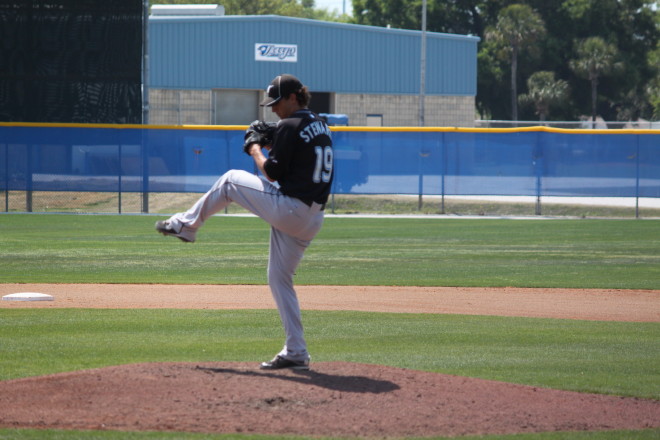 In his first start Stewart was probably keyed up with adrenaline. Perhaps that is why the change and curve didn't feature more.
But it's tough to complain about anything from Stewart on Thursday, it was an excellent start.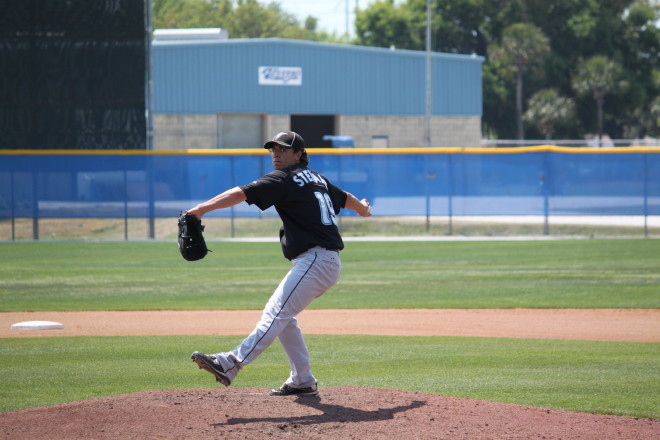 The Jays now play 15 straight inter-league games ending with Roy Halladay's return to Toronto. Inter-League has not been favourable for the Jays over the last few years, will this year change that trend?
After the game Casey Janssen went on the DL and John McDonald was recalled, the bullpen is back down to the normal 12 members.
With the upcoming games in the NL parks, no DH, Juan Rivera and EE will likely ride the pine which is not a bad thing.
What else is going on?
---

https://www.battersbox.ca/article.php?story=20110616211600953